This right here is a high end cooler buying guide. Thus, we have to point out that the following recommendations and suggestions are not targeting people looking for a quick fix or an occasional cooler. Instead, our Rotomolded premium selection is going to be primarily directed towards dedicated hobbyists, anglers, hunters and serious adventurers.
That being said, welcome to our first Rotomolded cooler guide. In the following article, we will highlight and analyze some of the best high end coolers on the market. However, since there are tens and tens of premium coolers out there, we will be assessing originating brands instead of individual products.
Consequently, this review will highlight variety, quality and overall performance of 10 specific contenders.
That being said, let's get right to it.
Best High End Coolers – Compared
Best Rotomolded Cooler Reviews
In an ever growing market, it has become quite difficult to put your finger on the best Rotomolded cooler out there. Hence, it should be pointed that this article will be updated yearly to keep up with the advances and changes applied to the market.
So, for 2019, there were a lot of bright competitors around the title of best Rotomolded cooler for the money. Yet, only a handful of brands maintained a consistent profile which we can rely on today. So, without further ado, here's the list of the best insulated coolers out there: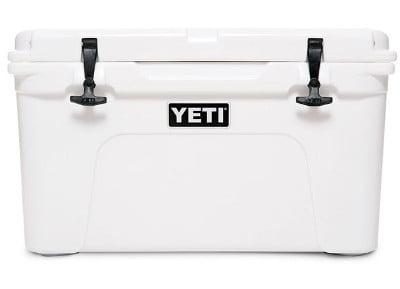 It is no surprise that YETI made it on the list of best high end coolers since it entertains a history of accomplishments in the industry. Truly, no one can argue against the legacy of Yeti, a brand almost as old as the industry. However, the one the Tundra lineup came into existence it almost overshadowed the entire brand because of how well-received it is.
The Tundra selection is one of Yeti's best representatives as it maintains the quality standards at an all times high. In fact, dare we claim that Yeti Tundra might just be the best quality cooler on the market. In that respect, Yeti Tundra coolers are built with the same materials found in whitewater kayaks, which is a substance that gains even more integrity in the shape of a cooler. Thus, you can expect any Yeti Tundra to outlive years of use and abuse without a change of heart.
In terms of variety, Yeti isn't exactly the best example. Nonetheless, the Yeti Tundra lineup covers 9 different sizes and that is plenty to say the least. Hence, whether you're seeking a quick pick-up-&-go cooler or a solid week's cargo angling unit, you will find your match in the following selection: 20, 45, 50, 65, 75, 105, 110, 125, 250.
As for performance, the brand's roto-molded shell and the premium foam injection will certainly get you around a week of ice in extreme summer.
That being said, note that this number will vary depending on surrounding temperature, platform, access cycle & size. In our humble experience, Yeti Tundra coolers have achieved up to 10 days in mild conditions.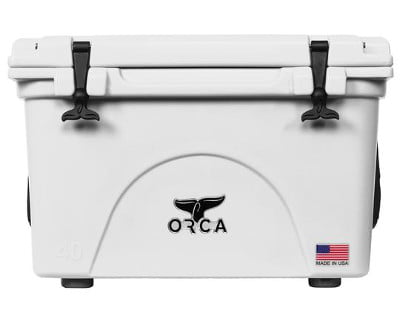 It's not completely random that we are reviewing Orca right after Yeti. Actually, Orca has been one of Yeti's biggest rivals and at some angles, it might even seem like it has taken over. Indeed, Orca is an impressive brand to say the least and that makes it a priority threat to our best
Rotomolded cooler selection.
Variety is key in a market where people have different tastes, passions and aspirations. Thus, when Orca dropped in, we were a little disappointed by the available variety of sizes.
Now, don't jump into conclusions, Orca's selection of 6 different coolers is guaranteed to cater for 99% percent of the market. However, if you are seeking a 200Qt or larger cooler, you might want to scroll back up. That said, here are your choices: 20, 26, 40, 58, 75,140 quarts as well as a few soft-sided coolers.
PS: Unlike Yeti, the model numbers actually stand for the exact load capacity in quarts.
Quality is a big deal for dedicated customers and that is something that Orca banks on heavily. Undeniably, Orca is one of the best high end coolers out there and a lot of that claim is credited to its powerful build.
Being an American build with a lifetime warranty should give you a clear idea about what kind of coolers you're dealing with. So, compared to Yeti, Orca adopts pretty much the same resilient coat with all the might and strength needed to plow through the toughest environments out there.
Performance is a much anticipated segment and this one is actually impressive since it reveals some interesting facts.
Accordingly, because of the premium high-pressure injected foam, thick Rotomolded skin & walls and a freezer grade gasket, Orca coolers will push ice retention up to 10 days on average, kicking Yeti to the dust.
Impressively, Orca coolers have been tested in extreme and various environments but they always come out on top despite the fact that they cost slightly less than a Yeti.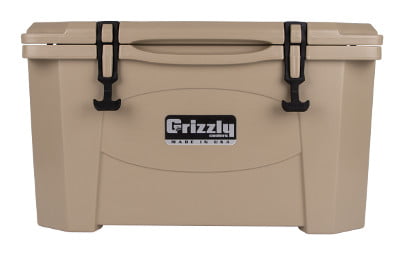 Grizzly coolers have accumulated quite the reputation in a relatively brief period of time. In a market loaded with premium competitors, it wasn't tough for Grizzly to land a claim on the 'Best Rotomolded Cooler for the Money' title. However, we are yet to see where it stands amongst a selection of the best high end coolers.
Starting with variety like we usually do, Grizzly seems to be rather confident, sitting on a throne of multiple cooler sizes. Indeed, this brand might get less spotlight time but it definitely introduces an impressive lineup with plenty of options for serious anglers, hunters & outdoors lovers.
Accordingly, you can find a Grizzly cooler in the following sizes: Grizzly 20 Cooler. Grizzly 40 Cooler. Grizzly 60 Cooler. Grizzly 75 Cooler. Grizzly 100 Cooler. Grizzly 165 Cooler. Grizzly 400 Cooler.
Since the beginning of time, quality has been the primary focus for all serious manufacturer and we believe that Grizzly sets an example in this department. While design isn't the biggest aspect for Grizzly, the reputation of their quality travels as fast as wind since they are creating coolers that can fend off literal beasts.
Yes, Grizzly is IGBC certified (IGBC stands for Interagency Grizzly Bear Committee), which means that it's fully bear attack proof and if that doesn't give you an idea about the quality of these coolers then we wonder what would.
Under the performance tab, Grizzly isn't exactly exception. Nonetheless, Grizzly owners have never actually complained since these coolers can
easily attain 6 days to a week of ice retention.
In fact, Grizzly coolers are known for winning plenty of 5 days challenges even when faced with some products on this list. Once you calculate that into the equation, you'll realize that Grizzly coolers are easily one of the best Rotomolded coolers out there.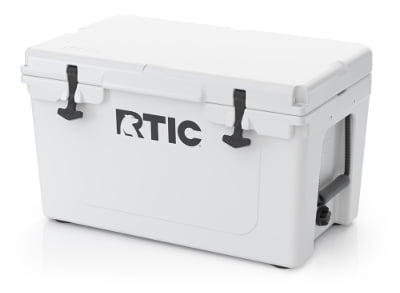 RTIC coolers are an absolute unit. Quickly, RTIC accumulated a respectable reputation and it wasn't a coincidence. This right here is a brand that invested heavily into its own products before they ask for your money and because of that, they are high on the list of best high end coolers.
RTIC is known for its aggressive approach towards advertising which means that you probably already know a thing or two about the brand. However, one thing that must be emphasized regardless whether you are aware of it or not is the robust build of RTIC coolers. Truly, a few brands on this list can compete with RTIC build quality and materials because they simply topped every aspect.
Hence, from a resilient Rotomolded shell that pushes weak spots to oblivion & enhances the integrity of the cooler to the thick polyethylene final coat that pledges to fend off offenders, including the sun itself, RTIC has it all.
So, forget about what you already know because this brand is taking the cake in this segment.
On the other hand, variety isn't exactly the strongest suit of RTIC coolers despite the rich history of the brand. Accordingly, it is rather annoying to see an impressive build like this limited to a variety of 5 different sizes only.
Nevertheless, we can't completely fault RTIC for it since they truly invest most of their effort into creating quality instead of quantity. That being said, the brand's 20, 45, 65, 110 and 145 constitute a wide enough lineup to incorporate the needs and requirements of anglers, hunters and everyone else who has a passion for the outdoors.
Last but definitely not least is performance. If there's anything that can make or break a deal in a moment, it would be the insulation and ice retention ability of a cooler. Hence, it was a relief to see our editor's choice push through 9.5 solid days before all ice melted.
Not that we had any doubt but approximately 2 weeks on average was a far-fetched bet and yet here we are.
RTIC may not have Yeti's variety but it features a formidable Rotomolded shell, thick foam injected walls and an airtight gasket that will make it possible for you to journey for days without a single worry.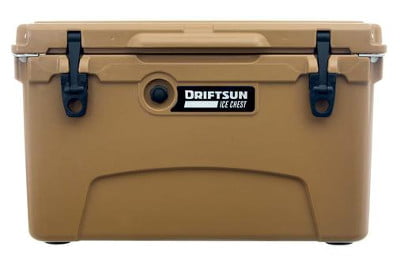 Driftsun isn't the most popular brand out there. However, it has definitely made some waves with its recent updates to an impressive selection.
Unlike most brands on this list, Driftsun has an interesting history since they primarily specialize in boats, paddle boards and beach essentials. Thus, once we heard that they're actually investing in coolers, it completely clicked.
Driftsun is therefore familiar with beach environment and specifically heat which pushes us to believe that they know exactly what they're doing in the realm of coolers.
As expected, Driftsun was quick to establish a full exposure through a humble lineup of 4 different sizes. Accordingly, Driftsun coolers come in 25, 40, 60 & 85Qt and that is plenty to cater for most people out there.
Nonetheless, the brand at hand definitely has a blind spot for people with big ambitions and that's why Driftsun isn't for the big Angler / hunter.
Variety might not be the highlight of the brand but quality certainly is. Yes, Yeti and ORCA are exemplary coolers but it's time to add another contender to that list. Hence, because they reserved some of their focus on variety, Driftsun had the opportunity to invest heavily in quality, which is always a good thing.
Driftsun coolers are built with high durability polyethylene Rotomolded shells and reinforced via a dense / thick foam injection, making these coolers virtually indestructible.
While variety and quality are essential, performance remains the crowning factor in the equation.
Unfortunately, Driftsun may have invested too much into quality where it could have contributed a little more to improve the ice retention life on their coolers.
Consequently, Driftsun coolers are limited to 5 days of ice life in convenient circumstances despite the 2 inches thick insulation.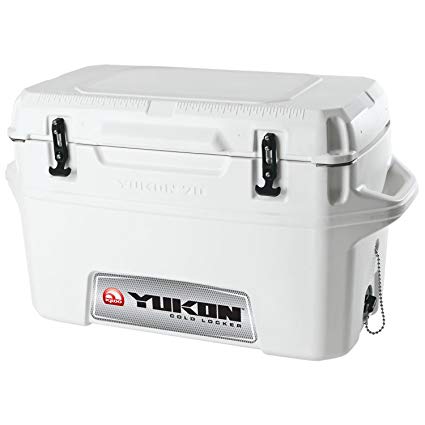 Igloo is not a brand that requires introductions because it's a pretty big name in the cooler industry with many years of experience, legacy and excellence. Truly, brands like Igloo are now considered a no brainer in the industry since they confirmed variety, quality and performance under a long process of trial and success. However, for the bunch who are yet to learn about Igloo, here is all you should know.
"Variety is the spice of life"; that is one of the sayings that apply perfectly to coolers since they are meant to cater for different tastes, preferences and requirements. Hence, it was only a matter of time before Igloo reinforced its fleet with a multitude of different sizes, shapes and quality variation to suit every need out there.
Similar to many prominent cooler brands, Igloo invests in premium, standard and affordable coolers which can collectively reach over 80 coolers in every size you can imagine.
Speaking of quality, upon reviewing other brands, we only spoke of their premium lineup and because of that, we will limit this portion of the review to the Yukon & Sportsman selections which are the brand's best seller.
Igloo is capable of creating coolers for everybody out there but their premium choices are topping the charts for a good reason. Hence, these two lines are popular for their ability to take serious beating for years and that is mainly credited to a tough Rotomolded build and a substantially thick containment zone. So, whatever you think can beat this tank most likely won't.
As for performance, Igloo has established a fair similarity to its name creating true insulation zones. In fact, if you pre-chill an Igloo cooler overnight, it is more likely to push through 7 to 10 days of ice retention, depending on circumstances.
The process is rather simple: the brand adopts rotational molding on all its premium models, grants them a thick polyethelene skin which is then injected with dense foam to create 2 inches thick walls and 3 inches thick lids for maximum separation.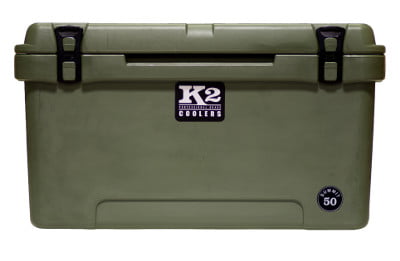 K2 Coolers is one of the most stubborn contenders on this list because it has been trying for so long to provide an impressive product for a lower cost than the general consensus. Hence, this brand has definitely benefited from the fact that it didn't have to go through trial and error and instead quickly evolved and makes some of the best Rotomolded cooler for the money.
Accordingly, variety has been always our top priority because if you can't find your match in a brand's selection then there'd be no point in digging deeper.
That being said, we feel pretty confident saying that there is a K2 summit cooler for every taste out there. Indeed, with 7 different size choices and a wide variety of shapes, designs and great features, you are guaranteed to find your match in the following lineup: 20 – 30 – 50 – 60 – 70 – 90 & 120Qt.
As far as quality is concerned, we can easily ague that almost all premium coolers opt for the same exact materials of build. However, there is a slight difference in the build-process that can set these coolers apart.
Accordingly, K2 Summit coolers feature a hard polyethylene shell, sandwiching a thick layer of foam that gives the coolers the necessary insulation as well as strength. Thus, you can rest assured that you won't damage these coolers by accident even if you dragged them behind your truck to your favorite fishing spot.
While quality and variety are significant, there is one thing that can truly make or break whatever deal you have made so far and that is performance.
Knowing the critical role performance plays in the purchase process, K2 Summit had to push the bar a little higher and attain at least an ice retention period similar to the big boys on this list.
Not that chance had anything to do with it but fortunately, K2 summit coolers have been tested to reach up to 6 days of ice life without pre-chilling and 8 with the proper preparation.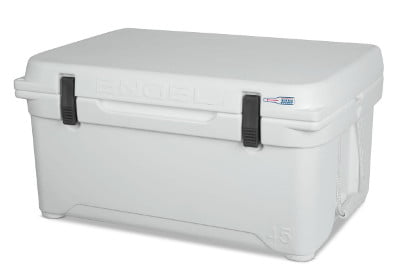 Engel is one of those brands that you can't see coming and just when you think you're safe, it comes by and snatches the win. Accordingly, Engel might not be an all American brand since it is built in Thailand but that doesn't take away from the fact that it is one of the best insulated cooler manufacturers out there.
So, through our research, we fell on a few articles that seemed to criticize Engel's selection for being rather poor. However, one thing is for sure, once you stack it up against the giants on this list, it starts to look as if we have a winner on our hands. Yes, Engel has 11 different sizes to show for under the deep freeze lineup and that is plenty to choose from. Hence, you can rest assured that you will find your match in the following variety: 25 – 35 – 45 – 50 – 65 – 80 – 85 – 123 – 165 – 240 – 320.
Variety being a done deal, Engel had to demolish the stereotype that all products built in Asia are cheap. Yes, Engel coolers are strictly built in Thailand but up till this day, the brand hasn't received any serious complaint about quality especially since they back up their coolers with a 3 years warranty.
Thus, just like Yeti, Engel coolers are Rotomolded and bear proof which should give you an idea about how tough these coolers are without the need to dive into further details.
In terms of performance, Engel does not shine, it blazes. Surprisingly enough, for a brand that has received plenty of criticism based on its country of creation, Engel managed to beat brands like Yeti to the dust by providing an ice retention life of 7 to 10 days. Now, compare that to the 5 to 7 days a Yeti can offer you and you'll find it very easy to make up your mind.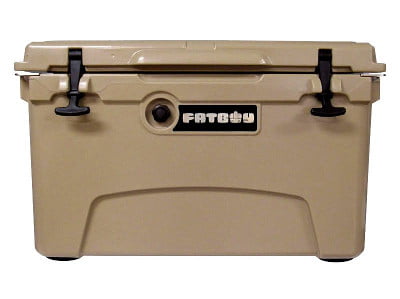 Fatboy coolers do not carry the biggest reputation on their shoulders and a big part of why is because they aren't very popular…yet. Fatboy is a funny name for a cooler brand but we must admit that most of us are a little chubby and we love fishing / hunting.
So, arguably, the brand's name is spot on. However, what really matters is whether Fatboy coolers provide enough of a variety for every preference, if their quality is reliable and how good are these coolers at prolonging ice life.
Starting with our priority call, we were expecting Fatboy to be slightly behind on variety because they are relatively new to the race. However, we were surprised to learn that they actually come in 6 different sizes.
Yes, this fresh face competes with some of the biggest names in the game and it guarantees that you'll find your match whether you're into camping, hiking or all the way up to big game hunting & angling.
So, here is the humble selection of Fatboy coolers: 10 – 20 – 45 – 70 – 75 – 110.
Quality being one of the biggest hooks in the game, Fatboy wasn't about to be left behind. Hence, it was rather impressive to see a brand that is much younger of its competition pushing the envelop and adopting all the techniques and materials found in bigger brands.
Accordingly, Fatboy coolers are one of the best high end coolers out there because they are Rotomolded. Consequently, similar to other brands on this list, these coolers have no weak spots, they exhibit a thick hard skin on both ends and a dense foam injection inside its thick walls to give you the integrity of a block of a fresh log.
With great power comes great responsibility and that is where Fatboy truly shines. Being a tough block isn't everything in the industry of coolers; what truly matters is how long can a cooler maintain ice and we must say that we were surprised once the tests were over.
Certainly, we did not imagine to see a cooler as small as the Fatboy 20Qt reaching around 6 days of ice retention & the larger 45Qt reaching 8 whole days but the numbers don't lie.
Fatboy coolers feature thick walls and even thicker lids and once reinforced via the extremely dense foam injection, heat becomes impotent even when they're under direct sun light. So, what is Yeti's excuse?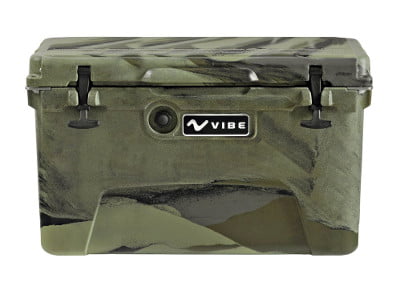 Vibe coolers are easily confused with budget-friendly coolers because they haven't established the reputation that some of these giants have. However, it seems that it's only a matter of time before Vibe becomes one of the biggest influencers in the game. Hence, in the following analysis, we will discuss the variety aspect f the brand, their quality and integrity features as well as the brand's ice retention record.
Starting at the top of the chart, variety is one area where every brand on this list excels and with 5 different sizes that are limited between 20 and 110Qt, Vibe coolers truly need a push.
Now, we are not saying that you will not find your match in this lineup because most of you certainly will. However, if you're a dedicated angler, hunter or the life of the party, you might want to look at other options because 110Qt might not be big enough for some people
On the other hand, quality is arguably the brand's biggest selling points since it borders that of Yeti and Pelican at the same time. Being the top-rated cooler brands, it was rather impressive to see Vibe coolers often equated with these names but there is no secret there.
Accordingly, all Vibe had to do is observe and learn and it certainly did since it adopted the same rotational molding process, the same build materials and pushed the final touches to an even more premium realm. Hence, you can rest assured that Vibe coolers do not only look good but they are as tough as a rock.
Last but not least, the brand's performance numbers were rather impressive. Because they invested so heavily into quality, Vibe coolers have benefited immensely in the performance department. Hence, the thick polyethylene walls, the high pressure foam injection, the air-tight gasket seal and the Rotomolded shell have given these coolers the ability to attain record numbers.
Consequently, while the smaller 20Qt model only attains a reasonable 60 hours, larger models like the 75Qt can reach up to 140 hours which is plenty for most people out there.

What is a Rotomolded Cooler?
Rotational molding is an advanced technology that includes a dual axel rotating motor and a computer program. Once the machines are unleashed, they begin to twist and twirl the polyethylene in its initial form to shape a unified / gap-free mold.
Accordingly, this entire process does not require human contribution and that guarantees that it'll deliver flawless results. In fact, a roto molded cooler isn't only tougher than a standard budget cooler, it is also far superior in terms of ice retention.
Hence, once the mold is complete, the shell remains empty from within until pressure injected with a variation of high density foam, depending on the brand, and that will give the cooler even more integrity and resilience.
As for performance, Rotomolded coolers have proven to be far superior to their counterparts since they exhibit an unparalleled unity that contains the cooler in complete isolation from the environment outside. Thus, no matter what's going on outside the cooler, it will easily deflect the heat and what gets absorbed ends up dissolving in the bubble-net created by the foam insulation.
In conclusion, one thing is for sure, rotational molding has revolutionized the market of ice coolers and if not for Rotomolded coolers we'd still be struggling to create a cooler that maintains ice for longer than 48 hours.
What Makes up a High End Cooler
Design & build quality
Needless to say, design is important and not only from an aesthetic point of view. Certainly, we do not buy things we don't find attractive and coolers are no different which is why it is significant that you find a cooler you're comfortable with. However, when we talk about design, we often signify the practical aspect of things.
Design is primarily technical before being about appearance and that's why you'll find plenty of coolers that look almost exactly the same. That is not to say that there is a lack of creativity in the industry but rather a pattern.
Hence, most coolers on the market are raised slightly off the ground with rubber feet to distance the cooler from the hot floor. Also, coolers often have thicker lids because they are constantly under direct sun light. Further, the best high end coolers will offer extended handles while maintaining built-in handles for heavier tasks and so on.
As far as quality is concerned, we are certain that we made it really clear throughout our review that Rotomolded coolers are the best. There is absolutely no negotiation there.
Rotational molding is the present and the future of the industry because it helps create perfect structures with impeccable unity, strength and an absolute lack of weakness. Hence, once paired with a proper foam injection, these coolers become as tough as a tank.
Nonetheless, there are a few elements which set every cooler apart and those are often the smaller details. Hence, when you are looking for a purchase, make sure to inspect the hinges, latches, feet, type of polyethylene coat and everything that you will be interacting with regularly on the cooler.
Ice retention & Insulation Ability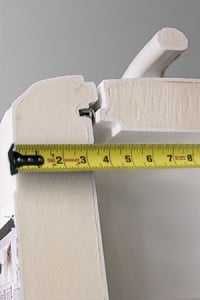 It goes without saying that insulation is important but that can often be complicated. Indeed, some brands will offer impeccable quality coolers with a rather average ice retention ability – such as Yeti – while other brands will cut short on quality and emphasize performance to the maximum, passing Yeti by stages.
Accordingly, it is important here to take into consideration your trajectory and exact needs because they'll determine whether you'll sacrifice
some insulation for the sake of rigidity or vice versa. Our best advice is that you stick to something that offers reliable results with enough rigidity and durability to get you through muddy situations.
However, since we're talking about ice retention, here is what you should look for in your prospect cooler.
First, we can't stress this enough, make sure that your target is Rotomolded. Also, do not hesitate to do some research and find out how thick the walls are because anything below 2 inches is going to disappoint you.
Lastly, check for gaskets because they can literally push ice retention life up by a day or two.
Features
Features are basically the cherry on top of the cake. In that respect, once you locked down quality, design and performance, the last thing that's left to is to inspect the features of your target cooler.
Now, just to help you settle down a bit, most coolers on this list come with very much the same features because they know exactly what you need and they're trying to deliver. However, even the same features can be different sometimes.
Hence, once you point out your favorite cooler, make sure it comes with proper handles to help you through transportation. Also, always go for easy and robust latches like T-latches or Cam-latches because they're your primary access point.
Then, it's always good to know that you got yourself a cooler with a reliable draining system that allows water to escape without losing ice. However, it should also be wide enough to quick drain your cooler when needed.
Lastly, check the hinges and make sure they're metal and preferably coated under the lid for further protection.
Finally, there are definitely more features to be examined but none are of the importance of the ones discussed above. Therefore, as long as you got those primary features under control, you can start tolerating whatever is left in order to connect the dots and find yourself the best Rotomolded cooler for the money.
Best Insulated Coolers – Bottom Line
In the end, we hope that our review informed you even in the slightest or directed you towards making a better purchase.
Our selection of premium coolers has been meticulous and not-biased in order to save you're the struggle of filtering through an endless market of good and bad coolers.
So, no matter where you land on that list, know that you will not regret your choice because all these coolers are great.