In a way, K2 coolers could be the coolest thing on the market. In order to truly understand the value of a brand, you must compare its "added value" to that of the leaders of the market and that is exactly what brought K2 Coolers to our table.
Indeed, K2 coolers are on a mission to elevate standards against which all other cooler brands are measured. Accordingly, the brand has been owning more bragging rights gradually by excelling at design, quality and an impeccable customer service. However, is their engineering impressive enough to push you consider replacing previous loyalties?
This is the question that we will help you answer by stripping this brand down to the bone and detailing everything you need to know about K2 Coolers.
By the end of this article, we hope you would have enough information about K2 coolers to help you make an informed buying decision.
K2 Coolers Compared
Coolers
Capacity
(Can)
Dimensions
(L X W X H)
Weight
(Lbs)



K2 Coolers SUMMIT 20
14
External
16.9" x 12.625" x 15.63"
Internal
12.9" x 9.125" x 12.125"
14 lbs



K2 Coolers SUMMIT 30
20
External
20.25" x 18.25" x 16.38"
Internal
13.375" x 13.125" x 12.5"
19 lbs



K2 Coolers SUMMIT 50
40
External
29.25" x 17" x 16.39"
Internal
22.5" x 11.9" x 12.375"
26 lbs



K2 Coolers SUMMIT 60
44
External
23.4" x 21.5" x 19.25"
Internal
16.5" x 17.13" x 15.375"
30 lbs



K2 Coolers SUMMIT 70
49
External
33.875" x 17" x 18"
Internal
27" x 12.25" x 14.125"
32 lbs



K2 Coolers SUMMIT 90
63
External
36" x 18.5" 19.25"
Internal
29.13" x 14" x 15.38"
40 lbs



K2 Coolers SUMMIT 120
86
External
41.625" x 19.25" 19.5"
Internal
39.9" x 14.25" x 16.125"
43 lbs
Available Sizes & Dimensions
It is rather rare to hear the name K2 Coolers when listing the most prominent brands in the industry which is weird, considering the fact that they exhibit an impressive variety of choice. Indeed, K2 Coolers come in multiple sizes to guarantee that every client gets the exact cooler they need. So, which one is yours?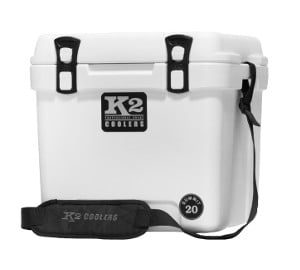 Starting at the smallest production in a line of impressive coolers, the Summit 20 is perhaps the most practical size you can get your hands on.
Indeed, this relatively tiny cooler is a main attraction for casual users who need a reliable cooler for beach days, picnics, little wood adventures and the like.
Accordingly, the cooler at hand measures a compact 16.9″ in length x 12.6″ in width x 15.6″ in height, totalling in around 16 pounds.
This little cooler can easily be carried around when empty, fit on any vehicle and go pretty much everywhere without any limitations.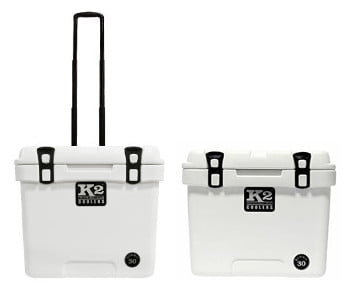 If you need a cooler than can handle more than 14 cans then you probably need to invest in a Summit 30. This cooler is also available with wheels for people who know they will be moving around on flat surfaces regularly.
While you can push the wheeled version pretty much anywhere, it is important to know that it is not a dirt bike and will end up damaged sooner.In terms of dimensions, the Summit 30 is 20.25″ in length, 18.25″ in width and 16.38″ in height.
The cooler at hand weighs a decent 23 pounds while empty which explain the need of wheels for some people.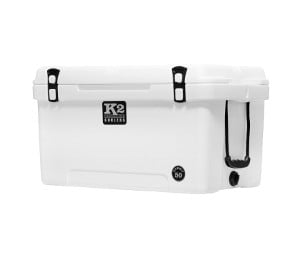 K2 Coolers is fully aware that there are people out there who are passionate about their hobbies and need a reliable cooler to handle some heavy duty missions.
Consequently, the brand presents the Summit 50, which is relatively large, measuring 29.25″ in length x 17″ in width x 16.38″ in height.
Accordingly, as things begin to get serious, you should be ready to handle more weight as this cooler weighs around 30 pounds while empty.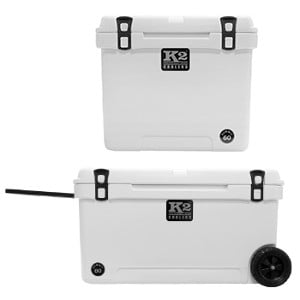 For those of you who are serious about their angling, hunting or wild camping, K2 Coolers offers the services of the Summit 60 which is 44 can capacity cooler that can be purchased with or without wheels.
The cooler at hand is slightly larger than the previous one, measuring 23″ in length x 21.25″ in width x 19.25″ in height. Thus, this is one of the few coolers out there that is more of a square shape than a rectangle and that can be more practical in certain cases.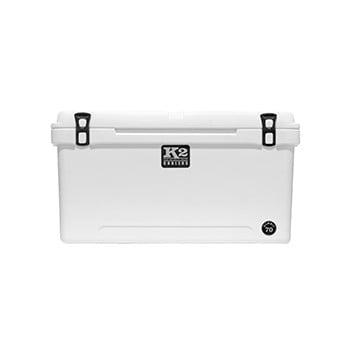 For bigger fish, you're going to need a bigger cooler and that's all the difference you'll get with the Summit 70.
Indeed, this cooler embodies everything that K2 Coolers stands for while measuring an impressive 33.8″ in length x 17″ in width x 18″ in height.
Therefore, if you're willing to balance a good 39 pounds for 49 can capacity then you won't regret this cooler.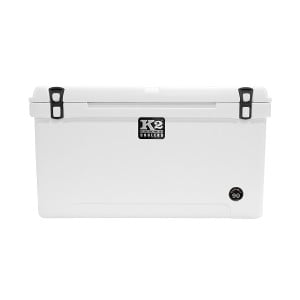 Before you reach the peak of K2 Coolers, you are presented with a large ice chest that is capable of handling up to 63 cans.
Accordingly, this cooler is undeniably great for a multiple of reasons but only those who are truly in need of something this large will figure its value.
Thus, the Summit 90 measures an astounding 36″ in length x 18.5″ in width x 19.25″ in height, amassing a serious 47 pounds of net weight.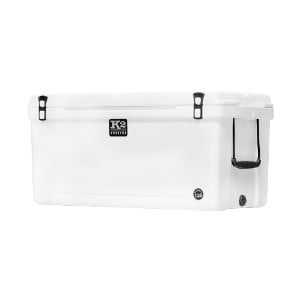 While most cooler brands eject too soon, K2 Coolers commits to the grind and produces the Summit 120.
This beast of a cooler is great for those of you who are really serious about their fish / hunt, group sports and outdoors parties.
Consequently, the cooler at hand can handle up to 86 cans and measures a record 41.6″ in length x 19.25″ in width x 19.5″ in height.
Design & Build Quality
K2 Coolers decided to maintain a minimalistic design in order to reduce the cost and focus on what really contributes to ice retention. Hence, you will notice that all K2 Summit coolers feature a bland profile with tucked in latches & handles, a rough lid hood and a minimal footprint. So, why does it cost that much?
Well, in order to rank this high amongst premium cooler brands, K2 Coolers had to invest in serious quality and that often costs money.
Indeed, while it is very doable to go on a tight budget and maintain the same performance, durability was key behind the use of high grade polyethylene, quality foam and features.
In fact, this is one of the few brands out there that we can vouch for because we have tested the K2 Summit 50 for years and it is a tank.
Ice Retention & Insulation Ability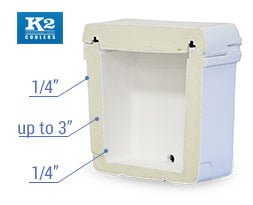 With so many blow-molded coolers out there, K2 Coolers didn't exactly struggle to rank higher amongst premium brands.
All of K2 summit coolers are designed based on engineering instructions in order to attain maximum performance and resilience for the least cost possible.
Accordingly, K2 Coolers undergo a rotational molding process that relies on high temperature, low pressure and dual axle rotation in order to create perfect molds with no flaws.
As a result, you get a single piece mold with no gaps or joints, creating a contained environment that will maintain ice & heat effectively for long periods of time.
Speaking of which, while the smallest K2 Summit benefits from 2 inches of high density foam insulation, bigger coolers can get up to 3 inches in order to extend ice life.
Basically, the pressurized foam harbors millions of air pockets that help disperse the heat before it reaches the inside of the cooler, granting you from 6 days to weeks (depending on the temperature) before ice completely melts.
Lastly, the final coat is a big deal for most brands because it limits the effect of external elements on the internal environment of the cooler. Hence, K2 Coolers adopts a minimum 1/8 inch of UV stabilized polyethylene on inner and outer walls for total insulation.
Features
A premium cooler without premium features is just a waste of money. Yes, we said it because everyone knows how much of an impact features can have on your daily interaction with your cooler. Accordingly, all K2 coolers for sale come with the following features: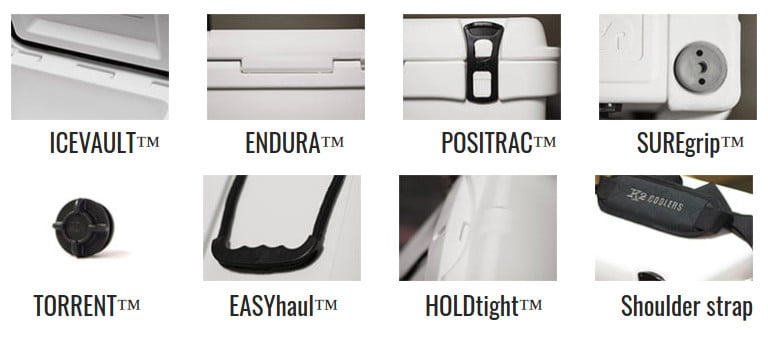 The pride and glory of K2 coolers is the SNOWblown insulation that consists of low pressure injected foam and high temperature molding, resulting in an impeccable wall that will separate your controlled environment from external influences.
Second on the list is the Positrac lid latches, which are developed to create a clever pressure seal that locks the cooler by pulling the lid firmly down. What that does is that it glues the gasket to the body of the cooler, reducing air circulation to the bare minimum.
Speaking of which, K2 Coolers relies on a few features to create a perfectly contained environment but none of them would matter without a proper gasket. Accordingly, the Ice-vault is a gasket that is designed to contribute to the effect of the lock-away lid, creating the perfect seal combo against external influences.
Padlocks are often disregarded as secondary features but they have been of real value in most of our tests. Indeed, nothing feels more comforting than a lock on your cooler especially if you're sitting on a valuable catch. Accordingly, Summit coolers come with padlocks on both sides of the lid, rendering access futile without the key.
Hinges are of critical importance since they are often the first feature that snaps on coolers. Accordingly, K2 Coolers made sure they invested a little more time to create the Endura hinge system that is meant to keep the lid permanently attached to the cooler.
If you're an avid angler then you're definitely going to appreciate the fact that K2 Summit coolers come with Hold-tight anchoring points on both sides of the product for easy mounting.
The handles on K2 coolers might not look premium but they definitely perform far better than expected. The handles are thus equipped with plastic handles and ropes that connect directly to the cooler which should make transportation easier on uneven surfaces.
The draining exit on K2 Coolers is definitely one of its best features since it offers a stationary stop to allow water to exit the cooler without losing ice. However, if you want to do a complete drain then you can simple remove the gauge and watch the waterfall.
Last but definitely not least is the rubber feet that are essential for those of you who will permanently place these coolers on a boat or vehicle. The feet might be small but they will effectively stop the chest from budging around as you go which protects you as well as the cooler.
Who Is The K2 Summit Ice Chest For?
If you read our segment about variety & available sizes under the K2 Coolers reign then you would already know that there are K2 coolers for sale are everyone out there. Indeed, K2 Summit coolers are available in various sizes and editions to cater for the various needs of casual as well as professional customers.
Therefore, whether you need a simple cooler to picnic, keep drinks cold on a beach day or to keep your fish / hunt frosty for up to a week then you will find your match in the wide collection of K2 Coolers.
Where Are K2 Coolers Made?
A lot of people are often concerned about the place of birth for their desired products and that is completely understandable.
Indeed, while quality varies within the same country, it is comforting to know that your target product is actually made somewhere with better regulations and regular supervision.
While you can find K2 Coolers for sale pretty much everywhere, they are only created in South Louisiana which is the perfect environment to truly test these coolers to their maximum potential. Thus, you can rest assured that you are getting a reliable product with high ratings and a reachable customer service line that will answer all your questions.
K2 Coolers Vs. Yeti: Which Is Better?
Yeti has become a benchmark for many upcoming coolers because it is known for delivering reliable, resilient and high performance coolers. Thus, our K2 coolers in-depth analysis would not be complete until we draw a line and compare K2 Coolers to this giant.

First things first, it is important to understand that a Yeti cooler costs a lot more than a K2 Cooler which Yeti attributes to premium quality build materials, long lasting features and an "impressive ice retention". However, one K2 Coolers aren't exactly cheap because they too exhibit premium build qualities, robust features and an "impressive ice retention".
So, we took it upon ourselves to run a series of objective tests with the exact same variables, temperature, environment and location to see which of the two brands is actually deliver.
Consequently, after the first 3 days (with regular use simulations) both Yeti and K2 Coolers performed equally good, leading us to think that we might have a tie.
However, by the end of the 6th day, it became quite obvious that K2 Cooler was taking the lead as it maintained significantly more ice than the Yeti.
After 6.5 days, the Yeti was basically a water jug while you could still observe small ice fragments inside the K2 Summit cooler, bringing us to a clear winner.
K2 Coolers – Bottom Line
Finally, if there's anything to learn from this K2 Coolers review it is that K2 Coolers is definitely not the cheapest brand out there but it has proven to be the best brand for the buck.
Thus, whether you decide to make the switch to K2 Coolers or maintain your loyalty to your "favorite" brand is completely up to you but just remember that you can get a better performance than a Yeti for far less and that's something only a few brands could claim.