Named after the universally loved gorilla; Kong Coolers came through to make some noise just like King Kong did on top of the New York's Empire State Building.
Before we start our Kong Coolers review, it's only fair to give this name the credit is deserves as a pure American brand that proved its capability to compete with the giants of coolers industry.
After 30 years of making double-walled, insulated containers designed for heavy-duty, the CEO of Elkhart Plastics, Inc Jack Welter, who is a dedicated American man, saw the opportunity to make what he calls 'the world's best roto-molded coolers' that'll empower both economy and the life quality of the outdoor community, and seized it. As a result, here we are today with a Kong Coolers analysis because it was all worth it.
 Kong Coolers Compared
Coolers
Capacity
Dimensions
(L X W X H)
Weight
(Lbs)



Kong 25 Qt Cooler
• 25 quarts
• 18 12oz cans
• 12.5 lbs of ice
• Exterior
21.5" x 17.25" x 14.375"
• Interior
13.625" x 11.25" x 9.5"
NA



Kong 50 Qt Cooler
• 50 quarts
• 32 12-oz cans
• 24 lbs of ice
• Exterior
30.5" x 17.375" x 16.875"
• Interior
22.625" x 11.5" x 12"
33 lbs



Kong 70 Qt Cooler
• 70 quarts
• 45 12-oz cans
• 33 lbs ice
• Exterior
34.5" x 18.375" x 17.875"
• Interior
26.375" x 12.125" x 13"
38 lbs



Kong 110 Qt Cooler
• 110 quarts
• 82 12-oz cans
• 48 lbs ice
• Exterior
40" x 19.875" x 20.25"
• Interior
32" x 13.75" x 15.375"
NA
Available Sizes & Dimensions
Kong coolers are produced in four different sizes and every single one of them is a beautiful beast that's capable of handling as much as you'd hope for.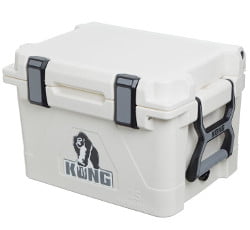 The first cooler in Kong's cooler lineup is the Kong 25 (13.625″ x 11.25″ x 9.5″ on the inside) which could be every truck's owner best buddy.
This cooler right here is something you'd like to have as a ready-to-go cooler for any kind of outdoor activity that includes snacks and drinks for it's so easy to handle and transport.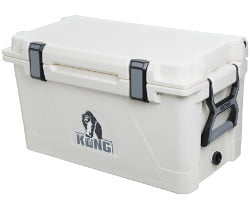 This one is very versatile; it's not too big and it's not too small. The inside dimensions (22.625″ x 11.5″ x 12″) allow you to pack enough ice, food and drinks for a great camping weekend with a friends or with your better half, or you can just have your own party in the backyard with easy access to fresh beverages.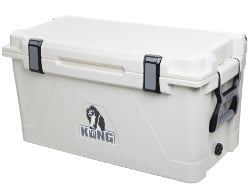 Now this gorilla is 34.5″ x 18.375″ x 17.875″ on the inside and it's meant to keep the pack together.
With this cooler, you can make your trip last longer without having to head back home sooner due to lack of ice or food.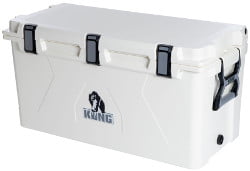 The last cooler on this line is the greatest of all because it owns the spirit of a beast.
The Kong 110 is made for big and extended adventures; hunting, fishing, and long wild days of camping.
All of the four coolers together are referred to as the unbeatable Kong Family that got everything under control. Once you make your mind on which member you want to add to your own family, you'll have a lot to be grateful for.
Design and Build Quality
Starting on the inside, all of Kong coolers are BPA free which means that the plastic used to build each of those coolers is safe and harmless in case of direct contact with your food.
On the outside, and this is something you're going to like, Kong coolers are made from high-impact strength, FDA-approved polyethylene which is known for its higher strength, durability, and UV resistance.
These coolers are designed to take serious beating anywhere you take them without affecting their performance and awesomeness.
The overall design of the Kong coolers is what you'd call attractive and sporty; you can't help but notice a Kong cooler if it's somewhere near you.
A Kong cooler is simple yet sharp and it comes with nicely and neatly made details and features to reinforce its main purpose.
Now here comes the best part about the Kong coolers; they are all bear resistant which makes them a lot more durable, flexible and valuable. It's like a cherry on top; these coolers are very strong the way they are thanks to the build quality and the material used in the construction process, but making them bear-proof was another thing to guarantee that a Kong cooler is a badass that's here to conquer the industry along with Yeti and other pioneering brands.
Ice Retention and Insulation Ability
For being such a proud American brand, Kong coolers promises over 10 days of ice retention with their largest cooler the 110 which is undoubtedly doable if you follow some simple instructions like pre-chilling the cooler, using lots of ice and opening the lid only when necessary to maintain and prolong the life span of ice inside your cooler.
However, good insulation is what really plays a role here when it comes to ice retention ability. Now as previously mentioned, Kong as a brand is directly linked to Ilkhart Plastics, Inc which spent decades making durable and virtually indestructible heavy duty insulated containers for the marine; you can only imagine the amount of experience and professionalism that's poured into making these Kong Coolers.
The Commercial grade insulation foam used on both the lid and cooler's body is universally trusted to be the best option for any manufacturer who's willing to go the extra mile in order to make the perfect ice chest. Thus, Kong didn't have to think twice about it. These coolers are perfectly insulated for the best ice retention performance.
Not only that; the Super Seal gasket is 2 inches wide on these coolers resulting in a lid that allows nothing to go in or out of the cooler. Consequently; whatever goes into the cooler remain as it is for long days to come.
Customers all around the world confirmed that the Kong Coolers are capable of delivering the same performance known to any pioneering brand out there if not ever better sometimes which settles it all.
Features
This is where Kong Coolers raised the bar really high for some of their rivals. Each and every cooler of the Kong family is featured with pretty much the same details and features that might differ a little depending on size.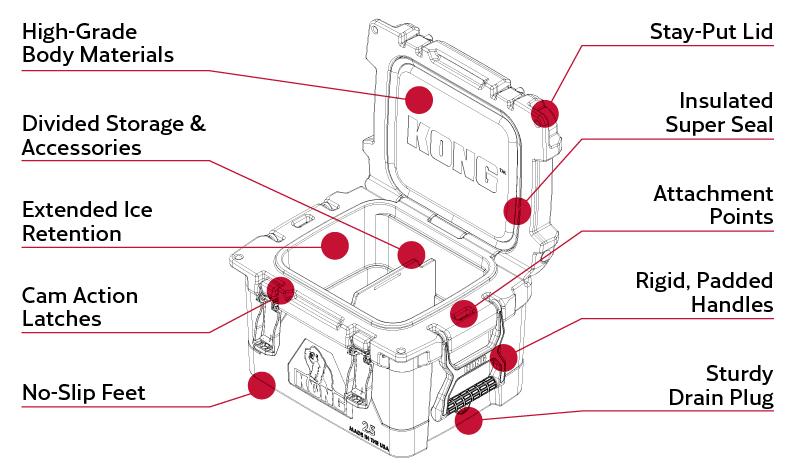 Cam Action Latches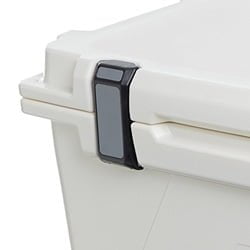 To begin with; the Kong coolers are featured with the impossible not to notice lid latches that you might not see anywhere else. These latches are 'made from 3/16-inch-thick, rigid nylon with stainless steel hardware so that they shut tight against any bear attack, as they'll secure your goods without breaking or rotting like rubber in the future.
Stay-Put Lid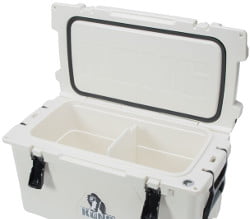 Also, the lid here is featured with an awesome little thing that we're sure a lot of you are going to appreciate; the KONG Stay-Put Lid will allow this latter to open to a 45-degree angle so that you have access to the cooler's content no matter how tight the situation is.
Ridged, Padded Handles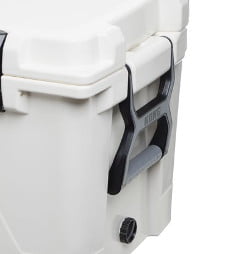 Next, the handles on the Kong coolers are pretty neat and super rigid. They're padded and they're made of 3/16-inch webbed nylon for the most comfortable and firm grip that's way more better than the usual rope handles.
Sturdy Drain Plug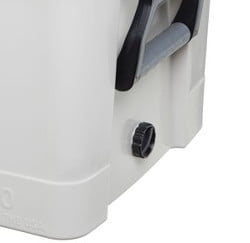 The drain plug as well is something to appreciate. There are two massive holes in the plug to create a high-speed drain rate with no need to remove the plug; just open it and let it drain.
Colors
And Finally, all of Kong coolers come in five different colors; Tan, White, Gray, Gray/Red and Bomber Blue. They all look nice and sporty you just have to make up your mind and choose one.

The Attachment points
Moreover, to make the Kong coolers a lot sturdier and more functional they were featured with several attachment points to which you can attach some of Kong's cool accessories that include KONG Kicker, Divider, or Cut/n Tray. These same attachment points can be used as tie downs to secure the cooler once you hit the road or cruise the water.
No-slip feet
Not only that, the bottom feet here are made of premium quality silicone rubber that's known for its extremely high co-efficient of static friction which will guarantee the cooler stays in place regardless of how slippery or shaky the surface is.
Who is it for?
There is not limitation on who can get a Kong cooler, anyone who's in need of a rugged ice chest that can withstand all kinds of natural circumstances and harsh environments can get a Kong cooler.
These coolers are highly flexible and functional; you can get the Kong 25 and keep it in the back of your car simply because you're always on the run and you need to keep fresh drinks and snacks on you. Or you can get the 110 because you want to run away into the wilderness and revive start fresh after an awesome camping journey.
Different users from all over the world used these ice chests differently and were all satisfied with what they have to offer.
Kong Vs. Yeti: Which Is Better?
In this part of the Kong coolers review, we'll run a comparison between the monster we have at hand and the leading brand name in the coolers industry's world, Yeti, and to kick it off, let's see how there two are similar in many ways.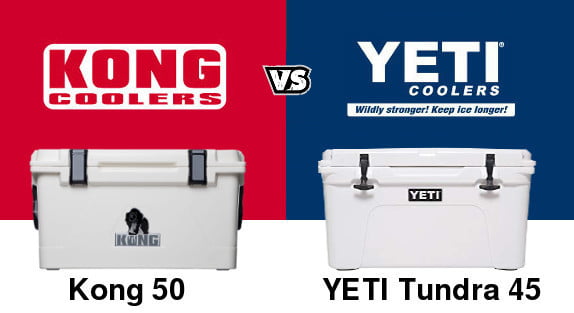 Both Kong and Yeti coolers are made in America, they're roto-molded, bear resistant and they come with a life time warranty which speaks the truth behind the build quality of both. These brands are making coolers that are meant to last a life time without the need to ever make a second purchase afterwards.
As a result, you can't really expect a price tag that's not as high as the end production. However, we must admit that Kong introduced some really nice and unique features that might not be found anywhere else; the action latches, the large gasket, and the awesome handles which all feel somehow superior to Yeti. Not only that; if you take everything that's been said into consideration; you might end up thinking that Kong coolers are actually made to overcome extreme situations with harsh and tough circumstances which might not be the same case for Yeti.
Now in terms of ice retention; though Yeti is the bar setter here, Kong managed to deliver a performance that's quite as good if not better as previously mentioned. Thus, one is only left with minor issues related to personal preference and what your guts feel like choosing because both are great brands with great features and capabilities.
Kong Coolers – Bottom Line
In case we were lucky enough and had you go through this whole Kong Cooler analysis, then you probably know by now that one of Kong's coolers is definitely worth your while.
It's a very ambitious and dedicated brand that promises nothing but durability and authenticity in hopes to be making the best coolers in the world.