The Outsunny Coolers are here today to make up for all the time where you decided not to go for an expensive cooler because it made no sense to you to put that much money into a "cooler". With a brand like this, you're getting exactly what pioneering brands have to offer with an irresistible price that might not be found anywhere else.
The Outsunny is a brand that belongs originally to Aosom which I like to pronounce as in "awesome" because that's what it is.
Aosom has everything you could possibly be looking for; dogs' supply, home products, fitness equipments, kids' toys and…more; literally everything.
In this Outsunny coolers review however, we're all interested in their coolers like only; the Outsunny Coolers which we'll know more about right away.
Outsunny Coolers – Compared
Coolers
Capacity

Dimensions
(L x W x H)
Weight
(Lbs)



Outsunny 32Qt Cooler
• 32 Qt
• 30L
• External
21.5" x 12.3" x 13.3"
• Internal
17.8" x 9.3" x 10.2"
15.5



Outsunny 64Qt Cooler
• 64 Qt
• 60L
• External
27.95" x 16.1" x 17.1"
• Internal
24.8" x 12.3" x 13"
27.5



Outsunny 85Qt Cooler
• 85 Qt
• 80L
• External
29.5" x 16.9" x 17.8"
• Internal
25.6" x 13.5" x 14.3"
33
Available Sizes & Dimensions
Now we don't want to start on a bad note but the Outsunny coolers are available in three sizes only: 32 qt, 64 qt and 85 qt. This is a little something that can result in you not finding a certain size that you really need. The variety of sizes is always a plus when it comes to portable coolers because people do look for different things.
Regardless of what's been said; these three available sizes can do really nice for many different activities.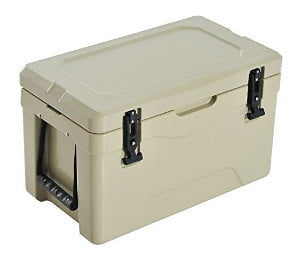 The Outsunny 32 qt is the nearest thing to a personal ice chest that could be always be in the back of your car or truck because you never know when you're going to hit the road or meet friends for a nice weekend together.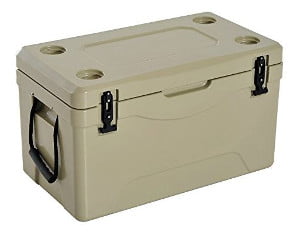 The Outsunny 64 qt is obviously double the size here which means more storage capacity for extended trips. The thing about these coolers is that they offer exactly what the number says, thus, you'll know what and how much to store in your cooler.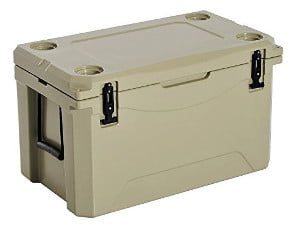 And finally there is the Outsunny 85 qt which is as far as this brand could get in terms of size/dimension. This cooler will allow you to take enough goods and drinks for a camping trip, fishing or even a backyard party if you like.
All in all, these sizes can do pretty well on different occasions unless you were looking for something smaller/larger.
Design & Build Quality
First things first; even though we've started this Outsunny cooler review saying that they're not expensive; they're still ROTO-molded. Yes; and they're here to stick around for a long time because they're as durable as any cooler can get.
The outer body of these coolers is made of LLDPE (Linear Low Density Polyethylene) which is a tough plastic known to withstanding harsh use and circumstances including oxidization and UV light. That's exactly why we have portable ice chests in the first place; to be used outdoors without worrying too much about them getting damaged.

In terms on design, the Outsunny coolers built to look neat but a little bulky if we may say. However, they remain simple and basic which almost every cooler out there with a bunch of features, which we'll be talking about soon on the review and that adds greatly to both how it looks and how it functions.
Ice Retention & Insulation Ability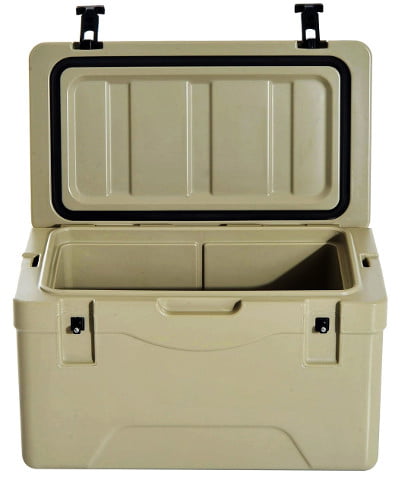 This is what a cooler is all about; keeping your drinks and food fresh for those hot days when you're fully exposed to sun and heat.
The Outsunny got your back on this with 2 inches of Polyurethane insulation foam that's injected into their coolers' walls. This foam is what ensures the cooler keeps a low temperature inside without being easily affected by the external circumstances.
The best coolers out there can keep ice inside for maximum 10 days if you're lucky, and that only goes with coolers that measure 100 qt or more.
That being said, the Outsunny 85 qt promises 6-7 days of solid ice retention in different situations which makes total sense. An insulation this thick is definitely capable of such a performance, however, to bring out the best of your cooler, you should always consider pre-chilling it, keeping it in the shade, avoiding hot surfaces and opening the lid only when necessary.
Also, expect that the smaller the cooler you pick the shorter ice retention period you get; it just works like that because with smaller coolers you get less insulation foam and vice versa.
Features
Aosom takes all of their product lines very seriously making sure that each item has all it needs from standard features to unique ones. Outsanny coolers got their share and they're here to prove that a portable cooler doesn't have to be insanely expensive to be a good one.
Lid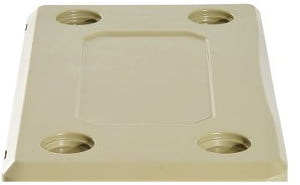 The Outsunny 64 qt and 85 qt coolers come with an awesome lid that has 4 molded cup holders which allows the cooler to be used as a mini-table if needed.
The lid on all of the Outsunny's is featured with a nice rubber gasket that contributes to the whole ice retention and insulation aspect.
This gasket is what prevents hot air from getting into your cooler and interfering with its interior low temperature.
T-shaped Latches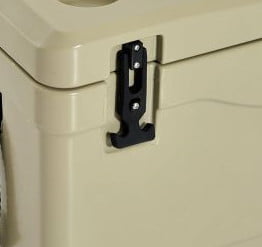 Next, there are the locking latches; they're T-shaped with a molded space for your fingers to easily put them on or off.
Also, they're made of rubber and they get in place smoothly and firmly in a very satisfying motion and feel. The lid is impossible to just get opened if you don't do it manually.
Handles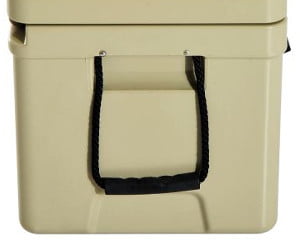 Then we have the nylon rope handles with molded rubber grips for safe and comfortable transportation. These ropes are not easy to damage and they're highly flexible.
In case you didn't like these ropes, you'll find molded handles to be used instead.
Leak-proof Draining Plug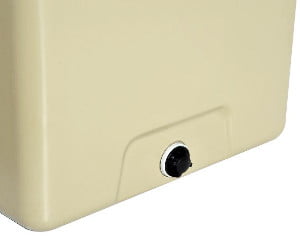 At the bottom of the cooler, you'll find a leak-proof draining plug so that you can get rid of unwanted water whenever there's any as it'll also make cleaning the cooler a lot easier.
One little thing that's missing here is the rubber feet which we're very used to having with other brands. We honestly have no explanation for why there are none on the Outsunny coolers, but we're sure that lacking bottom feet won't affect the coolers' performance. However, you'll need to be extra careful where you put your cooler to avoid unnecessary skidding.
Who is it for?
The Outsunny coolers line is nice and simple and it's meant to serve different purposes. Whether you're looking for a cooler to keep in the back of your vehicle or you're planning a family/friends gathering in the backyard, these coolers will definitely do.
The largest Outsunny cooler (85 qt) could be a great camping cooler since it can hold around two hundreds 12 oz cans (without ice). It's also a good option for fishermen and hunters who spend days in the water.
At the end, it's up to you to choose the cooler that's most suited for your needs and use orientation because honestly, these coolers can do anywhere and everywhere.
Outsunny Vs. Yeti: Which Is Better?
Outsunny coolers are what a minimal line can offer, and even though these coolers have everything that a cooler "must have" to be decent and up to our expectations from being roto-molded all the way to the number of features known to all ice chests, Yeti remains a leading conglomerate that usually finds its way to being the best.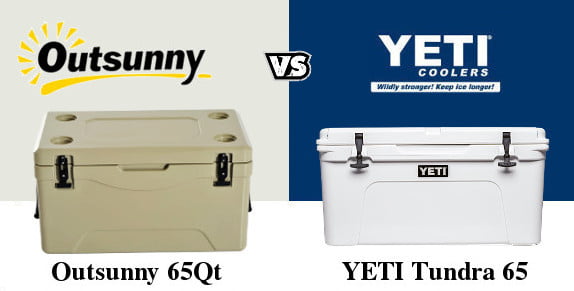 In terms of design, Yeti is definitely a lot sharper with higher end-production quality and you can see that looking at the details and the amount of refinement put into them.
Also, Yeti Coolers come in a variety of colors and sizes providing you with a large platform of options which make it a very versatile brand. Not only that; all of Yeti coolers are bear-resistant which is always a plus for outdoor enthusiasts who like to step up their game every time and try new challenging places and circumstances.
All that being said, it seems like Yeti is taking over huh? Well, it doesn't have to be that way because even though Aosom' Outsunny Coolers come in one color only (khaki), 3 sizes only (32 qt, 64 qt, 85 qt) and they all have no bottom rubber feet; these coolers a whole lot cheaper than Yeti's with the ability to do keep your drinks and goods as cool and fresh.
So basically, it all comes down to how much you're willing to pay for a cooler and whether you simply want a cooler or you want the name that's on it.
Outsunny Coolers – Final Thoughts
Outsunny Coolers are your basic roto-molded coolers that can easily do the job without causing you any trouble; they're rigid, simple and durable. However, the main reason why a lot of us would go for such a cooler is the irresistible price tag that's way affordable than any other brand that you might think of.
To wrap it up, we don't really see how anyone could go wrong with an Outsunny cooler if all you're looking for is a cooler to pack and store your provisions for an outdoor's trip.