Camp Zero is the fruit of over 30 years of struggle for the brothers / business partners behind the brand. For Jim & Tim, Camp Zero isn't just another cooler brand but a solution for those who fancy a stylish & dependable cooler for an affordable price tag.
Accordingly, the brothers dedicated most of their life to the outdoors with the purpose of developing tools and accessories for anglers, hunters and obviously campers. Therefore, the brand managed to break the surface recently after accumulating a decent fan base.
Consequently, Camp Zero seems to be quite an interesting brand with an equally impressive history. However, out of curiosity, we still have to put it under the scope. So, pick up your reading glasses and get ready to dive deep on Camp Zero cooler review.
Camp Zero Coolers Compared
Coolers
Capacity

Dimensions
(W x H x D)
Weight
(Lbs)

CAMP-ZERO 10 COOLER
• 10 Liters
• 2.64 Gallons
• 10.6 Quarts
15" x 10" x 11"
10.47

CAMP-ZERO 20 COOLER
• 20 Liters
• 5.28 Gallons
• 21.13 Quarts
18.5" x 13" x 12"
14.88

CAMP-ZERO 40 COOLER
• 40 Liters
• 10.56 Gallons
• 42.26 Quarts
24.02" x 18.5" x 15.16"
26.61

CAMP-ZERO 60 COOLER
• 60 Liters
• 15.85 Gallons
• 63.4 Quarts
28" x 18" x 18"
36.16

CAMP-ZERO 80 COOLER
• 80 Liters
• 21.13 Gallons
• 84.2 Quarts
29.13" x 21.26" x 19.29"
41.47

CAMP-ZERO 110 COOLER
• 10 Liters
• 29.05 Gallons
• 116.23 Quarts
32" x 21" x 20.7"
49.25
Available Sizes & Dimensions
Since the beginning of time, for coolers at least, variety has been a radiating aspect since it tells you a lot about a brand. Hence, Camp Zero might not be as proliferated as Pelican but it still exhibits a wide variety of options between hard-sided and soft-sided coolers. So, let's find out whether it has what you need.
Camp Zero Hard-Sided Coolers
Essentially, hard-sided coolers are the defining factor of variety since they target invested buyers who are looking for a life-time partner rather than an occasional companion. Accordingly, Camp Zero seems to be very proud of its humble arsenal of 6 models and rightfully so.
Indeed, the brand at hand features coolers as small as 10 & 20Qt all the way up to 80 & 110Qt. Thus, with a couple extra sizes in-between the previously mentioned, Camp Zero is definitely capable of satisfying most requirements on the market. Therefore, unless you need a gigantic cooler, you should find your match right here.

Camp Zero 10 Cooler
Camp Zero 20 Cooler
Camp Zero 40 Cooler
Camp Zero Soft-Sided Coolers
For those of you who are looking for a more compact / practical cooler, Camp Zero presents its soft-sided lineup with impressive variety.
Indeed, it seems that Camp Zero is one of the few brands that dedicates equal effort to the soft-sided coolers. Hence, the brand at hand provides a gradual shift from a 12 can capacity all the way to a 40 can beast with 3 other sizes in between the extremes.
Accordingly, despite being significantly weaker than hard-sided coolers, soft ones are actually capable of handling scenarios that are rather impossible to attain with anything boxy.
So, if you're really into camping, hiking or simple 24 to 48 hour adventures then you'd definitely love a soft-sided Camp Zero cooler.

RTIC Soft Cooler 30 Can, Insulated Bag Portable Ice Chest Box for Lunch, Beach, Drink, Beverage, Travel, Camping, Picnic, Car, Trips, Floating Cooler Leak-Proof with Zipper, Blue/Grey
UP TO 24 HOURS OF COOLING – The RTIC soft insulated cooler is the perfect insulated cooler bag to keep your food and drinks cool wherever needed for up to 24 hours.
IT'S A FLOATING COOLER – Not to mention it's a floating cooler, it floats, so your drinks and snacks can go wherever you go. Ideal for a day at the pool or lake, no matter where the adventure takes.
Design & Build Quality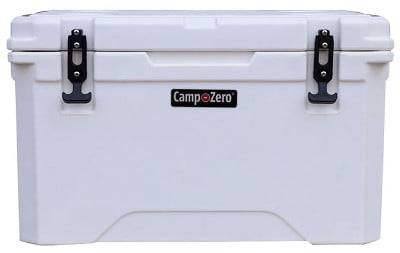 Since we can't speak of design without tagging quality, here is our humble attempt to draw a line between the two.
First, Camp Zero coolers are designed with the intention of attracting the eye, which is a bold claim to say the least. Indeed, Jim & Tim decided to match some of the most appealing designs on the market for a lower cost and they were rather successful.
Indeed, throughout our research, design was one of the most prominent magnets for the brand since the coolers look sharp, minimalistic and premium all together.
Further, similar to some prominent brands, Camp Zero opts for a range of radiant skins in order to grant you more customizability options and allow you to give your cooler the profile you desire.
On the other end of the spectrum, quality is evidently a priority for Camp Zero and that is visible without the call for in-depth inspection. Indeed, just like Yeti, the brand at hand adopts some of the toughest polyethylene combos to create resilient shells. However, to attain prime,
Camp Zero depends greatly on rotational molding technique.
Everyone in the industry agrees on the fact that roto-molding technology is the best for quality and performance. Hence, it was a surprise to see a budget brand pushing the envelope all the way.
Consequently, Camp Zero hard coolers go through from a rotational build that ensures the mold of the cooler is developed gradually in one piece. Once the process is completed, the body of the cooler is rendered virtually unbreakable & significantly resilient in all environments because it is firmly packed together.
Ice Retention & Insulation Ability
Resilience is key for a product that is meant to spend most of its life in the outdoors. However, performance is just as important. Indeed, we buy portable coolers for ice retention by priority and that pushes most companies out there to push the bar as far as possible given the budget.
First, the fact that Camp Zero coolers take the roto-molded approach should separate them from the "cheap cooler" category. Indeed, this kind of build entails an interesting process of dual axle rotation to build the mold of the cooler in one unified piece.
Once that is completed, Camp Zero coolers get the advantage of being protected / sealed from all corners, giving them a better chance to withstand harsh outdoor conditions.
Further, the next step in the process of insulating Camp Zero coolers is no different to any other premium cooler out there. Hence, the coolers are consequently injected with a dense foam substance that squeezes firmly in-between the walls and creates this divider that reduces the effect of external temperature on the inside of the cooler. In other words, the foam harbors a bunch of tiny bubbles that disperse heat as well as cold to slow down the reduction process.
Moreover, to complete the containment process, Camp Zero coolers are enhanced via a rubber gasket on the lid that presses firmly against the body of the cooler and creates an impenetrable seal. Accordingly, once locked, the cooler is given this extra barrier that will stop all warm air from intruding inside the cooler continuously.
Finally, Camp Zero does not endorse a shiny slogan about how impactful their ice retention is because it can only attain up to 4 days of ice retention on its smaller models and slightly above 5 days on the larger ones.
While it might sound like a disadvantage, you must remember the price tag of these coolers and compare it to the value of the market. Once you do that you'll realize that Camp Zero coolers are in fact decent.
Features
The features of a cooler often work to its favor except when they are catastrophically annoying. Fortunately, it seems that Camp Zero has invested enough time and labor into their creation to ensure you get the most practical features for a significantly low cost.
Virtual indestructibility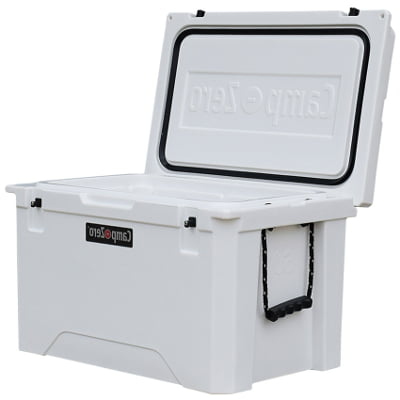 If you like products that last a life time then you're going to love a Camp Zero cooler. Indeed, since it is specifically built to avoid pieces and attachments, Camp Zero coolers will hardly ever get damaged to the point of no return.
Hence, even while spending most of the time in the outdoors, you are probably never going to need another cooler.
Animal Attack Certified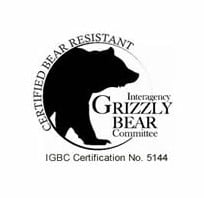 Another consequence of rotational molding and the toughest polyethylene combinations is creating a bear proof cooler.
In fact, for the price, Camp Zero coolers are amongst the most affordable animal proof coolers and that's an advantage for those who love camping & hunting.
Molded-In Latching & Locking System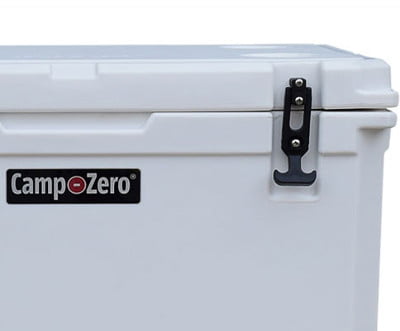 Being an affordable plan becomes obvious once you take a look at the latching system of Camp Zero coolers. Indeed, the latches on these coolers are similar to most Walmart coolers and that isn't a bad thing.
In fact, the molded-in design of Camp Zero cooler latches is reliable, simple & replaceable.
Multi-purpose Lid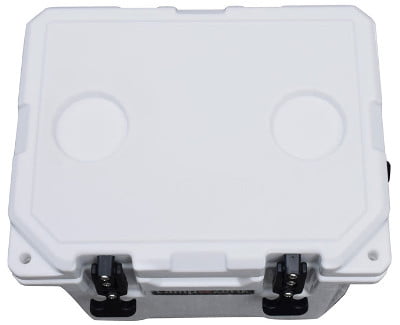 Portable coolers have recently developed this trend where a lid doesn't have to be just a lid. Hence, Camp Zero tagged along the caravan of multi-function lids by fusing a couple drink holders on the top.
Also, the non-slip texture lid at hand features 2 lock slots on the front ends & molded tie down slides for extra security.
Anti-slip Rubber Feet
As small as they are, rubber feet can make a whole lot of a difference for those of you who are always on the move. Indeed, whether your vehicle of choice is a boat or a pickup truck, you are going to learn to appreciate this little feature, as it will reduce skidding significantly.
Easy Grip Handles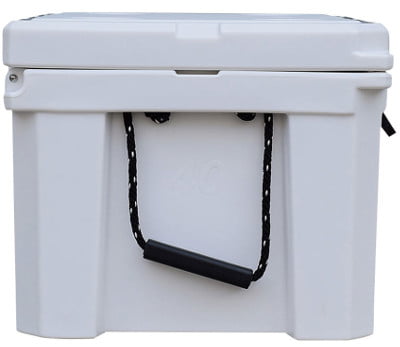 While smaller models benefit from an aluminum handle that mimics Yeti coolers of the same size, the larger models on this selection come with the flexible rope handle design.
Indeed, rope handles are the superior option for outdoors because they are more flexible and less likely to twist or snap under pressure.
Further, the handles are enhanced via a plastic grip that should facilitate handling and reduce pain significantly.
Other Features
In order to proceed with the Camp Zero coolers review, here is a short list of some honorable mentions:
Fully protected hinge bar
Fine threaded draining valve
Reversible feet
Integrated hinge for secure fit
Molded-in handles
5 years of limited warranty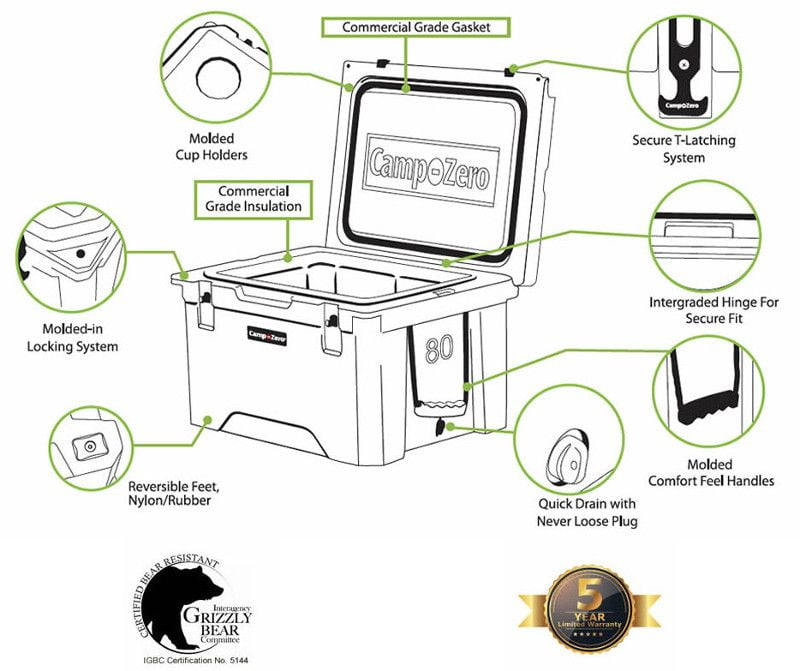 Who is it for?
Because of its affordability & generous versatility, Camp Zero coolers are literally the perfect match for everyone out there. Accordingly, depending on the size you go with, these coolers will serve you appropriately and that includes everyone.
So, whether you're someone who's looking for a casual weekend / picnic / beach cooler or an enthusiastic angler, camper or hunter, you are going to find your match in the rich variety of the brand. Hence, as long as you are satisfied with the ice retention capability of this brand, you shouldn't be disappointed with your pick.
Camp Zero Vs. Yeti: Which Is Better?
While it is almost impossible to compare Camp Zero to the conglomerate that is Yeti, we still have to at least draw the distinction between the two. Hopefully, once we finish our little comparison, the Camp Zero cooler review would come to a satisfying end.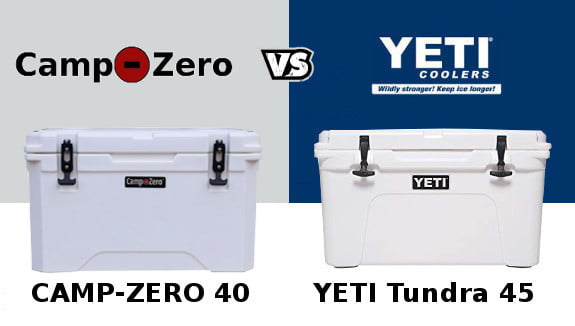 So, starting at quality, Camp Zero coolers are undeniably robust & would certainly last a life time. However, Yeti has just invested so much more into this aspect that it's almost impossible to beat. Indeed, Yeti coolers are simply untouchable because they have proven to be above time.
Moreover, in terms of variety, Yeti exhibits one of the richest catalogues on the market with multiple lines & tens of sizes, shapes and purposes for their coolers. Nonetheless, you can still argue that Camp Zero provides an impressive selection because they cover most categories including soft-coolers. Hence, while Yeti is superior, Camp Zero is definitely not going under.
Pricing is an interesting point because it is where most people disagree. While a lot of buyers out there are willing to play however much in order to get the best of the best, some are seeking the best cooler for the buck & that's exactly the difference between the two brands. Yeti coolers are undeniably overpriced considering the fact that they aren't excellent performers which pushes us to believe that Camp Zero returns more value upon investment.
Compare To:

"Yeti

The YETI Tundra 45 combines versatility with durability with a capacity of up to 26 cans with a recommended 2:1 ice-to-contents ratio
Ice stays ice thanks to up to 3 inches of PermaFrost Insulation and an extra thick FatWall design is certified Bear-Resistant

Camp Zero Cooler – Bottom Line
To wrap it up, Camp Zero coolers are definitely a solid purchase since they offer decent performance, impressive durability & premium build qualities.
Therefore, if you happen to be in urgent need of a cooler that can get the job done no matter the situation then you should opt for a Camp Zero. However, you can invest a little more and get something significantly better.
Amazon Recommends:
Bestseller No. 1
Bestseller No. 2
Bestseller No. 3