Siberian is not one of those cozy brands with a warm story about how they developed the brand based on a childhood dream. In fact, this is a strictly commercial brand with a clear trajectory and a strong premise.
Siberian is a high competitor in the market and that requires a strict agenda of rules. Hence, the 4 to 5 star ratings do not come as a surprise given the fact that the brand offers excellent value for a reasonable price.
In fact, some Siberian cooler reviews would argue that this might be the best deal you can make right now as a professional.
Accordingly, this article aims at putting the brand under the scope and analyzing its offers, variety, quality & performance objectively. Thus, if you have any relative information that you would like to contribute, do not hesitate to share your thoughts in the comment section below.
Available Sizes & Dimensions
The first element upon which we build our reviews is variety and we have a feeling that Siberian is well equipped for this segment. Indeed, the brand at hand reveals quite some potential via its 3 prominent lines.
Accordingly, Siberian entertains three separate investments where they target multiple professions, demands and tastes. So, let's find out which one is better suited for your requirements.
Alpha PRO Series
The Alpha Pro Series is the pride and glory of Siberian coolers and the line that generates most sells for the brand. Indeed, this right here is the Lamborghini of coolers and just like the super car, Siberian restricts this selection to its premium coolers.
Accordingly, the line at hand is enriched via 4 different sizes meant for various situations and preferences. Speaking of which, this line includes coolers that are fit for hunters, anglers and campers which brings us back to the versatility of the Siberian Alpha.

The coolers in question are premium built from head to toes and exhibit leading qualities all around. Hence, whether you're seeking a compact or glorious cooler, you will find your match amongst the following options:
Coolers
Capacity
(Quarts)

Dimensions
(L x W x H)
Weight
(Lbs)

Alpha Pro Series 22 Cooler
22
• External
19.60" x 13.50" x 13.75"
• Internal
13.80" x 9.10" x 9.05"
14.30

Alpha Pro Series 45 Cooler
45
• External
26.22" x 16.30" x 15.50"
• Internal
20.35" x 11.02" x 10.63"
23.5

Alpha Pro Series 65 Cooler
65
• External
29.85" x 17.87" x 17.25"
• Internal
23.54" x 12.48" x 12.05"
31.2

Alpha Pro Series 85 Cooler
85
• External
31.02" x 19.21" x 18.875"
• Internal
24.69" x 13.78" x 13.62"
41.4
Outback Series
Outback is basically the barbarian cousin of the premium Pro series which should already give you a hint about what to expect from these coolers. Indeed, the Outback series is beastly and that is strictly related to the nature of the targeted customer.
Accordingly, Outback coolers are a perfect match for brutal outdoors which are often synonymous with hunting grounds or rocky mountain terrains. So, if you're looking for a cooler that will overcome all kinds of environments, temperatures & situations then you're more likely to be satisfied with a Siberian Outback cooler.

Similar to the Alpha Pro line, the Outback Siberian line exhibits a decent variety that is bound to cater for pretty much anyone looking for a heavy duty cooler. Indeed, the Outback coolers comes in 4 different sizes in order to fulfill the various needs of the market and they rank as follows:
Coolers
Capacity
(Quarts)

Dimensions
(L x W x H)
Weight
(Lbs)

SIBERIAN OUTBACK- 30
30

• External
21.25" x 14.25" x 14.75"
• Internal
17.25" x 10.50" x 10.75"
18.60

SIBERIAN OUTBACK- 50
50
• External
23.5" x 16.5" x 17.25"
• Internal
19.75" x 12.25" x 13.25"
23.8

SIBERIAN OUTBACK- 82
82
• External
27.5" x 18.75" x 19"
• Internal
23.5" x 15" x 15.25"
31.2

SIBERIAN OUTBACK- 125
125
• External
32.75" x 20.25" x 20.5"
• Internal
28.75" x 16.5" x 16.75"
41.4
Sidekick Soft Series
In order to complete the circle, Siberian generates more effort to invest into the soft-side. Similar to prominent brands, Siberian goes on to satisfy the needs of a much larger market. Indeed, soft-sided coolers often sell much more than standard hard-side coolers.
Accordingly, Siberian made sure to inject 3 extra coolers in its arsenal in order to fulfill the needs of daily commuters, picnic lovers and 9 to 5 workers. However, it is important to note that all three products vary only in color while the size is limited to 32 cans.

Design & Build Quality
Design might not seem like a priority right now but that's one big misconception. Indeed, the shape, look and feel of a cooler have a significant influence on performance, practicality and user-friendliness.
Accordingly, Siberian coolers benefit from the simplicity of the brand to great extents. In fact, the Alpha series is one great example of how portable coolers should look like because they pack everything without creating a single inconvenience. In other words, Siberian coolers exhibit all features necessary without breaking that perfectly rectangular shape.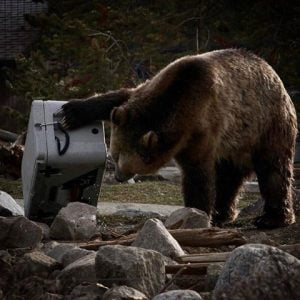 On the other hand, the Outback series is clearly designed to mirror its targeted environment. Accordingly, since these coolers are meant for rough terrain, they are made to look as aggressive as possible. Hence, while this might create some inconvenience during transportation, it most certainly looks the part once at the designated location.
Quality on the other hand is a religious matter for the brand. In fact, Siberian is not trying to compete with mid-range coolers, it is aiming at the trophy and for that they need to mirror the quality of big brands. So, it went ahead and this better than that.
Indeed, Siberian is one of the more impressive brands and a lot of that is attributed to its resilience. Throughout our tests and the Siberian cooler analysis we studied, the praise of brand's quality was consistent & that goes to show what to expect from these coolers.
Accordingly, Both the Alpha and Outback coolers are strictly built through rotational molding which is an enhancing technology that produces a unified mold for the cooler. However, that would only be of some significance if matched with the appropriate building material.
Fortunately, Siberian is fully aware of that as it insists on using nothing but pure polyethylene compose, resulting in one of the toughest coolers on the market.
To help you see the picture from a better angle, it is prime time to recall the fact that Siberian coolers go through some oddly specific torture tests to determine their resilience.
For example, these coolers are casually thrown in proximity to wild bears in order to prove the point of bear resistance.
Ice Retention & Insulation Ability
While quality is important, performance remains the highest-ranking choice factor. Indeed, we often completely disregard the quality of a product because we assume that performance is everything, which is partially true. Hence, it is time we discuss ice retention on a Siberian cooler.
Let us initiate this segment by taking a moment to appreciate the fact that Siberian coolers are capable of pulling up to 7 days of ice retention during the summer. As insane as it sounds, we have tested several coolers with different variables & our final estimate is exactly between 6.5 and 7 days before ice melts completely.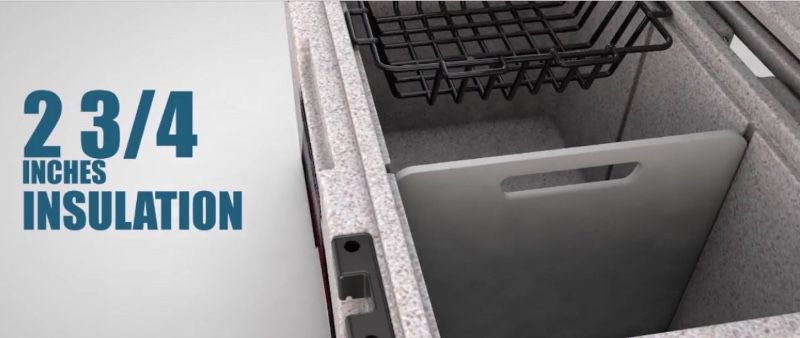 Now we aren't denying the fact that there are coolers that can attain similar results out there but that doesn't reduce the fact that these results are amazing for a cooler that costs significantly less than the top tier.
In order to attain these results, Siberian had to seriously invest in several technologies. Nonetheless, insulation is the primary factor behind the success of the brand and without the proper foam injection; Siberian would be just another Walmart brand.
Indeed, the pressure injected foam insulation has a strong influence on ice retention since it literally slows down the process of temperature influence. In other words, the tiny bubbles within the foam substance disperse the heat into thousands of tiny capsules and thereby slows down the heat effect.
Further, the rotational molding build merits some credit since it grants the foam a perfectly sealed mold that is almost impenetrable by UV rays. Hence, beside reinforcing the body, the mold will effectively shell the contents of the cooler, temperature included.
Last but definitely not least, the final contributor to the siege is the freezer style gasket. Unlike most gaskets, the Siberian one is made of a combination of rubber and Styrofoam, mixing flexibility and firmness & resulting in a complete lock down that will require some force to break whenever you re-open the cooler.
Features
Features are pretty much the jewellery of coolers, they are flashy, attractive and valuable. Indeed, without the right features, you are guaranteed to resent your cooler and that is something most manufacturers try to avoid.
So, let's see if Siberian coolers have what it takes to appeal to anglers, hunters & all outdoors' lovers as it claims.
Reversible Feet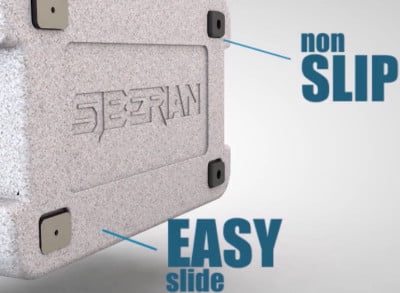 One of the more unique features on Siberian coolers are the reversible feet. Simply put, all Siberian coolers come with four reversible feet.
Thus, once on a boat or a vehicle, you can opt for the rubber side in order to prevent the cooler from skidding. However, heavier coolers are better off with hard feet in order to make pushing them around easier.
Cam Type latches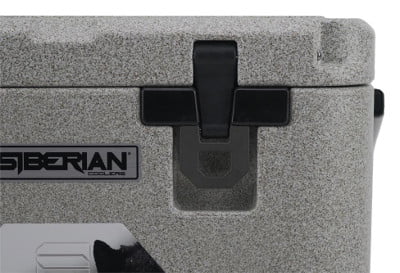 Cam latches are perhaps the most appealing design out there. Indeed, you can lock / open your cooler with one hand thanks to these latches.
However, you have to make sure you push them out of the way before you close the lid because they're almost always in the way.
Handles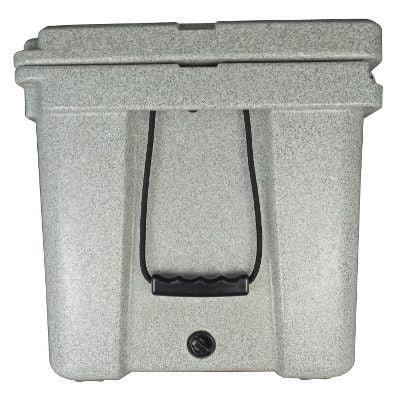 Siberian is a unique brand. However, it isn't trying to change things that already work. Hence, all Siberian coolers come with flexible strap handles supported via a molded grip for extra comfort.
The handles are far more agile and that means they are less likely to break under pressure.
In case you're a loner and you often have to carry these coolers on your own, you can always opt of the molded handles. Indeed, the molded handles are tough, reliable and easy to handle individually.
Thick Insulation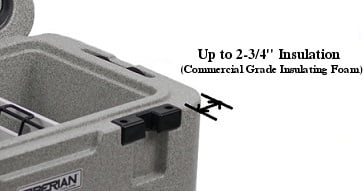 One of the most prominent features of Siberian coolers is the impeccable insulation and rightfully so.
In fact, Siberian coolers are one of the few brands that went over the 2.5 inches thickness bar to attain 2.75". Hence, the thick walls will provide the necessary rigidity but most importantly, they will prolong your ice retention limit.
Extra Features
Since it would take another article to discuss every one of Siberian's features, here is a brief list of what you should expect beyond the ones listed above:
Freezer-style lid gasket
Molded tie-down slots
Lockable lid
Lifetime warranty
No sweat exterior
Non-slip lid
Certified bear resistance
Stainless steel hinges
Raised foot pads
Quick flow draining valve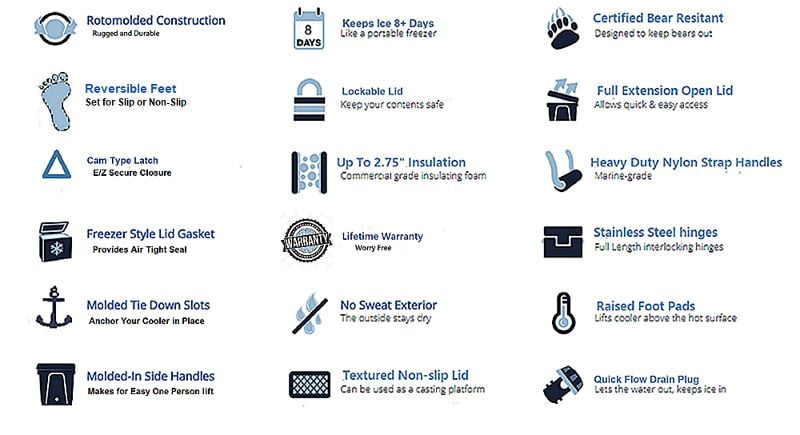 Who is it for?
As it has been accomplished in this Siberian cooler review in earlier segments, this brand features 3 lines with multiple sizes, shapes and designs. Hence, you can rest assured that can find your match in the Siberian coolers' selection.
Accordingly, if you're an angler, a hunter, a camper or a regular hiker, you are ensured to find a Siberian cooler that will satisfy your needs…that is unless you need a really large cooler.
In that respect, note that Siberian Alpha coolers peak at 85Qt while the Outback line can go up to 125Qt.
Siberian Coolers Vs. Yeti: Which Is Better?
Since we started our website, we developed the habit to compare all our discovered coolers to a stationary legend. Hence, it is time we put Siberian in a direct comparison with the mighty Yeti.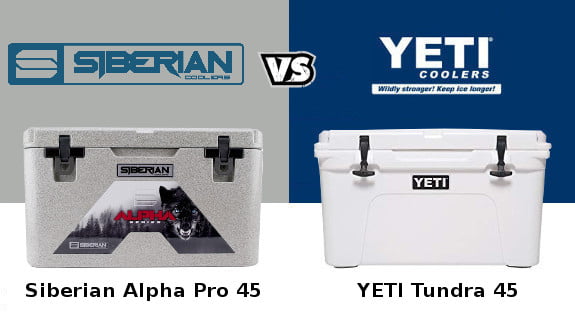 First, it is important to note that there is quite an age gap between the two brands which explains the difference in variety between the two brands. Accordingly, Yeti is a proliferated manufacturer that excels on many fronts. Thus, once compared to the mediocre selection of Siberian, Yeti seems to be much more prominent.
Also, in terms of design & quality of build, you can argue that there is a difference but it would be in vain. Indeed, the design and quality of materials on both brands are almost identical. However, only one brand offers life time warranty and that is Siberian.
Lastly, performance is a determining factor for most people and we have a feeling that this will help a lot of you make up their minds.
In fact, we weren't shocked to see the demolition of the Yeti Tundra 45 once put to the test against the Siberian Alpha 45. After one week of guessing, the Yeti finally gave up while the Siberian thrived to complete an entire other day, attaining 8 days of ice retention.
Siberian Coolers – Bottom Line
In conclusion, Siberian might not be a budget brand but you will definitely grow aware of the value of every buck spent on this investment. Siberian coolers are premium, reliable & robust which are all the elements hunters, anglers and normies need in a cooler.