Since we started our website, a lot of people have been impressed by Yeti coolers but most of them complained about how expensive they are. So, we ended up getting a lot of request for "coolers like Yeti but cheaper" and that's what you're getting today.
Undeniably, there is a limited number of worthy coolers out there, which border the excellence of a Yeti and cost far less. However, it is important to note that the lower your budget, the more you're leaving behind and that's an inescapable fact.
Nonetheless, it is very possible to find a great cooler without pushing your wallet into a tight corner. Indeed, since Yeti isn't everyone's cup of tea, with enough research, we managed to find a decent list of premium coolers that can go head to head with everything that Yeti stands for.
So if you're one of the thousands of outdoorsies that would love to own a YETI cooler, but can't shell out some serious dough to pay the hefty price tag, take a look at these alternatives for YETI like coolers.
5 Best Coolers Like YETIs, but Cheaper
Want a premium and powerful yet cheaper cooler that isn't a Yeti? Well, you're in luck because these are a bunch of coolers as good as Yeti with a little kinder price tag.
Here are some alternatives coolers like Yeti that are almost as good for far less:

ORCA stands for Outdoor Recreation Company of America and one of the few coolers like Yeti but cheaper. It was founded in 2012 by outdoor enthusiasts for outdoor enthusiasts, therefore, it's one of the best cooler brands out there.
Despite being new to the business of coolers, ORCA has managed to produce a wide variety of affordable top-notch roto-molded, making a huge impact on the market.
In fact, ORCA coolers are known for their long ice retention capability since they actually tend to outperform Yeti coolers when it comes to holding ice for long periods of time.
Further, when it comes to durability, ORCA coolers are built with high-grade materials, thereby they can withstand harsh outdoor elements. In fact, be it a regular sun strike or an irregular animal attack, these coolers will hold through.
ORCA offers a wide variety of coolers of different types and sizes. Speaking of sizes, you'll be able to find Orca coolers in sizes of 20, 26, 40, 58, 75 and 140 quarts. In addition to their hard-sided coolers, ORCA has a line of soft-sided backpack style coolers known as Pods and Podsters that are perfect for road trips, beach days, and short hikes.


RTIC is what you'd call an established brand since it truly excels in anything that is remotely related to ice retention. In fact, this brand has been quickly picked up by the radar for offering premium quality coolers for a reasonable price tag and that makes it fit for the "cooler like Yeti but cheaper" category.
The first thing that caught our attention to RTIC was its ability to maintain ice for long periods of time. In fact, the brand even goes as far as labeling their coolers as portable freezers since they can push ice life up to 10 days.
The next big thing about RTIC is the fact that everything in it is heavy duty. From the shell down to the T-latches, these coolers are built to outlast the most extreme environments. Accordingly, anglers and hunters will love these coolers because they can truly take a beating.
Eventually, the fact that all RTIC hard-shell coolers are roto-molded makes them that much better. Truly, these coolers are developed through an errorless technique that molds the cooler in perfect precision, leaving no faulty insulation or bent lid behind. Hence, RTIC coolers are available in 20 quartz, 45 quartz, 65 quartz, 110 quartz and 15 quartz.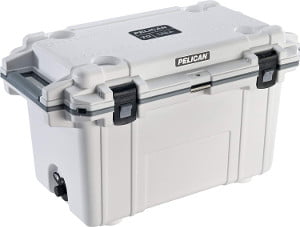 Pelican is truly an astounding brand and everytime we review one of their products, we wonder how come this brand isn't number one yet. Yes, Pelican is that good and that is something that has been reinforced through the years via a relentless development as well as remaining true to their values and quality.
Accordingly, the first thing everyone wants to learn about a good cooler is how good is it with ice retention and it's easy to say that these coolers will blow your mind.
As exaggerated as it seems, Pelican has in fact engineered their coolers to an extent where they start to look like an actual freezer and that pushes ice life up to 10 days.
Depending on how often you access the cooler / drain it, ice life can extend or shorten but what is constant is the fact that all Pelican coolers are robust. One look at any Pelican will leave no doubt in your mind that these coolers will over-take any obstacle that faces them and that includes animal attacks.
While you might be able to beat Pelican in rigidity, you will not come on top when it's about features. Pelican is truly the king of features as it has always managed to bring out things we didn't know we'd love. Beyond the wheels, this brand produces most coolers with telescopic handles, clip locks and a bunch of other cooler features.
In terms of variety, Pelican is undeniably champion as it exhibits a list of soft sided coolers alongside their best selling hard-sided ones and that gives us a wider variety to choose from. Nonetheless, in the main sector, the brand presents a rich list of coolers that goes from a 20 quarts cute little cooler to a 250 quarts monster with more than 7 other size options in between.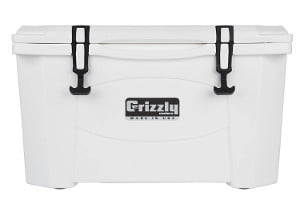 Grizzly is such an outdoorsy brand that it even managed to make coolers seem so cool again. Indeed, being an adventure brand, Grizzly can really tell what all of us need and that's something you wouldn't expect to see in coolers like Yeti but cheaper.
Accordingly, it doesn't come as a surprise to learn that this brand rivals the Yeti on so many levels, beginning with quality.
The quality of grizzly coolers is beyond suspicion the best you can get out there because they develop their coolers wit the intention that they will be attacked by bears every day on that hiking / hunting trip.
Speaking of which, while still an impressive brand, Grizzly tends to lean more towards the hunter territory rather than an angler's and that could cost them some valuable clicks.
Nonetheless, Grizzly still produces high performance coolers that are equipped with mighty gaskets and clean insulation to push ice retention to the maximum. Accordingly, you can expect a decent 7 days ice life from any grizzly on the market.
As far as features are concerned, Grizzly is no Pelican but it still managed to include everything you'll need to facilitate your interaction with these coolers.
Thus, from the easy access rubber T-latches, to the rubber anti-skid feet, you will be definitely satisfied with the overall performance of these coolers. Nonetheless, the only thing that truly bothered us is the fact that grizzly coolers look rather cheap and not in a good way.
When it comes to variety, Grizzly does not disappoint as it offers a rich list of diverse coolers comparable to Yeti to serve the needs and requirements of each different hobbyist, hunter, angler and camper. Thus, Grizzly coolers can be found in 15 quarts all the way up to a beastly 400 quarts with 6 other options in-between.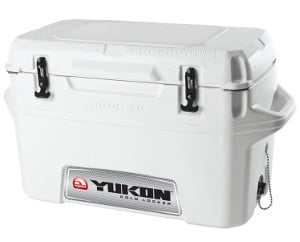 The selling point of the Yukon line is their ability to endure the toughest environments. However, is that enough to promote it as one of the coolers comparable to Yeti?
For starters, the Yukon is one of the few coolers out there that is actually built to endure bear attacks, which is essential for hunters. These coolers are wearing a polyethylene shell that has been through a bunch of torture tests to prove how resilient it is.
Coming in two different sizes, Yukon offers a versatile 50 qt and a large 70 qt and they are featured in white & tan. Accordingly, the color variety gives these coolers the ability to blend in on a boat as well as in the jungle.
When it comes to features, Yukon is perhaps the only line of coolers with dual molded lids, giving it a clear advantage in ice retention.
Further, both coolers feature robust but flexible rubber latches to pull that lid down firmly once locked. Moreover, being a premium brand, it is no surprise that these coolers are featured with self-stopping hinges once the lid is in extension.
Going back to performance, with a decent insulation, you can expect reliable results from Yukon coolers but nobody expected to achieve a 7 days span before the ice completely melted. Yes, this highly affordable cooler is capable of pushing the envelope much closer to a Yeti than ever before and the price gap is still legendary.

Coolers Similar to Yeti
Getting a cheap cooler might be satisfying at first. However, it leaves a lot to be desired in the long run. Therefore, we created another category for those of you who are willing to push their budget a little further and get coolers similar to Yeti. So, here's a list of the best coolers like Yeti: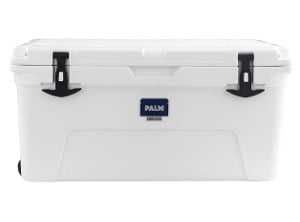 Palm is one of the most familiar names in the roto-molding industry because they have been around for over 30 years now and that qualifies it to the legendary category. Indeed, this is one of the few coolers similar to Yeti since Palm invests heavily in roto-molded coolers with premium build materials and an impeccable finish. However, does it really stand tall enough to look Yeti in the eyes?
Well, the only thing that can measure the performance of a cooler is its ice retention ability and Palm is a high ranking player. Indeed, Palm coolers exhibit an average of 7 days ice life through regular use.
In order to achieve this, Palm went far and beyond with their insulation, mirroring similar standards to Yeti. However, they are still at a slight disadvantage due to their thinner polyethylene resin crust.
Nonetheless, ranging between 1.5 and 3 inches of high pressure injected foam gives these coolers enough padding to repel temperature changes and strive through the hottest summer days.
Another interesting aspect of the Palm is the fact that it is argued to be built to last forever. Including parts, the company guarantees that their coolers will function properly for at least 10 years as their tests breached the 25 years average.
While 10 years might not be forever, it certainly can get there depending on how you treat your cooler.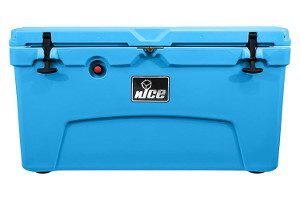 nICE is one of the brands that no one saw coming since they were almost always under the radar. However, it has created a bunch of coolers comparable to Yeti quality. Indeed, this brand has managed to maintain all of its clients throughout the years and there is no secret behind the how.
nICE left quite an impact on the market of premium coolers due to its unique integrated features that are considered a rare commodity for coolers within this price range.
When it comes to ice retention, nICE doesn't struggle a bit to maintain its place amongst the leading platoon due to its sophisticated negative pressure seal gasket. The gasket in question renders this portable cooler similar to an actual freezer as it locks firmly until you press the pressure relief button.
Moreover, nICE coolers are made of the same materials used in Yeti coolers, making them equally effective. Hence, there should be nothing standing between you and at least 9 days of ice life if used properly.
In terms of versatility, it becomes obvious why nICE is not as popular of a brand as say a Pelican or a Yeti. Indeed, with only three size options, you are bound to lose some potential clients. Nonetheless, the brand still offers a 20 quartz, a 45 quartz and a 75 quartz model which is bound to find some interested clients.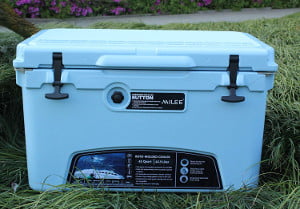 Milee is perhaps the best brand to follow nICE on this list since they are both very similar. Indeed, both brands are highly underrated and they both provide equally impressive value in the form of unique features. Nonetheless, Milee seems to be even closer to a Yeti because it focuses a lot more on insulation.
Undeniably, Milee is not Yeti. However, we can argue that it rivals it to a certain extent, which is impressive since the price gap between the two is quite significant.
Truly, one look at a Milee cooler will give away an air of quality, which is essential for insulation. Most importantly, the high pressure foam filling that is the essence of the roto-molding process of these coolers pushes the ice life up to 9 days.
Moreover, while ice retention is important, features tend to grab just as much attention because it is what facilitate your interaction with the cooler. Therefore, Milee plays it safe by providing you with everything you'll need to have a smooth experience with your cooler. Thus, from padded handles all the way to reliable t-latch locks, Milee coolers are in no way disadvantaged.
As far as variety goes, Milee is definitely ahead of nICE since it caters for a larger platform. Indeed, Milee coolers come in three different sizes and styles: the 70 quartz wheeled cooler, the 45 quartz double handle cooler and the 20 quartz central handle cooler.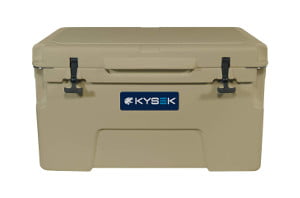 It has been a while since we last reviewed a Kysek cooler and yet it is still very much radiant as one of the best coolers like Yeti. Undeniably, Kysek is not Yeti but it embodies so many of its characteristics, starting with innovation.
There is a limited number of coolers similar to Yeti but Kysek coolers are overwhelmingly resourceful which is the result of constant development; a trait that is often lacking in roto-molded coolers.
Speaking of which, this brand pushes construction to perfection in order to achieve its promised 10 of ice retention. Hence, the brand focuses on a special high pressure injected foam and thick plastic polyethylene walls to achieve its goal. However, none of that would be possible if not for that mighty lid gasket.
Going back to the innovation part, Kysek is one of the few brands that integrates technology within its product and this feature is actually pretty impressive. Actually, a Kysek cooler can connect to a smartphone application through a sensor in order to warn you when the internal temperature drops below a specific degree. Also, these coolers come with removable wheels, extremely large draining holes and modifiable lid labels.
This list is organized in no specific order which is emphasized by the fact that unlike the two previous brands, Kysek actually offers a wide variety of coolers to cater for the different needs and requirements of all anglers / hunters and RV home owners out there. Thus, Kysek coolers come in the following sizes: 25, 35, 50, 75, 100, 150 quarts.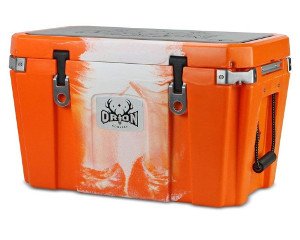 Orion is often labelled as the Lamborghini of coolers because, just like cars, fantastic coolers don't need advertisement. Nonetheless, while having a limited reach, the brand has managed to influence a lot of people into making a total switch and that takes some serious appeal.
Developed by the same company that created Jackson kayaks, Orion is definitely familiar with the outdoors and what comes with it. Therefore, it doesn't come as a surprise to learn that their coolers are extremely robust. Indeed, Orion made sure that its products are capable of handling harsh nature, making them highly recommended by hunters.
Speaking of which, another aspect that hunters love about Orion coolers is the camo-swirl design which is available in all sizes, including the 25, 35, 45, 55,65 and 85 quarts. Hence, variety is a common theme for the brand and that extends from sizes to colors.
Beyond the beautiful designs, performance is another area where Orion coolers truly shine. While it doesn't offer much of a bargain on price, Orion delivers on performance quite hard. Thus, you can expect an easy 10 days of ice life from any Orion cooler and that takes into consideration your interactions.

Coolers Similar to Yeti Roadie
Alright, let's stop beating around the bush and get down to the specifics. So, instead of generally reviewing brands that compete with Yeti why not take one example and see what actual coolers out there can match its performance.
For this little experiment, we chose the Yeti Roadie which is one of their best sellers and the Yeti that anyone could use. Thus, here are your best options of cheap coolers like Yeti Roadie: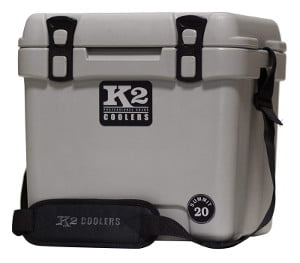 It is surprising that a K2 cooler made it on this list since it is quite a reputable brand. However, it is important to note that most of its reputation was based on how good this little 20 quarts cooler is.
Indeed, the K2 summit is basically a portable freezer because, just like the Yeti Roadie, it is capable of retaining ice up to 4 days.
Accordingly, the cooler at hand is a one piece roto-molded polyethylene construction with 3 inches foam insulation, meaning it is pretty thick. Hence, you can rest assured that this cooler will keep your drinks & snacks fresh as long as necessary.
The K2 understands that it's a smaller cooler which is why you'll find a few features that take advantage of that. For example, this K2 is one of the few hard-shell coolers in this category that comes with a padded shoulder strap. Also, the cooler at hand features an ice vault lid gasket which is basically an impenetrable barricade
To put the cherry on top of the cake, K2 decided to go with a healthy 7 years warranty life for the Summit because of how much they trust its durability. Thus, if you could get along with the fact that this cooler only comes in Grey then you'd have yourself a life long partner.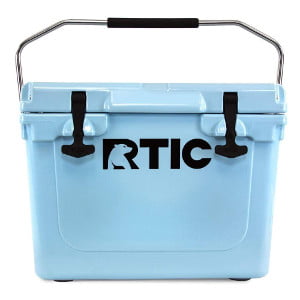 RTIC is another one of those brands that takes cooling very seriously and it truly pays off. Indeed, one of the best creations of RTIC has got to be their 20 qt cooler which is tiny, compact, versatile and and RTIC.
Let's start from the fact that this is the descendant of a brand that rivals Yeti in every way possible. Indeed, you can save up to $100 if you go for an RTIC 20 qt instead of the Yeti Roadie and you'll pretty much get the same performance. In fact, the two coolers are so similar, you'd think that they are made by the same manufacturer.
Accordingly, RTIC continues the roto-molding tradition with this cooler in order to give it the best chance possible in the wild. Accordingly, you do not have to worry about this 20qt because it will burn through any environment without a single complaint. Thus, whether you're an angler, a hunter or a plain ol' camper, you're going to appreciate this cooler.
Another reason we appreciate this RTIC is the number of features that make it ever so practical.
Accordingly, the best thing about this cooler has got to be the unhinged gasket which truly supports the cooler's ability to retain ice up to 4 days.
Also, the rubber T-latches make it so simple to access this cooler as well as keep the lid firmly locked in place. Then there is the central carry handle which is an iconic Roadie signature.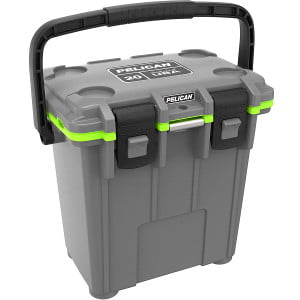 As it's been the habit, Pelican is always up for a challenge and they seem to be up to something this time. In fact, with the Elite 20, Pelican poses a serious threat to the throne of the Yeti Roadie and this is why.
First things first, the Pelican Elite 20 is a resilience beast. Indeed, one thing is for sure, roto-molding has created wonders but the Elite 20 is the best example of this technology on this list. Hence, there is no doubt about the perfection of this build, which entails a high resistance to any environment and an impeccable insulation.
Also, with a 2 inches thick polyethylene insulation, you can expect some decent ice retention time with this cooler. Thus, whether you're going on a short fishing trip, a fun beach day or a a few camping nights, the Pelican Elite 20 will serve you right.
Speaking of service, it must be noted that this cooler is perhaps the most practical on this list since it offers 4 self-draining cup holders, high quality locks, a solid handle and a slim body to make enough room for wine bottles. Speaking of which, this cooler can handle up to 3 win bottles and 15 cans.
The one thing that truly stands out amongst all these other coolers is the fact that this too benefits of the legendary Pelican warranty life. Believe it or not, this cooler is warrantied for life, meaning whenever it breaks the company will automatically replace it for you.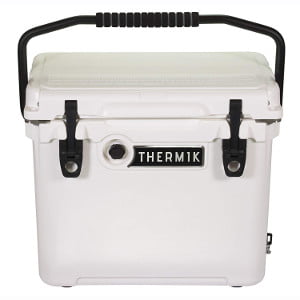 There are a few coolers as good as Yeti and Thermik is one of them. Indeed, one scan for any Thermik cooler will show just how much people who own one appreciate it. Accordingly, we think that this might just be the cooler to knock down the Yeti Roadie.
While this Thermik is slightly larger than the Roadie, the 25 qt at hand has the same footprint as a 20 qt except it's a little deeper. Needless to say, the Thermik at hand is roto-molded, giving it the ability to endure rough environments and prevent the atmosphere from influencing the temperature of the internal chamber.
Accordingly, the 25 qt at hand is capable of maintaining ice for up to 5 days which is beyond what the Yeti Roadie promises for a significantly lower cost. Indeed, the cooler at hand relies on its thick insulation and legendary gasket to maintain temperature at an all times low.
In order to facilitate your interaction, the Thermik at hand comes with a bunch of features that will prove to be very reliable. For instance, this cooler comes with easy clip latches, a rough lid-top, a minimalistic central carry handle and rubber feet. Not to mention that this cooler offers an above average 5-year warranty life.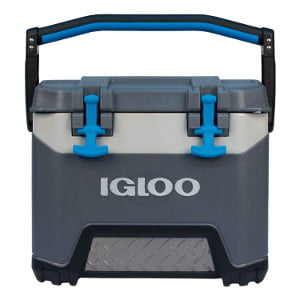 We can't really argue that we saved the best for last but the Igloo BMX 25 is still literally the best cooler for your buck. Indeed, being a decent performer / highly affordable cooler makes this BMX eligible for this category.
Accordingly, one of the most prominent aspect about the Igloo BMX 25qt is the heavy-duty theme that has taken over all of its features. In that respect, while it looks a little bit over the top, this cooler is actually impressively resilient. In fact, the BMX 25qt is easily the toughest cooler that you can get for less than $150.
In terms of ice retention, it doesn't come as a surprise to learn that this cooler would only stretch as far as 3 days in good weather. However, sometimes, 3 days is all the time you need and expect from a cooler this size. Thus, if you're planning out a short fishing trip, a nice picnic or a quick hunting session then this cooler would definitely get the job done.
What is pretty impressive is the fact that despite its cheaper price tag, this cooler still exhibits signs of premium quality coolers.
Indeed, a quick inspection of its features will show how much dedication was invested in the creation of this cooler. Thus, from the XL draining valve, the rubber T-latches, the padded carry handle to the rise up bottom, the Igloo BMX 25 has all you'll need to get your requirements matched.

Soft Coolers Like YETI Hopper
Perhaps you're not a die-hard fan of hard shell coolers and you are looking for something lighter and more portable. In that case, you could have skipped the entire article because this is where it gets down.
Accordingly, we are going to strip down our top picks of the best soft coolers like the Yeti Hopper.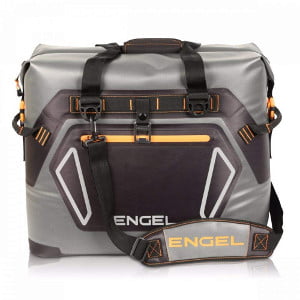 While Yeti remains a top tear brand, you must admit that there are certain things that push you to give a chance to upcoming brands. Thus, if your motive is the price then you're not going to be impressed with the Engel because it is definitely costly.
Nonetheless, the biggest selling point for this Engel is it's ability to retain ice for impressive periods of time. First, it must be noted that the soft cooler at hand is not exactly small as it measures around 20 x 16 x 10 inches, which is plenty of room for a family picnic. Thus, it's more or less anticipated that a soft cooler at this price range can reach up to 4 days before all ice is lost.
When we speak of ice retention, it is mandatory to address the insulation ability of this product. Accordingly, while hard coolers benefit from many advantages, the Engel HD30 climbs back up that ladder through the wielded waterproof and water-resistant zipper, padded walls and vacuum valve technology.
As far as practicality goes, there is really nothing to criticize on this cooler. Indeed, every little feature on the HD30 is worked to perfection which leaves minimum room for negativity. Thus, you can tell this is a rich cooler because of its extra padded shoulder straps, the integrated bottle openers, the overall waterproofing and the many other impressive touches.
Therefore, if you're seeking a wide-mouth cooler that is easy to use and reliable then you can't go wrong with this Engel because it offer similar performance as Yeti Hopper.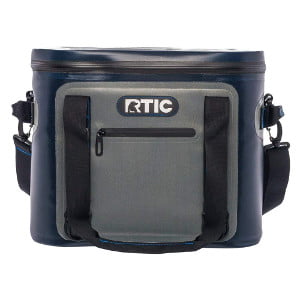 RTIC is a brand that is easy to compare to the big dogs due to its fascinating collection and impressive record. However, we are only seeking to highlight one little fragment of their being and that is the Soft Pack 30.
This soft cooler is truly the pride of the brand since it managed to make impressive sells in such a short period of time. Thus, you might be wondering: what is it about this soft cooler that makes it so popular?
Well, there is no sugar coating it, the Soft Pack offers a two in one deal, combining price and quality into one irresistible combo. Indeed, it is almost impossible to find a better soft cooler for you buck out there.
There is no denying that the Yeti Hopper is superior but not by far since this cooler is also capable of retaining ice for up to 5 days. Yup, this tiny beast is capable of keeping your drinks, hunt or catch fresh for almost a week which is unattainable with anything else within this price range. The secret is simple, a steel insulation that relies on a heavy duty vinyl shell with 2 inches of foam insulation, a UV resistant final exterior and perfectly sealed zippers.
In terms of practicality, this RTIC is one of the few out there that looks simple but still has a lot to offer. Indeed, on this tiny soft cooler, you'll have an extra pocket for accessories, a padded shoulder strap and a couple bottle openers.
In conclusion, there is no doubt that the RTIC at hand will deliver for everything that it claims and that is something you rarely encounter in the industry. Hence, to recap, the RTIC Soft Pack 30 is light, robust, easy to clean inside and out and much less expensive than a Yeti.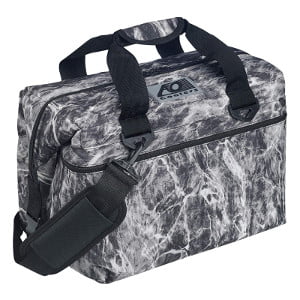 The AO Canvas Soft cooler has got to be the most affordable option out there that doesn't compromise on anything important. Indeed, this little cooler is gaining a lot of momentum because of its extremely affordable price and highly competitive performance.
Starting at performance, there is a reason this cooler costs less than 70 bucks and that is its ice retention ability. Arguably, the cooler at hand is capable of keeping ice in its initial state for up to 24 hours in the hottest environments, making it great for a one day hunting, fishing or even camping trip.
The insulation on this AO coolers is mediocre at best, which justifies the brief ice retention period. However, it is still impressive to learn that this product features a double sided insulated cover with minimal padding in-between. The zipper however is not exactly waterproof and that calls for some caution.
Further, another selling point for the AO Coolers Canvas is the overall robust feel. Indeed, while relatively cheap, the cooler at hand is impressively robust and highly practical. In that respect, this AO Coolers soft cooler exhibits an indestructible canvas exterior, a removable shoulder strap, and a minimalistic design that blends in with any environment.

Final Thoughts
As this article comes to an end, it is important to recall the real reasons behind it coming to life.
First, we have brought you this article based on popular demand for coolers like Yeti but cheaper.
Also, we thought it would be a good idea to broaden your range of options and help bring you other choices that might fit better within your plan.
Lastly, we hope that you would at least find it easier to make up your mind now that you know what you can get for less and how good of a deal you'll be making.