Vibe is the creation of two very inspiring men who happen to be addicts of the kayaking / adventure scene.
Obviously, it didn't take Joshua & John long before they picked the name because adventure is all about spreading good vibes. However, it did take them some time to surface in a highly competitive market.
Vibe hard-sided coolers are relatively a new born in the industry but the rate at which this brand is expanding is truly impressive.
Unsurprisingly, Vibe relies greatly on quality and performance as its two main pillars which is why we decided to write a full on Vibe cooler review.
Vibe Coolers At a Glance
Coolers
Capacity
(Quarts)
Dimensions
(L X W X H)
Weight
(Lbs)



Vibe Element 20
20
• External
21.1" x 13.3" x 14.3"
• Internal
14.1" x 7.8" x 9.8"
14.4



Vibe Element 45
45
• External
26.7" x 16.6" x 16.3"
• Internal
20.2" x 10.6" x 11.6"
23



Vibe Element 70 Wheeled
70
• External
33.3" x 17.2" x 17.6"
• Internal
27" x 11.7" x 13.2"
36



Vibe Element 75
75
• External
33.5" x 18.2" x 17.9"
• Internal
27.4" x 12.2" x 13.5"
32



Vibe Element 110
110
• External
37.5" x 19.3" x 19.5"
• Internal
31.7" x 14.3" x 14.9"
47
Available Sizes & Dimensions
One of the most influential aspects of marketing is the brand's ability to cater for variety of preferences / needs. Accordingly, while we are limited to 4 options, Vibe tries its best to cater for the requirements of as many of us as possible. So, here are the Vibe coolers you can get your hands on right now: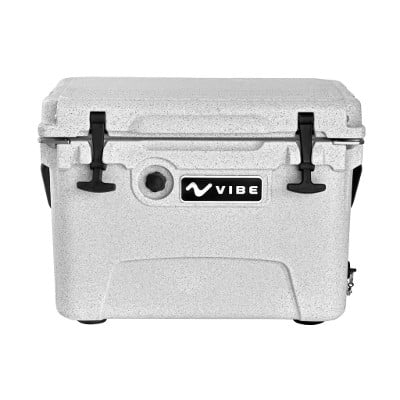 The Element 20 is Vibe's might be the youngest offspring but it still benefits from all the cool features that are found on bigger models. Hence, The Vibe Element 20 is perfect for occasional BBQs, picnics, beach days and job sites, which explains why it is one of their best sellers.
The cooler at hand measures 21.1″ x 13.3″ x 14.3″ & weighs around 15 pounds while empty.

Perhaps you're looking for something more versatile, something that can handle different tasks when needed. If that's the case, then you'd find a lot to admire about the Vibe Element 45.
Unlike the previous cooler, the 45 is meant to last a little longer and serve bigger purposes.
Accordingly, this cooler makes a great match for small game anglers / hunters because it measures 26.7 x 16.6 x 16.3 Inches & weighs 23 pounds while empty.

If your thirst isn't satisfied yet then you must be looking for some sort of a beast, something like the Element 75.
Most people would be fulfilled with the Vibe Element 45 but large tasks call for large coolers.
Indeed, the Vibe Element 75 is developed to cater for the requirements of amateur to professional anglers / hunters because it offers decent capacity and impressive ice retention times.
To bring you closer to the model at hand, the Vibe Element 75 measures 33.5″ x 18.2″ x 17.9″ & weighs around 32 pounds.

The Vibe Element 110 is a literal hulk of a cooler that is capable of catering for a group's camping trip. It is no joke, the element 110 was capable of catering for a group of people through a week's long camping trip and you can imagine just how much of an asset this will be on any boat.
Actually, whether you are a hunter, an angler or a good ol' camper, you will appreciate what the Element 110 has to offer.
Before we conclude, it is important to note that this cooler comes in a hunter camo skin as well as the standard alpine gray.
In conclusion, while there still are a couple different models, these 4 should satisfy most of your needs. However, if you're still slightly reluctant then perhaps a little preview of the brand's design / quality could help.
Design & Build Quality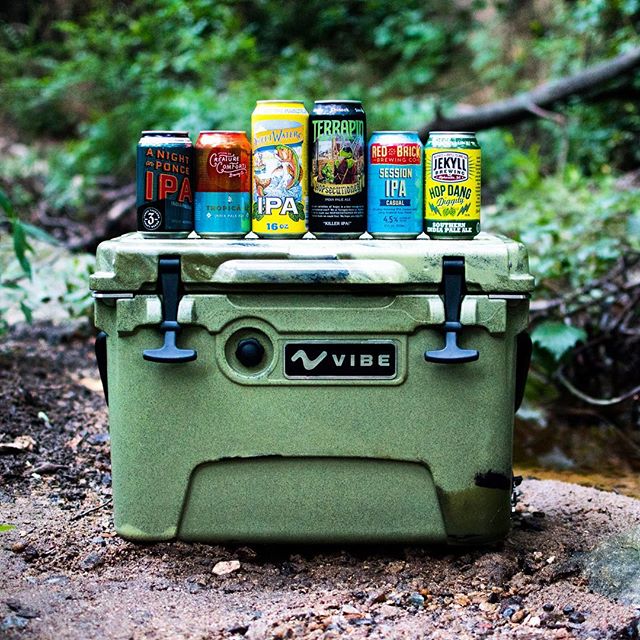 Design isn't exactly the focus of Vibe coolers and that is rather evident from first sight. Indeed, these coolers are definitely clever, they are trimmed, sharp and very much to the point. However, there is nothing that stands out when looking at a Vibe cooler and that's exactly the point.
Any premium brand is fully aware of the fact that action speak louder than design and Vibe is aiming at that category. Don't get us wrong, Vibe coolers are definitely not lacking in any shape or way but sometimes the best design is one that doesn't obtrude the norm.
Accordingly, this is what makes Vibe coolers far less likely to cause any inconvenient or inflict damage through storage / transportation.
On the other hand, Vibe truly shines when it comes to quality. Indeed, for a runner up, Vibe certainly has a lot to offer, especially when compared to the big dogs in the game.
In that regard, Vibe coolers are 100% wooly mammoth proof, which is a label that the company adopts to signify just how powerful these coolers are when faced with a wild animal attack.
Indeed, the rotational molding build and thick polyethylene exterior crust should be enough to keep anyone or thing from breaking into these coolers & that is something all outdoorsies can appreciate.
Ice Retention & Insulation Ability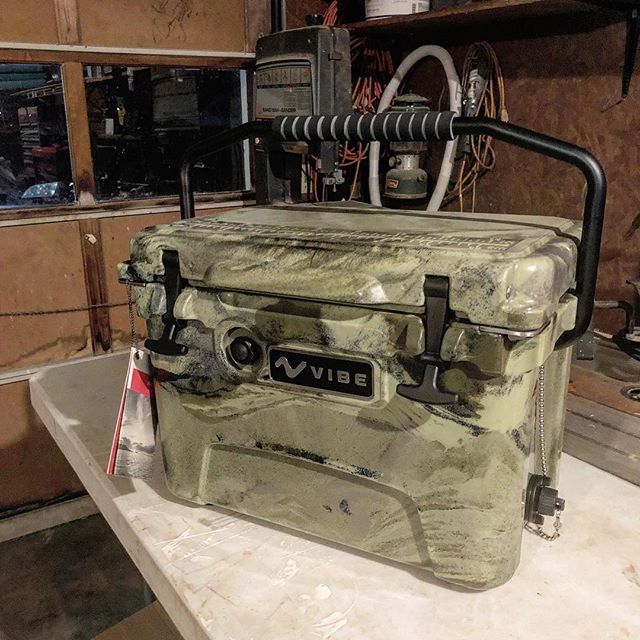 Quality is definitely a pillar for any purchase. However, what is quality without performance?
In order to take this Vibe cooler review, it is necessary to tackle the question that all of us ask whenever we are looking for a cooler. How long should I expect my ice to last inside one of these coolers?
Well, before we jump into conclusions, let us take a moment to investigate the direct contributors to ice retention and the influence of a reliable insulation.
In order to appreciate the performance of a cooler, you must strip it down to its basic components. So, let's put Vibe coolers under the scope.
Vibe coolers are relatively less popular than brands such as Yeti, Pelican & others but it too adopts the same roto-molding principle.
Indeed, Vibe coolers are build through rotational molding which is a process based on a two-axle motion that creates a unified mold for the cooler. This kind of mold becomes like a shell that prevents or at least slows down influence by external elements to the minimum.
Beyond the crust, Vibe is pretty much the Jason Statham of coolers, regular on the outside but a beast on the inside. Indeed, you wouldn't believe that Vibe coolers pack 3 inches of insulation foam behind those walls and that is phenomenal.
Accordingly, this type of insulation doesn't only protect the cooler but also serves as a breaking point for external temperature. In other words, the foam insulation is filled with thousands of tiny bubbles that disperse heat into smaller fragments and kills it before it penetrates the final coat.
So, we still didn't answer the main question here: how long would ice last inside a Vibe cooler.
Well, that depends on a few variables. First, pre-chilling your cooler makes a significant impact that can extend ice life for hours if not days.
Second, the quantity of ice ends up being quite an influence on the ice retention in general.
Consequently, if you make sure to pre-chill any Vibe cooler and load it with enough ice then you should be looking at a good strong week before all ice turns to water.
If you do not make an effort to prepare for your little adventure then you're looking at half that duration if not less.
Features
The influence of a cooler relies on many aspects, including performance, durability & certainly features. Indeed, features are our means of interaction with coolers which means that they can facilitate our experience to a great extent.
Also, some features go as far as influencing the performance of the cooler which calls for a Vibe features run-down.
Thick Insulation
One of the highlights of Vibe coolers is the fact that they feature 3 inches thick walls, which is almost unparalleled in the cooler universe.
Indeed, these coolers are built like tanks and that won't only prolong ice life but it would also make it really hard to damage these ice chests.
Air-tight Gasket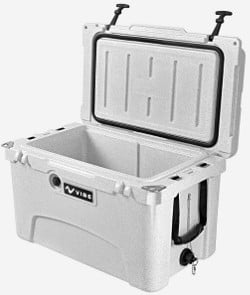 Gaskets are a big part of any cooler and it certainly is the case for Vibe as well. Indeed, this brand made sure that the gasket receives as much attention as the rest of the features because it is literally the gate keeper. Hence, Vibe gaskets are made of a durable rubber compose which is as flexible as it is rigid.
Consequently, the gasket at hand will seal the environment inside the cooler and stop hot air from getting through.
Pressure Release Valve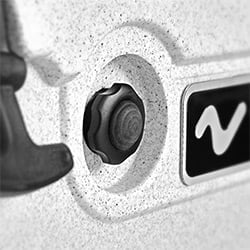 Pressure release valves have grown to be a trend amongst premium coolers nowadays because it makes a significant difference. Besides Vibe, brands like ORCA & others adopt the pressure relief mechanism in order to allow easy access to the cooler when it shuts tightly like a standard freezer.
That said, you won't have to keep yanking the lid every time you need access and that will push longevity further.
T-latches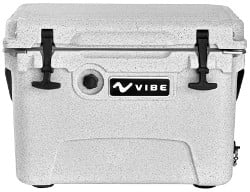 T-latches have become the trademark for reliability in the cooler universe because they simply work.
Truly, T shaped latches perform impressively well as they pull the lid down tightly on the gasket, reinforcing the seal & maximizing ice life.
That the reason why Vibe features all of their coolers with rubber easy-access T-latches to deliver a practicality / performance combo.
Lid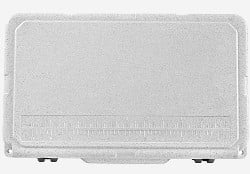 The lid on Vibe coolers is a wonder of its own. In fact, Vibe managed to put everything you will need on a lid without annoying design and here is what you can expect.
First, Vibe coolers' lids are thicker than the body which makes them tough enough to be used as a casting platform / seat without a concern.
Also, if you're an avid angler then you're going to appreciate the integrated ruler on the lid.
Moreover, because they are versatile coolers, you will also find bottle openers / lock ports on the front corners of the lid.
Handles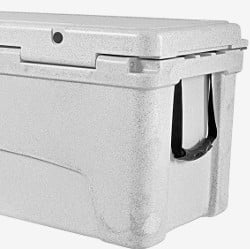 To wrap things up, one feature we cannot forget are the aggressive rope handles that you can find on Vibe coolers.
These handles are not entirely rigid because they take into consideration the fact that they will often be moved on rough terrain and that often calls for flexibility.
Nonetheless, these handles are marine grade which means that they are impossible to break no matter the load.
Who is it for?
If you can't tell already, Vibe coolers have proven to be the match of any request. Indeed, despite the limited size options, this brand is fully capable of catering for anglers, hunters as well as casual use that includes anything from beach parties to team sport events.
Indeed, Vibe coolers are very versatile and that means they incorporate little designs & features that can appeal to most categories out there.
Also, if there is one thing all Vibe coolers agree upon, it would be the impeccable insulation that can easily get you through an entire week with a little preparation.
If you think that Vibe didn't include a specific category of users within its agenda, feel free to leave us a comment & share your opinion with the community.
Vibe Coolers Vs. Yeti: Which Is Better?
A Vibe cooler review would not be complete without a proper comparison with the benchmark of the industry.
Accordingly, in this segment, we will try our best to deliver a bias-free comparison between the two brands and hopefully help you see the difference between Vibe Element coolers and Yeti.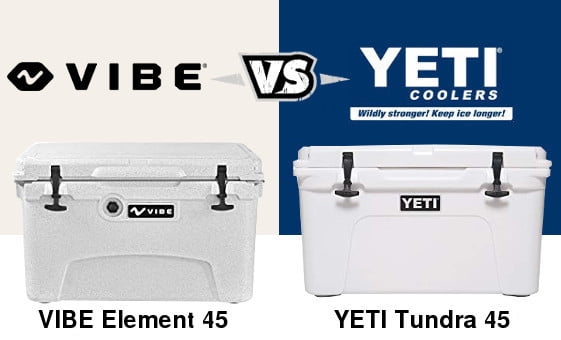 Since Yeti is a defeated champion, we must tread lightly because we area fully aware that there are brands out there that can overthrow Yeti easily. However, Yeti is still a beast in the industry.
Indeed, the brand delivers when it comes to quality, reliability, resilience & performance but that still doesn't explain the steep price tags.
On the other hand, Vibe Element coolers cost significantly less but surprisingly enough they can definitely compete for Yeti's claim.
Indeed, Vibe coolers are also Roto-molded, they are built from pretty much the same material, benefit from a thicker insulation and can match Yeti's ice retention period. Most importantly, you can get that entire package for a price that doesn't cost an arm and a leg.
In conclusion, while yeti is still the King, Vibe coolers are learking in the dark, waiting for an opportunity to dethrone it and just that should be enough to consider giving Vibe Element a chance.
Vibe Coolers – Bottom Line
In the end, while it is our job to dissect a brand and bring it down to its finest components, it is up to you to make the final call. Hence, Vibe element coolers have proven to be pretty impressive on all aspects and considering they tax you far less than some 'premium' brands, our best advice is to invest in a Vibe Element cooler because you cannot regret it.