Ice coolers are simply indispensable for many people and that is because they offer so much value for campers, truckers, anglers, hunters and almost every other human being who likes to spend weekends outdoors. However, we've all experienced the struggle of carrying a loaded cooler during our childhood before the introduction of the wheel.
Wheels on an ice chest completely revolutionized the idea and gave coolers so much more legitimacy. Indeed, it was mind blowing that now you can move a giant/loaded ice cooler individually, depending on the type of wheels and terrain. Hence, if you really want to keep your beverages, bait or snacks fresh for days but you cannot stay in one place then an ice cooler on wheels is your savior.
It's not so hard to figure out whether you need an ice chest on wheels or not. However, it's tough to match it out with every other feature you'll need in a cooler. For example, after filtering out limp coolers, you are now required to find a cooler with:
Proper Handle Height: the worst case scenario is that you get a cooler with a low handle that'll require you to stoop so low and crouch all the time you need to move it. In order to avoid this issue, you want to find a telescopic handle that is basically a handle that can be adjusted according to your height.
Wheel Size: Just like cars, off roading will often require larger wheels as they can adjust to rough terrain easily while smaller ones will definitely struggle. However, if you're planning on using your cooler mostly indoors on even floors then smaller wheels will prove to be more practical and efficient.
Transportability: Although being extremely easy to move, wheeled coolers can still be significantly heavier which is why it's important to make sure that you remain within reasonable net weight because it can only get heavier with all that ice and delicious beverages.
Also, make sure that you go for a boxy design while avoiding handles and wheels that stick out because these little things can make it a lot more awkward to carry your cooler around in your vehicle.
Finally, it is evident that the size of a cooler will change from one person to the other, depending on your different needs. However, it will come in extremely handy to remain within reasonable dimensions, especially if you are regularly moving your cooler in a car.
7 Best Wheeled Coolers on The Market
1- Igloo Glide PRO 110 Quart Cooler Review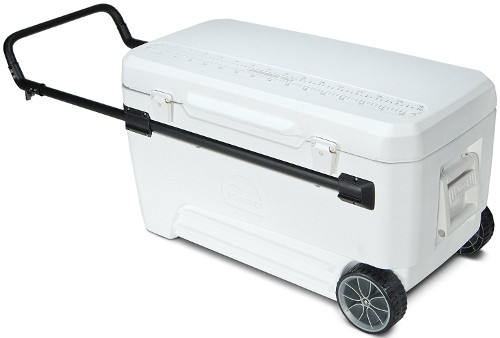 Igloo is probably one of the most familiar brands in the ice cooler universe because of the variety of choices it offers. Indeed, this is a growing brand with a special cooler for each and every different circumstance and purpose. So, why is the Glide Pro 110qt the best wheeled cooler for you?
The first thing that caught our interest on this cooler is the size. In fact, this Igloo is large enough for a proper barbeque or beach party with the reassurance of a firm insulation that will keep your drinks and snacks quite cold for over 3 days.
Also, the key feature here has got to be the wheels since this specific model comes with hybrid wheels which would work both outdoors and indoors nicely. Hence, whether you're going for a camping trip in the wilderness or a standard backyard party, you will have no problem moving this cooler around. Nonetheless, the cherry on top of the cake has got to be the telescopic arm which will enable you to move the cooler around without having to crouch down every time.

2- Rubbermaid 60 Quart Wheeled Ice Chest Review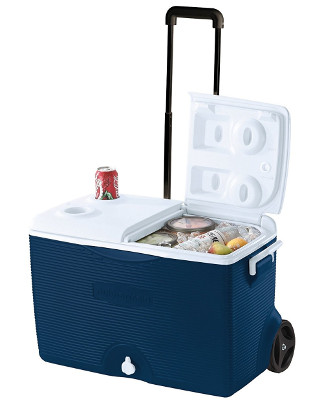 The Rubbermaid at hand might be the most option friendly cooler on this list as it comes in a variety of sizes to fit each and every body's different needs. However, is that the only thing which nominates this cooler for the prize of the best wheeled cooler?
Evidently, the Rubbermaid Ice chest has a lot to show when it comes to performance since it is one of the few cooler with such superior thermal retention. Indeed, the cooler at hand features one of the best insulation technologies which enables it to keep food and beverages fresh for as long as 4 days in peaking heat.
Beside being made in the US, the Rubbermaid is actually one of the easier coolers to drain and clean as it comes with a quick release exit at the bottom. However, the wheeled cooler at hand takes more pride into the fact that it is rigid enough for any kind of environment regardless of how rough, wet or dry it is.
Eventually, wheels are the talk of the article and for that, the Rubbermaid made sure that it exhibits nice indoors wheels which like to pretend to be hybrid but would certainly perform poorly on gravel. Other than that, the cooler can be moved smoothly on paved surfaces with minimum effort thanks to its rather sturdy telescopic handle.

3- Igloo Marine Breeze Roller Cooler Review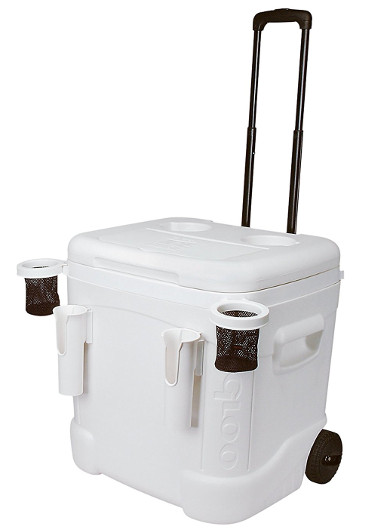 The Igloo Marine might be marketed as a budget cooler but it's in fact one of the best marine coolers Igloo has ever produced. Indeed, this is an impeccable cooler and you can tell simply by looking at it.
From first glance, you can tell that this plastic wheeled cooler is going to be practical in diverse circumstances. Obviously, the cup and fishing rod holders push this Igloo towards angling a little more but its other features make it great for pretty much anything else.
Evidently, this isn't a Yeti but the Igloo Marine breeze harbours a powerful insulation wall that can keep ice frozen for up to 2 days in the heat of mid summer days. The cooler is hence lifted above the ground by its wheels and adequate feet which will keep your drinks fresh even on hot concrete.
Is this the best cooler with wheels? Well, the Marine Breeze comes in 28 – 60 quart but both feature the same wheels and unsurprisingly, they are impressively sturdy. These wheels are indeed smaller which makes them more fit for smooth surfaces but it would work fine in rough terrain if moved slow enough.
To wrap things up, the Igloo at hand might not be the best wheeled cooler but it's still an Igloo and it comes with an extending suitcase style handle for easier transportation and unlike popular belief, this one is actually sturdier than we thought.

4- Pelican Products ProGear Elite 45QT Wheeled Cooler Review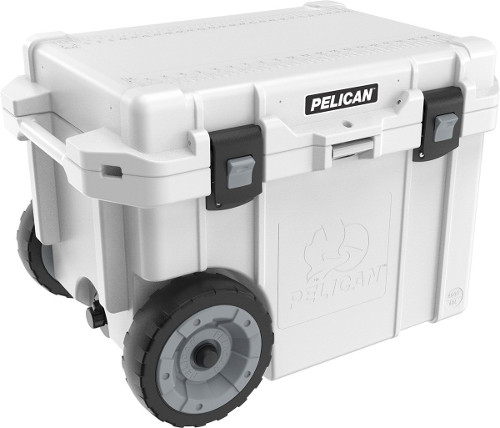 Let's start off by saying that any Pelican cooler is a good cooler and this is by no means an exaggeration. In fact, this company has only produced 4.5 stars and above type of coolers and so far, it doesn't seem to be changing its trajectory.
Hence, the Elite Wheeled cooler is rather exceptional as it combines everything good about Pelican and gives it wheels.Before we dive into that axis, let's take a moment to appreciate the robust build of this portable refrigerator. Indeed, the Elite Wheeled cooler features a sturdy outer crust which shields the inner insulation wall perfectly, helping it maintain the frost for up to 4 days in hot summer days.
The frosting effect is the number one quality of this Pelican but that's not the work of insulation alone. Indeed, the cooler is properly lifted from the ground via its four feet and two wheels which enable the cooler to fend off hot floors effectively.
Speaking of wheels, the Pelican ProGear features two of the sturdiest wheels on coolers as they are large enough to plow through rough camping / hunting terrains and slide over smooth flours easily. In addition to that, the cooler is hooked with a sturdy telescopic arm which will make it possible to move it around without having to crouch down which alone makes this the best wheeled cooler.

5- Coleman 42-Can Wheeled Soft Cooler Review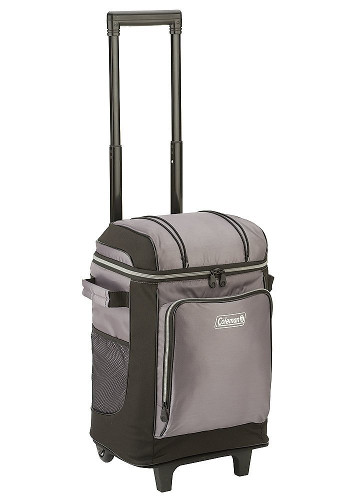 Obviously, the Coleman Soft Cooler is for a special kind of people and those people definitely put practicality first. Actually, the Coleman cooler at hand might just be the most practical cooler out there right now and that is not an overstatement.
Let's take it down to pieces and start at the base. The Coleman 42-Can is a soft cooler which means that it's definitely more compact, lighter and easier to store once the plastic liner is removed but can it perform the duties of a standard plastic cooler once loaded? The answer to that is yes, mostly.
Well, the insulation on this Coleman might not be as good as the one you'll find on a plastic and foam insulated cooler but it is still capable of maintaining low temperatures for up to 3 days with proper temperature control: precool it, make sure components are precooled and sandwiched in ice.
Nonetheless, it is the practicality aspect where this Coleman excels, as it is pretty much a cooling suitcase. Indeed, the 42-Can features nice little indoors wheels to slide over any smooth surface and an extending suitcase style handle to help keep your back in shape when dragging it around.
Beside the fact of being one of the easiest coolers to clean and drain out, the Coleman at hand might get the prize of the best cooler with wheels solely because of the very affordable price tag.

6- Igloo Maxcold Cool Fusion 36-Can Roller Cooler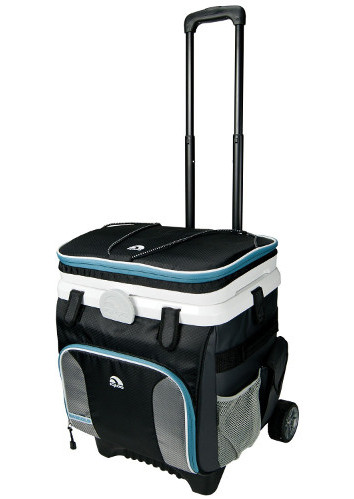 The Igloo Cool Fusion is the brand's attempt at creating the best soft sided cooler with wheels on the market. However, how good can a soft cooler hold up against the literally tough competition?
Well, it seems that Igloo believes strongly in its new Cool Fusion enough that they are dropping it with a significantly higher price than its competitor Coleman.
In its defense, the Cool Fusion is definitely better insulated as it features a 25 percent more foam than its rivals to keep ice cool for longer periods and surely enough, the Cool Fusion is capable of keeping your beverages, bait and snacks fresh for up to 3 days.
Nonetheless, the biggest selling point for this cooler has got to be practicality as the brand clearly targets a specific type of users who are looking for a cooler that won't get in the way when they occasionally take it out on camp outs and barbecue parties. Accordingly, the Igloo Cool Fusion will definitely prove its compact-ability and practicality as it can be easily stored and much more useful with all its pockets and little wheels.
Speaking of which, the wheels on this cooler are definitely special because despite being small, they are robust enough to get you through rough terrain and the parallel legs will keep the cooler standing up straight and away from hot floors.

7- MILEE Heavy duty Wheeled 70QT Cooler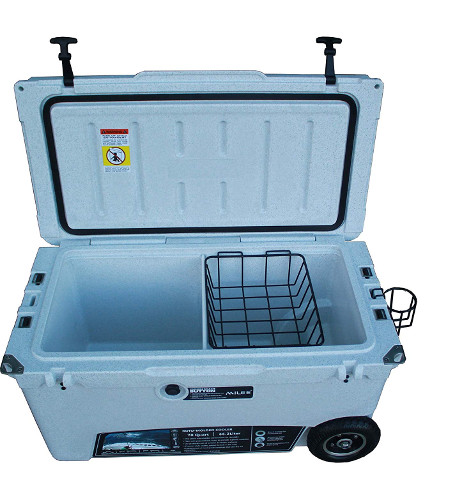 The Milee is obviously a heavy duty cooler which will prove to be a great accessory for anglers, boaters and hunters alike. However, how good is it in terms of performance, practicality and specifically how good of a wheeled cooler is it?
Well, first things first, no one would care for a wheeled cooler if it didn't do its primary job of keeping your belongings fresh for as long as possible. Hence, the brand made sure that they leave no room for mishaps via a permafrost foam insulation which relies on the head lock and gasket as much as it does on the insulation and that's why it can keep your drinks fresh for up to 5 days.
Further, the Milee at hand is definitely aiming to take the best cooler on wheels title with its robust shell and outdoors wheels. The wheels on this cooler are definitely exemplary as they are both rigid and large enough to take on any type of terrain from woods to beaches and all the way to mountains.
In the practicality department, the Milee invested in everything, which will make your experience smoother from separating baskets, rubber feet and draining exit to nylon handles which will make moving this large cooler a lot easier than you'd think. So, is this Milee the best wheeled cooler on this list?

Types of Coolers on Wheels
Before we conclude our short guide, we thought it is necessary to be aware of the differences between the different types of wheeled coolers:
Outdoor wheeled coolers
It does not comes as a surprise that outdoor coolers will require larger robust wheels in order to adapt to the uneven and rigid nature of the outdoors. These coolers are thus designed to appeal specifically to campers and hunters who are constantly on the move in areas which can be harder to access on smaller wheels.
Indoor wheeled coolers
Speaking of smaller wheels, the indoors wheeled cooler is a great example of how practical small wheels can be on flat surfaces. Don't let the name mislead you however as these coolers are great for anglers as well because they can fit snug on your boat and still enable you to move them around at ease whenever you feel like it.
Hybrid Wheeled coolers
This type of coolers is basically trying to make the best of both worlds. The hybrid wheeled cooler is trying to promote an image of a cooler that can endure and overcome the rough outdoors terrains while still maintaining that practicality and versatility aspect which comes with small wheels. Nonetheless, this type of coolers can be good for both types of users but it is not great for either.
Coolers with Wheels – Pros
First things first, ease of use and transportability are the number one reason that sets the wheeled cooler apart from the traditional box of ice. Being able to roll this kind of coolers around to your destination is the biggest selling point and one that makes it really hard to look back at traditional coolers.
In addition, wheeled coolers are in no way disadvantaged when compared to stationary coolers as they offer the same value and quality of a standard cooler with the bonus of wheels.
Further, other varieties such as the three and four-wheeled cooler comes in extremely handy for heavy loads. This type of coolers will make it even easier to transport heavier loads individually and help separate the cooler from the hot floor especially on hot days.
Coolers with Wheels – Cons
As practical as they are, wheeled ice coolers can be completely useless to people who dwell around in rigid and mountain-like terrain, which requires traditional carrying.
Wheeled coolers and especially outdoors wheeled coolers can present some spatial issues especially when trying to pack them up in a tight trunk where their awkward wheels end up killing a lot of space.
As much as we try to dribble around this point, wheels are still moving parts and considering the frequency and nature of use, there is a possibility that they might break off and cause you a lot of stress which is something you wouldn't have to worry about with a traditional boxy cooler.
Last but not least, because there is some added values in wheeled coolers, the price will also be relatively higher when compared to a traditional cooler.
Hence, if you know for a fact that you won't be moving your cooler a whole lot which is the case for anglers, truckers and most people on the beach then you probably don't need additional wheels. However, if you are into wild camping, hunting and overall outdoors experiences then you'll definitely appreciate man's greatest invention after fire.