Taiga Coolers is one of the few brands that were actually suggested to us by a close friend. So, we had to inspect his claims, especially since he argued that the Taiga 27Qt is the best cooler he has ever owned.
After a quick search, turned out that Taiga is a relatively new brand that was created by a group of veterans who just couldn't be satisfied with any cooler on the market.
Indeed, the founders of Taiga thought that they can create a cooler that is better than most premium competitors and this was the result.
In the following segments, we will attempt to dissect Taiga down to its main components in order to help you understand more about the brand, its proposed variety, designs, build quality, performance and features. So, take a seat and let us talk about Taiga.
Taiga Coolers Compared
Coolers
Capacity
(Quart)
Dimensions
(L x W x H)



Taiga 27 Qt Cooler
27
• External
23" x 15-1/2" x 15"
• Internal
15" x 12-1/2" x 10"



Taiga 55 Qt Cooler
55
• External
34-1/4" x 17" x 19"
• Internal
24-1/2" x 12" x 12-3/4"



Taiga 88 Qt Cooler
88
• External
47" x 21" x 18"
• Internal
36-3/4" x 12" x 13-1/2"
Available Sizes & Dimensions
Taiga Hard-Sided Coolers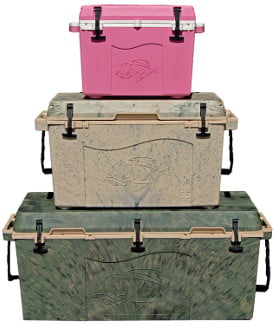 Once it comes to variety, it becomes evident that Taiga is in its early stages because it simply cannot compete with prime time brands.
Indeed, Taiga's selection is still limited to 3 basic hard-cooler sizes & an individual soft-sided model and that can result in the inevitable loss of many potential customers.
Nonetheless, the available Taiga coolers are highly versatile and that means they are capable of catering for most people out there.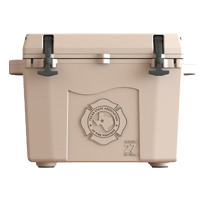 The Taiga 27Qt isn't only the smallest Taiga cooler but also their best-selling product.
This tiny cooler can accomplish impressive tasks since it is capable of handling up to 28 drinks & a bunch of ice.
Accordingly, the cooler at hand measures L: 23″ x W: 15-1/2″ x H: 15″ which is a convenient size for small game anglers / hunters, campers and anyone who just likes to celebrate in the woods on their own.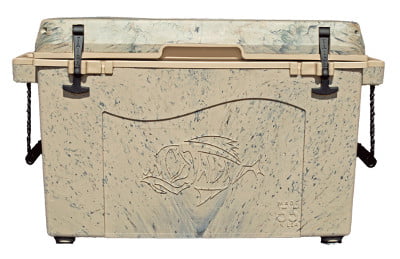 Taiga tends to upgrade vastly due to its limited variety and that is why your second option is a cooler that is twice as large as the previous one.
In fact, the Taiga 55Qt is large enough to cater for some heavy-duty tasks.
Consequently, whether you're a salt water angler, a mid-range game hunter or a long term camper, you are going to find your match in this L: 34-1/4″ x W: 17″ x H: 19″ cooler.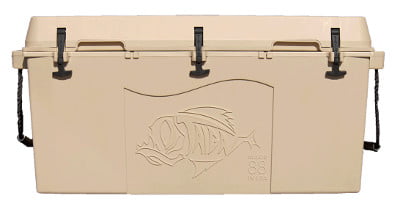 If you're a passionate individual or team then you might want to consider the Taiga 88Qt.
This cooler measures L: 47″ x W: 21″ x H: 18″ and is capable of handling up to 75 can of your favorite beverage.
If you're not into partying all that much then you can still benefit from the large cargo zone to fulfill your angling, hunting or camping mission.
In fact, this cooler is so large that it would work nicely in a team sport event, a BBQ party or an extended family beach day.
Taiga Soft-Sided Coolers
In case you need a more versatile cooler to get your through your daily hustle, then you'll probably find a much better match in the Taiga soft-sided 18 cans cooler.
This Taiga soft-sided cooler isn't the best in terms of performance. However, it is fully capable of getting you through an entire day with frosty snacks / drinks.
Further, the cooler in question measures 15" L X 8" W X 10" H and that means it is both compact and easy to transport. Consequently, the Taiga 18-can soft cooler is a great choice for daily commuters, 9 to 5 employees and the occasional picnic.

Design & Build Quality
In terms of design, Taiga isn't exactly inspiring because there is only so much you can change about a rectangular cooler. However, we can confidently argue that Taiga coolers look dope, especially the smallest model.
Indeed, the 27Qt Taiga is one hell of a chubby cooler that reflects resilience, practicality and dare we say premium-ness.
That said, Taiga coolers are developed with the intention to blend in with their environment which is why the 27Qt comes in a variety of camo taints.
Further, Taiga coolers do not try to opt for extreme designs & putting performance at risk which is a clever approach. Hence, it's almost impossible to miss the fact that Taiga coolers look exactly like traditional freezers with their thick boxy lids and minimalistic body.
On the other end of the spectrum, an aspect that is fully satisfied with the simple design is quality.
Indeed, build quality is the primary beneficiary of a simple design since it grants the coolers a more traditional / robust base.
Also, we cannot speak of quality without mentioning the poly-propylene walls on these coolers. In fact, this substance is one of the top rated materials out there due to its rigidity, UV stabilization and anti-microbial qualities.
If you still have doubts then perhaps you'd feel intrigued once you realize that Taiga is one of the few brands that doesn't speak much of quality. Instead, the brand takes sample coolers to the fields, drags them behind trucks, drops them from high attitudes and shoots them to prove a point.
Ice Retention & Insulation Ability
There is no way around it, ice retention is the determining factor in all ice cooler purchases & rightfully so. Indeed, when buying a cooler, our primary concern is how long should we expect the ice to last.
Well, if our tests are completely accurate then you can expect anything from 6 to 7 days out of any Taiga cooler and that is a game changer.
Once we received the invitation to evaluate this brand, we had our doubts because the brand sounded marginal, and their coolers didn't look very encouraging. However, once we put them to the test, we were taught that prejudice will get you nowhere.
Accordingly, we had to reverse engineer these results and scan the elements that push Taiga coolers to attain such impressive results. So, here's what we learned.
It's not a secret that proper insulation will significantly improve the performance of a cooler, and Taiga capitalized on that with every possible adjustment.
First, it is worth noting that Taiga coolers feature some of the thickest walls in the industry, reaching up to 2 inches on the sides & bottom, and 3 inches on the lid. Hence, you can rest assured that the sun and the surrounding temperature will cast a small influence on external temperature. However, in order to attain such resistance, Taiga had to inject the walls with a dense / pressurized PE foam substance that hurdles heat and slow its transfer to the inside of the cooler.
Moreover, beyond the walls, the brand worked hard on their sealing solution and finally rested on a freezer style gasket. The gasket might be small but it has a gigantic task to accomplish which is to completely prevent hot air from finding its into the cooler once it's closed.
Hence, thanks to this remarkable combo, Taiga coolers have been able to pull off some impressive results in mid-summer heat, thereby contesting some of the biggest manufacturers on the market.

Features
A robust build and an impressive insulation will certainly get your product out there. However, one thing that we noticed makes one hell of a splash are the features on each and every cooler. Indeed, features will often contribute to the appeal of a cooler and that deserves a segment on our Taiga cooler review.
Made in Texas

One of the biggest concerns that a lot of us might have is conditions and regulations through which a cooler is made. Hence, it certainly does help to know that Taiga is born and raised in the wild lands of Texas for two reasons.
First, now you know that customer service will be much more reliable as well as build regulations.
Second, if a cooler is built to overcome Texas' harsh environment then nothing can beat it.
Thick Insulation
One of the biggest influences on every cooler purchase you make is insulation because it determines the reliability of a cooler. Hence, it sure feels good to know that Taiga coolers are featured with pressure injected R5 rated foam insulation, pushing the walls up to 2 inches and the lid to 3 inches.
Leak proof / Recessed / Seamless Gasket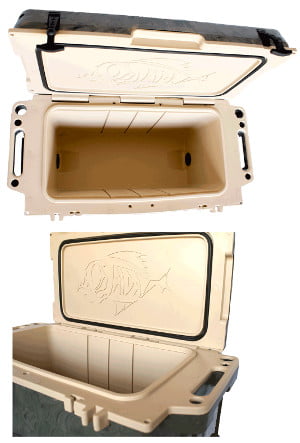 The gasket is often brushed aside, completely disregarding the fact that it is a direct contributor to ice retention.
Indeed, Taiga Gaskets are one of the toughest on the market since they do not keep hot air outside only but also prevent leaks upon transportation which is fairly common when the cooler is fully charged.
Latches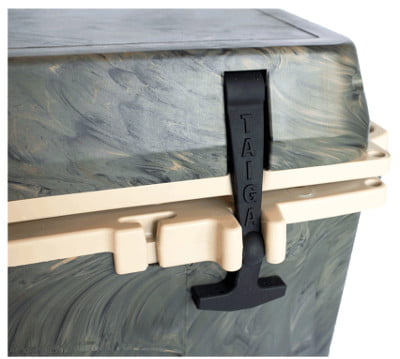 Lid latches have always been a bragging point for a lot of cooler brands on the market behind the claims of practicality and durability. However, our experience has proven that T-latches are superior in many ways.
Indeed, Taiga plays it safe with rubber T-latches because they aren't only strong but also because they are easy to access with one hand alone.
Handles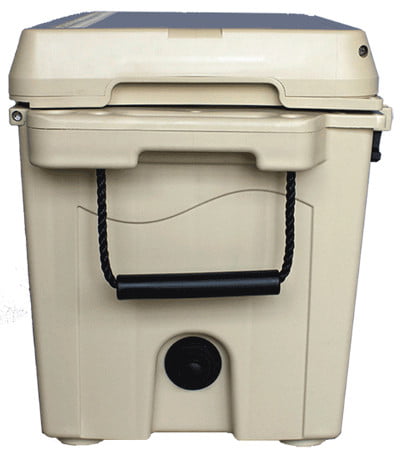 Handles are all about comfort which is why a lot of coolers brands make the mistake of completely forgetting about resilience.
Since you will be carry a heavy cooler around most of the time, Taiga made sure that you get soft padded grips on tough rope handles for bigger models & simple molded handles for smaller coolers.
Other features
There are quite a few more interesting features on Taiga coolers but these are the ones you should know about:
Life time warranty / 60 days money back guarantee
FDA approved food contact plastic
Divider slots
Secure tie downs
Lock down slots
Large drain plugs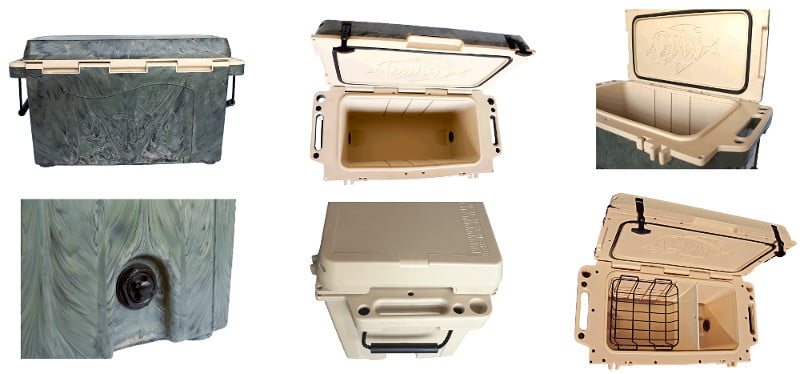 Who is it for?
Due to the limited variety of their selection, Taiga risks the loss of a healthy sum of potential customers. However, the brand focuses most of its efforts onto producing 3 distant sizes to cover as much ground as possible in attempt to cater for various preferences.
Consequently, while you might not find your perfect match on Taiga's selection, you are guaranteed to find a cooler that is close enough to your exact requirements.
Also, we must keep in mind the fact that Taiga is primarily developed for the wild and that includes anglers, hunters, kayakers and campers primarily.
Taiga Coolers Vs. Yeti: Which Is Better?
A Taiga cooler review isn't complete before a proper Taiga coolers Vs Yeti comparison battle.
Actually, one of the easiest ways to make up your mind is to compare your brand of choice to other prominent brands and see if your plan saves you money or at least has some added value. So, without further ado, here is how it went down.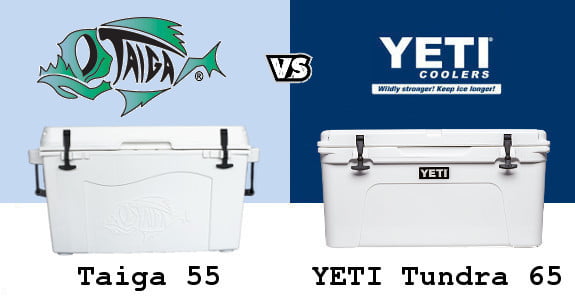 First things first, the variety comparison was simply brutal for Taiga since they offer a limited selection of coolers that might not appeal to most, whereas Yeti goes above and beyond preferences to cover some distant niches. Hence, variety was an easy win for Yeti but that shouldn't matter if you already found your match in a Taiga cooler.
Moreover, quality and design on most prominent brands is very similar as they usually adopt some polyethylene combination for the outer shell and similar foam filling. However, it is important to note that Taiga walls are definitely thicker and consequently tougher. On the other hand, Taiga loses in terms of aesthetics due to their excessive thickness.
In terms of performance, Taiga is fully confident that you are getting your money's value when you purchase one of their coolers and we would have to agree because we learned through this Taiga coolers review that their coolers can easily attain a week of ice retention in harsh conditions.
On the other hand, Yeti is recognized for being highly overpriced and when compared to its ice retention, you begin to see the contradiction of price to value.
In conclusion, our Taiga coolers Vs Yeti has come to an end and with that you are now equipped with enough knowledge to make an informed decision. Good luck.
Taiga Coolers – Final Thoughts
To wrap it up, Taiga is definitely not a budget brand and that is something that we learned to take cautiously because it doesn't always signify value. However, through our detailed analysis of the brand, we learned that Taiga could be the best Bang for your buck since it offers an impressive value for a rather reasonable price tag & that can't be said about most 'premium' brands on the market.