Grizzly is a name that's always brought up when discussing portable coolers' matters. This is a brand that offers life time warranties, reasonable prices, IGBC Bear Resistance, and a load of useful and functional features; a Grizzly cooler can be a great companion that's guaranteed to please many outdoor enthusiasts.
In this guide, we'll try to cover as much information and details as possible which we hope would be everything you'd need to read for a Grizzly cooler review.
Available Sizes & Dimensions
Grizzly offers both hard sided coolers and soft sided ones which is a great thing since all of us have different orientations and needs. However, let's hit it and begin this Grizzly coolers analysis with some of their tough guys.
Hard Sided Coolers
To cover this area, Grizzly made eight different hard coolers sized as follow:
Small Coolers
A great personal cooler that weighs 12 lbs empty, very easy to use and carry thanks to the shoulder strap, and you can put it right behind your driver seat for any trip/journey that you're willing to hit.
A little bigger than the previous one, this cooler leans towards being a mid-size cooler that's perfect for family trips, picnics or even fishing. It weighs 16 lbs empty and it comes with a nice stainless steel handle.
Mid-size Coolers
It only gets bigger with these guys. This cooler here is 24 lbs empty and it's large enough for a hunter to opt for it. The rope handles and tie-down slots make it the perfect cooler to be secured to the back of your truck…
Now this is something you can take with you on an extended trip where you need to make sure you're not going to be lacking ice or fresh drinks. The G60 qt weighs 30 lbs empty and it's great for a larger storage capacity.
This one is 34 lbs, and it's specifically designed for hunters who need a solid cooler to store and preserve their prey while they'd spend days in the wilderness.
Large Coolers
A camping cooler par excellence, the much needed fishing/hunting buddy, or the perfect cooler for group travels. This one weighs 38 lbs empty and it's featured with everything a cooler need to be 100% functional.
The bigger the better; Grizzly thought of every possible scenario making huge coolers for huge hunting events or maybe a huge party? You'll definitely need a hand transporting this 62 lbs cooler, buy whatever's inside the cooler will need nothing but good loads of ice.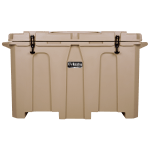 Grizzly 400 quart G400 Cooler
60 lbs of ice or something around 500 12oz cans can fit inside of this Grizzly monster. This one here is considered to be one of the biggest portable coolers in the industry weighing 91 lbs empty with a really nice performance.
Soft Sided Coolers
Grizzly's line for soft coolers is very attractive and reliable and it's called the Drifter, however, it comes in two sizes only:
A very personal cooler that can save the day whenever on the go. You can fit pretty much what two people would need for a nice meal including drinks and some ice. It's water proof and it's very sharp-looking.
With extra storage capacity, this cooler is great for outdoor activities like off-roading or even boating. It's also featured with multiple pockets to fit as many items and needed tools into it.
Design & Build Quality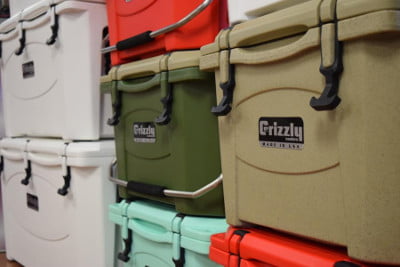 For this part of our article, we'd like to start with what's appealing to the eye.
Grizzly wanted to make sure that everyone can find their favorite cooler in terms of size and color, that's why most if not all of their hard sided coolers come in ten different colors; white, gray, red, orange, lime, teal, olive drab green, seafoam green, sandstone and tan.
Soft sided coolers as well offer a number of different color combinations to choose from: black/gunmetal, green/black/orange, and teal/black.
As for quality, all of Grizzly's hard coolers are roto-molded which means that they're build made rotationally molded plastic that's guaranteed to optimize any portable cooler's performance.
This technology makes sure each and every cooler is imperfections-free, has reliable wall-thickness and up to take some beating wherever it goes.
Not only that, Grizzly made it its duty to make all of their hard coolers IGBC Bear Resistant which is a much needed feature for any outdoor cooler to make it through rough and wild environments.
And of course, as I'm pretty sure you have noticed; all of Grizzly coolers come in one classic and professional design that'll never fail to blend in with any surroundings. It's neat, sharp and simple so it never goes out style.
Ice Retention
This is where the beat drops. Any portable coolers' brand can only prove its worth and value when it comes to this exact matter. Grizzly guarantees that their coolers can deliver an outstanding ice retention performance than can be a match to any other universal and pioneering brand out there.
The insulation quality used in Grizzly coolers is recognized for being exactly what you paid for. The G40 qt cooler for example can hold ice inside up to 4 sunny days while put on hot concrete and directly exposed to the sun. Only on the fifth or sixth day that ice can be completely melted, yet the cooler would still be cool inside.
Now the thing is that the bigger the cooler the better the insulation; the G400 qt cooler is promised to preserve ice inside for over two weeks, but again, that's a monster cooler and I'd dare say that only few people would go for it since the majority is seeking portability and practicality.
Throughout the years, the extruded polystyrene foam used to build these portable hard coolers has never failed to insulate "areas of high moisture exposure and high R-value requirements, including low temp warehouses, underground concrete insulation and house sheathing." Thus, using the very same foam to make quality roto-molded coolers would be the only good and logical thing to do.
Generally speaking, Grizzly hard-sided coolers are expected to retain ice for the following periods:
| | |
| --- | --- |
| Cooler | Estimated Ice Retention |
| Grizzly G15 | 4 Days |
| Grizzly G20 | 5 Days |
| Grizzly G40 | 6 Days |
| Grizzly G60 | 8 Days |
| Grizzly G75 | 9 Days |
| Grizzly G150 | 11 Days |
| Grizzly G400 | 19 Days |
Features
A Grizzly cooler is a cooler that's meant to stop an actual grizzly from getting to your goodies once you're not around, and these are the features that make it so:
They're featured with 2 or 3 Bearclaw™ latches (depends on the size) that are exclusively designed for Grizzly Coolers. They're "easy to use, interchangeable, and retain a bear grip on the lid."
There is also a locking system to reinforce the whole IGBC concept; it consists of two standards lock holes so that nothing can get hold of your hoard.
Almost all of Grizzly's coolers are featured with a dual handle system; built-in molded handles for maximum durability and also 2 nylon sleeved rope handles with a rubber pad for the most comfortable grip.
Not only that, these coolers come with this innovational feature called the Grip/Slick Feet; it allows you to switch the cooler's feet according to whether you want it to slide for easy mobility or stay still in place. It's pretty cool to be honest.
To make these coolers even more still, Grizzly featured them with 2 tie-down slots to safely secure any of them to your boat or truck.
The lid on Grizzly's coolers is featured with an embossed ruler that differs in length from one cooler to the other. It's a nice detail that'll come handy for fishermen and hunters on the go
The very same lid is made way more functional thanks to the silicon rubber gasket that prevents the cold from going out and the heat from going in.
Last but not least, Grizzly coolers are all featured with a 2″ Drain that allows very quick and complete draining of your cooler.
Who are Grizzly Coolers For?
Guessing from all that's been stated in this post so far, one can confidently say that Grizzly coolers are meant for outdoor enthusiasts who are willing to step into the wilderness.
Hunters, fishers, campers, off-roaders and even families can all be covered and satisfied with one same cooler by Grizzly. It's only a matter of size and weight that plays a role in which is going to opt for which cooler.
Grizzly Coolers Vs. Yeti: Which Is Better?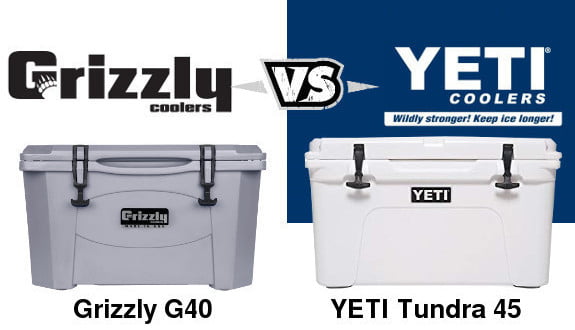 Yeti has gone so far in the portable coolers' industry making its name stand for the most praised and wanted brand in the field. However there are couple things anyone should know before we end this Grizzly Coolers in-depth review.
Though the pricing range could be a little too high for many of us; it remains a truth that Yeti offers unmatched quality when it comes to ice retention ability. However, Grizzly Coolers are of great value and performance given the price you're paying.
Now when Yeti says that you're getting a 45 qt cooler, expect that you'll be getting only 37 qt storage capacity. On the other hand, a Grizzly cooler that says 40 qt will offer you exactly that. Not only that, a Grizzly is usually 100 dollars cheaper or more than a Yeti while still offering extra storage capacity. However, a Yeti can be something around 4-5 pounds heavier than a Grizzly which refers to the premier built quality known to Yeti.
Eventually, it all comes down to how much you're willing to pay for a portable cooler and that should be based on why and how often you'll be using the cooler.
Where To Buy Grizzly Coolers on Sale?
To begin with, you can find and order a Grizzly cooler on sale directly from the manufacturer's official website or from Amazon which is always very practical and trouble-free with plenty of possibilities of finding something really neat for a nice price and why not free shipping.
Coolers Similar to Grizzly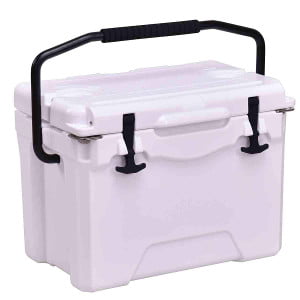 This is a brand that's one way or another similar to Grizzly Coolers with a variety of sizes (20 qt, 27 qt, 32 qt, 40 qt, 64 qt and 80 qt) and color options. However, though Giantex's coolers are not roto-molded, they're definitely considered heavy-duty coolers with extra thick FatWall design that's certified Bear-Resistant with nice and sleek build quality.
Giantex's coolers have more or less the same features as the Grizzly Coolers' and that would briefly be the built-in and rope handles, the rubber gasket, and the T-latches.
Different users described the Giantex's coolers to be very solid, functional and durable with great ice retention ability.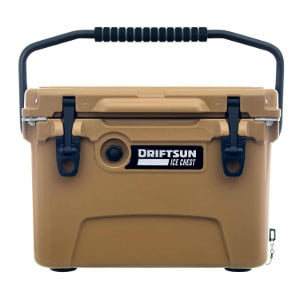 Another brand that might be worth your while is the Driftsun; it makes roto-molded coolers with virtually indestructible thermoplastic construction, heavy duty rubber ColdSeal latches and exterior UV protection. Again, you'll find a number of sizes available (20 qt, 45qt, 70 qt, 75qt, 110 qt) with plenty of colors to choose from.
Driftsun promises a super cold performance thanks to "their 3" inches of commercial grade insulation and cold-keeping freezer style rubber gasket." And with the whole set of features known to any portable hard cooler, Driftsun is sure to be quite the cooler for anyone and anywhere.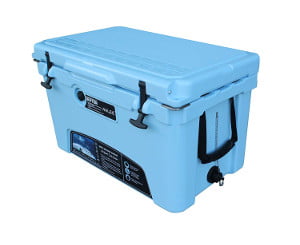 Last but not least, MILEE is another coolers' line that offers roto-molded coolers, with all of the features that you can think of; Stainless-steel locking plates with built-in bottle openers, T-latches, nylon handles, lid lock and more…
The MILEE guarantees up to 6 days of solid ice retention with their medium sized coolers which can only get better with bigger coolers. Also, the FDA-approved materials used to build the inside of a MILEE's cooler are nontoxic, tasteless and approved for direct contact with food.

 All in all, this part of the Grizzly Coolers review is an attempt to widen your choice range because after all; we're only here to help make it easier for your to find the perfect product for your own good and interest.
Where Grizzly Coolers Are Made?
Every single Grizzly cooler that'll be mentioned here today is made by Iowa Rotocast Plastics, Inc. IRP that's located in Decorah, Iowa, USA. Grizzly is purely American and it's proud to be offering great services to their customers.
With an experience that exceeded three decades of building roto-molded coolers, Grizzly coolers by Rotocast Plastic, Inc are now one of this industry's famous pioneers; a name that has an echo to the ear thanks to their authentic and robust build quality, life time warranty and great ability to take over any adventure and outdoor circumstances.

Final Thoughts
Grizzly is a brand with several coolers of different sizes that are nicely suitable for all kinds of activities with the capability to cover different areas and customers' orientations.
The fact that Grizzly Coolers are all bear resistance with all of the features that a portable cooler needs to be perfect and functional is just too good to be true.
Compared to Yeti or not, Grizzly has a lot to offer in terms of insulation, durability and practicality. A Grizzly might not be the best cooler in the world but its value is definitely worth what you pay for.