In order to make an informed buying decision, it is important to get a grasp of the various options you have on the market and that is especially easy when you know what kind of cooler you're looking for.
Thus, in the following article, we will be listing some of the best large cooler on the market and discussing their value in detail.
Also, we did not forget those of you who are leaning more towards the wheeled option. For the latter, we prepared a comprehensive list of the most glorified large coolers with wheels.
So, let's get right into it!
Part I: Best Large Coolers Reviews
Making up your mind about the size of the cooler is half the trouble because by then you know your exact needs and requirements.
Therefore, all you have to do now is find a big cooler that says your name. To help you with that, here are our picks for the best large cooler category:
YETI Tundra 110 Cooler
Yeti needs no introductions because it is a brand that has built a reputation glorious enough to do the speaking. So, naturally, we thought it'd only be reasonable to display some of their goodies in this section.
So, our Editor's choice is the Yeti 110 cooler which is a highly capable cooler with a compact body. Indeed, this dense beast measures 37 in length x 18 in width x 20 in height and weighs a total of around 45 pounds.
Nevertheless, the 110 is but the tip of the ice berg because Yeti showcases even larger coolers, such as: the 165 & 205 Tundra.
In terms of build quality, Yeti has been on the basis of creating the toughest coolers on the market.
While this remains difficult to test, Yeti coolers are definitely built to outlast years and years of use and abuse. In fact, there's hardly a way to break these coolers unless you're trying to do that because they are shielded via a high-resistance Polyethylene coat and a dense insulation foam inside its walls.
As for performance, Yeti has established a firm grip on the industry from early on because they are one the of the few who do not try to cut corners. Hence, Yeti coolers benefit to the fullest extent from a dense / thick plastic wall which is further reinforced via 2 to 3 inches of pressure injected foam insulation.
With that said, you can definitely rely on this giant cooler to get you through an entire week's hunt / fishing trip easily.
Prominent Features:
Rubber T-latches
Airtight gasket
Rotational molding
Rubber feet
Rope handles with padded grip
2 lock-down ports
Igloo Super Tough STX Sportsman Cooler
Now, there is no specific order for this list but there's no denying that Igloo is slightly behind when compared to a conglomerate like Yeti. However, Igloo has earned its legitimacy via providing highly dependable coolers for extremely reasonable prices and that cannot be said about Yeti.
You really can't go wrong with a large Igloo cooler because you are getting your money's worth in totality.
Accordingly, our choice for you is the Igloo Super Tough STX Sportsman 120 qt Cooler because it offers an abundance of space while not costing an arm and a leg.
In that respect, the cooler in question measures 38.4 x 17.8 x 17.1 inches, which is definitely a large foot print, and weighs a flooring 20 pounds. . Nonetheless, if you're looking for another kind of large Igloo coolers, the brand offers an even larger 150Qt option for even more festive journeys.
From the weight of these coolers, especially after comparing it to that of a Yeti, you can easily deduce why Yeti costs three times more on average.
In that respect, Igloo coolers exhibit a noticeably thinner outer shell with an average density foam filling. Other than that, Igloo's big coolers are reliable enough for moderate use but they will suffer under intensive workloads.
Since performance is a highlight for most big brands, Igloo had a lot to prove in this category, especially since we're talking about large coolers with more room for ice.
Accordingly, we must keep in mind that unlike most coolers on this list, Igloo coolers aren't roto-molded which is going to reduce ice retention significantly but nothing too extreme.
Having said that, you can definitely get a solid 5 days of ice with a cooler like in extremely hot temperatures and that is an achievement for something with such low cost.
Prominent Features:
Lightweight body
Replaceable hinges
Stainless Steel Lid strings
Tough plastic handles
Driftsun 110 Qt Ice Chest
Driftsun is a fairly popular brand since it comes from the water-sport universe where it established a firm fan base amongst surfers and paddlers. Hence, the brand's history is definitely helping its cause since they are committing to beachy / cool products.
For the sake of versatility and ease of use, our Editor has once again opted for the 110 as a prime choice and we definitely agree.
Truly, the cooler in question is a highly competitive option in the big cooler universe since it can handle a week's treasury within a relatively compact footprint. In that respect, the cooler at hand measures 37.5″(L) x 19.25″(W) x 19.5″(H) and weighs a formidable 45 pounds.
Being their largest option, Driftsun's 110QT ice chest is a decent competitor in this category especially since it weighs as much as the Yeti Tundra 110.
Now, if that goes to show anything, it would be the similarities in build quality and materials. Hence, like Yeti this is a Rotomolded cooler with a high-resilience UV reflective coat, high density / thick foam injection and an airtight lid which is built like a tank. Therefore, you can definitely rely on this cooler for heavy-duty tasks and extended fishing / hunting trips without a worry.
Being a big cooler, you'd expect a decent performance from the cooler at hand and you wouldn't be disappointed.
Driftsun used rotational molding technology to the fullest extent with a proper density foam and thick walls to achieve a staggering record of 10 days. Yes, you can definitely attain 10 days of ice retention with this cooler in average temperature but even when it's peak summer, you can still get a week out of it.
Prominent Features:
Nylon straps with padded grips
Easy access Cam latches
Freezer-grade gasket
Rotational molding
Rubber feet
Built-in ruler
Embedded hinge
Pelican Elite 95 Qt Cooler
Pelican has accumulated a fortunate popularity that many have failed to attain. Truly, this is one of those brands that comes in with fury and might and manages to maintain that momentum to build a solid reputation. Accordingly, Pelican is a relatively young brand and that makes it a little tougher to review.
Accordingly, the brand offers a rich variety of coolers but our pick is the 95Qt. This cooler is perhaps the most resilient of the bunch and at 95Qt, you still have plenty of cargo room to fill.
Also, it is important to note that although this is a big cooler, it measures a compact 27.3 x 12 x 17.6 inches. As for weight, this cooler stands at an impressive 50 pounds, which is considerably heavy for an empty ice chest of this size.
Nonetheless, a heavy cooler is often an indication of how tough it is and this unit is a tank. In fact, Pelican coolers are notorious for their impressive rigidity, making them a great option for outdoors adventures.
Also, the cooler's thick polyethylene crust and unified mold give it the necessary strength to last for decades of hard labor and this is a feature that professional anglers / hunters would appreciate.
If this cooler doesn't spell out "best large cooler" for you then you can always opt for the larger 150 or even the 250Qt.
However, one thing is for sure, all Pelican coolers are very well-built and are meant to perform. Hence, you can expect an easy week of ice retention from these coolers, considering their air-tight design, heavy foam insulation and resistant coat. In fact, these coolers can even reach the 10 days barrier in mild summer temperatures.
Prominent Features:
Aggressive design
Robust build
Intuitive clip latches
Robust plastic handles with padded grips
Freezer-grade gasket
Lock-down port
Built-in rulers
Anti-Slip Rubber feet
Grizzly 100 Qt Cooler
Grizzly is one of the more familiar names in the industry because it is one of the few brands with an eventful history. Indeed, the brand at hand managed to cause continuous dents in the story of coolers but the most significant of which is their coolers' ability to survive wild bear attacks.
Accordingly, Grizzly coolers make great hunting companions by priority and the 100Qt model is the best large cooler they've got. This option is highly strategic because it will be easy to store and transport even on foot which can't be said about their larger models. Speaking of which, Grizzly offers 2 extra larger models (165Qt & 400Qt ).
Since quality is the brand's anthem, we can't really go through with this segment without highlighting the fact that these coolers are built to survive wild animal attacks and that should give you an idea about their build quality.
In that concern, these coolers feature a virtually indestructible polyethylene crust with an even tougher lid / hinges for maximum protection.
As far as performance goes, it would appear that the quality manifestation of grizzly leaked into its ability to maintain ice for long periods of time.
It is undeniably impressive that this cooler is capable of retaining ice for days but that is no coincidence. In fact, it's only reasonable that Grizzly coolers can push ice life up beyond a week since they are roto-molded coolers with a unified mold, a dense foam insulation and a thick protective coat.
Prominent Features:
Rubber Pull-Down latches
Rubber feet
Raiser technology for a higher base
Unbreakable coat
Multi-purpose lid
Ropes handles with padded grips
Lock-down ports
RTIC 110 Qt Cooler
RTIC takes pride in being an over-built brand, which makes sense once you take a look at that price tag. Indeed, RTIC coolers aren't cheap but
it doesn't take much for anyone to realize why. For starters, RTIC coolers are a piece of art without exaggeration but there's more.
For this brief presentation, we have decided that the RTIC 110 is the best representative of big coolers for the brand for a number of reasons.
First, this cooler is mighty spacious, which is a great asset for long fishing / hunting trips. Nonetheless, the 110 exhibits a reasonable footprint of approximately 33" in length, 17 inches in width and 19 inches in height. If that doesn't do it for you then you can always opt for the much larger RTIC 145.
Further, the brand's raging popularity is sourced directly from the quality of its products. Indeed, RTIC coolers are both aesthetically pleasing and extremely robust, which is a direct consequence of the high-resistance polyethylene coat they feature. The smooth coat is thus thick, tough and repellent of UV rays.
More importantly, RTIC 110 and 145 coolers are performance beasts with an exemplary insulation and a roto-molded core. Hence, you can expect as long as an entire 10 days of ice retention in average summer temperatures and at least a week during peak heat.
Prominent Features:
Molded tie-down slots
Traction pad
Integrated locking system
Bear resistance
Heavy dutyrope handles
Cool lift design that lifts the cooler high above the floor
Freezer-style gasket
Part II: Best Large Cooler With Wheels
There are many advantages to having a large cooler but one of the biggest drawbacks that tags along is the fact that it's significantly harder to transport your fully loaded cooler. Hence, the following segment is dedicated to those looking for a large cooler with wheels.
Pelican Elite 80 QT Wheeled Cooler
While it wasn't necessary to start with Pelican's Elite wheeled cooler, it was inevitable to include it on this list. In fact, this is perhaps the most popular wheeled cooler on the market and there's no secret behind it.
Pelican's wheeled cooler is indeed large but not as large as the coolers reviewed/listed above.
Accordingly, this unit can handle up to 80Qt and measures 42.88″ x 20.75″ x 20.25″, which is plenty for a long fishing trip. Nonetheless, like most wheeled coolers, it is built to perform far better on land thanks to the wheels.
In terms of quality, there is nothing we can add here that wasn't already mentioned in the previously reviewed Pelican large cooler. However, for the sake of emphasis, this cooler is a fort with air-tight details and a high-resistance multi-layered shell.
Performance is the cherry on top of the cake since this cooler benefits plenty from the unique design. Indeed, because of the cooler's extremely thick walls, you can expect a week at least of ice retention on average. Match that with the versatility and easy movement of the wheels and you'll get a perfect cooler; you just have to deal with the price tag.
Prominent Features:
Rubber feet
Large wheels fit for flat surfaces
360° freezer grade gasket
Large 3-inch locking latches
Cup holders
Bottle opener
Large plastic handle
MILEE–Heavy duty Wheeled Cooler
Milee didn't make the cut for best large coolers but there was no way it was going to miss the wheeled show-down as well. Truly, this brand excels at creating compact and highly practical coolers, which is why we are putting their wheeled cooler under the spotlight.
Now, we did say that the brand leaned more towards smaller coolers but at 70Qt, this cooler can still be labelled a large ice chest with wheels.
In that respect, you can definitely store a few days' cargo in this ice chest without taking up too much room on your vehicle.
Since the Milee at hand weighs a prominent 42 pounds, you can already guess that it isn't going to be cheap. Hence, this big cooler with wheels exhibits a highly praised roto-molded body with a visible dedication to the smallest of details. Also, the cooler's walls are further reinforced via a thick insulation foam, making it virtually indestructible.
Speaking of insulation, the Milee in question is one of the brand's record breaking units since it is capable of pulling through an entire week before all ice melts away. Thus, you can definitely rely on this beast to cruise through any kind of terrain easily and provide reliable frosting for any fishing / hunting trip.
Prominent Features:
Versatile wheels for every terrain
High bottom for better ice retention life
Easy release/lock rubber T-latches
Standard nylon strap handle with grip
Built-in ruler
Vibe Element 70 Qt Wheeled Cooler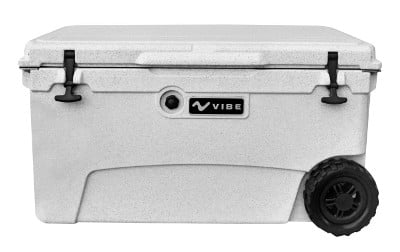 Vibe isn't the most popular cooler brand out there but it's definitely gaining approval faster than older 'pioneers'. Undeniably, Vibe managed to make room for itself by creating high-end coolers that cost significantly less than a Yeti or a Pelican but how reliable is their wheeled option.
Since we fringed on the 70Qt range already, we thought that the Vibe makes a solid competitor. Hence, the large cooler with wheels at hand is capable of handling as much as 68 liters and measures 33.5″ x 18.2″ x 17.9″.
Humorously, Vibe claims that their coolers are 100% wooly mammoth proof which means that they're solid enough to endure any animal attack. Hence, you can definitely rely on this cooler in the woods, especially since it has grippy truck-style wheels.
In order to make more sense of this Vibe, you must keep in mind that it is a roto-molded ice chest despite the wheels and that entails a one-piece exterior shell, a dense foam wall and a perfectly sealed lid.
Accordingly, you can expect a minimum of 5 days ice life in peak summer temperatures and around 8 days on average.
Prominent Features:
Off-road wheels
Easy lock and release Rubber T-latches
Pressure release valve
Embedded hinge
Exit drain
Rubber feet
Built-in rulers
SIDE NOTE: Recently, it's extremely hard to find Vibe Coolers available for sale online. In addition to our in-depth Vibe review, we've provided some of the best selling alternatives below:
Bestseller No. 1
YETI Roadie 24 Cooler, Navy
The Roadie 24 is 10% lighter in weight and holds 20% more than a Roadie 20, it even performs 30% better thermally
It's got a taller build than its predecessor, so it now accommodates a standard bottle of wine (or 2 liter bottle) upright, and is a better fit behind the driver's or passenger's seat of a car
Bestseller No. 2
Sale
Bestseller No. 3
Bestseller No. 4
Monoprice Emperor Cooler - 50 Liters - Blue | Securely Sealed, Ideal for The Hottest and Coldest Conditions - Pure Outdoor Collection
Any Conditions:The coolers are ideal for even the hottest and coldest conditions your adventures might find. Keep cold items cold for more than 130 hours or hot items hot for more than 150 hours, regardless of weather conditions.
Securely Sealed:Ordinary coolers are a magnet for bears, who open them easily and either consume or make a mess of your food. That is not the case with Emperor Coolers. The durable rubber anchor latches are augmented with steel reinforced padlock holes at both front corners. Unless the bear can pick a lock, your food is safe and secure!
Bestseller No. 5
Driftsun 110qt Insulated Ice Chest - Heavy Duty, High Performance Roto-Molded Commercial Grade Cooler (Gray)
INSULATED COOLER: Driftsun Ice Chests hold ice for days on end with up to 3" inches of commercial grade insulation, freezer grade gasket, and ColdSeal Latches. Keep your beverages, meal, catch or ice packs cold for days.
FEATURES: Every Driftsun Cooler is packed with features that make camping and the outdoors even better. It comes with Military-grade nylon rope handles, Non-Slip Rubber Feet, Molded Tie-Down Slots with Lock Plates, Recessed No-Leak Drain Plug, Pressure Release Valve, and 2 Stainless Steel Lock Plate Bottle Openers! This is the optimal beach, fishing, and camping cooler!
Coleman 100Qt Xtreme Wheeled Cooler
Did you really think we'd forget about Coleman? Coleman is the producer of one of the most accessible coolers on the market and not the cheap kind either.
Coleman is highly popular amongst people looking for a quick fix / solution because they don't see a reason to invest too much in a cooler that they'd only use every now and then.
That being said, Coleman's 100Qt wheeled cooler is an impeccable choice for occasional adventures, camping and BBQ Sundays in the woods.
In fact, this very inexpensive cooler is capable of handling quite a lot since it measures 37 x 17 x 19 inches but the best part is that you can just drag it along instead of carrying it around.
As mentioned earlier, Coleman isn't the most premium brand and this cooler is no exception. Nonetheless, the Coleman Wheeled option is still a very dependable cooler that would last you a life-time of moderate and occasional use. Thus, if you're an avid angler or hunter then you should probably opt for a higher end cooler.
As far as performance goes, the Coleman is not topping the charts but its insulation is capable of giving you a minimum of 3 days and a maximum of 5 days, depending on the surround temperature.
Prominent Features:
Comfortable grip swing handle
Stainless steel spring lid strap locks
4 cup holders
Decent wheels
Amazon Recommends:
Bestseller No. 1
Sale
Bestseller No. 2
Bestseller No. 3
Igloo Polar 120 Qt. Cooler
Ultratherm insulated body and lid keep ice for 5 days at 90 degrees Fahrenheit
Reinforced swing-up handles with tie-down loop feature