It's almost needless to dwell upon just how practical soft sided coolers are because it is painfully obvious. Soft coolers offer a lot more versatility and compatibility than hard shell coolers which will come in really handy for those of you who want something that would fit in the trunk of their car, no matter how crowded it is.
Nevertheless, the line between practicality and rigidity is rather thin as you can't go one way without infringing on the other. Hence, soft coolers are definitely not as tough as hard plastic or metal coolers but they can still be just as efficient, giving you make the right choice.
Accordingly, we took it on our behalf to do the necessary research and find the best soft sided cooler -well in fact 'coolers'- on the market. In that respect, the outcome of this search was not based on popularity alone but rather on three main criteria: practicality, efficiency and rigidity.
Soft Sided Cooler Reviews – Our Top Picks
1- YETI Hopper TWO Cooler Review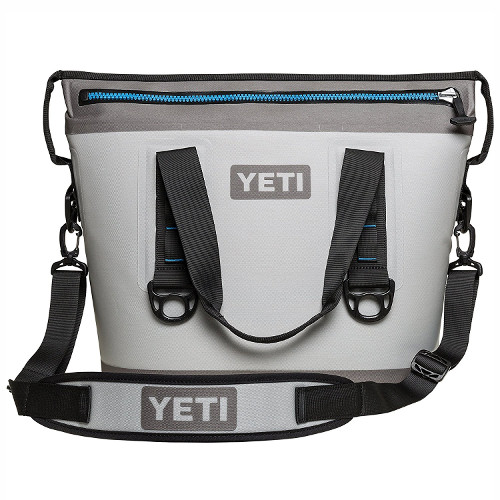 In a highly competitive market, Yeti seems to be taking the lead comfortably as it labelled as the brand with the world's best soft coolers up till today. Hence, how well does the Hopper Two represent the brand and does a soft cooler match up to the quality of a standard Yeti?
Well, undeniably, performance has been the golden star for Yeti coolers all around and this little guy is no exception. Nevertheless, being a compact soft sided cooler, the Hopper Two is bound to maintain ice for shorter periods which the company claims to be a whole 24 hours.
Accordingly, it's very impressive that a shoulder bag this size can keep your beverages and snacks fresh for a couple of days but there's no secret to behold. In fact, the Hopper Two relies greatly on the hydrolok zipper because it is completely leakproof.
Beyond being waterproof, the body of the Hopper Two is a tapered body which extends the cooler's capacity when needed. In conclusion, the Yeti at hand is perfectly rigid, reliable and effective cooler which makes it one of your best choices if not the best soft sided cooler.

2- Coleman 42-Can Wheeled Soft Cooler Review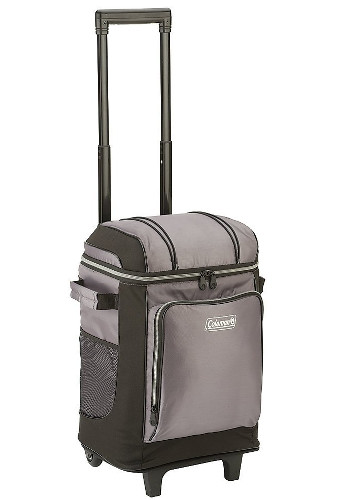 It doesn't come as a surprise to see a Coleman cooler on this list as it has been the brand for innovation lately. Indeed, Coleman 42-Can wheeled soft cooler is a great example of how the company took most their customers' requirements and put them in one thing.
The Coleman at hand is an interesting soft cooler on wheels because it screams practicality and it is exactly that. Hence, beyond being a soft cooler which is already a great advantage for storage and transportation, the Coleman 42-Can also features a flexible PEVA removable liner which holders the body upright just enough to load your beverages comfortably.
Unquestionably, Coleman has exhibited no issues with quality earlier and it's not about to change that ritual. However, it does add a twist to the Cooler at hand by making it as much of a suitcase as possible. First, the Coleman 42-Can blends in nicely with other bags and it benefits from the practicality of wheels and a telescopic handle for easier movement.
The soft cooler on wheels at hand offers an array of other practical little features which you'll discover on your own but what should be noted right now is that this is a cooler that will keep you satisfied knowing how much it costs.

3- Coleman 30-Can Soft Cooler Review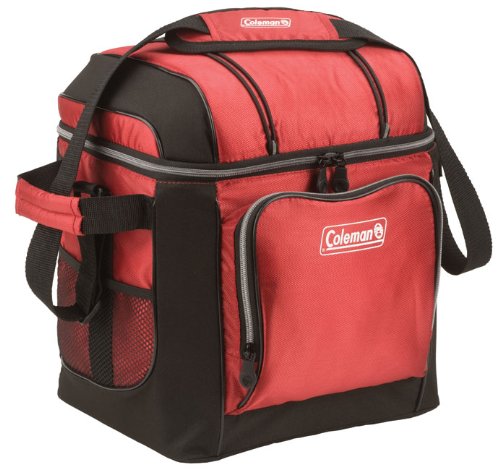 The Coleman 30-Can is a smaller yet more practical version of its older and bigger sibling. Hence, it is important to note that this is by no means a beach party type of coolers but rather one which will function perfectly within the daily routine of a working person.
Accordingly, the Coleman at hand is just as effective as the bigger version especially if you're using ice alternatives to keep your cooler tidy and reduce the possibility of bleeding through the smaller seems.
Furthermore, the cooler at hand is tiny but it still offers multiple options for compatibility. Hence, the Coleman 30-Can comes with a hard liner which keeps your items in places and gives the cooler its shape but it's also removable which makes it possible to store the cooler in even smaller places.
Despite its small size, the Coleman at hand grants you extra pockets to add in smaller snacks, water bottles and it goes on your shoulder seamlessly, giving you the ability to move it easily and seamlessly without giving away the fact that it's a cooler.

4- AO Coolers 48-Can Soft Cooler Review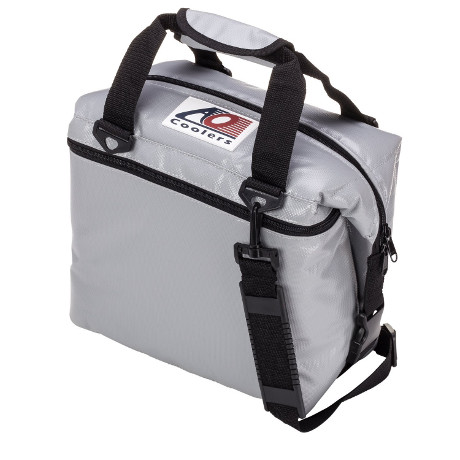 AO is not necessarily the face of soft sided coolers on the market but it is definitely one of the most underrated brands in the industry.
Indeed, AO Coolers is such a prolific manufacturer which can be seen through the various sizes and colors in which this cooler is delivered.
However, the most prominent criterion on the AO Coolers resume is the fact that beyond being soft sided coolers, they still feature a waterproof vinyl exterior with an impressive insulation system that promises to keep your beverages and snacks fresh for 24 hours in the hottest summer day.
Being waterproof on the outside makes it less like to leak out when ice is melting which is another reason to appreciate this AO Cooler. Nonetheless, the part which deserves more appreciation is the flexible liner which will hold the shape of the cooler while enabling you to store it easily in tight spaces. Eventually, the AO Cooler at hand is a reliable soft sided cooler with a removable shoulder strap and a promising price tag but most importantly, it is a highly reviewed cooler and that says it all.

5- RTIC 40-Can Soft Cooler Review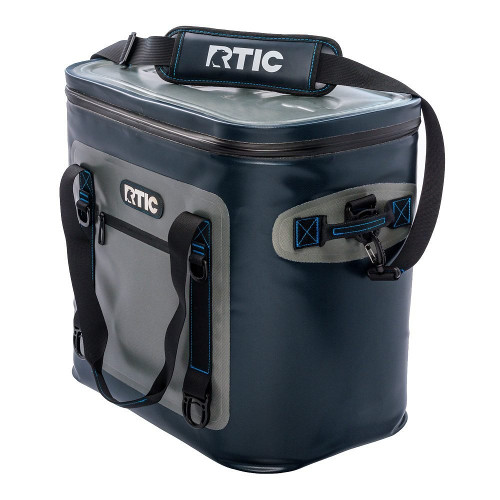 Expectedly, RTIC is trying to take the lead by any means possible and that includes boosting quality and reducing prices. Indeed, these little soft sided coolers are rather exceptional since the company claims that they exhibit the traits of a Yeti with the price of a Coleman.
Hence, the RTIC set of soft coolers offers a variety in colors but not sizes sadly. However, it does stick to a rather universal size which a lot of user can find pretty useful. Indeed, the RTIC at hand is more than enough for daily commuters, truck drivers and so on but not big enough for a beach day.
In terms of performance, RTIC focuses the majority of its effort into reducing leakage and enforcing insulation via a 2" foam wall and a no leak zipper. Also, the cooler at hand will keep dry on the outside to prevent getting you or your vehicle wet.
Eventually, it would be hard to assume that RTIC offers the world's best soft coolers but it certainly is up there with the big guys and it got the lightweight and durable laminated fabric and welded seams to support that.

6- Polar Bear Coolers PERFORMANCE Soft Cooler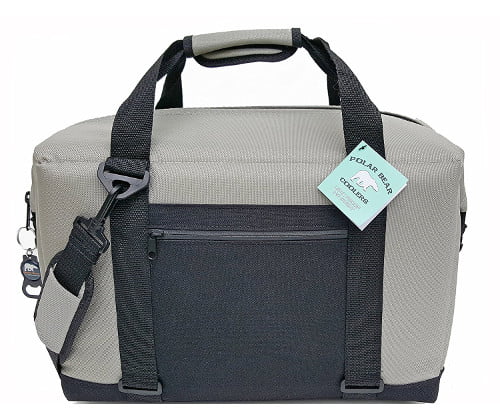 Just like the name indicates, Polar bear coolers go for a unique technology to keep your drinks and snacks fresh for up to 24 hours which is quite the record for a soft cooler that can be carried on your shoulder.
Indeed, Polar bear coolers take no chance at ranking low in the industry and goes straight for what matters. Performance on these coolers may just qualify them for the world's best soft coolers since they feature a high density foam insulation that will keep your lunch fresh in African summer days.
Most importantly, Polar Bear takes great pride into its nylon coated hard liner that promises to keep your sandwich intact and drinks isolated while simultaneously protecting them from the elements via a rugged UV resistant denier.
The company also attributes a lot of emphasis to the central and side zipper, being 'super heavy duty' which indicates a superior isolation, knowing a lot of soft coolers struggle with zipper leakage and that's why Polar Bear could be the best soft sided cooler.

7- OAGear Ultimate Backpack Cooler Review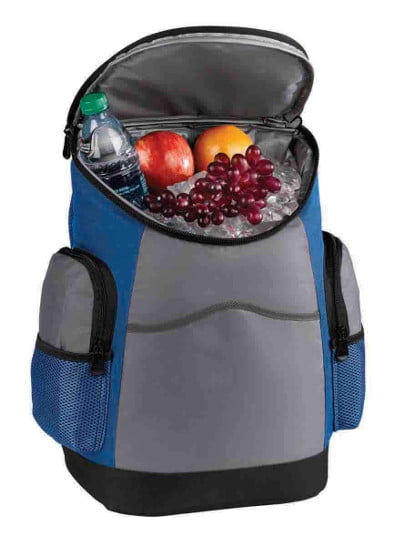 The OAGear ultimate backpack cooler is exactly that: a cooler that goes seamlessly as a backpack with multiple purposes. Indeed, this might just be the perfect addition for those of you who like to take long hikes or long pace physical activities as it enables you to keep your drinks & snacks fresh for long periods of time.
In fact, OAGear Ultimate backpack cooler Royal takes pride into the fact that it is built with 600D polyester denier and a solid insulation that can keep up to 20 cans cool for up to 24 hours with proper icing. Actually, you don't even have to worry about losing ice on this cooler because it will be perfectly sealed and supported via a heavy duty PEVA liner and a hard bottom.
Speaking of which, the backpack also comes with a reliable hard liner that will keep the cooler upright to maximize space, reduce struggle and keep your items in place on the go.
Overall, the biggest selling point for the Cooler at hand has got to be the fact that it looks just like any other backpack, a backpack that will keep your meals fresh for a couple days and that definitely qualifies it to be the best soft sided cooler of the year.

Soft Sided Cooler Benefits
1- Portability
Since most soft sided coolers are already designed to look like a shoulder or backpack, they already come with adequate straps which makes it as easy to carry around as a standard school bag. This is indeed one of the qualities where soft coolers excel because they grant you the ability to keep your drinks and snacks fresh and comfortably glued to you as you go.
2- Convenience
Convenience depends greatly on what you need a cooler for. Indeed, if you're looking for a quick carry & go cooler that can keep your tuna sandwich and beer fresh on the go then you'd feel very fortunate with a soft cooler. However, if you're looking into a cooler that can keep your hunt fresh then you're definitely looking for a bigger more powerful cooler.
Nevertheless, when it comes to daily use which is the case for commuters, truckers and obsessive picnickers then a soft cooler would prove to be the least burdensome bag you'll have to carry as it will keep your food and drinks cool while taking minimum effort and space.
3- Ease of storage
Speaking of space, whether be it a carry on or a drag along soft cooler, you will find that it virtually requires no pre-planning for storage. Indeed, one of the greatest things about the soft cooler is that it's very flexible unlike plastic ice chests which undeniably grants it an advantage for small car owners and light campers who want to keep their snacks fresh without having to figure out how to pack a mini fridge.
Further, once done with, you can simply fold a soft cooler in and slide it under your children's bed or in that over you hardly ever use and it will go in effortlessly. However, in all earnestness, soft coolers relieve you from having to deal with the traditional boxy cooler that has proven to be the one item which takes most of the space in our car trunk and home storage closet.
Soft Sided Cooler Buying Tips
1- What do you specifically need the cooler for?
Now it is definitely a relief to learn that you don't need a hard shell cooler for your specific situation and would really be happy with a compact soft cooler. However, it is still very important to figure what you need the cooler for before you make the purchase.
Indeed, a soft sided cooler is still designed to work within a specific environment and to each their own. In that sense:
A camper would most likely be happier with a hard lining soft cooler, which can handle all the walking and jittering around that your belongings have to endure.
An angler is definitely going to do less walking but an iron reinforced cooler will definitely keep temperature low within the pouch with enough ice around. However, iron is a very heat conductive material which makes insulation the keyword here and that usually doesn't match up with poor quality.
A commuter should work on a middle ground solution with efficiency as a primary focus because vehicles tend to get significantly warmer and that requires a perfectly shielded cooler that doesn't bleed out or relies on poor insulation to maintain low temps.
2- Where will you be using the cooler?
As mentioned in the previous section, location is a powerful determiner for which soft sided cooler you'll need. Accordingly, it must be kept in mind that the warmer the area in which you live, the more resilient and effective a cooler you'll need.
Also, this may be influenced by the type of transportation you use and the duration in which the cooler will be exposed to higher temperatures. All these little things will often result into a simple equation: the hotter it gets, the better quality a cooler you'll need.
3- How much stuff will you need to pack?
Now, unsurprisingly, the load capacity of a soft cooler wouldn't normally exceed 35 beer cans in most scenarios which is definitely a disadvantage. Hence, if you're certain that you still want a practical cooler then you have to determine just how much stuff you need to pack regularly because it can get a lot smaller.
10 beers being a high capacity cooler, you need to figure out whether you need the largest or a rather smaller soft sided cooler because perhaps you only need a lunch cooler to keep your sandwich and beverage fresh on your trip to work and in that case, you'll be targeting a specific category of coolers and vice versa.
4- Do you need the best soft sided cooler with extra pockets to pack extra stuff?
Depending on your regular ritual, another less critical choice you'll have to make is whether you'll need extra pockets on the cooler or not.
Now, it is evident that side pockets will not exhibit a cooler temperature than the main pocket of the cooler but they can surprisingly keep snacks quite fresh and especially those that require less refrigerating. Therefore, if you're into the idea of carrying extra things along with your main cargo then there are some models which will be a perfect match for you and vice versa.