John Gutierrez is the creator and CEO of Kysek coolers & a man that a lot of people seem to admire. Indeed, throughout our research, this name kept popping up which is abnormal, considering the fact that you hardly ever hear about the person behind the brand.
However, once you hear John's perspective, you will begin to understand why is this man and consequently Kysek is one of the fastest rising contenders on the market.
Upon start up, John said: My goal was to build a product that performs the way I wish it would… And I have very high standards. Accordingly, it is our duty to put that to the test and see how successful or perhaps not so successful John was at his mission.
Thus, in this article, we will take a gradual approach at the brand, break it down to its basic components and inspect everything that is supposed to make Kysek stand out.
In the end of the article, we will try our best to compare it to one of the biggest brands in the game (Kysek Vs Yeti). So, tag along and enjoy our detailed Kysek cooler review.
Kysek Ice Chests Compared
Coolers
Capacity
Dimensions
(L X W X H)
Weight
(Lbs)



Kysek 25 Cooler
• 25 Liter
• 32 lbs of ice
• 36 12-ounce cans
• External
22.5" x 15.5" x 14.75"
• Internal
16" x 8.5" x 9.75"
23



Kysek 35 Cooler
• 35 Liter
• 45 lbs of ice
• 48 12-ounce cans
• External
30.5" x 15.75" x 15.25"
• Internal
21.5" x 8.5" x 9.5
34



Kysek 50 Cooler
• 50 Liter
• 64 lbs of ice
• 80 12-ounce cans
• External
31.25" x 20.5" x 18"
• Internal
22.5" x 12" x 10.75"
40



Kysek 75 Cooler
• 75 Liter
• 96 lbs of ice
• 120 12-oz cans
• External
33.5" x 20.5" x 21.5"
• Internal
24.25" x 12" x 14.25"
49



Kysek 100 Cooler
• 100 Liter
• 128 lbs of ice
• 130 12-ounce cans
• External
42.25" x 20.25" x 21"
• Internal
33.75" x 12" x 13.25"
61



Kysek 150 Cooler
• 150 Liter
• 200 lbs of ice
• 240 12-ounce cans
• External
52.25" x 20.5" x 23.5"
• Internal
43" x 12" x 16.5"
80
Available Sizes & Dimensions
Variety is a key component of success for any brand out there. Indeed, it is the availability of options that helps any brand rise to the top because not everyone is looking for a picnic cooler.
Accordingly, Kysek dedicates an entire fleet of different sizes in order to cater for the various needs and requirements of the market. So, let's see if they have what you need.
1. KYSEK 25 Cooler
While Kysek features more compact soft-sided coolers, the Kysek 25 remains the smallest hard-sided cooler they can provide. Hence, the cooler at hand might be small but it has potential to replace any of your casual coolers.
Before you misread the situation, the Kysek 25 is definitely capable of replacing your angling cooler. However, it is definitely not designed for prolonged activities since it fits the mold of weekend trips, picnics & other extracurricular activities.
Accordingly, the cooler at hand measures 22.5″ x 15.5″ x 14.75″ & that means it can easily fit in your vehicle of choice.
2. KYSEK 35 Cooler
Ultimate ice chest number 2 on the list is the Kysek 35 which is a bit larger cooler but still far from being extravagant. Indeed, the 35Qt Kysek is a little beast that is designed to cater for different outdoors activities. However, it is only large enough to serve one to two users max on longer periods.
The cooler at hand measures 30.5″ x 15.75″ x 15.25″, making it significantly larger than its younger sibling but its 35Qt capacity is definitely not suitable for long term angling / hunting.
3. KYSEK 50 Cooler
On a serious note, Kysek seems to take great pride in its 52Qt cooler because it is the most versatile on the pack.
Indeed, the cooler at hand can literally be used to serve multiple purposes, ranging from angling / kayaking adventures all the way down to team sport events. Hence, the cooler at hand measures 31.25″ x 20.5″ x 18″ and that means it can definitely cater for a couple of users on prolonged journeys.
Nevertheless, if you are looking for a solid companion on serious fishing trips, you might want to check out the next cooler.
4. KYSEK 75 Cooler
The Kysek 75 is definitely the perfect match for anglers who enjoy long term fishing trips & enough storage space to go with that.
Not to limit the Kysek 75 to angling, the cooler at hand is definitely capable of multi-tasking but it would be oblivious to ignore the fact that the brand develops its coolers with water related activities as a priority.
The 75Qt measures a decent 33.5″ x 20.5″ x 21.5″ which should be enough room for a week's journey. However, you ought to pre-plan your trip wisely before you step into the mud because space becomes a high commodity on the field.
5. KYSEK 100 Cooler
Okay, maybe you aren't satisfied with any of the previous coolers which is reasonable if you are an avid practitioner. Thus, maybe the Kysek 100 can satisfy your needs with its mighty capacity and competitive size.
The cooler at hand is definitely capable of handling a trip's worth of loot for a couple of users.
Accordingly, this could be the best equilibrium for hunters / anglers because while it is capable, it isn't too much.
In that respect, the cooler at hand measures 42.25″ x 20.25″ x 21″ which is a nice match for larger boats and all kinds of trucks & that should give you an idea about what to expect from this model.
6. KYSEK 150 Cooler
Kysek takes a leap of faith into the giant that is the Kysek 150 and here is why it isn't such a big seller. The 150Qt cooler is a niche cooler to say the least as it is capable of catering for a group of users during an entire week if necessary.
Indeed, we've seen this cooler cater for 5 people's camping trip without a single worry. Hence, you can imagine how practical this would be for large game hunters / anglers & long term campers.
Not to glorify the brand, but this cooler is totally capable of replacing a small fridge for a long time because it measures 52.25″ x 20.5″ x 23.5″.
Yup the Kysek 150 measures around 4.5 feet in width and that makes room for a satisfying cargo.
KYSEK Soft Sided Coolers
In case you're looking for something more practical, flexible and reliable, you can always opt for a soft-sided Kysek cooler.
Indeed, the brand balances out its production line via an equally impressive line of soft coolers that includes the Rover, which is excellent for picnics, road trips and the like, & the Trekker, which is more of a backpack style cooler that is meant for hikers, campers and overall outdoors lovers.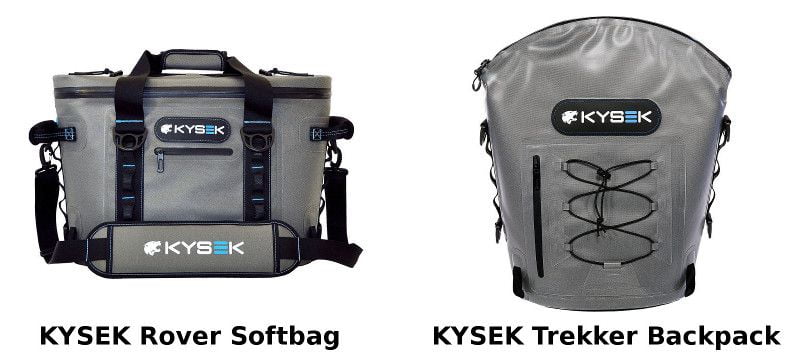 KYSEK Rover Softbag

KYSEK Trekker Backpack
Design & Build Quality
Since you are paying a significant price, you are in the right to expect top-notch design from Kysek. However, many people seem to have issues with how minimalistic Kysek coolers are.
Indeed, Kysek is a minimalistic brand and that isn't something that they try to hide. In fact, the brand seems to take pride in the fact that their coolers are so plain simple. Therefore, a number of customers associate that with poor design. However, if you compare Kysek coolers to something like Yeti then you'll find that the brands are rather similar and they stick to simplicity for a good reason.

Accordingly, while an aggressive style is definitely more appealing to hunters & adventure seekers, a minimal design will help the cooler blend in and reduce possible inconvenience. Indeed, because Kysek coolers abstain from flashy designs, they are far easier to transport and store.
In correlation with design, quality is a direct result of design sometimes. However, the famous resilience of Kysek coolers has many pillars.
First things first, rotational molding is definitely a large contributor to the quality of a cooler and since all Kysek coolers are manufactured with the same building technique, they are stronger and unified.
Further, a cooler's resilience depends highly on build materials and to stay in the safe, Kysek decided to adopt the same Polyethylene combinations that are found in premium brands such as Pelican, RTIC, ORCA and others. Thus, with a resilient crust, Kysek coolers are guaranteed to endure any kind of environment regardless of how dry or wet it can get.
Finally, to wrap things up, the final contributor to quality is the building process. However, since the entire mold of the cooler is a single roto-molded piece, Kysek had to reinforce hinges and lid structure only. Fortunately, there hasn't been a single criticism of Kysek parts yet and that usually is a good sign.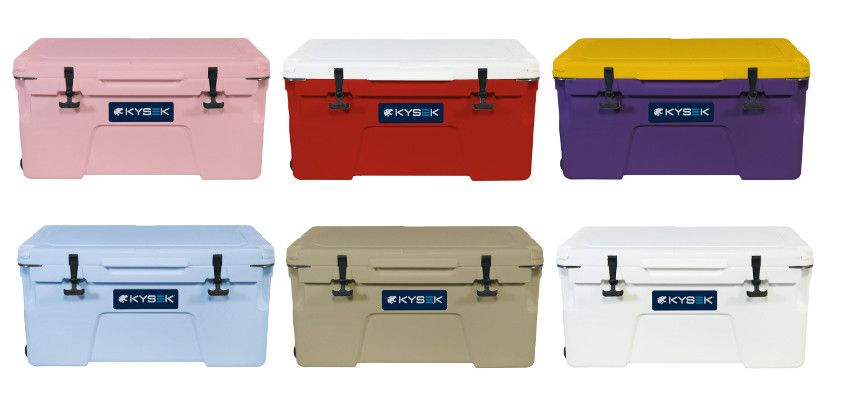 Kysek Cooler (Pink)
Kysek Cooler (White/Red)
Kysek Cooler (Purple/Gold)
Kysek Cooler (Marine Blue)
Kysek Cooler (Camo Tan)
Kysek Cooler (Marine White)
Ice Retention & Insulation Ability
Kysek is one of the few brands on the market that has the guts to claim an insane 10 days ice retention. Indeed, being one of the least familiar brands that we have ever reviewed, our first instinct was to dismiss this brand since more expensive brands didn't dare go there.
Nevertheless, after a few tests in different temperatures and settings, we went ahead and swallowed our tongue because Kysek coolers are definitely a wonder. So, how does it work & how can a portable cooler achieve such long periods of ice retention while being in direct contact with external elements all day long.
Well, the answer to the success of Kysek coolers is rather simple because it can be summed up in three different categories.
Accordingly, the first category, & the biggest contributor, is dedicated to the roto-molded shell of Kysek. Indeed, rotational molding has boosted performance of portable coolers significantly because it entails a continuous building process that results in a unified mold. Hence, the mold structure of these coolers won't only slow down the heating process but it'll also reduce the influence of external elements on the cooler.
Second, while rotational molding is quintessential to ice retention, its influence would be irrelevant if not for an appropriate filler. Hence, Kysek coolers depend on a pressure injected foam filling to insulate the walls and lid of the coolers.
Accordingly, despite being significantly dense, the foam injection is fused with thousands of tiny air capsules that help disperse the heat and slow down its effect on the internal temperature of the cooler.
Finally, to seal the deal, Kysek blessed its coolers with a premium gasket that is the cherry on top of the cake. Indeed, despite being a small contributor, the gasket has a powerful effect on the overall containment & the last piece that Kysek needs to attain a factual 10 days ice retention.
Features
Features are definitely a prime contributor to the reputation of a brand because they are our direct connection to the cooler. So, what should you expect from Kysek coolers and what are their prominent features?
CODEBLUE ™ Mobile App and Sensor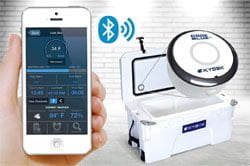 Kysek coolers are the the only cooler to our knowledge that you can sync to your smartphone.Indeed, one of the more unique features of the brand is the spot on mobile app that connects to your cooler.
The revolutionary connection gives you an exact translation of the temperature inside cooler thanks to an injected sensor. This application will consequently keep you alert and reassured about your cargo at all times.
POSILATCH ™ Beefed-Up Lid Latches
Latches are one of the most important features on a cooler because they are the one thing that you are in direct contact with on a regular basis. Hence, the brand decided to play it safe by opting for T-latches because they simply work.
Indeed, these latches are easy to use & they reinforce the function of the gasket once the lid is closed.
Cutting Board Lid
Being an angler product primarily, it was rather expected from Kysek to introduce a cutting board platform on top of the lid which will come in handy in several situations.
Also, being such a powerful build, the lid can double as a casting platform when necessary.
BEARCLAW ™ Lock Plate / Bottle Opener
Because safety matters, Kysek coolers are supported via lock slots on both front ends of the cooler to help you secure your loot when you're not around.
Also, the lock plates can double as bottle openers for those of you who can't go along without a fresh drink.
EASYGRIP ™ Handles
One of the best features about Kysek coolers are the handles due to their premium nature. Indeed, the rope handles on these coolers are robust and fused with a padded support bar for easy handling.
If you do not like rope handles then you can always opt for the molded handles on the sides of the coolers.
Color Options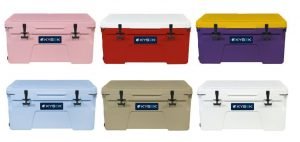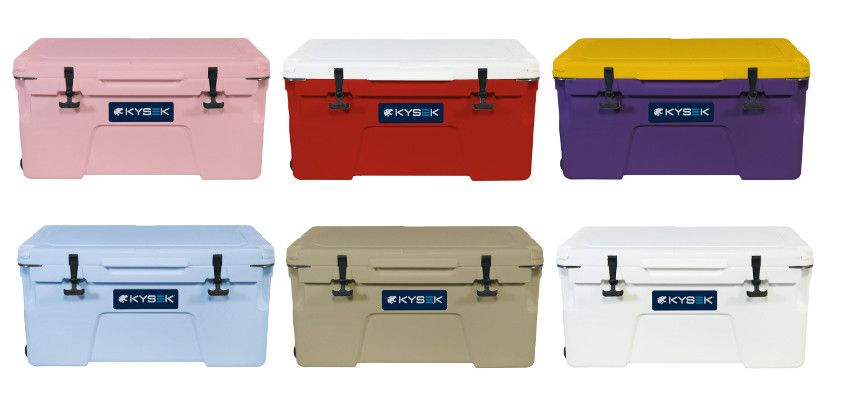 At the time of writing this Kysek Coolers Review, Kysek ice chests comes in a wide variety of colors including: Pink, Red White, Purple Gold, Marine Blue, Camo Tan, Marine Blue.
Honorable mentions
There are plenty of other features that are worthy of praise but to keep it short, here is a short list:
High-Density ZEROSKID ™ Feet
HEAVYHAULERS ™ Heavy-Duty Wheels on some models
3/4″ Drain Plug with Hose Adapter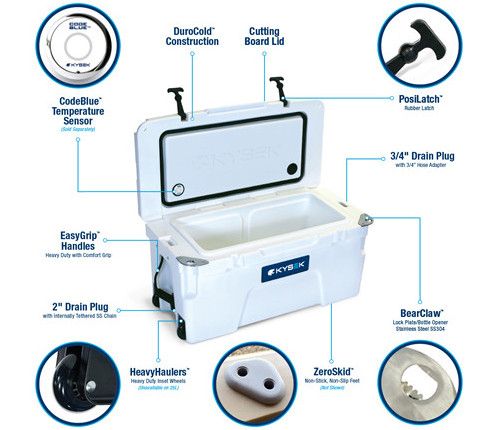 Who is it for?
This could be the shortest segment on the article or rather the shortest segment we've ever written because Kysek coolers aren't trying to hide the fact that they are primarily targeting anglers.
Indeed, the brand supports their coolers with all necessary specs and features to facilitate your journeys on water.
Kysek Vs. Yeti: Which Is Better?
As much as we'd love to draw a detailed comparison between the two brands, it is imperative to remain on point here and highlight the actual differences between the two brands.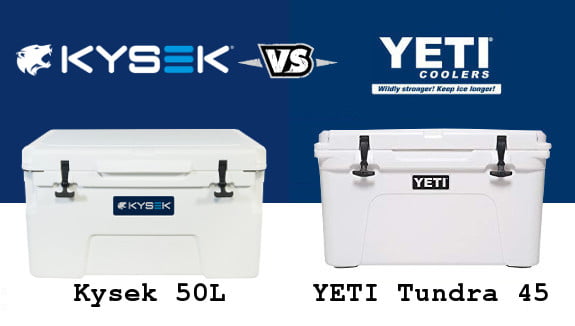 For starters, it is rather evident that there isn't a huge price gap between Yeti and Kysek coolers. However, Yeti does take the lead in terms of variety.
Other than that, it is almost impossible to point out a difference between these two brands except for the part where Kysek defeats the competition.
Indeed, with utmost objectivity, we can say that Kysek coolers are better performers because only one of the two can attain 10 days of ice retention. However, it is important to note that Yeti coolers are also capable of pushing the bar up to a week of ice retention in summer heat.
Compare To: YETI Tundra 45 Cooler
YETI Tundra 45 Cooler, White
The YETI Tundra 45 combines versatility with durability with a capacity of up to 26 cans with a recommended 2:1 ice-to-contents ratio
Ice stays ice thanks to up to 3 inches of PermaFrost Insulation and an extra thick FatWall design is certified Bear-Resistant
Kyek Cooler – Bottom Line
If there is anything that this Kysek cooler review can add, it is the fact that Kysek is one of the best bang for your buck and if you're looking for excellence then you'd be more than satisfied with an expensive cooler that perfectly justifies its price.
Amazon Recommends:
Bestseller No. 1
Bestseller No. 2
YETI Roadie 24 Cooler, Charcoal
The Roadie 24 is 10% lighter in weight and holds 20% more than a Roadie 20, it even performs 30% better thermally
It's got a taller build than its predecessor, so it now accommodates a standard bottle of wine (or 2 liter bottle) upright, and is a better fit behind the driver's or passenger's seat of a car
Bestseller No. 3
YETI Hopper Flip 12 Portable Cooler, Charcoal
The Hopper Flip 12 has ColdCell Insulation, a closed-cell foam that offers superior cold-holding to ordinary soft coolers, with a capacity of up to 12 cans plus ice
Features a 100% leakproof HydroLok Zipper and high-density fabric that withstands punctures and UV rays