Only a strong cooler can make it nowadays in the midst of the extremely heated competition known to this growing industry.
Yeti; being the bar setter and initiator of this revolutionary concept with their first roto-molded cooler that saw the light in the early 2000's, ignited a flame that led to dozens of names and brands competing to make their own roto-molded ice chests or coolers with the same high end production as Yeti but with what they promise to be more affordable and within everyone's reach.
This Mammoth Coolers review is going to introduce a brand that went the extra mile doing everything possible to follow Yeti's lead in hopes that they'd make quality coolers that can deliver the same performance and be as hard and durable with their own unique touch and renovated vision.
Available Sizes & Dimensions
In order for you to get a closer look at how Mammoth sorted out their coolers' collection, we'll make it short and quick and present you with what you need to know when it comes to size and capacity so that you can narrow down your options and make the most appropriate choice that'll suit your needs.
So first, Mammoth introduces their coolers under two catchy line names; The Cruiser and The Ranger.
Mammoth Cruiser Coolers – Compared
Coolers
Capacity

Dimensions
(L x W x H)
Weight
(Lbs)



Cruiser 15

• 12 quarts
• 3 gallons
• 12 cans
• 13 bottles
• External
14.5" x 10.5" x 11.6"
• Internal
12" x 7" x 7.2"
8



Cruiser 20

• 17 quarts
• 4.25 gallons
• 19 cans
• 14 bottles
• External
13.2" x 11.5" x 11.5"
• Internal
13.25" x 8.2" x 8.5"
9



Cruiser 25

• 22 quarts
• 5.5 gallons
• 28 cans
• 15 bottles
• External
16.25" x 11.75" x 14"
• Internal
13.9" x 9" x 9.2"
11



Cruiser 30

• 27 quarts
• 6.75 gallons
• 30 cans
• 17 bottles
• External
17.6" x 12" x 15"
• Internal
15.75" x 9.2" x 10.5"
12
The Cruiser is this awesome personal cooler that comes in four different sizes; the Cruiser 15, 20, 25 and 30. We say personal because you can single-handedly handle any of these coolers with zero reliance on help to carry or transport them.
They're the perfect line for anyone who's looking for a cooler to keep right under his/her arm for quick and daily use. The name Cruiser wasn't a random one after all; this cooler can become your best buddy for all of your road trips, snacks' time and more.


Mammoth Coolers Cruiser 15
Mammoth Coolers

Cruiser 20
Mammoth Coolers

Cruiser 25
Mammoth Coolers

Cruiser 30
Mammoth Ranger Coolers – Compared
Coolers
Capacity

Dimensions
(L x W x H)
Weight
(Lbs)



Ranger 25
• 25 quarts
• 6.25 gallons
• External
19" x 14.5" x 14.75"
• Internal
13.5" x 10.25" x 10"
17.5



Ranger 45
• 45 quarts
• 11.25 gallons
• External
23" x 17" x 16.5"
• Internal
17" x 11.75" x 11.5"
23.5



Ranger 65
• 65 quarts
• 16.25 gallons
• External
25" x 19" x 17.5"
• Internal
20" x 14" x 14"
29



Ranger 125
• 125 quarts
• 31.25 gallons
• External
37" x 19.25" x 18.5"
• Internal
31.25" x 14.25" x 14"
41.5
Now the Ranger is the bigger brother that's up for tougher missions because it's designed to handle more and last longer. The Ranger as well comes in four sizes; the Ranger 25 in case you liked this designed better, the 45, 65 and the 125. These guys are up for some real fun with more capacity to serve your extended journeys with friends and family.
Both these lines are worth checking out given the fact that Mammoth Coolers took the time to build different coolers for different users with a sharp finish and some great details.

Mammoth Coolers

Ranger 25
Mammoth Coolers

Ranger 45
Mammoth Coolers

Ranger 65
Mammoth Coolers

Ranger 125
Design & Build Quality
One thing we can all agree upon is the fact that you can tell a good and tough cooler first by how it looks and then how it feels when you lay your hands on it. Mammoth did a terrific job making sharp looking coolers that are a pleasure to use and handle.
Each and every Mammoth cooler is of course roto-molded which means they're extra tough, durable and error-free. The rotational molding technology provides these coolers with better insulation ability; which we'll discuss later on in this Mammoth cooler review, and it guarantees the promised and much appreciated high end production.
In terms of extreme circumstances and environments; Mammoth coolers are built to take and defy any harsh situation that an outdoor cooler might face. Thus, Mammoth put a life time consumer warranty on all of their coolers to prove that they fully trust and support these coolers through the worst possible conditions.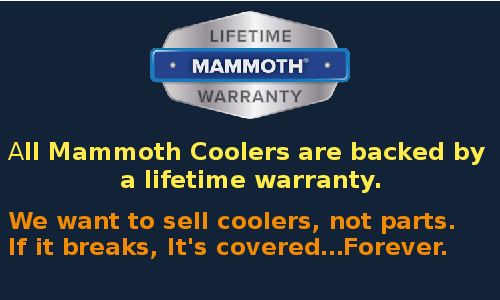 Ice Retention & Insulation Ability
Ice retention is the real challenge for any cooler no matter the brand, how durable it is or how experienced. Mammoth coolers made sure they learned from everyone that's ahead of them in order to build their own perfect cooler that became up to competing giant names in this industry. As a result, all of Mammoth coolers are made built using 2 inches thick sidewalls and lids which is the best thing anyone can find on the market.
With such thickness, even the smallest cooler of Mammoth's lines is capable of effortlessly delivering 2-3 days of ice retention.
The bigger the cooler the longer ice is going to last inside of your cooler. If you take the Ranger 125 for example; which is a great cooler for camping and extended trips, you can end up with 6-7 days as a life span for your ice, and this a number only brands like ORCA, RTIC, Pelican…and YETI can hit.
Features
Getting to this part of the review, this is the closest you can get to knowing the qualities and specifications of Mammoth coolers both the Cruiser and the Ranger because apart from the difference in size, they're pretty much the same.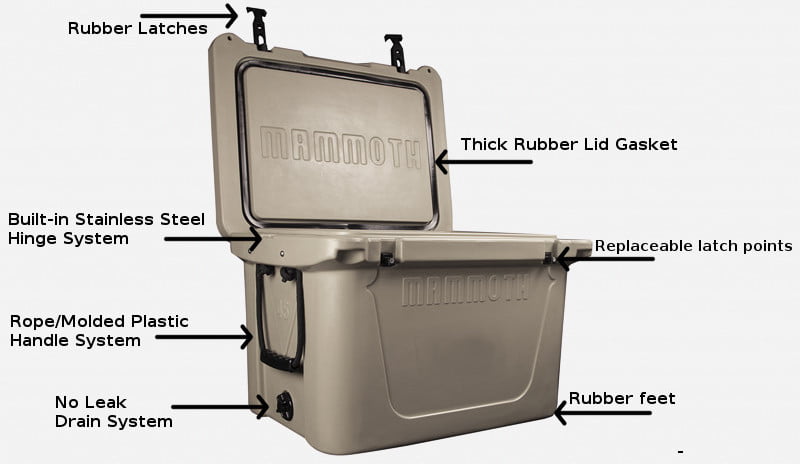 First, we gotta talk about the lid on Mammoth coolers; it's vital to check the lid before getting a cooler because it interferes directly when it comes to quality and performance. With Mammoth coolers, however, you'll be getting one of the strongest lids out there with 100% insulation and a unique built-in stainless steel hinge system that extends through the full length of the lid making it super rigid and stable.
Then there is the rubber latches that are essential to all outdoor coolers to make sure the lid is perfectly sealed when moving and transporting the cooler. These latches add to the insulation ability of the lid by helping you avoid leaving the loose or cracked. (Leaving the lid?!)
Not only that, the lid is also featured with a nice and thick gasket and that's ladies and gentlemen what you can call a perfect lid. With all these elements combined together, Mammoth left not even the tiniest outlet for cold air to get out, hot air to get in, or for anyone to criticize this lid.
Now let's talk about the handles; the coolers on the Cruiser line are featured with a rotating metal handle with a rubber grip for firm and comfortable use.
The Rangers on the other hand are featured with heavy-duty rope/molded plastic handles which are a lot more flexible allowing two people to carry and transport the loaded cooler.
Moving on, these Mammoth coolers come with a heavy-duty anti-skid bottom feet which hold the cooler in place even on slippery/moving surfaces.
And finally, draining your cooler with the featured leak-proof draining system is going to always be fast and easy.
All in all; this is pretty much everything to a Mammoth coolers both the Cruiser and the Ranger and to be honest; Mammoth did a great job with these ice chests that though they're still not as strong on the market as Yeti, they can definitely speed up their pace in no time with such end production and quality.
Who is it for?
Well, this is the good thing about Mammoth coolers; they're simple made for literally everyone. The Cruiser here is the perfect personal cooler that's capable of always saving the day be it on a picnic, day on the boat, short road trips, and it can even function as a lunchbox on the work site. The Cruiser's available sizes are just that flexible and versatile that anyone can comfortably use them anywhere and anytime.
As for the Ranger, the bigger versions are designed with long camping excursion in mind so that your ice and food can hold longer. However, that doesn't deny you the privilege of using any size any way you think is most suitable for you.
It's frankly a great coolers' line we have here and we don't think any of you would be going wrong with a Mammoth cooler.
Mammoth Vs. Yeti: Which Is Better?
We can't end our Mammoth Coolers review without comparing these formers to the one brand that started this whole heated fuzz about outdoor roto-molded coolers; Yeti.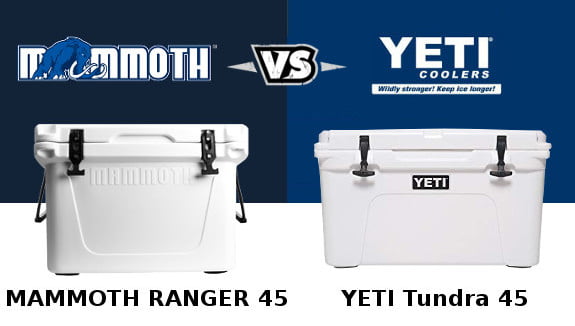 Mammoth tried their best to follow the lead of a giant and did it nicely to the point where they were able to make their own quality coolers that we've seen in this review. No one ever can deny the fact that Yeti makes some really high end coolers that are so hard to beat, yet, Mammoth coolers and many other brands were quick learners with great ambition that led to serious competition in the coolers industry.
As not to make it any longer; we can settle this debate by acknowledging the great work Mammoth did with both the Cruiser and Ranger lines in terms of design, build quality and flexibility.
Getting to ice retention and insulation ability one has to admit that both Yeti and Mammoth delivered the same performance more or less which is a result of the roto-molding technology used on both, in addition to thick 2inches walls given to both.
Speaking money, you can get a Yeti cooler that's only 110 qt for something like 500 dollars. Mammoth here offers an extra 15 quart for less than that. However, don't expect the price gap to be huge because both these brands make high end quality coolers.
YETI Tundra 45 Cooler, White
The YETI Tundra 45 combines versatility with durability with a capacity of up to 26 cans with a recommended 2:1 ice-to-contents ratio
Ice stays ice thanks to up to 3 inches of PermaFrost Insulation and an extra thick FatWall design is certified Bear-Resistant
Mammoth Cooler – Bottom Line
Being part of a community that's always in touch with different outdoor products especially coolers; you grow to understand that it's not always the brand name that matters.
Taking everything that's been said here into consideration, it shouldn't be so hard now to choose which cooler you want to end up with; a Cruiser? Or a Ranger?
Amazon Recommends:
Bestseller No. 1
Bestseller No. 2
Mammoth Ranger 65 Cooler, Insulated Hard Ice Chest with 65 Quart Capacity, Holds 54 Cans, Great for Camper, Float Trips, Tan
MAMMOTH RANGER 65: Insulated hard ice chest that holds 65 quarts. Created for when you need to have plenty of cold food and beverage away from home. Size is great for bottled water, sandwiches, and snacks. Ideal for weekend tournaments, RVs, and more
DURABLE: The double-walled rotomolded construction, freezer grade lid gasket, and thick foam insulation of this hard cooler keep your drinks and food cold even on the hottest days of summer. Ice chest also features heavy-flow drain system
Bestseller No. 3
Mammoth Live Bait Bucket, Insulated Bait Bucket with 10 Quart Capacity, Great for Day Trips and Fishing Tournaments, Tan
MAMMOTH LIVE BAIT BUCKET: Durable double walled rotomolded bucket/cooler created to work in extreme conditions. Great for day trips to long tournaments, this live bait bucket maintains and regulates water temperature to prolong the life of bait fish
DURABLE CONSTRUCTION: Round construction allow minnows or shiners to swim freely and comfortably without bumping hard corners. Bucket features a built in bracket to firmly hold an aerator and hose hole in lid fits oxygen line (not included)