In a world that's only growing more competitive in search of everything that's smaller, lighter and more practical, portable coolers too have known a great deal of developments and countless series of innovation and optimization.
This review is for anyone who's still confused whether to get a soft portable cooler or a hard one because though both carry out pretty much the same concept; they can still be very different in terms of handling and other things.
As we're sure you already know; universal brands offer both soft and hard cooler of great quality in all different sizes and colors. Thus, all you need to do is make up your mind here and now on wh at is it going to be; a soft cooler or a hard one?
Soft Sided vs Hard Sided Cooler
One of the most crucial determining factor when deciding between a soft-sided cooler and a hard-sided boils down to how you plan to use your cooler in the first place. Sure, both types do the same job: keeping things cool. However, there are a ton of things to be taken into consideration in order to choose the right type for you including the things you want to keep cool, for how long you want to keep them cool for, and in what context you would like to keep them cool. All of these questions really matter.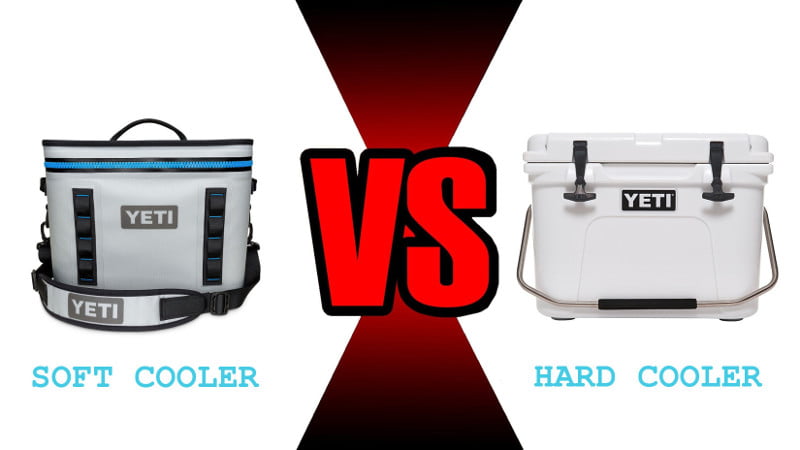 To make it easier for you, let's take a look at what each type of cooler is used for and what are their unique characteristics.
Soft Sided Coolers: Daily Basis
When you hear the term soft cooler for the first time, maybe you wouldn't know what to expect. However, what you need to know is that a soft cooler is not that soft after all.
Soft Coolers weigh less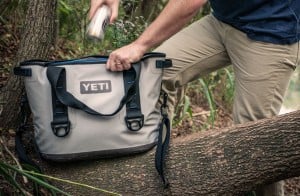 A soft cooler weighs way less than a hard one; anyone can handle it easily and practically which is why a lot of people usually opt for it.
You can carry a soft cooler on your shoulder, or you can put it right next to you in the car form where you can single handedly carry it and move around freely.
Of course I'm talking about the personal size here which is perfect for 2-4 people to store their drinks and maybe some snacks.
It's extremely portable with almost zero inconveniences to it. But of course, it only stands to reason to state the fact that the bigger the soft cooler, the heavier its load will be. However, it is unquestionable that it'll remain pounds lighter than a hard cooler.
Soft Coolers are easy to transport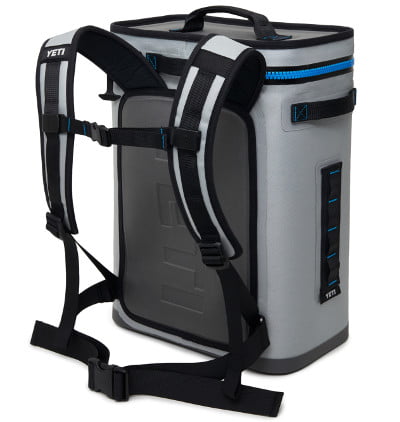 Not only that, transporting an empty cooler is the easiest thing anyone can do; even a child can try and succeed to carry it around.
It's almost impossible that a soft cooler would harm any surface or damage anyone's fingers or ankle.
This is the part where the word soft kicks in; soft coolers are completely harmless when it comes to transportation because even if they fall they won't break and they won't cause much of a damage in case it fell on someone because they're nicely and thickly padded.
Soft Coolers requires less storage space
Now once you are done using your soft cooler; you can literally put it anywhere. However, a friendly advice is that you better not leave it in hot places; it's always recommended to store it away from heat and UV rays to prolong its shape and performance.
Also, you might get the largest soft cooler and it would feel just like a strong travel bag or backpack which you can easily handle and store.
All in all, soft sided coolers make great and practical companions for short trips and personal use… with minimum down sides and inconveniences.
Hard Sided Coolers: Adventure Ready
Hard sided coolers are a whole different story now. It's true that they share the same concept as soft coolers and that's portability and ease of transport, but let's be honest here; hard sided coolers are proved to have a longer ice retention span.
Hard coolers Have better ice retention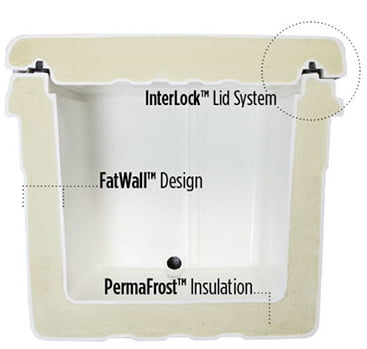 The technology and foam used to make hard coolers is meant to hold low temperature for days. Some coolers are roto-molded with super rigid lids and neat gaskets all to keep everything cold and fresh inside.
The insulation technology has been improving in the last years resulting is some amazing coolers that can save ice inside up to 10 days.
Also, if you only try a little harder to be a friendly user who pays attention to details and pre-usage instructions, your hard cooler is guaranteed to last for years with the same great ice retention performance.
Hard Coolers have much greater Capacity
Hard coolers come in all sizes starting with the 20 qt coolers all the way to 400 qt. A hard cooler means greater storage capacity; you wouldn't have to compromise any drinks or ice under the pretext that you don't have enough space.
Once you're secured on the transportation matter owning a car or a truck; dealing with a hard cooler will be a piece of cake.
Of course you're going to need a hand carrying the loaded cooler into or out of the car, but that's the only drill you got to worry about. Apart from that; you can get a wheeled hard cooler to make a whole lot easier.
Hard Coolers are more Durable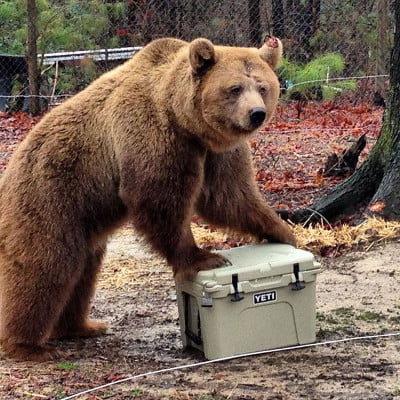 In terms of durability; hard coolers showed that they can be used heavily without affecting their performance or outer body because simply they're made to overcome natural circumstance, heat and water.
The body of a hard cooler is like a shell that's tough and UV resistant. Some hard coolers are even bear proof for maximum security and durability.
Final Thoughts
When it comes down to choosing, we've got to admit that it's a very personal matter. Some of you might only be looking for something to store their lunch, while other might be in need of a party size cooler.
Soft sided coolers are extremely user-friendly which makes carrying them around similar to carrying personal bags sometimes. While hard sided coolers can be a little more demanding because of their hard and heavy bodies sometimes.
All that's left for you to do now is to analyze your activities, surroundings and interests to decide which is going to work best for you; a soft cooler, or a hard one.