In a very short time, Driftsun was able to make themselves a nice spot amongst brands that might be way older and experienced thanks to working smart and hard.
However, you might be familiar with the brand name Driftsun if you're a water activities enthusiast; in addition to ice chests, Driftsun make a variety of products including inflatable standup paddle boards, kayaks,…and chairs, all with the intention to improve people's experiences in the outdoors; be it in water or at bay.
Driftsun's initial goal is to put adventure into everything they make; and in this Driftsun cooler review we'll try to cover their coolers' line which happens to be neat, simple and highly suitable for almost everyone.
Driftsun Coolers Compared
Available Sizes & Dimensions
In order for any brand that targets ice chests or portable coolers to succeed and make an impact on market, it should take into consideration that users come with different needs and orientations, thus; a variety of sizes in these coolers is always a plus.
Driftsun offers the following sizes which simply make a lot of sense: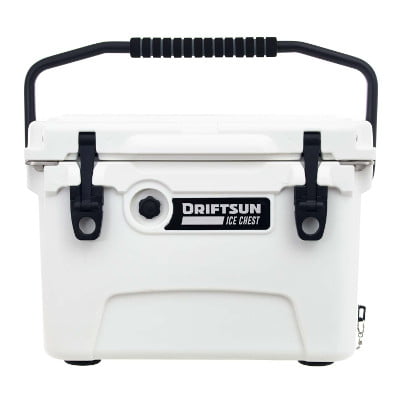 The Driftsun 20 qt is the nearest thing to a personal cooler, however, the storage capacity is quite impressive being 14″(L) x 8″(W) x 10″(H) on the inside.
This cooler could be a great add to your car/truck for daily excursions.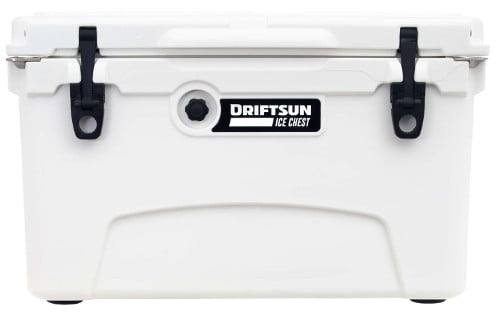 This one here is meant to hold more than its previous with 20″(L) x 10.5″(W) x 11.5″(H) on the inside which is great for a little group of people on a road trip or a day on the beach. It'll allow you to carry everything you need for a comfortable and fully covered short trip.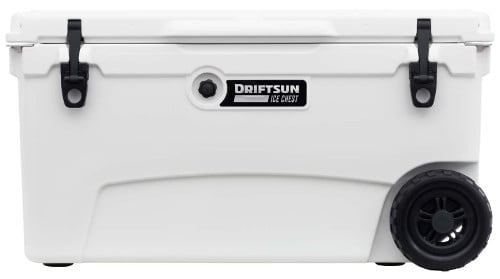 This cooler right here must be one of coolest things ever made by this industry; it's wheeled which eliminates the transporting troubles for once and for all, and it comes with an extremely practical handle to drag it around in complete comfort.
It's a great cooler for picnics and camping trips even a kid can easily and safely wheel it around.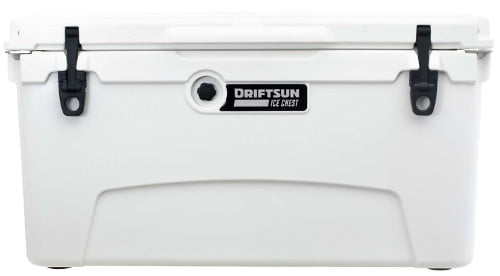 Except for a couple inches difference and the fact it's not wheeled, this cooler is almost identical to the precious one.
The Driftsun 75qt cooler allows you some extra quarts to store more ice, drinks and snacks which will do great for any kind of trip or camp with family and friends.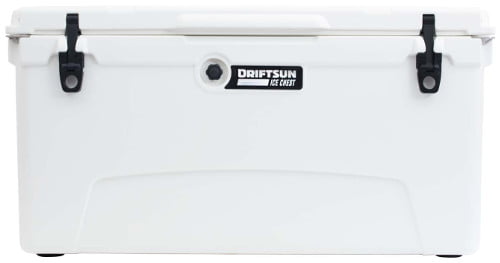 The Driftsun 110 QT cooler is the last cooler on this line, and it's 31.5″(L) x 14.25″(W) x 15″(H) on the inside making it a great cooler for long camping/fishing/hunting/surfing trips.
You can even throw a party at the back of your house with this cooler full of food and beverages kept cool and fresh for quick and easy access.
Design & Build Quality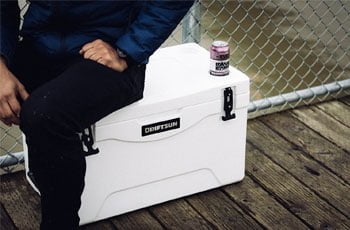 Though Driftsun is barely known to the market for a few years now; they were able to follow the lead of pioneering brands and make their own solid coolers.
All of the Driftsun coolers are built using Rotomolded Thermoplastic Construction which makes them nearly indestructible with a 'No-Sweat' Exterior Design that prevents condensation and keeps both the cooler and its content safe, fresh and cool.
Driftsun promises a really tough cooler that'll perform the same way as any other global brand because they used nothing but heavy-duty materials and latest technologies to make their coolers.
Ice Retention & Insulation Ability
When talking about ice retention and insulation ability, one shouldn't go all sci-fi on these coolers and expect them to hold ice and low temperature for weeks or months.
A portable cooler is meant to keep your food, snacks and drinks fresh and cool for as long as you can refill the ice and keep the chill going.However, Driftsun's coolers are here to provide you with days of luxury and comfort thanks to the 3 inches commercial grade insulation foam used in their construction.
It's a number that's rarely reached even when speaking of universal brands that are meant to be setting the bar for this whole industry. Thus, feel free to expect a longer freeze span for your ice and goodies with any of Driftsun's coolers.
Also, the ThermalLock Freeze Style Gasket is an outstanding feature here that prevents air exchange; in other words, heat won't find its way into the cooler, while cold air remains sealed inside making it quite a task to open the lid after you've just closed it.
Features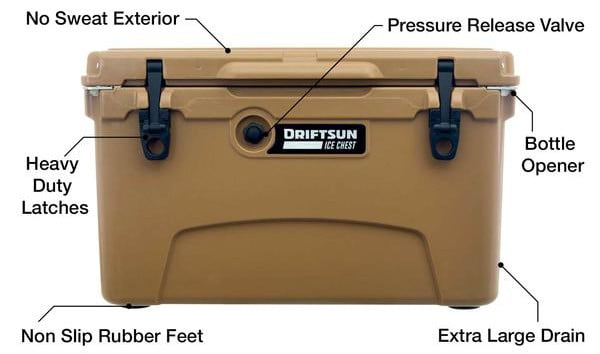 To begin with, Driftsun did a good job making all of their coolers available in 5 different colors; White, Gray, Tan, Sea Foam and Coral. And to be honest, even if none of these colors was what you really wanted, white always saves the day because what's better than a sharp, simple and a timeless white cooler?
Next, we have the previously mentioned ThermalLock Freezer Style Gasket that adds up greatly to the cooler's performance. It's an innovational feature that, unlike Driftsun's, many coolers out there can't afford.
Now once you close the lid, you might remember that you still need something from the cooler, but the freezer gasket doing its job is going to dead-seal the lid. No problem; all you got to do is use the Pressure Release Valve to let some air come out and in and voila! The lid is all easy and ready to be reopened.
Also, all of the 5 sizes Driftsun coolers we talked about in this review are featured with Heavy Duty ColdSeal Latches that make sure the lid is perfectly sealed so it doesn't open accidentally while transporting the cooler or anything of the sort. They're rubbery and super accessible for easy use.
Speaking of transportation; these coolers got Molded Tie-Down Slots so that you can secure the cooler to your car or boat for a safer trip where the cooler stays in place with all of your goodies intact.
Not only that; there are also the GorillaGrip Non-Slip Feet that'll guarantee your cooler remains where you left it even on soft and slippery surfaces.
To make it all better, Driftsun featured their coolers with lock plates which means that these coolers can compete with other brands that offer bear proof coolers. You can use any standard lock that you have and it'll do just great.
Last but not least, Driftsun coolers are featured with built-in bottle openers making the cooler more practical for trips and gatherings.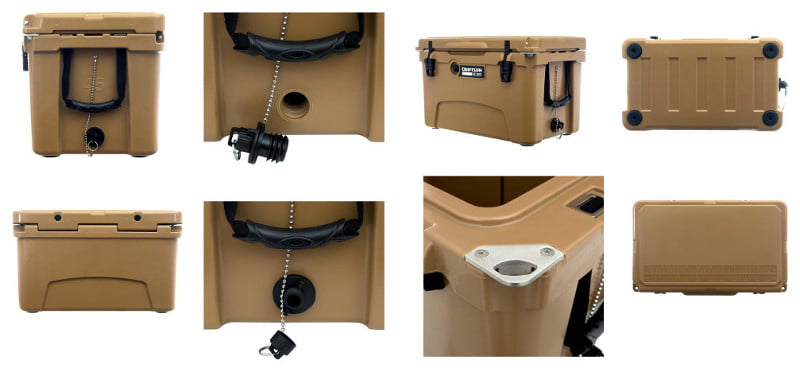 Who is it for?
Generally speaking; given the variety of sizes Driftsun offers for their coolers, one can say that these coolers are good and suitable for anyone who'd like to spend couple days or more outdoors practicing and enjoying all different kinds of activities.
The smallest size in Driftsun's coolers' line can basically be anyone's personal cooler especially if you own a car. It'll work very nicely for your short road trips, weekends with friends, or a day on the beach.
The bigger versions are great for camping, larger gatherings, rafting and also fishing. All of Driftsun's coolers can perform in different areas with different content put in them without any inconveniences especially that this brand is all about spending time and more time outside in the sun.
Also, the set of features on these coolers is pretty standard yet universal which make them highly versatile just like any other global or pioneering brand out there.
Driftsun Vs. Yeti: Which Is Better?
Let's state what's obvious; Yeti has been the bar setter for a reason, they offer high end quality coolers with a large platform of choices though we can all agree that pricing here is not on the low side. Thus, comparing Driftsun coolers to Yeti's in this review might help you see things from a different angle.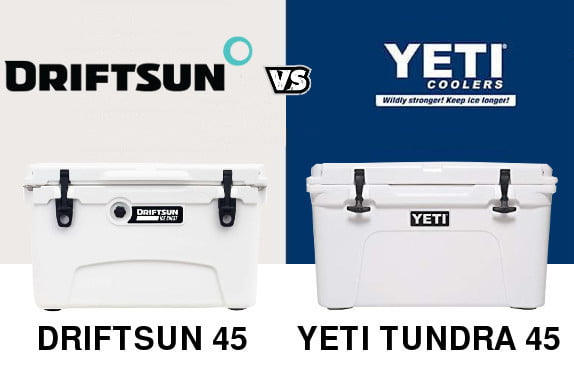 The price issue is a good place to start at; Driftsun is definitely not your go-to cooler if you're looking for a 'whatever' cooler to cover for a trip or two. However, the price gap between Yeti and Driftsun can go all the way from 50 dollars to 100 dollars depending on the size you're getting and where you're getting it from. For example; the Yeti Tundra 110 qt is something around 500 dollars while Driftsun offers the same exact size for a 100 dollars less.
What also matters when comparing these coolers is ice retention ability and build quality. Yeti is always proud to offer some of the sharpest and toughest coolers out there which is something we can't deny. However, Driftsun promises a strong performance that can match Yeti's in terms of durability and insulation.
Last but not least, and even though Yeti is such a heavy lifter in the coolers' industry, Driftsun is one amongst many other brands than proved their ability to deliver a good performance with which they can compete with for a well deserved spot.
Driftsun Coolers – Bottom Line
To wrap it up, we always like to remind you that whatever cooler or product you opt for, it always comes down to how much you are willing to spend and why. But as far as Driftsun coolers are concerned in this Driftsun cooler review; this is a great line of coolers that comes in nice colors and sizes to meet the different needs users might have.
Also, the fact that Driftsun is greatly interested in water activities related products, one can guess that they understand how sun works and what are the requirements needed to withstand the heat and beat it, thus; their coolers should be nothing less than a success.