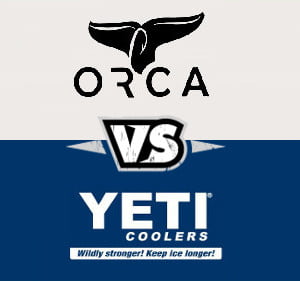 One might get really confused when looking for a portable cooler due to the large options available on the market. However, in this guide, we're going to put two great and famous brands under the spot light for a comparison that's meant to help you make up your mind between the two.
YETI Vs. ORCA coolers are like two big masculine guys that are almost the same strength with the same talents and abilities. Still, each one of us is going to perceive them differently, as we can't deny that there are some differences between the two; that's why we made this guide for anyone who still needs a little more insurance and guidance to pick the right cooler.
Yeti Vs. Orca – Major Facts About Both Brands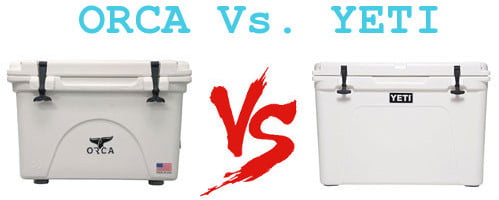 YETI and ORCA are two pioneering brands in the industry of portable coolers. However, as a brand, they both make all kinds of different products starting with the complementary accessories for their coolers, all the way to chairs, bags and drink-ware.
Both these brands are American, and they are made with one premier purpose in mind; to serve the people who appreciate quality outdoors time.
YETI here was founded in 2006 by the Seiders brothers who dreamed of a cooler that can make their trips last longer with enough ice, fresh food and drinks.
The same thing goes for ORCA (Outdoor Recreation Company of America); Cliff Walker founded this company in 2012 to enrich his great interest in outdoors life. Though there is a 6 years difference time; both brands seem to grow equally on the same line because both brands are very serious and dedicated to their craft.
Another fact about YETI and ORCA is that both build ROTO-molded coolers that are meant to be virtually indestructible and extremely durable. All of this and more will be discussed in the upcoming sections of this guide, thus; stay tuned and keep reading if you want to learn more about the specifications of each brand.
In this post, we're going to see which one of these two brands comes out on top. The Yeti vs Orca – both renowned cooler brands, but only one can win.
To help you choose a winner in the Yeti vs Orca battle, first let's go through a brief overview of each brand and their respective lineups.
YETI Coolers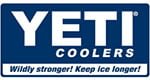 YETI coolers are of a great reputation thanks to the quality coolers/products they make. Their coolers come in many different designs and sizes with four main series that are all made with neat details and features.
Here, we'll take a look at the name and specifications of each series that YETI brought to the market, and we'll start with the soft ones.
| Coole Image | Cooler Name | Type | Size |
| --- | --- | --- | --- |
| | Yeti Tundra | Rotomolded | 35 - 420 QT |
| | Yeti Roadie | Rotomolded | 20 QT Only |
| | Yeti Hopper | Soft | 20 or 30 QT |
| | Yeti Tank | Rotomolded | 45 or 85 QT |
YETI Hopper Soft Coolers
This line consists of Six awesome soft coolers that vary in size and come in two colors; fog gray/tahoe blue and field tan/blaze orange. They might be called soft but they are everything but soft.
This line begins with the Hopper Flip 8 cooler that can store up to 10 pounds of ice, all the way to the Hopper Two 40 that can hold up to 36 cans plus ice. All of them are made of high-density fabric that is waterproof and resistant to mildew, punctures, and UV rays.
Also, they're all featured with a HYDROLOK™ ZIPPER that's considered to be the toughest, highest-performing waterproof and leak-proof cooler zipper in the world.
All of these coolers can be used during family/friend picnics, road trips, fishing/camping or any other activity that you can think of. They're so easy to handle with their shoulder straps and rigid carry handles, as they are so hard to damage thanks to their design and the flexible materials used to build them.

YETI's Hard Coolers
Now, YETI's hard coolers come in 4 different series:
Roadie which comes in one size only where you can store up to 20 lbs of ice, and it comes in 4 different colors; white, desert tan, ice blue and coral.
SILO G6 the portable water cooler that also comes in one size but only one color; white. It's featured with a SUREPOUR™ SPIGOT that's designed to offer fast fill ups. It's the coolest thing actually.
Tank series that comes in two sizes and 3 colors; white, desert tan and ice blue. It's the perfect party-ready ice tub that'll keep all of your drinks cool and fresh.
Last but not least, Tundra is the largest series with 13 different sizes that start from 20 QT all the way to 350 QT which is crazily huge. This Tundra line can serve all different users and purposes as there is a great add to this series; the Tundra Haul cooler (55 lbs of ice) which is featured with nearly-indestructible NeverFlat™ Wheels and T-Bar StrongArm™ Handle for a life time durability. This line as well comes in different colors except for some sizes that come in white only.

These 4 lines are the smoothest thing ever given their simple yet highly professional design. Their outer body is made using ROTOMOLDED CONSTRUCTION that makes each and every cooler virtually indestructible. Moreover, the walls and lids are pressure-injected with commercial-grade polyurethane foam which adds to the cooler insulation ability.
Most of these coolers are featured with T-Rex lid latches, lid gasket, Vortex Drain System, and they're also bear-proof for maximum security. They're 100 percent fully equipped to take over any situation, anywhere and anytime.
All in all, anyone can see and admit that YETI did a great job building all of their coolers according to high standards that are universally appreciated. However; we still need to see how close YETI and ORCA are to each other when it comes to value, design, quality, and durability.

ORCA Coolers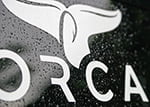 ORCA is a brand that managed to build its own legacy in a short period of time being a proud American company that's ready to go the extra mile to produce high-end quality coolers.
All I can say here is that this brand produces so many portable coolers with so many color options that would literary satisfy everyone. And just like YETI, ORCA has a line for soft coolers which we'll see right now.
Cooler image
Size
Dimensions
Weight
Buy
20-quart
• Inside:
14" x 10" x 11"
•Outside:
19" x 13.75" x 15"
17lbs
Check on Amazon
26-quart
• Inside:
16.5" x 12.25" x 10"
• Outside:
23.75" x 17.5" x 14.75"
19lbs
Check on Amazon
40-quart
• Inside:
19" X 11.75" X 11"
• Outside:
26" X 17.5" X 17.5"
24lbs
Check on Amazon
58-quart
• Inside:
18.5" x 12.3" x 13.375"
• Outside:
27.2" x 19.57" x 18.75"
32lbs
Check on Amazon
75-quart
• Inside:
27.5" x 12.375" x 12.625"
• Outside:
35" x 18" x 18"
35lbs
Check on Amazon
140-quart
• Inside:
31" x 15.5" x 15.6"
• Outside:
40" x 23.5" x 20.875"
50lbs
Check on Amazon
ORCA's backpack Soft Coolers
These coolers are of high functionality with some really neat details that'll make using the cooler easy and smooth. As you can tell from the name; this is a backpack cooler that can be easily carried anywhere you go.
This line comes in 5 different colors; sea-foam/gray, fuschia/gray, coral/gray, realtree Max 5 Camo and realtree Max 5 Pod. However, this latter is the biggest one of them with a storage ability of 59.5 lbs (27 kg), while the remaining ones can hold up to 28.5 lbs (12.9 kgs).
These coolers are made with really soft and well-padded straps for easy and comfortable transportation. Also, you'll notice some rigid handles and grids that come really handy when in need to move the cooler or attach something to it.
When it comes to the material used to build this line, you'll find that SPEC-OPS 840 Denier double is used on the outer-textile which is known for being hard to damage, tough and durable, while the inner-textile is made of FDA food grade that is BPA-free and anti-microbial for healthy and safe storage.

ORCA's Hard Coolers
It's here where things get real. ORCA makes a huge platform of hard coolers which might get a little difficult to tract sometimes especially when you need to pick one.
There are seven different sizes produced by ORCA and they all come in different and beautiful colors that are so appealing and that are meant to match all different personalities.
The NFL 20 QT line for example is presented in seven different designs; Classic Colors, Team Colors, the NCAA, the NFL, the MLB, the NHL and Lifestyle. All of these are variations of the same cooler with different and awesome logos/color options. Pretty much the same thing goes for the other sizes which is a huge plus in terms of looks and choice availability.
The sizes of ORCA coolers vary from a 20 QT small cooler all the way to a 140 QT larger one and all of them are featured with handy and functional features.

To begin with, all of these coolers are featured with a great lid gasket that seals the cooler perfectly preventing smells or heat from getting in or out of the cooler. Also, you'll notice the beautifully shaped latches that look like an orca's tail; they're rigid and make sure the lid never goes open without intention. Another nice add to the big sized ORCA coolers is that they come with a cargo net attachment for extra storage.
Moreover, the smallest cooler (20QT) is equipped with a single flex-grip stainless steel handle for simple solo portage, while the larger ones are featured with extendable flex-grip handles for comfortable solo or tandem portage.
On the outside, we find the durable Roto-molded construction that's meant to serve a life time in all different conditions and environments; it's virtually indestructible as it is thick enough to boost ice retention.
Comparing YETI and ORCA coolers, we can say that they're very similar in many ways starting with their outer-body's construction, design and numerous features. Still, there is this whole ice retention aspect which could be a game changer when it comes to choosing a portable cooler.

Orca Vs. Yeti : Ice Retention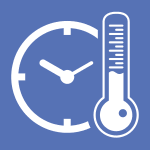 Before saying anything about how long ice can remain ice in your cooler, let's make sure we all understand that a portable cooler requires a certain level of maintenance in order for it to deliver its best performance.
So, if you're on a long road trip for example, make sure that the way you take and stops you make have a place where you can reload your ice storage. Also, always remember to keep your cooler away from the sun. These little tips and many others you can discover later on will definitely help your prolong the life span of your ice.
Now, speaking real numbers, a great cooler can maintain ice in it for 4-5 days. Making an experiment (Tundra 45); YETI coolers were able to hold ice inside for 3-4. After the fourth day, the ice was turning into water, but a great deal of it was still there and it was able to keep going like that for at least for 8 days. Only after the eighth day that ice started to get thinner, but still with a temperature of 5 °C on the inside (41°F). However, when it comes to holding a cool temperature to preserve certain content, the cooler can go on for more days if the lid is not opened repeatedly and often.
ORCA coolers on the other hand were able to preserve ice inside for 4 days with a temperature of 4.4 °C (40 °F) which is slightly better than what YETI offered. Running the same test on one of ORCA's coolers; the results were nearly the same.
The differences between Orca and Yeti are pretty minor, all things considered. And although our personal choice in this battle would be Orca, the debate of Orca vs Yeti is one that you will win, either way you choose to go.
Orca Coolers Vs. Yeti – And The Winner Is…
What's left here to say is the truth that lies in the fact that YETI makes some really pricey portable coolers which though are up to the promised quality and performance; ORCA beats that making their coolers perform the same if not a little better with prices that are definitely a notch down compared to YETI.
Saying that, it no way means that YETI lost the fight; it's just a matter of how much anyone of you is willing to spend for the value he/she gets. And honestly, you can't go wrong with either of these brands; they make no jokes when it comes to crafting these coolers.