America is the second leading industrial country in the world with a long list of huge industries that are known and praised in the wide world.
Portable coolers might not be on top of that list but it sure is an industrial area with great potential and a lot to offer. In this review, we'll tell you why we think it's important that you should or should not choose an American Made Cooler.
Reasons to Choose a Cooler Made in USA
The Patriotic Aspect
No matter how hard it could get, we're sure and certain that none of us wants to witness a day where our country is no more able to sustain its wealth or safety, and for anyone to contribute to these two aspects purely because they love this country and want to see everyone doing good, one must directly support local businesses and invest in American made products.
Supporting an American brand means you're saying yes to small businesses, it means you want your country to have its own independent sustainable development without the need to rely on other countries to keep the economy going. This is one form of nationalism that shows that you actually care about your country and its people who work hard to introduce locally made products that are as good as what any other country is offering.
Jobs for Future Generations
What's even more important here is that nothing provides job opportunities for future generations like local business do. Your kid won't have to feel desperate or think that maybe they don't have a chance in their own country. Once you believe in the idea that your country's products are better for you than any other option, you'll be and directly securing future generations' chances for decent if not great living standards.
It only makes sense; the more money invested in buying and using American made products, the more the manufacturers will have to offer in terms of jobs opportunities, good working conditions, better payments… and more. Here's another way to put it; we shouldn't be selfish and live a life where only "now" matters; this country is for all of us and future generations deserve to witness its greatness just like we did.
The National Economy Is Important
Now of course we can't deny how vital the economical state of the country is in the present day; actually, everything revolves around this exact issue. Thus, for anyone who's interested in leading a comfortable life where they can afford whatever living requires for as long as they live, we must be aware of the importance of national economy and how it's necessary for us to help keep it on top of the international list because the competition here will only become harder and more ferocious by each year/month passing.
In other words, we got to support national industries by making our purchases more about helping and supporting each other than it is about getting something that's made elsewhere just for the sake of that, because eventually, and this is a fact, it'll all come back to us with more profit than before.
Better quality products
One last thing; I don't know what you are thinking but we have an industrial reputation that roams the whole world and it's known for its impeccable quality and durability.
That being said, no one should be appreciating what we make and have more than we do. Once you get yourself an American made cooler or product, you should know for a fact that you're getting one of the best high quality end productions in the world.
Not only that; investing in local products will lead to a series of positive actions that you'll be able to notice all around you including your personal life and surrounding community.
Reasons to NOT Choose a Cooler Made in USA
We'd think deep and hard about what would stop any American citizen from getting a cooler made in the USA and the only thing that'd make sense is that some American made brands put a very high price tag on their coolers. However, doing a little research, we're pretty sure you'll find the cooler you wish for under a price tag that can work for you. I mean let's be honest, some brands sell their name and the legacy that comes with it and that will never be cheap.
We can all agree that the reason why foreign products are sometimes cheaper is because of the low cost of labor which is the case in China, India and other countries. However, some other countries have got a great reputation in certain industrial fields and that results in many people around the world opting for a foreign product because of the all good things they hear and know about it.
Other than that, we don't really see why anyone would feel the need to purchase a foreign product while they can always support the local economy and industrial growth of their country.
Where the Mighty Yeti Coolers are Made?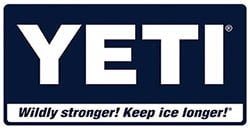 Nobody really needs an introduction when it comes to this name. Yeti; the world's leading coolers' brand is designed and made in the United States of America and other countries which will talk about next. Yeti has broken some records in terms of quality, durability and performance all around the world which why they needed to enhance their production speed.
Yeti offers you the option of choosing a cooler of theirs that's either manufactured in the US, China or Philippines. That means Yeti went beyond locally made coolers and made international deals with other countries that can offer fast and cheap production. However, Yeti made sure all of their coolers are getting the best plastic quality to build tough hard/soft coolers that are reliable and durable to cover for you anywhere you go.
That being said, and if you feel the need to get yourself a locally made Yeti cooler, all you have to do is call them on (512)394-9384, make your order, and make it clear that you want to support the national production of these coolers.
Top 5 Recommendations for Best Rotomolded Coolers Made in the USA
Yeti is obviously not the only coolers brand made in the USA though it's the one brand praised the most for its name and legacy like mentioned earlier. This part of the review will introduce you to the other brands that are as good and brilliant as Yeti with huge fan bases that trust them and regularly purchase their coolers.

1- Grizzly Coolers
Grizzly Coolers is another American pride. This brand offers a very large range of options when it comes to rotomolded coolers. There are plenty of colors and sizes to perfectly fit any kind of outdoors activities.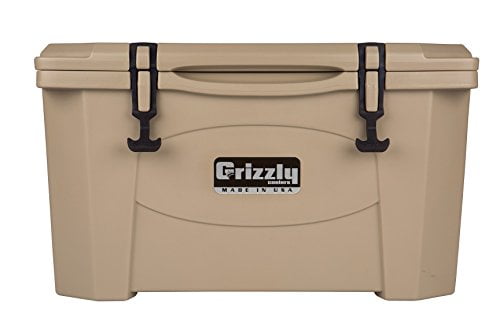 Now that's not what makes it good; it's the build quality and materials used to make these coolers. Grizzly Coolers promises you a cooler that'd last you a life time while it's a little cheaper than Yeti.
Users have different opinions when it comes to performance but all the test that have been ran to prove which cooler is stronger and better led to one result; these 2 brands pretty much shoulder to shoulder in terms of insulation and ice retention.

2- Pelican Coolers
Pelican is a monster brand we all need to appreciate; people even consider it to be better than Yeti sometimes. This is one of the strongest cooler brands in the USA with outstanding designs and performance abilities.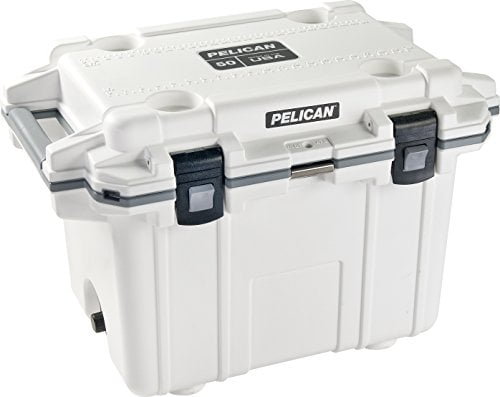 Looking at one of Pelican's coolers you can't help but notice how bulky they are, but they're also featured with plenty of specifications that make them highly versatile and wholesome to venture into any kind of environment.
Also, Pelican offers a crazy range of colors from which you can choose. You even customize your order and it any way you want it.
Last but not least, if you're tired of carrying your cooler around, Pelican has wheeled coolers for maximum comfort and usability.

3- Bison Coolers
Nothing says how American this brand is more than its name; Bison coolers is a patriotic brand with 5 sizes only which are thought to be in higher demand with good versatility levels. These 5 coolers all come in 6 different beautiful colors which we believe are enough to please Bison's entire fan base.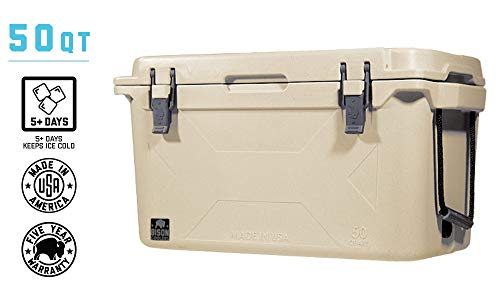 The materials used to build the Bison coolers and the amount of minuteness put into the details is just too good. The end production here is actually as good as Yeti's; the Bison coolers are sharp, timeless and super durable.
Now if you got yourself a Bison cooler in any point of your life, you should know that you're not missing on anything not owning a Yeti or any such of the sort.

4- ORION Coolers
Orion coolers look quite different compared to their previous rivals; however, they are as badass as the rest. This brand offers 6 different sizes with beautiful colors that personalize each one of them. Now they are a little pricy to say the least but again we've already talked about it and how it all comes from the fact that national and local industries tend to cost more due to a number of factors and restrictions.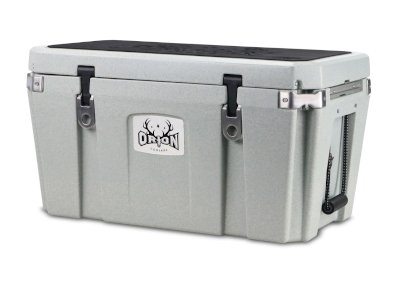 Nevertheless, that doesn't mean you are getting a pricy cooler for nothing; it's Orion Coolers and it's one of the toughest and most durable brand in the US.
The details on this coolers' line are flawless and sharp as hell; the end production is outstanding you can easily see it and sense once you lay hands on a cooler of theirs. Still, Orion might not be as sharp as Yeti but you won't be going wrong with any of Orion's coolers.

5- ORCA Coolers
Last but not least, we're going to talk about the beast of the American Coolers industry; ORCA Coolers. This is one of the most trusted and reliable brands in the whole world actually not just the US.
On first observation, you may find that ORCA coolers are quite similar to Yeti in terms of design; both are sharp, simple and timeless. However, ORCA has some different features and aspects to their coolers.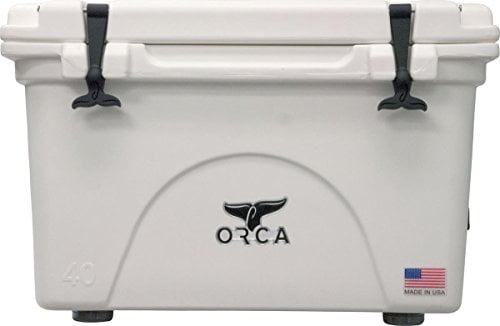 ORCA's coolers come in 6 different sizes starting with 20 qt all the way to 140 qt. These sizes are suitable for every outdoors activity imaginable and they come in more than 10 colors to choose from.
We can safely say that no one ever complained or regretted getting an ORCA cooler; this is a brand that produces coolers that are meant to deliver a life time quality performance.

Other American made Coolers
And many more which we will continually be adding to this list.
Top 3 Recommendations for Best Soft Coolers made in USA
Of course, soft coolers are far more convenient than hard coolers in many scenarios; they're compact, travel friendly and are hardly to ever fall on your toes or hurt your ankles carrying them. Here are some of the best soft coolers that are made in America:
ORCA Soft Coolers
We've talked about how great Pelican is; it shouldn't be a surprise that their soft coolers are on the top of our list.
Pelican's soft cooler is called the Realtree Max Pod and it's something; it's durable, super comfortable to use and it can maintain ice for at least a solid 2-3 days being fully exposed.

Pelican Soft Coolers
Pelican's soft coolers are extremely professional and good looking; they actually look quite luxurious if you ask me. Pelican offers both sling and backpack coolers.
Now just by looking at them, you'll know that Pelican doesn't joke around; they are pretty serious about making the best quality soft coolers just like the hard ones.
A Pelican soft cooler should last you a life time with just a little consideration to packing and storing.

AO Coolers
We haven't mentioned this brand before because it only specializes in soft coolers and yes, it's another proud American brand, however, they do make hard coolers and they are as good as you'd expect them to be.
AO Coolers offers an endless list of options loaded with amazing versatile soft coolers for everyday's outdoors' time. It's actually impressive to say the least; AO made what they call a Hybrid cooler that's made of sewn and welded construction, with a molded EVA tub bottom. In other words, this cooler is both hard and soft at the same time reflecting the huge innovative side of AO as a brand and their potential for even bigger successes in the future.

Polar Bear Coolers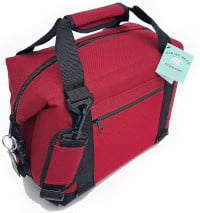 Finally, Polar Bear Coolers is the last brand that we'll acknowledge in this review for their soft coolers. Polar Bear makes soft coolers for camping, racing track and even golf. You basically can grab one of their soft coolers and do whatever you want with it. They look great, super sporty and sharp and they also do a great job in the field keeping the ice action going.
Polar bear offers both backpacks and regular coolers that are guaranteed to cover for every outdoors' activity because they extremely durable, versatile and functional, and that again only reflects the amount of work an American brand is willing to put into their products.

US Made Coolers – Bottom Line
Long story short; non Americans would die to get their hands on American products including hard or soft coolers. It's a fact; American made coolers are on the top list of the best coolers in the world for their rigidity, durability and highly praised performance. They might be pricier than other brands made in other countries but the production standards and overall quality is quite incomparable.