Sometimes, reviewing some brands and products is not just a matter of testing their performance and abilities; a brand is a history, a series of attempts and experiences to develop that one final product that you're about to read about or order.
Otterbox is a global name that you might be familiar with via its pioneering protective phones' and tablets' cases. Otterbox has a very honoring record full of great and meaningful achievements throughout the last two decades.
Today, however, in this Otterbox Cooler review, we're going to depict and present Otterbox's hard and soft sided coolers that are designed and made in the United States of America with one main objective; making the dream cooler for every outdoor enthusiast.
Otterbox Ice Chests Compared
Coolers
Capacity
(Quarts)
Dimensions
(L X W X H)
Weight
(Lbs)



OtterBox Venture 25
25

26.00" L x 18.76" W x 16.08" H
16.79 lbs



OtterBox Venture 45
45
31.39" L x 18.76" W x 18.83" H
26.37 lbs




OtterBox Venture 65
65
40.01" L x 18.76" W x 18.83" H
32.95 lbs

Otterbox Trooper 20 Cooler
20
14.30" L x 17.50" W x 10.25" D
NA

Otterbox Trooper LT 30 Cooler
30
21.00" L x 17.00" W x 11.00" D
NA
Available Sizes & Dimensions
Like any serious and devoted brand, the Otterbox believed it's necessary to offer their clients the freedom to choose between both hard and soft coolers so that everyone can find a suitable cooler for their outdoor moments and fantasies.
Hard Sided Coolers
Otterbox chose to go with 3 sizes only for their hard coolers and each one of them has different things to offer depending on their storing capacity. To kick this Otterbox cooler review off we'll start with:

This is what could be a personal hard-sided cooler that's always in the back of your car since it's only 26″ L x 18.76" W x 16.08" H and it only weighs something around 17 lbs.
It's a great cooler for any outing activity during the whole year either alone or with couple of friends.
The inside of this cooler is 12.73" L x 10.60" W x 10.56" H which is about more than enough to store all that's going to be needed for a day or two.

The Venture 45 qt is the bigger brother here; it is 18.10″ L x 10.60″ W x 13.30″ H on the inside which offers more storage capacity allowing you to go on for even more days with enough snacks and fresh goodies for you and many others.
On the outside however, this cooler is 31.39″ L x 18.76″ W x 18.83″ H which I's say is leaning towards being a large cooler that weighs 26 lbs.

This is Venture's largest unit which is meant to make your camping trip last longer.
Once fully loaded; this guy is going to require a little hand to be handled and transported since it's 40″ L x 18.76″ W x 18.83″ H with a net weight of 33 lbs.
Soft Sided Coolers
This is where things get really nifty and neat. Otterbox' soft coolers are a piece of art if you ask me and they come in two different sizes only:
The Trooper 20 Cooler

This is the perfect portable and personal cooler for daily hikes, road trips or working out.
It's 14.30″ L x 17.50″ W x 10.25″ D thus; it's the nearest thing to a cross-body bag that's very practical to carry around all day long if necessary.
The Trooper LT 30 Cooler

This soldier right here is multi-functional and extremely practical; you can either carry it as a backpack for maximum comfort and control or you can hang it on one shoulder cross your body for quick and easy access.
It's only 21″ L x 17″ W x 11″ D which is quite compact for a large soft cooler that you'll be able to easily take anywhere with you.
Design and Build Quality
Otterbox did a great job with both their hard and soft-sided coolers; the least anyone can say about them is that they're impressively rigid, versatile, durable, and extremely practical.
Hard Sided Coolers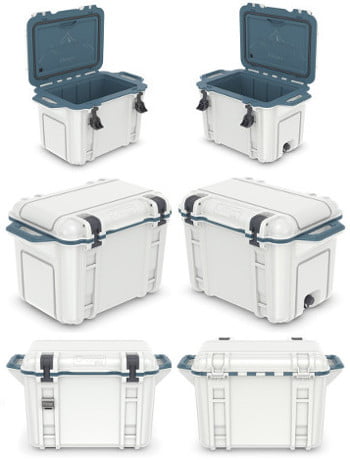 All of Otterbox's hard sided coolers are made using injection molding instead of roto-molding which allows more options when it comes to structure and customization.
Looking at a Venture closely, I can almost swear that all that you're going to see is perfection; the lines, the ends and the cuts are all perfectly made to build a rugged and professional cooler that'll outstand and turn heads over.
The Ventures are also bear resistant but only if you ordered the add-on latch covers which is part of the customization policy known to Otterbox's coolers. However, with or without those covers, the Ventures are rock hard and not easy to damage.
Soft Sided Coolers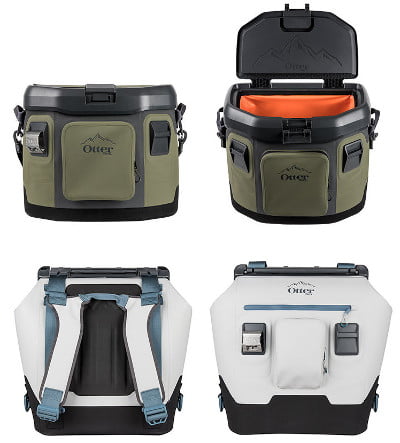 Moving now to Otterbox's Troopers; it would be unfair to just say that they're great soft coolers. Their built quality is beyond great and they're here to compete with worldwide leading brands such as YETI.
The Troopers are coated with a nylon exterior that's water, puncture, UV and chemical resistant; this way, these coolers are protected against rushing rapids, pounding waves or any harsh/wet environment.
Also, Otterbox made sure the external pockets are also leak-proof to complete their coolers' outstanding and professional performance.
Not only that; the design of these coolers includes a heavy duty base that protects the bottom with Duraflex hardware for maximum safety and durability; which all make these coolers virtually indestructible.
Last but not least, to make everything ten times better, Otterbox grants you a limited life time warranty on all of their coolers to prove the amount of trust they put into their craft.
Ice Retention & Insulation Ability
Otterbox sets the bar really high and promises an ice retention ability that'd last for days and weeks with the right use and handling.
All of the hard sided coolers are built using two-inch of dense refrigeration grade insulating foam that's known for keeping whatever gets into the cooler fresh and perfectly insulated.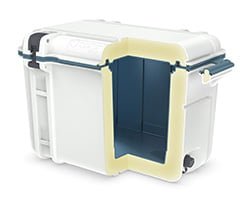 The Venture 65 qt however seems to be the strongest when it comes to ice retention because simply; there's a lot of foam action going on compared to the 25 qt cooler. However; running some comparative tests, all of Otterbox's hard coolers were able to deliver more or less the same performance as some of the pioneering brands in the coolers' industry.
Also, the polypropylene shell on these coolers contributes immensely to their insulating ability. The silicon seal as well is a major aspect of this whole ice retention matter; the lid seals up perfectly to keep temperature low and fresh inside of the coolers for trips that'd last up to 10 days or more.
Now just as a friendly reminder; insulation and ice retention ability is normally affected by the surroundings of the cooler, thus; always remember to keep it in the shade, refill ice whenever possible and never forget to seal the lid.
Features
Since Otterbox made both hard and soft coolers, and each comes with different and unique features, we'll try to break it down for you in this part of the article in order for you to have an idea about what to expect from these coolers.
Hard Sided Coolers
The first thing you'd notice about Otterbox hard coolers' line the Ventures is the built in carry handles; they're super rugged and using them to carry the loaded cooler will allow you to feel how rigid and strong they are.
Then there are 2 innovational latches that keep the lid perfectly sealed once the cooler is not in use. Now to activate the bear resistant feature; it's necessary to order the Otterbox Venture locks along with the cooler. These locks make it impossible for any animal to penetrate the cooler.
Next, there is a smart mounting system on all of the Venture coolers. This feature will allow you to attach accessories like a side table, cup holders, and bottle openers…. This feature is what makes this coolers line one of the most versatile ones. However, and again, you still going to have to order most of the mentioned accessories if you really need them.
Also, these hard coolers are featured with rubber feet for sturdy and stable transportation. Once you put the cooler where you want it to be, it remains there even when the car or boat is moving.
Now this is where the injection molding gets on the line; the Otterbox Venture hard coolers are featured with a bunch of cuts or gaps on the inside so that you can use separator to keep your food and beverages separated and organized. It's pretty neat actually.
Last but not least, the 3 Otterbox Ventures comes in 10 different colors and graphic designs; it's very satisfying to look at them all you might even get lost on which one to choose. But in case you're looking for a simple classic cooler the fully white version is also available.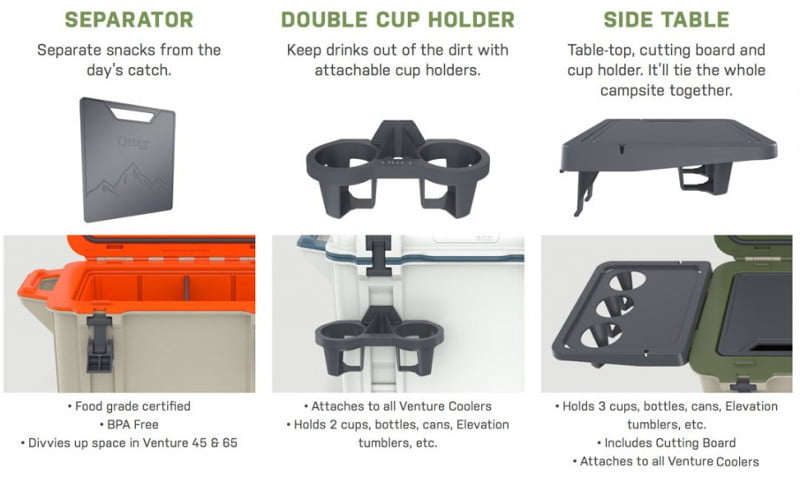 Soft Sided Coolers
As previously mentioned, the Trooper comes in two sizes only, and both can be found in 3 different versions with different colors; hazy harbor, alpine ascent and forest edge. Pretty cool names, Huh?
Then there's what I happen to find the coolest thing about the Troopers; the heavy duty wide openings that are extremely simple to use; you can open/close the top lid on the Trooper 25 qt or the wide latch on the Trooper 30 LT single handedly for a full and easy access to everything inside the cooler.
The mounting system is also present here; these soft coolers are featured with 2 mounts that'll allow you to attach any needed accessories to the cooler.
Not only that, the Trooper 30 LT is featured with a versatile carry system that can easily change from shoulder to backpack carry making it super adaptable and practical.
And of course, the Troopers are featured with extra external pockets that come really handy to secure some personal items that can't go inside the cooler.
Who is it for?
The Otterbox coolers are multi-functional and are extremely versatile and adaptable; that's what I'd say is most noticeable about these coolers which make them highly convenient for pretty much anyone.
The Venture 25 qt for example can be anyone's companion for a day out, a day on the beach or just a quick road trip. It's the perfect cooler to keep in the back of your car. However, if you're a heavy outdoorsman who's always on the go; this very same cooler would do just as great.
The bigger sizes of the Venture call for bigger adventures; fishing, hunting, or simply just long camping trips all can be covered using the Venture 65 qt which offers exactly what the number says. And with the amount of possibilities provided thanks to the innovational features on these coolers, any trip would turn 10 times better and easier.
Also, I always find large coolers to be the perfect deal for family parties and backyard barbecues with friends or any celebration that includes a large number of people who'd appreciate fresh and cool drinks.
Otterbox Coolers Vs. Yeti: Which Is Better?
Now this is a question almost everyone asks before getting a cooler, though I don't think it's necessary this time. Otterbox coolers are here not to compete with anyone, rather; this name had already made a reputation of its own years ago as we talked about earlier.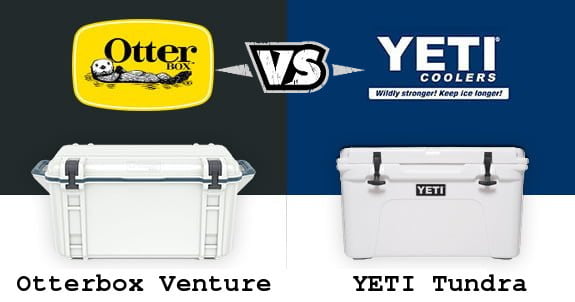 Still, a lot of you out there would like to compare Otterbox Vs. Yeti and know how these two differ. Well, there isn't much really; Otterbox coolers come in almost exactly the same price range as Yeti with the same outstanding built quality and material. However, in order to enjoy
Otterbox's full experience and features, it's necessary to separately purchase the complimentary accessories which happen to be a bit pricey.
The same thing can be said about ice retention performance; both these brands deliver an approximate result and that's because both use almost the same foam and material to build their coolers.
OtterBox Coolers — Bottom Line
Having known the Otterbox for their awesome phone cases and screen glass made this Otterbox coolers review a lot more fun because the same way Otterbox makes those protective cases and technology related products, their coolers are also made to outstand any wild and rough circumstances while whatever you put inside of the cooler is 100% secured and protected.
Both the Ventures and Troopers are guaranteed to impress anyone anytime; they're strong, sharp and most importantly practical and versatile, and to wrap it up, I'd be confident to say that the Otterbox coolers are never a bad investment given their history and dedication.