Milee is not necessarily the biggest brand in the industry of coolers but it is a best-selling one and that can already tell you so much about it. Truly, it has become quite difficult to find a decent product that is actually reliable and affordable at the same time and Milee is here to break that stereotype.
Accordingly, Milee might look like every other cooler on the outer shell but once you scan it in detail, you learn exactly why so many people are starting to trust this brand.
So, stick around for the most insightful Milee cooler review because you might just know what cooler truly deserves your money.
Milee Coolers Compared
Milee Cooler Review
Sizes
Milee's offering don't differ too much from the similar products from brands like Vibe and nICE, though its options have slightly different sizes, depending on how much you plan to pack.
The only downside to Milee coolers is that they come in only a few sizes (20 QT, 40 QT, 75 QT, and 70 QT Wheeled cooler). This could be a huge drawback to some of you who are looking for a different cooler size.

Milee Coolers Features
In order to keep up with the tide of competition, Milee had to make sure that their coolers come with everything necessary for most users. Indeed, whether you're a hunter, angler or simply a beach crasher, you will definitely appreciate the clever features on these coolers.
Rotomolded Construction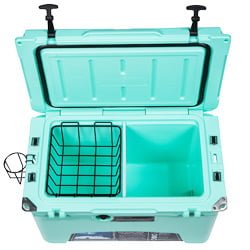 First things first, Rotomolded construction has become quite the norm method for big brands in the industry and that's because it just works. Therefore, to find such method applied in a budget brand is truly eye watering.
Rotomolding is a simple yet very efficient manufacturing method, which entails a machine created mold with absolutely no imperfections in the shell or the filling, giving the cooler a much better chance in the real world.
Indeed, with this build quality, you can expect this cooler to handle any and every obstacle ahead of it as it is made to be extremely robust and efficient.
Anti-skid feet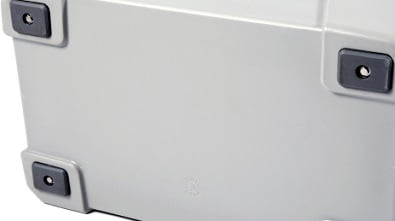 This might not seem like a big deal right now but you will definitely learn the true value of these rubber feet once you get to use a giant cooler.
Indeed, nothing can damage a cooler more than bouncing around on a boat or any vehicle for that matter and that is where these feet come in handy.
Hence, the Anti-skid feet will keep your ice chest fixated in one spot, protecting it and anyone around it for that matter.
Handles

A special cooler requires special handles and Milee fits that description perfectly. Undeniably, nothing is more annoying than uncomfortable handles on a large cooler because you will often use them until you begin to hate the process.
Hence, in order to completely avoid that, Milee equips its coolers with significantly flexible handles that are capable of adjusting to turns and twists without forcing you to let go or take a break every 2 seconds.
When you don't feel like using the handles, Milee grants you the option of simply removing them and using the frame to carry it around. Nonetheless, this option is only advisable in case of light cargo.
T Latches

Latches are truly the best approach to sealing portable coolers and that can be seen even in the biggest brands out there. Accordingly, Milee chose not to be the exception to this rule and adopt T latches on all of its coolers. So, why are T latches so good?
Well, first things first, these latches are so easy to use and that is something a lot of anglers / hunters will appreciate because it enables you to access the cooler using one hand alone.
Also, the second best thing about T latches is that they just work. Yes, these latches might seem simple but they can tight seal your cooler efficiently and easily which grants them the wide popularity they have in the industry.
In case you need further locking protection, Milee coolers also come with lock loops with stainless steel locking plates for more strength. Accordingly, the plates will give your lock the strength it needs to fend off human and animal intruders.
Food Grade & Safety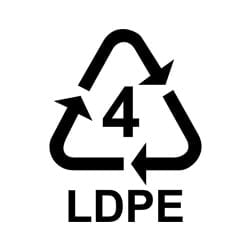 With all the plastics and foams included in the making of ice coolers, a lot of people tend to worry about health consequences which might result from plastic contamination.
Nevertheless, Milee uses food grade LLPDE which is a softer and harmless Polyethylene to ensure your safety and the safety of your goods.
Gasket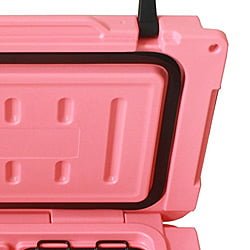 If there is anything that impacts ice retention significantly and discretely, it would be the gasket. Indeed, a gasket can either work wonders or completely let you down which is why Milee puts this item under the scope.
Hence, what they label the refrigeration D-Seal is an internal rubber lining that serves as a gate keeper, preventing the air from accessing or leaving the cooler.
Therefore, the air-tight gasket is one of Milee's best features and one which you'll truly appreciate down the road.
Pressure Release Button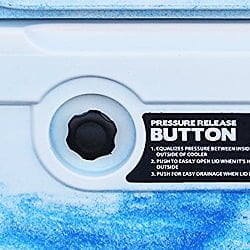 Uncommon in many coolers, a pressure release button has made appearance on all Milee coolers and for an obvious reason.
Sometimes, it can get really tough to access a cooler right after it's been shut and that's where the quick release button comes in handy.
Indeed, all you have to do is open it up to let the air in and voila, you can now open the lid at ease.
Draining plug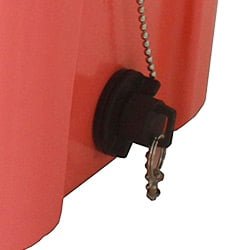 It is almost impossible to find a premium brand cooler on the market without a draining plug because they're just so useful.
Indeed, with these plugs on every Milee, you can simply unplug and allow all the melting ice to find its way out which is a process that is often used by anglers and hunters to prolong ice life.
Included Accessories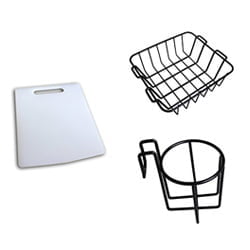 Most brands in the industry of coolers don't grant much importance to the accessories department and Milee jumped right on that opportunity.
Accordingly, Milee is one of the few brands that includes actual accessories with the cooler such as a chopping board. Actually, the chopping board serves several purposes such as a separation plank, which leads to better organization.
Another great accessory that comes with the cooler is the metal basket, which will make a great refuge for items you don't want to get wet.
Furthermore, the cherry on top of the cake for Milee was a cup holder and as insignificant as it may seem, it has actually been the highest reviewed accessory.
Milee vs. Yeti – Settling the Debate
It almost sounds unreal when you try to compare a titan to an upcoming brand but it actually has some legitimacy to it. In fact, Milee is destroying its competitors and now it's rolling its fists at the big guys. So, how big of a threat does it pose to big brands such as Yeti and why should you even consider the switch?
When we speak of comparing Milee Vs. Yeti, the first thing that pops in mind is the price gap. Hence, it is definitely jaw dropping to learn that a competitor such as Milee offers quality products for literally half the price.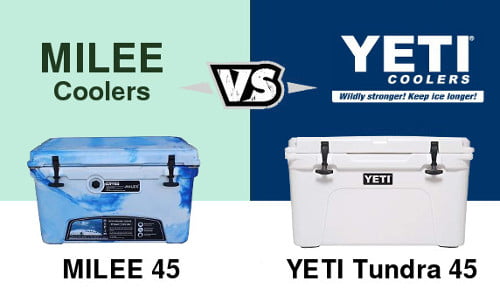 When you compare a Milee's cooler box 20QT to a Yeti Roadie 20, you begin to understand just how much money you can save by making a simple switch. However, is the price tag enough to make you forget what Yeti truly is?
In terms of measurements and thereby practicality of transportation and installation, Milee is actually rather impressive. In fact, the best-selling Milee 45QT is thought to be a massive beast but it actually measures 26.7 inches in length 16.6 inches in height and 16.3 inches in width which can still fit in the back seat of any day to day vehicle.
Undeniably, price is a big contributor to any decision making process but this buy deserves its due process. Hence, Milee offers to save you hundreds of dollars at a time for the same storage space, same practicality aspects and pretty much the same look as a Yeti. But what about quality?
It would be oblivious to go on about your purchase without truly understanding the manufacturing value of each product and if that were the only variable, you would definitely go for a Yeti. Indeed, Yeti coolers are known for their top-notch insulation and ice retention, which makes them great for hunters, anglers and wide range campers.
On the other hand, if you're simply looking for a robust party cooler that would keep your drinks frosty for a few days for half the price then you couldn't do better than a Milee.
Milee Vs. Yeti Coolers – Bottom Line
Pitching the perfect cooler depends greatly on what you think is the best fit for you. Hence, it is important to note down the reasons and purposes you have for a cooler before you even continue reading more reviews because that will help you out significantly.
However, if you are just looking for an efficient, robust and reliable cooler for a lot less than 300$ then you are pretty much describing a Milee. Accordingly, we couldn't stress this anymore, Milee is a casual cooler with a lot of potential and great value for the buck but it is not a professional cooler as those that cost double as much.
So, what was your final choice? The reliable & affordable Milee or the expensive & premium Yeti?