Lifetime is a unique brand unlike any other. Indeed, we have reviewed hundreds of coolers so far and tens of brands. However, this is the first time we encounter a brand with one product.
Accordingly, Lifetime is basically a 55Qt cooler that managed to accumulate an impressive amount of positive feedback that resulted in some interesting comparisons. Indeed, this cooler might be a one hit wonder but it is capable of challenging big brands for a significantly lower cost.
So, without further ado, let us take a closer look at Lifetime's 55Qt cooler.
Size & Dimensions
While variety is an essential pillar of any reputable brand, Lifetime doesn't seem to care much about that rule. Hence, the brand at hand is attempting to cater for all possible customers with one size. So, what is so special about the Lifetime 55Qt high performance cooler?
Lifetime's 55 Qt cooler
While completely disqualifying casual users, the Lifetime 55Qt is a fantastic option for anglers, hunters and campers all together.
Indeed, this cooler might not be the perfect match for picnics & beach days but it is the perfect match for week-long camping trips, long term fishing journeys & good ol' hunting drills.
Accordingly, the cooler at hand measures 17.25″ (H) x 26.8″ (W) x 17.62″ (D) (43,8 cm x 68,1 cm x 44,8 cm) & weighs around 23.5 lb. (10.7 kg).
Design & Build Quality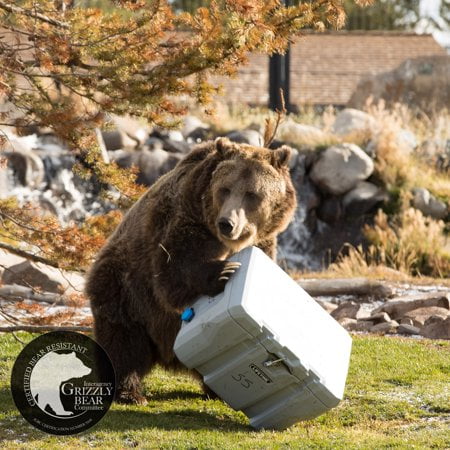 Design is almost always a valid indicator of quality & that is especially the case for Lifetime. Indeed, being the only cooler designed by this brand, they have dedicated so much of their effort to make it look unique & aggressive.
Designed for the outdoors, the 55Qt has this mean mountain look that has become the brand's trademark. Hence, to achieve this look, Lifetime wasn't afraid to give the cooler deep features. However, you should be prepared for some inconvenience due to the deep indentations on the mold.
In terms of quality, design seems to translate pretty well, giving this cooler a resilient core that is capable of handling all kinds of environments. Indeed, the cooler at hand might not be developed through rotational molding technology. However, it still managed to pull out similar results on test grounds.
On the inside however, the mold that cradles ice is perfectly unified, giving this cooler a much better chance at living a long life regardless of how heavy your usual cargo is.
The mold of Lifetime cooler is thus impenetrable because it is made of resilient polyethylene compose that is both water & UV proof. Most importantly, the cooler at hand is supported by a strong 5 years unlimited warranty and equally impressive assistance that will respond swiftly and accordingly.
Ice Retention & Insulation Ability
Being a robust cooler is definitely an advantage. However, that becomes secondary when the chief influencer is in town. Indeed, most of us are primarily concerned with ice retention which is reasonable because that is why we're investing in portable coolers. Hence, while we have read so much about the admirable performance of the Lifetime 55Qt, we were only satisfied once we tested it ourselves.
Indeed, for a cooler that isn't roto-molded, the Lifetime 55Qt is impressive to say the least. To explain how it works, you must first understand the build of this cooler. Hence, the cooler at hand is coated in a hard polyethylene shell on the outside as well as the inside to ensure a firm closure. Then, Lifetime injects the mold with pressurized PE foam. Eventually, the cherry on top of the cake is the gasket on the rim of the cooler that seals the deal.
In simple terms, the outer shell is so rigid and reflective that it protects the cooler from the harsh environment & spreads the UV rays to minimize their effect. Moreover, the dense foam injection harbors tiny air capsules that disperse heat & cold into a million small capsule and slows down the degradation process. Eventually, the lid makes sure that cold air is firmly contained inside of the cooler and isn't in contact with the outside, resulting in as long as 5 to 7 days of ice life during summer heat.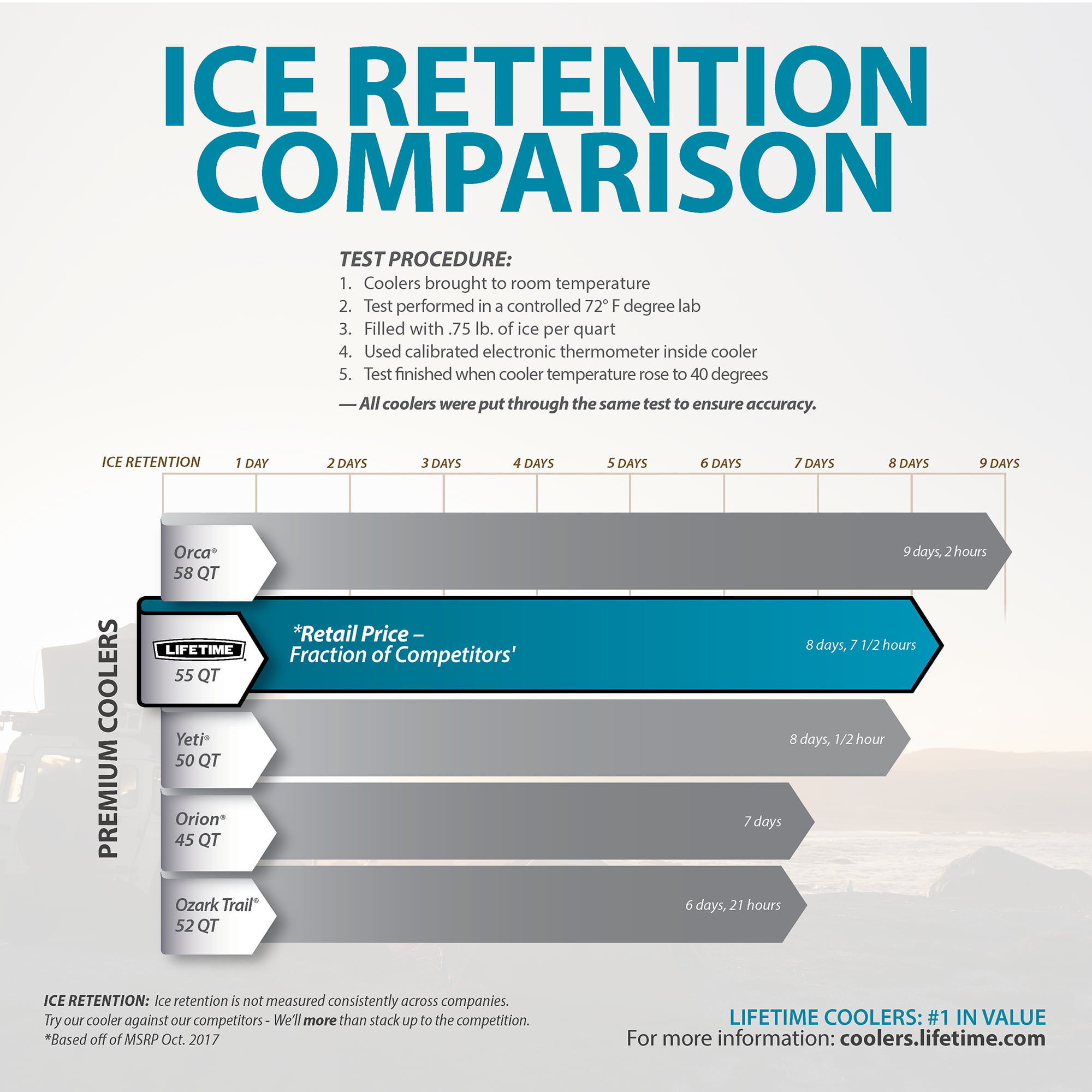 Features
Features are undeniably an influential aspect since they are our direct intermediate with the cooler. Accordingly, in order to attain maximum efficiency and practicality, Lifetime made sure to accumulate knowledge from older brands and design a set of features that hardly has any downfalls.
In that concern, here are the most significant features of the Lifetime 55Qt:
Handles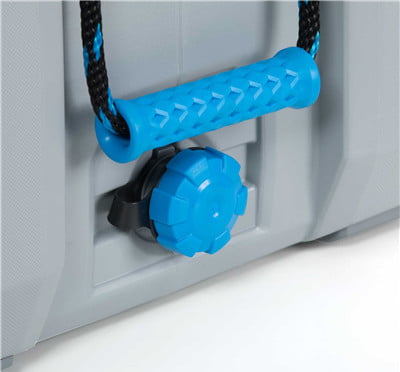 Just like most premium large coolers, Lifetime blessed its 55Qt with rope handles. These rope handles have proven to be highly efficient outdoors since they are more flexible and facilitate transportation on uneven grounds.
Also, the handles in question are definitely more agile which means they will live much longer than rigid handles.
At last, the Lifetime rope handles are fused with tough grips that will prevent the rope from squeezing your palms.
Gasket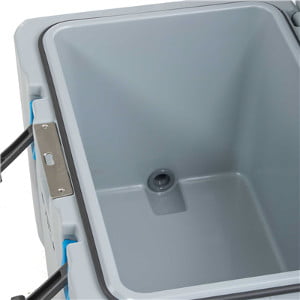 As described earlier, the gasket on this cooler is of an essential value to performance. Hence, without the rubber seal that ensures the lid is firmly locked, you would suffer a great reduction of ice retention. Thus, this little feature might be small but it is indispensable.
Cam latches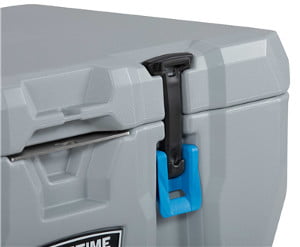 Similar to many premium brands, Lifetime adopts cam latches because of their versatility and practicality aspects. Hence, the latches in question are rubberized which means that they can be activated with one hand only.
Once locked in place, the latches will create a decent amount of pressure that will help squeeze the lid against the gasket to fortify containment.
Anti-slip Feet
Despite being a budget brand, Lifetime invests in a special design anti-skid feet that will help fix the cooler in one spot during transportation. Hence, whether you're usually carrying it in a truck or on a boat, you will find this cooler to be specifically stable.
However, it is important to note that slide guards are employed to aid anti-skid feet function in the wildest conditions.
Easy Drain

One of the most underrated features on the Lifetime 55Qt is the fact that it features a garden hose compatible drain. Indeed, the draining exit on this cooler can be released gradually in order to allow water to escape & maintain ice inside.
However, for a quick rinse / secure draining, you can always use your garden hose to get the job done.
Who is it for?
If it wasn't made clear enough in the previous segments, Lifetime is definitely not an all-inclusive cooler. At the time of writing this Lifetime cooler review, the brand at hand produces one and only 55Qt size cooler which automatically disqualifies anyone who is in need of a casual cooler for regular use.
On the other hand, mass-producing such a standard size, Lifetime guarantees that their cooler will appeal and serve a majority of enthusiasts out there. Accordingly, this cooler is well suited for avid anglers and hunters who target small game as well as campers, kayakers and the rest of the outdoorsies wagon.
Further, this cooler can serve diverse purposes such as team sport events, BBQ parties, group excursions and pool-side summer days.
Lifetime Vs. Yeti: Which Is Better?
It is rather difficult to put these two on the same table because of how different they are. Indeed, Yeti is an undisputed beast with a solid reputation in the industry. On the other hand, Lifetime is an individual player who struck gold upon first try. However, if we had to compare them, we need to keep in mind the following.

First, Yeti is a rich brand and that translates into a fascinating variety that covers every one's needs, requirements and fantasies. Indeed, the brand doesn't miss a chance to provide the answers which explains the multiple lines, types, sizes and shapes they have on the market. So, try to compare that to the one hit wonder that is Lifetime 55Qt and you'll quickly realize that the brand is at a great disadvantage.
Further, Yeti has grown popular due to its quality products and that begins all the way down to build materials, techniques and up to the finishing touches. Thus, one look at a Yeti cooler is sufficient to grant it a wide advantage against our contender. Also, it is important to note that while Yeti adopts rotational molding technology with all its hard-sided coolers, Lifetime certainly doesn't.
Nevertheless, with all those disadvantages, it is nothing short of miraculous that Lifetime 55Qt cooler is capable of pulling relatively similar results in terms of performance.
Indeed, with all of its 'premium stuff' Yeti is still incapable of overcoming a cooler that costs a fraction of their standard prices.
YETI Tundra 45 Cooler, White
The YETI Tundra 45 combines versatility with durability with a capacity of up to 26 cans with a recommended 2:1 ice-to-contents ratio
Ice stays ice thanks to up to 3 inches of PermaFrost Insulation and an extra thick FatWall design is certified Bear-Resistant
Lifetime Cooler — Bottom Line
To wrap up our Lifetime cooler review, it is mandatory to highlight how good this cooler is.
In fact, it is almost admirable how a cooler at this price tag is capable of head butting a giant like Yeti which should make you think twice before making your final call at least.
Amazon Recommends:
Sale
Bestseller No. 1
Lifetime 65 Quart High Performance Hard Cooler
BEAR RESISTANT: Certified by the IGBC and strong enough to withstand a bear for up to an hour when locked
SIZE: 65 Quart | PERFORMANCE: Up To 8-Day Ice Retention - Exceeds most premium priced coolers
Sale
Bestseller No. 2
Lifetime 48 Quart High Performance Hard Cooler
BEAR RESISTANT: Certified by the IGBC and strong enough to withstand a bear for up to an hour when locked
SIZE: 48 Quart | PERFORMANCE: Up To 7-Day Ice Retention - Exceeds most premium priced coolers
Bestseller No. 3