Before reviewing any product we like to do our own research to find as much as possible about the brand and its back story. However, the Cascade Mountain Tech's website doesn't offer much info since there is no "about" section.
What we can tell you is that Cascade Mountain Tech make different outdoors products that are definitely worth your while and of course you're here for their ice chests; the 45 qt and 80 qt Roto-molded Super Coolers.
We'll provide you with everything we know about these two coolers and we hope that you'll find what you're looking for by the end of this Cascade Mountain Tech Cooler review.
Cascade Mountain Tech Coolers Compared
Available Sizes & Dimensions
Compared to other brands that are dedicated to making portable coolers, it's obvious that the Cascade Mountain Tech's coolers line is quite limited offering 2 coolers only. Let's not be very judgemental here and try to appreciate what the Cascade has to offer.
Cascade Mountain Tech 45Qt Cooler
The 45 qt Roto-molded Super Cooler is 21" x 9.12" x 12" on the inside and 27.75" x 17.37" x 16.87" on the outside and it weighs 33 lbs empty.
It's a bulky cooler that will hold up to 38 cans plus ice which could start a party. However, this size is usually good for family weekends, short road trips and why not a day on the beach.
Cascade Mountain Tech 80Qt Cooler
The 80 qt Super Cooler on the other hand is double the size allowing you to stock up to 70 cans plus ice. It's big and roomy so that you can go on extended trips and organize a nice backyard party on a hot day.
This cooler weighs 49 lbs empty and it is 26.62″ x 11.18″ x 14.75″ on the inside and 33.18″ x 19.25″ x 20.31″ on the outside.
Design & Build Quality
The Cascade Mountain Tech coolers are definitely a view; they're bulky but in a good way, they're sharp and durable. To begin with, these Super Coolers are Roto-molded which we've mentioned earlier; it's a quality that contributes greatly to whether or not you'll get a certain cooler because rotational molding is nowadays' proof that the cooler is a good one.
What's even better is that the Cascade Mountain Tech coolers are Bear Resistant and that takes them all the way up to stand side by side with brands Yeti, Grizzly and ORCA.
All of the materials used to build the Super Coolers are heavy duty and tough and that's something you'll be able to sense the moment you lay your hand on one of them. Cascade Mountain Tech's vision is obviously one where the customer doesn't have to worry about changing his/her cooler anytime soon after getting it.
Both sizes come in one color though and that's white, and to be fair it's not bad at all because a simple white cooler is a timeless piece that'll fit and blend in whatever time or place where it's being used.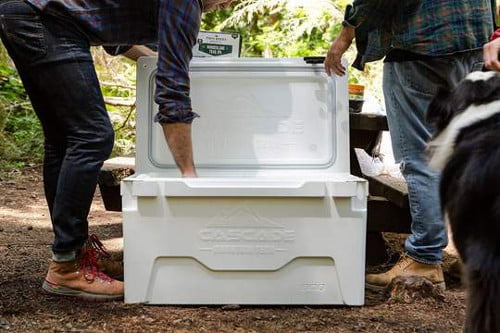 Ice Retention & Insulation Ability
Noticing the extra thick walls of these Cascade Mountain Tech coolers, you can guess that there is plenty of insulation action. These coolers are featured with 3 inches of insulation foam injected into their thick walls. 3 is the best number you could get in this market, thus; if ice retention and insulation ability are your main concern when it comes to picking a cooler, then you'll have nothing to worry about once you get yourself a Cascade Mountain's Super Cooler.
The company promises 7 days of ice retention with the 45 qt cooler and 10 days with the 80 qt one. We got to be realistic here and say that only under extremely convenient circumstances that a cooler could hold on that long.
After running some regular simple tests, the Cascade Mountain Tech Super Coolers were able to hold ice up to 5-6 days which is a great rate if you ask me. Other than that, all you have to do to prolong ice retention is to keep the cooler in the shade, to not put it on hot surfaces and to open the lid only when necessary.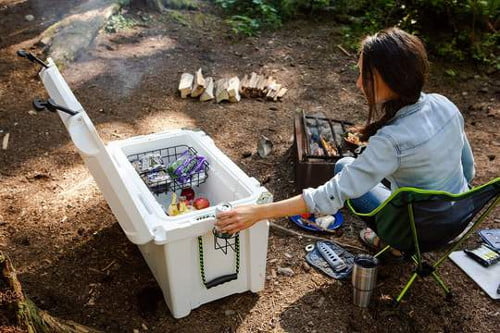 Features
Portable coolers are not only meant to keep your goods fresh and cool but they're made in a way to make outdoors activities easier and less painful. The Cascade Mountain Tech coolers come equipped with a set of features that contribute to their overall performance.
The lid is the first feature we'd like to talk about; it's thick, rigid and durable. Anyone can use it as an extra chair or a mini-table to put some stuff on.
This lid is featured with a nice rubber gasket that adds to the cooler's insulation ability.
Also, you'll find 2 built-in bottle openers that you may use as lock holes to secure the cooler.
Moreover, these Super Coolers come with durable rope handles with a rubbery grip to boost comfort.
One of the most important features about any cooler is the latches; they prevent the lid from going off while transporting the cooler even when the road is hard and bumpy. The latches on these Cascade Mountain Tech Super Coolers are T-shaped and are made of heavy duty and grippy rubber material.
Finally, these coolers are featured with non-slip feet to keep them in place especially on soft and slippery surfaces.Before we move forward with our Cascade Mountain Tech Cooler review, it's nice to know that you can order a dry food basket, a cup holder or a cutting board to accessorize your cooler.

It's true some brands offer some of these items along with the cooler but let's take a moment to admit that the Cascade Mountain Tech Coolers' price is pretty good and won't break your bank account.
Who is it for?
The answer to this question is a very vast one to be honest. Anyone who's in need of a cooler can get one regardless of how or where he or she'll use it. The Cascade Mountain Tech however, presented us with 2 sizes only that we can say are super versatile.
The 45 qt Super Cooler is great for anyone who's up to some road trips, picnics and outdoors weekends. It'll carry enough goods for up to 4 people for a good day on the beach and it'll remain cool for the whole day.
The 80 qt Super Cooler is better suited for camping and extended journeys as previously mentioned.
All in all, both the Super Coolers are tough and durable guys that'll nicely deliver what's expected from them.
Cascade Mountain Tech Cooler Vs Yeti : Which Is Better?
To not drag you any longer, Yeti is the name that's been on top of this industry for years now and that's because they make some of the best roto-molded coolers ever especially in terms of end production and build quality. However, Cascade Mountain Tech Super Coolers are not a bad match at all especially that you can save tens if not hundreds of dollars getting one instead of a Yeti.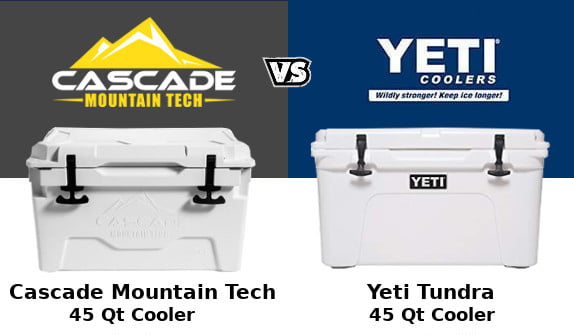 YETI Tundra 45 Cooler, White
The YETI Tundra 45 combines versatility with durability with a capacity of up to 26 cans with a recommended 2:1 ice-to-contents ratio
Ice stays ice thanks to up to 3 inches of PermaFrost Insulation and an extra thick FatWall design is certified Bear-Resistant
Yeti offers a variety of sizes and color options while Cascade Mountain Tech got only 2 sizes and one color. However, if it's not the name that matters to you, then that latter should do just fine in the back of your truck or car.
In terms of ice retention; the results are pretty much similar except that Yeti coolers were able to keep a little more ice compared to the Super Coolers.
Cascade Mountain Tech Coolers – Final Thoughts
That previous part of the review actually said it all and it should work as a final thought. Though the Cascade Mountain Tech is a brand that we don't know much about, their Super Coolers are proved to be of good quality that's up to the competition known to this industry.
That being said, you can now get yourself a Cascade Mountain Tech Super Cooler without worrying about a thing.
Amazon Recommends:
Sale
Bestseller No. 1
Cascade Mountain Tech Rotomolded Cooler - Heavy Duty for Camping, Fishing, Tailgating, Barbeques, and Outdoor Activities - 45 Quart, White
Tough roto-molded construction: this bear proof super Cooler is virtually indestructible, its rubber latches, nylon rope handles, Molded lock planes, recessed no-leak drain plug, and non-slip feet will stand up to any journey you take it on
Perfect for every occasion: whether you are going fishing, camping, or having a backyard barbeque this roto-molded Cooler 45-quart Cooler with fit all your needs. Hold up to 38 cans plus ice!
Bestseller No. 2
Cascade Mountain Tech Rotomolded Cooler - Heavy Duty for Camping, Fishing, Tailgating, Barbeques, and Outdoor Activities - 80 Quart, White
Extremely tough: roto-molded construction makes this bear proof design with heavy duty rubber latches, durable nylon rope handles, Molded lock plates, recessed no-leak drain plug, non-slip feet, and freezer-quality gasket
Ice retention for days: with 3 inches of insulation for maximum ice/cold retention. Holds up to 70 cans + ice
Sale
Bestseller No. 3