When it comes to coolers industry; competition is on a whole different level because everyone wants to create coolers that are as good as the pioneering brands but without making them as pricey which actually worked.
Our Seavilis Cooler Review for today is a good example of how a cooler could still be as good and professional even if it's a lot cheaper.
It's true that an expensive cooler could look, feel and even perform better but the Seavilis Coolers line is quite the deal if what you're looking for is a rigid and functional cooler.
So let's not take any longer and get right to it.
Seavilis Coolers Compared
Coolers
Capacity
(Quart)

Dimensions
(L.W.H)
Weight
(Lbs)



Seavilis 35 Cooler
35
• External
22.4" x 16.2" x 16.2"
• Internal
16.9" x 11" x 12.1"


23.0



Seavilis 45 Cooler
45
• External
27" x 16.2" x 16.2"
• Internal
21.5" x 11" x 12.1"


27.8



Seavilis 60 Cooler
60

• External
28.2" x 18.2" x 17.9"
• Internal
22.5" x 12.1" x 13.8"


30.5



Seavilis 75 Cooler
75
• External
33.9" x 18.2" x 18.1"
• Internal
28.2" x 12.2" x 13.8"


35.4
Available Sizes & Dimensions
What makes cooler such a versatile product with huge users' platform is the fact that they come in different sizes, colors and even designs sometimes to meet the needs of all different customers. Speaking of variety, Seavilis coolers here come in 4 different sizes which are basically the most wanted and popular.

Seavilis Cooler 60 Quart
Seavilis Cooler 45 Quart
Seavilis Cooler 35 Quart
The Seavilis 35 qt is the nearest thing to a personal cooler though usually that'd be 20 qt. Yet, this one remains on the list of small coolers that are easy to handle and transport.
On the other hand, the 45 qt cooler offers more storage space which means more weight as well; we can say that this cooler is the line's medium size.
Then there are the Seavilis 65 qt and 75 qt which we can agree that they belong on the big coolers' list offering larger storage capacity that's good for camping or any activity that'd take you more than 3-4 days in the outdoors.
It might seem a little limited but unless you're out to hunt some deer, there's no reason anyone would go for a bigger cooler.
Design & Build Quality
Let's get this straight; there isn't much to coolers that someone could built something completely different than all the other brands; it's usually the same design except for some details and features sometimes.
The Seavilis coolers look so much like Yeti's coolers  and many other brands; they're simple, sharp and neat. Looking at all the sizes provided by Seavilis you might even think that they're classic which is not bad at all; this way, any cooler of their could fit any surrounding environment effortlessly. Also, there are 5 colors from which you get to choose from; Gray, Seafaom Green, Sky Blue, Tan and Jungle Green.

Seavilis Cooler Tan
Seavilis Cooler Sky Blue
Seavilis Cooler Jungle Green
Seavilis Cooler Seafoam Green
Now in terms of build quality, we're glad to tell you that all of Seavilis coolers are roto-molded which means that they're super tough and up to take some beating.
The surface of the coolers is UV resistant which means that your cooler will stay around for a long while even if you're using it on a regular basis.
Not only that, the plastic used to build these coolers is called polyethylene and it's the most popular plastic in the world known for being strong, versatile and non-toxic. That being said, the Seavilis Coolers could be such a good deal if you set your mind to it.
Ice Retention & Insulation Ability
This is the part where all the magic happens. Ice retention and insulation ability are the only two things that can make a difference to whether you want a specific cooler or not.
Any of the Seavilis coolers you might be getting delivers a good insulation performance because being a roto-molded cooler allows the injection of a good deal of commercial grade insulation foam into the cooler's walls which is enough to keep the cooler's low temperature for 5-6 days.
Nevertheless, one should always remember that being a friendly and considerate user never harmed anyone. In other words; try to keep your cooler in the shade, never put it on hot surfaces and only open the lid when necessary. These are some of the things that'll help the cooler's interior temperature to stay low.
Features
To begin with, it was so nice to see that Seavilis coolers have nothing lacking in terms of their built and the set of details featured on them. Thus, once you order yourself one, here is what to expect:
The Seavilis coolers are featured with a freezer style lid gasket. It works hand in hand with the insulation foam to preserve and prolong ice retention.
The same lid has a molded ruler on it which could be used in different scenarios.
Next, these coolers come with heavy duty removable nylon ropes with a rubber grip for a comfortable grip; these ropes are virtually indestructible just like the coolers themselves.
A feature that I don't remember seeing anywhere before on a cooler is the compass. Basically, Seavilis is letting you know that you'll never get lost with one of their coolers no matter how far you go.
Also, there are 2 built-in bottle openers which pretty much a norm for coolers to have by now.
Now when the lid is dead sealed after you've just closed it, you can easily open it again using the pressure release button. It comes really handy sometimes.
Moreover, these coolers come with non-slip rubber feet to prevent them from shifting while transporting them in a car or on a boat.
Furthermore, you'll find molded locking holes to completely secure the content of your cooler for times when you're away.
Finally, which should've been mentioned along with the lid, these coolers are given Easy Open Cam Latches to keep the lid closed under any circumstances.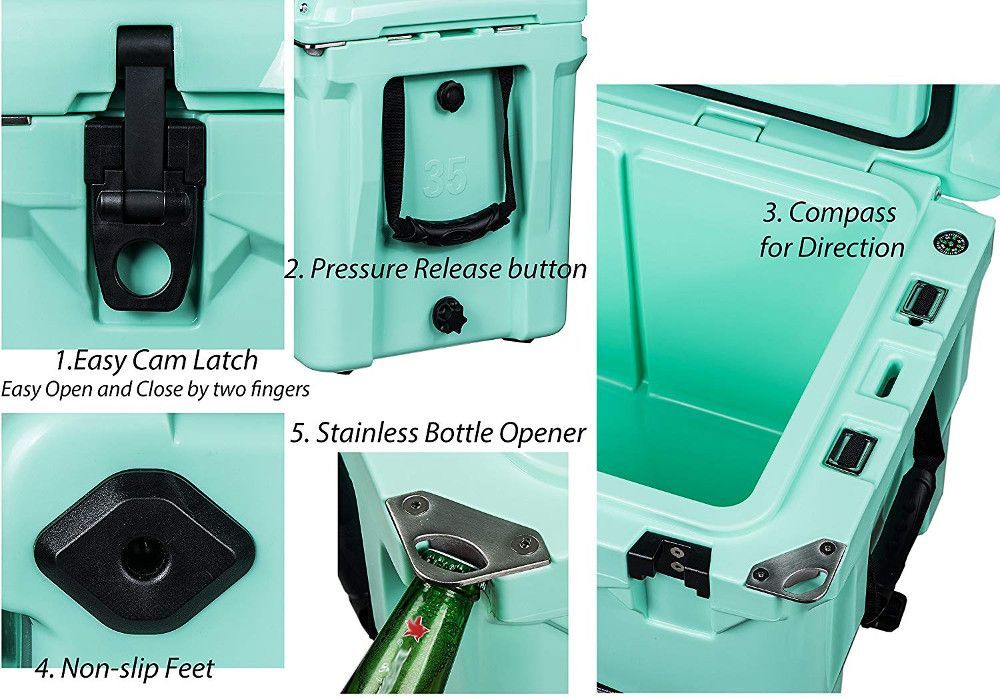 Who is it for?
A cooler is never meant for one person or activity alone; a cooler is one of the most versatile items anyone could ever get.
The Seavilis coolers are great for road trips, beach days, fishing and camping. The four available sizes can handle different storage amounts according to how and who's using them; but one thing is for sure; these coolers can keep your goods fresh inside for really good periods of time.
That being said, no one should really be hesitant to get him/herself one of the Seavilis coolers because they'll get nothing to regret.
Seavilis Cooler Vs. Yeti: Which Is Better?
This shouldn't be a tough question; Yeti is the most famous cooler brand and it's one of the pioneering names that set the rules of this industry while the Seavilis is your standard cooler brand that can do pretty much the same as Yeti but here's the thing.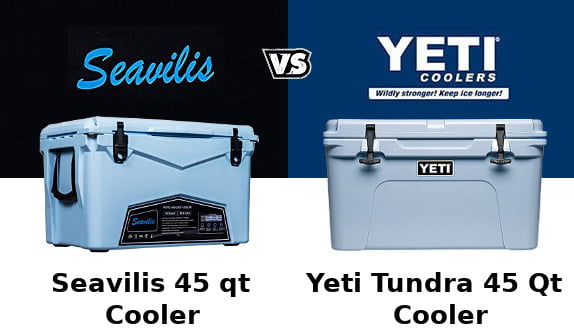 Seavilis is a lot cheaper than Yeti which might be the main reason you're here. I mean, we have to agree that it's outrageous to pay so much money for a cooler while you can get one that does exactly the same for less.
However, Yeti offers a wider range of options when it comes to sizes and colors and it also has one of the best end productions in the market with some really sleek coolers. Let's not forget that Yeti cooler are bear- resistant as well.
Now that was what Seavilis Coolers lack, but on the other side, these coolers are strong enough and fully equipped with everything a cooler needs to be a good one.
So unless you care too much about the brand name of your cooler; a Seavilis Cooler could be your guy.
YETI Tundra 45 Cooler, White
The YETI Tundra 45 combines versatility with durability with a capacity of up to 26 cans with a recommended 2:1 ice-to-contents ratio
Ice stays ice thanks to up to 3 inches of PermaFrost Insulation and an extra thick FatWall design is certified Bear-Resistant
Final Thoughts
Stating everything we know about the Seavilis Coolers in this review, we hope that it was of any help to you.
In case you decided on getting one of their coolers, just know that it's going to be a nice add to your car or boat, it's durable, 100% equipped and functional and it will offer a great value for its worth.
Amazon Recommends:
Bestseller No. 1
Seavilis Heavy Duty Cooler (Milee) (Sea Foam Green w, 35QT +Accessories)
Useful Accessories:Including FREE USEFUL basket, Cup holder and divider.35QT Outer size:22.4*16.2*16.2inch Inner size :16.9*12.1*11inch
Technique And Material: Indestructible Rotomolded Thermoplastic Construction with commercial grade insulation provides a longer ice retention time.We use certified material.
Bestseller No. 2
Bestseller No. 3
Seavilis Rotomolded 70QT Wheeled Cooler -Marine Camo
Solid made Wheels, never flat and puncture resistant, smooth moving around.Ice cube: 70QT: Out size:33.3*17.0*17.5inch /845*433*445mm Inner size: 27.4*12.2*13.1inch/696*309*332mm Weight: 47.4 lb/21.5kg
Stainless Steel Handle is a plus for smooth and convenient move of this heavy duty cooler. The handle is with soft comfortable grips and noise free.