It's almost too difficult to scroll through a set of Engel soft coolers without gazing for a minute. Throughout our humble experience, we have received too many requests to review Engel's soft-sided selection and for all the right reasons, we finally got down to it.
Truly, Engel soft coolers are amongst the top picks you have on the market. In fact, many dedicated websites that reviewed these coolers prior, concluded to a consensus that equates Engel with Yeti's Soft-sided coolers.
That being said, you should already have a general idea of what these coolers are like but just for the sake of objectivity, we'll run your through a detailed buying guide to discuss design, quality, performance and the features of Engel Soft-Sided coolers.
Available Sizes & Dimensions
Now, Yeti has been hoarding the first spot for quite a while now, being one of the most renowned brands in the industry.
Thus, it would seem obvious that diversity is a critical element in the arsenal of any major brand. Hence, it was rather disappointing to see that Engel was satisfied with 2 lone soft-sided cooler options.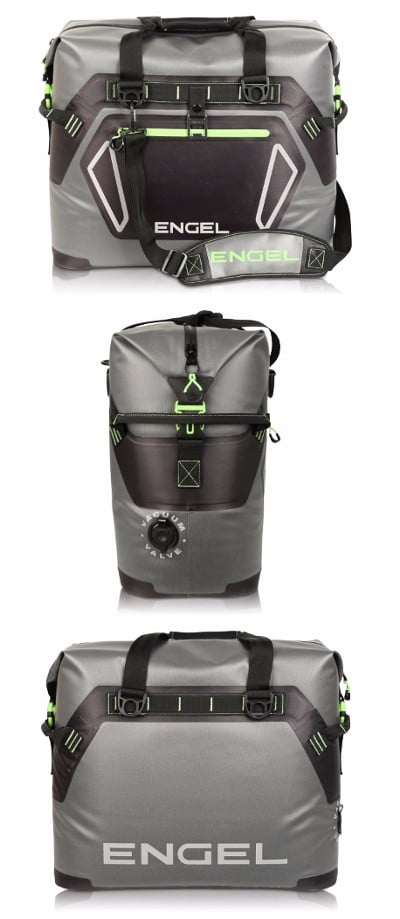 The first and most prominent Engel soft-sided cooler is the HD30 which is quite a popular model.
In fact, Engel has pushed the envelope all the way through with this cooler and invested all of its effort into making it the engineering marvel that it is today.
On first look, the Engel HD30 appears like any other high-end soft-sided cooler. However, upon closer inspection, you begin to realize how much of an actual beast this compact cooler is.
Speaking of which, the HD30 is definitely more compact than most soft-sided coolers out there but it still has enough room for 32Qts and that's impressive.
Accordingly, the cooler at hand makes a great match for plenty of people out there, including small-time anglers, campers, kayakers and overall outdoor lovers. Thus, whether you have a favorite river-side fishing spot or need to travel on foot for long distances, you are going to be more than satisfied with this cooler.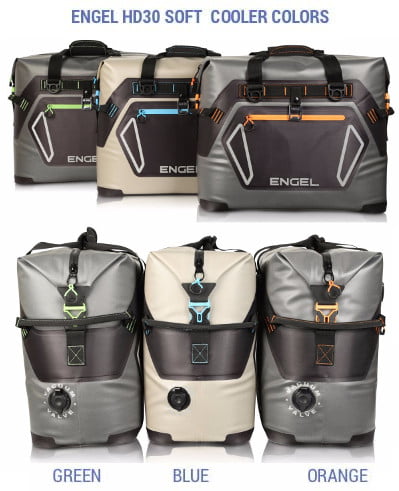 ENGEL HD30 GREEN
ENGEL HD30 BLUE
ENGEL HD30 ORANGE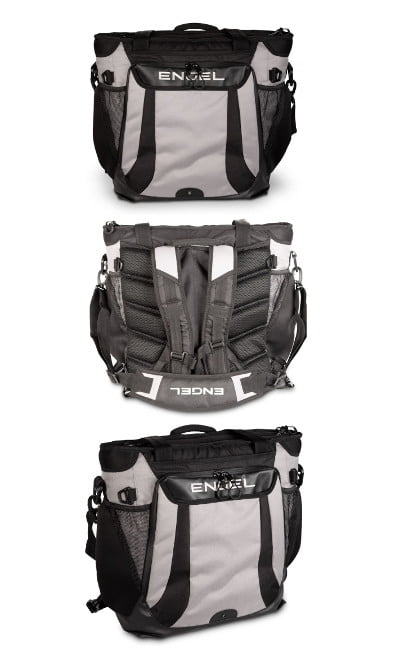 For those of you who are not fond of the carry bag design, you might want to take a look at Engel's backpack option. Well, objectively, this is much more than just a regular backpack because it can be transported in a variety of ways depending on your preference.
Further, Engel's backpack soft cooler is significantly cheaper than the HD30 which is enough of an indicator to conclude that there is less value here. Nonetheless, it is still notable that the backpack design is much more practical and convenient for a number of practices.
Consequently, the shoulder bag / backpack cooler by Engel is capable of handling up to 23Qt and that is plenty for most excursions. Thus, this bag is much more practical for hikers, campers and avid adventurers with an average cargo for a moderate duration.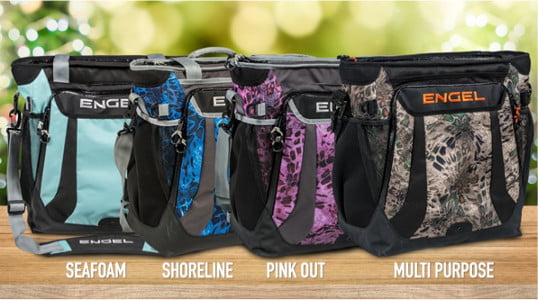 Engel Backpack Cooler Seafoam

Engel Backpack Cooler Shoreline

Engel Backpack Cooler Pink Out

Design & Build Quality
In terms of design, Engel has been popularized for creating some of the best looking hard-sided coolers out there and most of that creativity and expertise is transferred into their soft-sided cooler lineup.
Accordingly, after testing period, most of our testers agreed to the fact that Engel soft coolers are the best looking coolers on the market.Nonetheless, looks aren't everything when we talk of design. Indeed, design is also about the technical modifications that aim at improving performance, transportability and ease of use in general.
In that respect, Engel seems to play along more than anything else and instead of trying to stand out, it just committed to what works. Thus, while appearance is definitely superior, the practicality aspect is very similar to that of a Yeti or an Igloo.
As far as quality is concerned, you can easily argue that Engel soft-coolers are predictably tough. In fact, a lot of customers went as far as claiming that Engel's soft-sided coolers exhibit more hard-sided features than anything else.
In reality, these soft coolers are designed to survive a war-zone and that becomes evident once you know that they depend on a 840 denier which is a substance often found in marine equipment.
Further, the coolers are also supported via a special lamination of thermal plastic urethane aka TPU, which is a highly resistant substance that is almost impossible to puncture.
Finally, you can expect these coolers to last you many years to come despite the nature of your activities and the environment in which you like to perform.
Ice Retention & Insulation Ability
In terms of ice retention, we would say that the Engel soft-sided selection is our favorite so far. These soft-sided coolers have broken all of our expectations by hitting 4 to 5 days of ice retention consistently.
Now, as hard as that is to believe, we assure you that we ran our tests in diverse conditions and the results are almost always consistent. So, how does Engel achieve such extra-ordinary results with a soft-sided model?
Well, as much as we'd love to say it, there is no magical answer there. In fact, all there is to it is a good insulation and a dependable isolation.
Accordingly, the brand adopts the popular closed-cell foam insulation, which is a type of lamination that is completely sealed. This extremely resilient inner coat stops warm air from accessing the cooler and cold air from leaving it.
Moreover, the isolation tank that is the Engel soft-sided coolers is one of the leading reasons behind its prominent performance. Undeniably, if it weren't for the waterproof zippers and the silicone based lubricant, it would be really hard to attain the same ice retention time.
Features
Since features are an essential part of the package, Engel didn't think twice in order to equip their soft-sided coolers with the latest and greatest.
That said, here are the prominent features that you should expect to see on your soft-sided Engel cooler.
Resilient Structure
Being a soft-sided cooler, Engel forcibly merges with the rest of its kind. However, we couldn't help but notice the huge difference between an Engel's structural integrity compared to any other brand out there.
Indeed, Engel soft-sided coolers might be soft on the outside but they harbor a firm skeleton that will shield your cargo in the tightest transportation conditions.
Fully Welded for Maximum Waterproofing
A soft-side cooler is by nature meant to accompany you in proximity at all times and that is often accompanied with a lot of tossing and bouncing.
Hence, to prevent any unwanted leakage and to isolate the internal atmosphere of the cooler, Engel made sure that all exits are perfectly sealed with high-end zippers.
Mulitple Handles
One of the best features about the Engel HD30 is the fact that it is packed with handles in order to facilitate the transportation process under most conditions.
Accordingly, the cooler at hand comes with a padded shoulder strap, standard central handles and two extra side handles for an extra hand when the load is heavy.
As for the backpack option, the brand seems to be satisfied with one handling option in the form of a padded shoulder strap.
Vacuum Valve Technology
Surprisingly enough, Engel is one of the few brands out there that invest in a draining / vacuum valve for their soft-sided coolers.
Besides the obvious use for a valve, this one can actually function as a vacuum exit that would enable you to squeeze the cooler out of air once it's loaded and ready to go.
Other features:
Wide Mouth Easy Access
Integrated Bottle Opener
100% Waterproof Compartment
Adjustable shoulder pad
Silicone lubricant for waterproof zippers
Who is it for?
As good as it sounds, Engel soft-sided coolers are definitely not appropriate for certain scenarios, which is why it is important to make sure you know exactly what you're getting it for.
In that regard, Engel soft coolers are great for small game hunters, occasional anglers, hikers, campers and kayakers.
That being said, these coolers aren't the best fit for someone who enjoys long duration journeys, big game hunting / angling and group activities that require catering for large numbers of people.
Engel Soft Cooler Vs Yeti Soft Hopper
We can't really end an Engel Soft cooler review without putting it on a larger scale that would help many of you make up their mind. Hence, it has been a tradition on our website to weigh out the contenders against a prominent standing champion such as Yeti and we truly believe that these two have a lot to show for.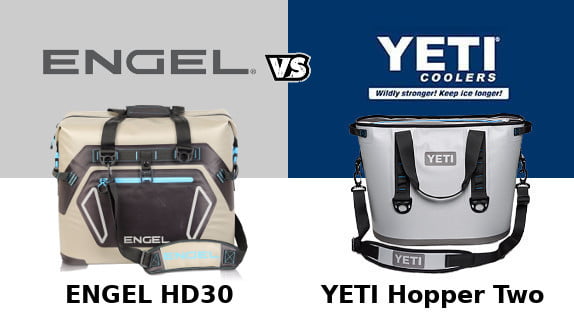 Accordingly, variety is the essence of this segment and because Engel is relatively fresh in the game of soft-sided coolers, we're going to lean towards Yeti.
Arguably, Yeti has one of the richest selections on the market, which is understandable for a conglomerate such as themselves. However, we are yet to digest the fact that a reputable brand such as Engel is still reluctant to enrich their soft-sided cooler lineup while smaller brands offer a much wider variety.
In terms of design and quality, we were equally impressed by both brands for providing some of the best skins, structures and quality materials. Indeed, both Yeti and Engel showcased exemplary products that look fantastic and offer an outstanding longevity. So, there is no clear winner when it comes to this.
Before testing the product ourselves, we inspected many Engel soft cooler reviews to try and find a consensus on the performance aspect and surprisingly enough, it seemed that everyone was providing similar results to ours. Hence, Engel Soft coolers make quite a contender by standing at a strong 4 to 5 days ice retention ratio while Yeti is yet to beat the 3 days mark.
Engel Soft Sided Coolers – Bottom Line
In conclusion, the vast variety of soft coolers on the market makes it very hard to pick a winner. However, we do think that it makes it a lot easier to pick when you have an option that's really well-made and sports high-end features and the best performance you can get from a soft cooler yet.
Therefore, while it might carry a heavy price tag, an Engel soft cooler is a choice that you will never regret.
Amazon Recommends:
Bestseller No. 1
Bestseller No. 2
Bestseller No. 3