It's already too hot and it's not even summer yet which should make you think of the best way to spend your summer vacation. We really think that it goes without saying; portable coolers have become a necessity to everyone who's into the outdoors. These coolers are made to make the outdoors' life and experiences easier, more practical and most importantly safe and comfortable.
Owning a quality cooler is a game changer; you can get yourself a regular basic cooler from any super market which will do but probably only for a day or less, or you can get a Yeti to defy nature's wildness. Now what's even better is that you can find a cooler that's better than Yeti; how about that?
In this review, we're offering a list of great coolers that we think are better than Yeti even though this latter is considered a pioneer of the coolers' industry. People all over the world found quality coolers that proved their worthiness and value against Yeti with hundreds and thousands reviews. That being said, what is that'd make a cooler better than Yeti's?
Things that determine which coolers are better than Yeti
A cooler is not just a chest where you put ice and food for a day out or a road trip; a cooler has to be tough, durable, functional and also flexible and open to different possibilities. Thus, what you should take into consideration when looking for a coolers is:
Insulation & Ice Retention
"How long can a cooler hold ice inside of it?" that's the real question, isn't it? Well, most brands, including Yeti, would promise you a good 10 days of ice retention but once you put that to test it doesn't really go as anticipated. However, all decent brands, also including Yeti, are able to keep the ice action going for at least 5-6 days.
Now what makes the difference when it comes to insulation is the amount of insulation foam and its quality. The more foam you got injected into the cooler's walls the better insulation you get; this insulation foam could be 1.5 inch or 3 inches thick and that's what really determines how long ice can last in the cooler.
That being said, you have to always check how thick is the insulation foam as you might also consider being a friendly user who's cautious not to put the cooler on hot surfaces and open the lid only when necessary.
On last note is that bigger coolers perform better than the small ones because there is more insulation foam in them given their size which makes sense if you ask me.
Build Quality
It's 2019 and we all agree that a roto-molded cooler is the best option you can get yourself. A roto-molded cooler is way tougher than a regular one because the one piece molded body offers greater density and firmness which will make sure your cooler will last longer so that you can take it with you on every picnic, road trip or camping journey.
Most quality coolers are made of the same material and that's plastic. However, the difference is how thick and durable the plastic layer is. Technically speaking, you can't know, but the weight of the empty cooler and how handling it feels can give away enough info on its build quality.
There is also the end production quality and Yeti is known for having an amazing one. The details and the finish are just remarkable; everything is put together to make the cooler look like a silky piece of art that ended up being a cooler.
Moreover, you'd like to pay attention to the hinges, carry handles and latches on the cooler before purchasing it. These three need to be rigid and durable because they're the pieces that actually get under action, and if they're not of good quality, they'll start to wear out before you even know it.
Features
Getting to this section, we have to admit that people look for different things in a cooler; some want it to be basic and classic to do the cooling thing only while others like it to be loaded with features and details to make it flexible and versatile.
However, the second option we just mentioned is more likely to get people's attention especially when the price is reasonable. The more features you have on a cooler the more useful and functional it becomes.
Also, some features will save the trouble of bringing additional tools and stuff because they're already part of the cooler. Still, sometimes you'd find a very good cooler with great insulation and ice retention ability but without any appealing features.
Price
It all gets down to this to be honest. A lot of us are on a budget when getting things like coolers and it's completely normal because seriously; who'd spend 400 dollars for a cooler? Brands like Yeti offer great quality though the prices are pretty high to be honest.
That being said, who wouldn't like themselves a nice cooler that'd be as good or even better than Yeti for a 100 or 150 dollar less?
Unless you don't mind spending your money on a brand that doesn't only sell quality but also their name, there are plenty of cooler brands' options that could be exactly what you're looking for; coolers better than Yeti because these exist.
Which Coolers are better than Yeti?
There are names that are as big as Yeti in the coolers industry and here are the brand we believe are up to compete with that latter and even beat it.
ORCA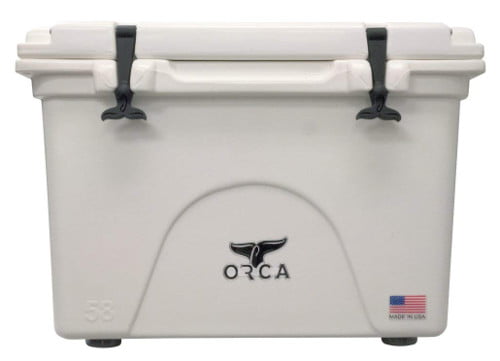 This is a brand that made its own reputation by making durable coolers that are meant for nothing but doing their job professionally and perfectly.
ORCA's coolers are roto-molded with great ice retention ability which proved to last longer than Yeti on many occasions. Also, users all around the world ran some durability tests and found that ORCA's coolers can take hell of a beating before you can notice any change in performance and that my friend is going to be years of nonstop use.
The features on ORCA's coolers are pretty neat and basic including the rubber latches, the flex-grip handles and the external mesh pocket on the back. These coolers come in a variety of sizes and colors which will allow you to pick the best one for you.
ORCA uses a high quality plastic material to build their coolers as well as thick insulation foam. The end production might not look as smooth and perfect as Yeti's but it is sure good enough to know that you're getting yourself a premium quality cooler. These coolers are meant to serve in all different circumstances be it indoors or outdoors; everyone can use an ORCA's cooler exactly the way he/she wants and needs.
Now when it comes to an ORCA's cooler price we can't say that it'll cost you way less than a Yeti, however, the ORCA 75 qt is at least 100 dollars less compared to Yeti Tundra 75 qt and the thing is that the ORCA's ice retention will last longer than Yeti's as it offers a real 75 qt compared to Yeti's storage capacity that's always less than the size suggests.
Techni Ice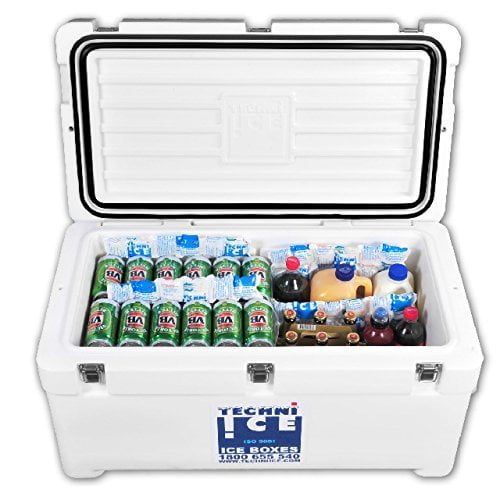 Techni Ice is a 100% Australian brand with some of the highest quality, reusable refrigerant products available in over 50 countries. One look at their ice chests and you'd see and feel the strength, the high end production and the class they got.
This brand came to existence back in 1984 and it had made an outstanding effort ever since which resulted in it being the monster name it is today.
Techni Ice uses high density polyethylene to build their coolers, and the fact that these coolers' walls are so thick will only lead us to think about the amount of insulation foam injected into them.
Techni Ice fills the walls of their hard coolers with high density molded polystyrene foam which if anything is known for being the best in the market of coolers industry. Not only that; Techni Ice's coolers got the latest super resilient rope handles and some really nice and neat silicone rubberized pull downs. Now listen to this; Techni Ice coolers come with double gaskets which is not the norm with any brand you might know. That being said, you can only imagine how long the ice retention could last.
This brand offers a nice range of different coolers with a decent number of sizes and colors which is always a plus when it comes to the users. Also, Techni Ice actually won multiple prizes for being "the best ice keeper" in different countries and continents and that makes it a universally admitted brand for their quality, durability and services.
Compared to Yeti, we need to look at the ice retention ability and prices. At the time of writing this article, A Techni Ice cooler that's around 80 qt would cost you less than 300 dollars being purchased directly from their website while a Yeti's cooler that's less than 75 qt is beyond 400 dollars.
As for insulation; you don't have to imagine this but you might not believe it; the Techni Ice cooler can hold ice inside for up to 9 days being fully exposed to the sun and having the lid repeatedly opened. It's true that most of the ice was liquid by then but the ice action kept going all that long and that's every cooler owner's dream.
RTIC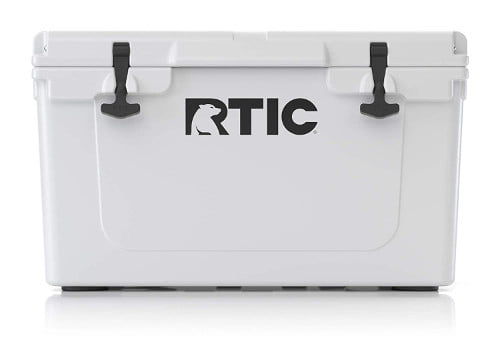 "Overbuilt. Not overpriced", that's RTIC's motto. However, and to be frank, RTIC coolers remain a little pricey because simply they're a premium quality brand. Still, Yeti remains way pricier; for example, the Yeti Tundra 45 qt is 300 dollars at best while you could get lucky and find an RTIC 45 qt on sale for less than 200 dollars.
Other than that, RTIC is a solid name just like the build quality of their coolers; they're a little bulky but professional, they are tough, durable and they got nearly the same high end production quality. The features are on point as well with neat rubber latches that won't let the lid go off, marine grade nylon handles and rubber bottom feet.
The walls of the RTIC coolers are super thick to work hand in hand with the insulation foam which is almost 3 inches thick and that's the best in the market. Running the regular simple test on one of RTIC coolers Vs a Yeti and here's the deal; Yeti 20 qt lost all ice on the 5th day of the test while RTIC 20 qt was able to keep going up to 8 days and that definitely says a lot about where you want to invest your money.
All in all, and after knowing what you know now, RTIC is one of the best alternatives for Yeti because what matters really is how long ice retention could keep going and not the luxury and prestige of a brand's name.
Pelican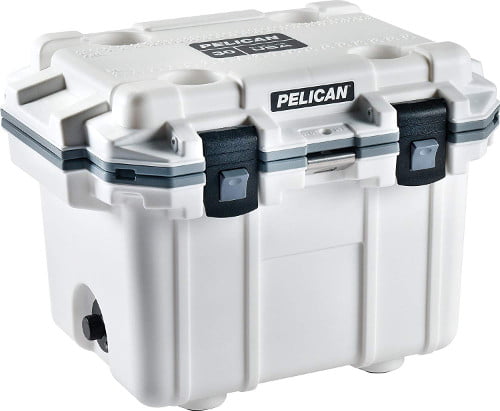 Now this is the kind of brand we're talking about. Pelican makes some of the bulkiest and most monstrous coolers that you'd come across in terms of both design and ice retention. However, in order not to raise your hopes so high, a Pelican cooler can keep a good amount of ice inside up to 7 days which is almost 2 days longer than Yeti.
When it comes to Pelican, it's a must that we talk about the features here because this a brand that went the extra mile to come up with unique 2-steps latches that are not found almost anywhere else. Also, Pelican featured their coolers with bottle openers, rubber feet, built-in cup holders and molded rulers on the lid.
It's true that Pelican coolers are big and bulky and might end up taking more space than they should in your car but they're here to get the job done and keep it that way for years to come. Pelican coolers are guaranteed to last a life time because they're bear resistant and they're as tough as a cooler could ever get as they also come in a variety of sizes and colors for everyone to choose from.
Pelican has been around since 1976 and that makes them one of the pioneering brands in this market. Now guess what? The Pelican Elite 20 qt would cost you something around 150 dollars while the Roadie 20 qt by Yeti is 200 dollars or more. The thing is that Pelican's capacity is true to size while Yeti usually goes way under what the size promises.
Canyon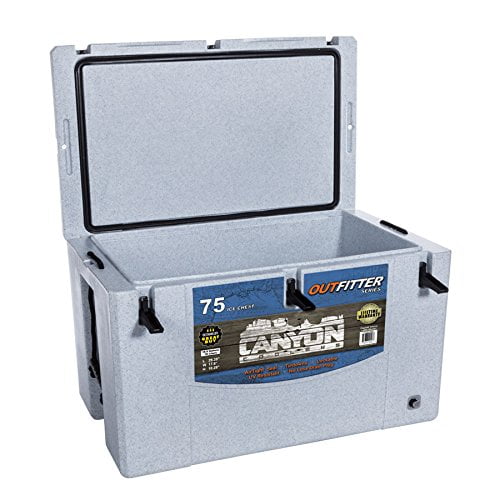 Canyon is another authentic and popular brand that's super proud to share their production with the world because they know that their coolers are meant to serve the users and make the outdoors' life a lot easier. Also, they've been making premium coolers for 10 years which is pretty much the same time when roto-molded coolers started to become super popular.
The Canyon offers a nice variety of sizes for their coolers line with three signature colors that are the nearest thing to nature. The design of these coolers is clean and classic to make them professional, classy and timeless.
Once you get a Canyon cooler, you automatically get yourself an unconditional, no-hassle, no-fault lifetime warranty because Canyon doesn't mess around. Their coolers are extremely tough and durable and they're built using low density polyethylene (LDPE) construction that's able to take any blast from the wild life. Canyon coolers are a little heavy even when empty but it's nothing you can't handle
In addition to that, the Canyon coolers' wall are pressure injected with HUNTX foam insulation th at will ensure a lifetime of cold food and drinks, and running the usual ice retention test, a Canyon cooler was able to hold up ice up to 8 days though on the last day there was a lot of water left and only little ice.
In terms of features, Canyon's coolers come with long rope handles with plastic grips which is a little on the down side to be honest; once the cooler is fully loaded, the plastic grips won't be as comfortable as the rubber ones. Also, the hinge is recessed solid metal, and the latches are made of UV resistant recessed flexible plastic material with a different mechanics to them.
The last thing that's left to talk about is the Canyon's prices; it's half Yeti's price and it still does a better job. The Yeti Tundra 75 qt will cost you more than 450 dollars while the same size by Canyon is something around 250 dollars. Here you have it; you now know what to go for when looking for a cooler.
Siberian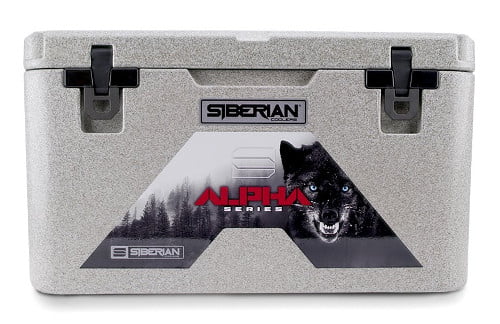 This is the "proven beyond" brand that's though technically only almost 5 years old was capable of greater things. The Siberian coolers are some of the toughest and most durable coolers we've come across and it was only common sense to include them in our list of Coolers better than Yeti.
Siberian coolers are being used by different users all around America and the world; some of them are hunters, campers, fishermen and more. This brand proved that a cooler could be not only good for keeping the food fresh and the drinks cold but also to withstand anything the nature has to throw on it.
A Siberian 85 qt cooler is PE foam Injected for Superior Insulation and because of that it can hold ice for up to 8 days being fully exposed to the sun while having the lid opened multiple times a day at least. Again, on the last day there was little ice compared to the amount of water but everything was still super cold and freezing.
Looking at a Siberian cooler, it looks basic, classic and neat. They come in 4 sizes only and each comes in 4 colors with nice and clean details. You'll find a basket and a cutting board featured along with a cup holder and reversible bottom feet. These feet will allow you either keep the cooler in place or slide it around it with minimum effort.
There are also the heavy duty rope handles and the Siberian Cam Latches made of "high quality nylon fiber infused thermoplastic and military grade hard-anodized aluminum, creating a latch system able to withstand use in extreme temperatures and corrosive saltwater environments.  The latches can be easily opened and closed without sacrificing the integrity of the lid seal."
To end this part of the review, the price must be discussed. The Siberian 65 qt along with all the accessories previously mentioned is a little more than 350 dollars and that's pretty much the same price of the Yeti Tundra 65 qt except that this latter comes with a basket only and it's storage capacity is less than an actual 65 qt.
Engel Coolers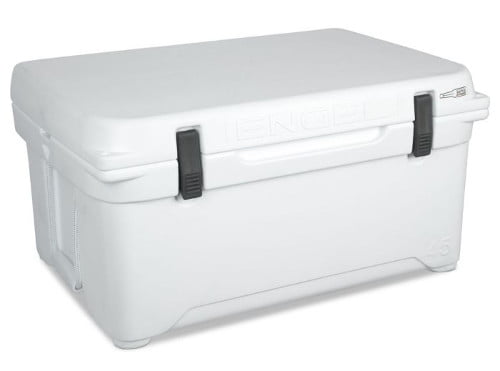 The last name on our better than Yeti list is by no means listed last because it's inferior to the rest. On the contrary; Engel Coolers is a name with over 5 decades of experience and direct services with the biggest industry's professionals.
Engel coolers come in an amazing variety of sizes that starts from a 25 qt cooler all the way to 320 qt which is insane; can you imagine the amount of ice and drinks a cooler that big can take?
Now what matters really is how long an Engel cooler's ice retention can last, right? Well, it lasts longer than a Yeti that's for sure. Testing the Yeti Tundra 45 qt (which is barely 37 qt in reality) and the Engel Deep Blue 50 qt head to head we weren't surprised to find that the
Engel's buddy kept a good ice amount inside for 2 days more than Yeti and the result was almost 8 days of solid ice retention.
The Engel Coolers come in very nice range of colors with the possibility to customize it in different ways to suit your taste. Moreover, the features on these coolers are super neat; there are durable rope handles, rubber bottom feet, molded lock holes, and additional molded handles in case you preferred it that way.
The last 2 features which are the most important to be honest are the latches and the gasket. These two work together to keep the cooler safely and perfectly sealed so that the cold air stays in and the bears stay out. Yes, the Engel coolers are also bear resistant to make them even cooler.
One more thing and we end this part of the review. Purchasing the Yeti Tundra 45 qt will cost you 300 dollars at least and you must remember that it's only 37 qt when it comes to its real storage capacity. On the other hand, the Engel 35 qt is true to its size and it's only 200 dollars.
Final Thoughts
We're glad that you actually thought that there might be coolers better than Yeti because though this latter is known for being the bar setter of this whole industry, old and new brands wanted to do more than just establish a luxurious or prestigious name and then sell it for more than it actually deserves.
Getting to an end of this review, you should know now that any cooler of those mentioned above is a way safer choice than Yeti.