With every brand we review, it becomes harder to impress our testers. However, there is something about nICE coolers that seems to intrigue our staff.
We discovered this brand through a friend who had a lot to say about it but there was one thing he kept coming back to: nICE is an all American brand whose HQ is located in Alabama and that should account for something.
Indeed, while most coolers come from the south, we rarely ever encountered one that is engineered to overcome the rough environment of Alabama. Thus, we are definitely looking forward to put this brand under the scope and, hopefully, help you understand a little more about nICE coolers before you make that final call.
nICE Coolers Compared
Available Sizes & Dimensions
Being an aspiring brand, one can argue that nICE isn't exactly at its peak. However, the company still tries to cater for the various tastes & needs of the market through a limited array of options.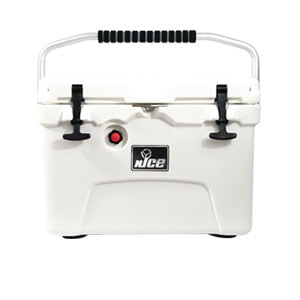 For those of you who are looking for a practical option for beach days, picnics and short term adventures, the nICE 20 is exactly what you need.
This small cooler will keep your drinks, snacks & fish fresh for impressive periods of time but that's about it.
Not to diminish the value of this cooler but the nICE 20 can only handle around 19 liters since it measures 14.1″ x 7.8″ x 9.8″ and weighs a total of 17 pounds while empty.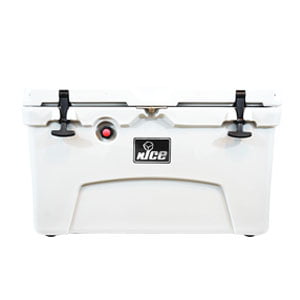 Targeting a more dedicated range of users, the nICE 45 is a highly versatile cooler that can appeal to anglers / hunters as well as jobsites and gatherings.
This cooler is at least twice as big as the previous one and that comes with a higher capacity.
Consequently, the nICE 45 measures 26.3″ x 16.5″ x 16.3″, making it a tiny giant that can handle up to 43 liters & weighs a decent 24 pounds.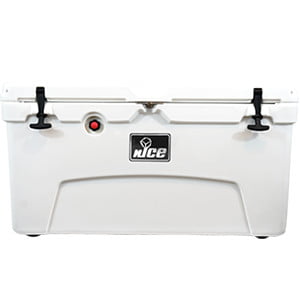 For the passionate anglers and hunters out there, nICE dedicates this cooler specifically to you.
This is the largest and most capable nICE cooler and that entails higher capacity and ice retention.
Consequently, the cooler at hand measures 33.5″ x 18.2″ x 17.9″ which is a significant footprint to keep in mind.
Thus, the nICE 75 can easily cater for an entire fishing / hunting trip up till a week because it can handle around 105 cans & weighs approximately 41 pounds while empty.
Design & Build Quality
In terms of design, nICE tends to reinforce the 'serious look' on all its coolers because the focus here is what it can do.
Accordingly, a lot of people are slightly reluctant to embrace the minimalistic design because it often entails low quality. However, this is absolutely not the case because while nICE coolers look simple, the devil is in the details.
Accordingly, all nICE coolers are designed in order to blend in with most environments without causing any distraction or attraction. The features on nICE coolers are tucked nicely against the main body in order to prevent inconvenience and maximize efficiency.
As far as quality is concerned, we can objectively argue that nICE coolers are amongst the top tier of premium coolers out there. Indeed, nICE adopts an extremely resilient polyethylene coat that protects the entire cooler to incredible extremes.
In fact, nICE coolers have been officially listed as bear-resistant by the inter-agency grizzly bear committee, which should give you an idea about durability.
With an impenetrable coat, the next big concern for the brand was to secure the active features that we often interact with. Thus, both hinges and latches received a lot of attention in the design and quality department to ensure that they are less susceptible to damage and capable of enduring the continuous stretching.

Ice Retention & Insulation Ability
The primary claim for nICE is the fact that it takes on the roto-molding process to serious extremes. Indeed, this brand adopts a pressurized foam injection to insulate the rotation molded walls, creating an unbreakable sphere once the coolers are closed.
Going back to insulation, nICE coolers benefit from a thick foam barrier that contains a million air capsule to disperse and limit influence to the minimum.
In fact, this technology has proven to be highly effective but that can work against you sometimes.
In that respect, the same way these coolers can maintain frost, they also hold heat quite nicely. Therefore, it is crucial that you pre-chill your cooler the night before to achieve up to a week of ice life.
While the foam is incremental to the insulation process, the external walls also play a major role in preventing the external temperature and heat from influencing these coolers.
Accordingly, the final polyethylene coat isn't only bear resistant but also UV reflective. Thus, while it helps to keep the cooler out of the sun, the walls will do a fine job repelling most of the heat.

Features
So many 'premium' brands tend to neglect feature in order to pour more focus on performance. However, just like any other product, user friendliness is a critical selling point and one which nICE has milked to its extreme potential.
So, let us take a moment to highlight some of nICE's most prominent features and how they can improve your experience.
360-degree gasket
One of the most rewarding features on a nICE cooler is the 360 gasket. Indeed, since it costs a little more than budget coolers, nICE invested heavily in a reliable gasket as it's the only thing separating the internal from the external.
Accordingly, this rubber barrier creates negative pressure once sealed and pushes retention time even further.
Pressure-relief valve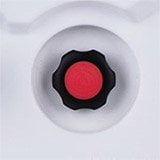 Pressure relief is exactly what you'll need once you try to access your cooler. In fact, the seal on nICE coolers is so tough, it is advisable not to yank it. Instead, feel free to use the pressure-relief valve under the lid in order to make access a breeze.
This little feature might not be significant to most but it is important to note that not even Yeti coolers feature such technology, knowing it has a significant influence on ice life.
Versatile lid
The lid on every nICE cooler is exceptionally versatile. Indeed, the brand at hand managed to jam as many features possible into their lid, making it the most useful lid in cooling history.
Accordingly, the lid at hand comes with a non-skid rough surface, which allows you to use it as a cutting board & a casting platform.
Further, all nICE coolers feature two cup holders on the lid with clever drain paths to keep your lid dry.
Moreover, if you're an angler then you'll appreciate the built-in ruler and fishing rod holder mount.
Latches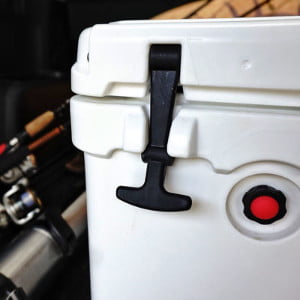 nICE thought long and hard about a practical / resilient latching mechanism before they adopted the T-latch. Indeed, this kind of latches has become the standard upon which we judge other systems because it works so well.
Hence, all latches on nICE coolers are made of resilient rubber and latches easily to the lock, producing a significant amount of pressure on the lid & maximizing the effect of the gasket.
Hinges
If we know anything about coolers, it is that a lot of people complain about the quality of their hinges because they are the first thing to snap.
In that respect, we are not here to tell you that nICE hinges are unbreakable but they are much stronger than most cooler brands hinges.
Accordingly, nICE adopts heavy duty dual stainless-steel pins that hold the lid firmly onto the body of the cooler and provides it with enough support to last years.
Handles

While the nICE 20 comes with a central handle similar to that of an entry Yeti Tundra, the bigger coolers feature integrated handles.
Actually, while you can install band handles, the 45 & 75 coolers only feature built-in notches on the sides of the lid. Thus, while it seems unconventional, this is still one of those features that would never break.
Tie-downs points & more
For those of you who are constantly on the move, be it a land vehicle or a boat, tie-down points are essential. Thus, in order to help you prevent your cooler from sliding around & putting you and itself at risk, nICE blessed its coolers with easy access tie-down points for a safer experience.
If you're not in need of tie-down points then you can easily use these ports as a base to install rope handles in order to make transporting bigger coolers easier.
In fact, these ports have so many purposes but to keep it short, here is a concise list of what you can attach to them: fishing rods, cup holders & Yeti brand attachments.
Drain Plug
nICE is one of the few brands that feature their coolers with a threaded draining plug which can be connected to any garden hose for a quick rinse. Also, you can always unscrew the plug just enough to allow water to exit but not ice, which is a neat little addition.
Finally, nICE made sure you'll never lose your plug by attaching it to a stainless steel chain that's attached directly to the cooler.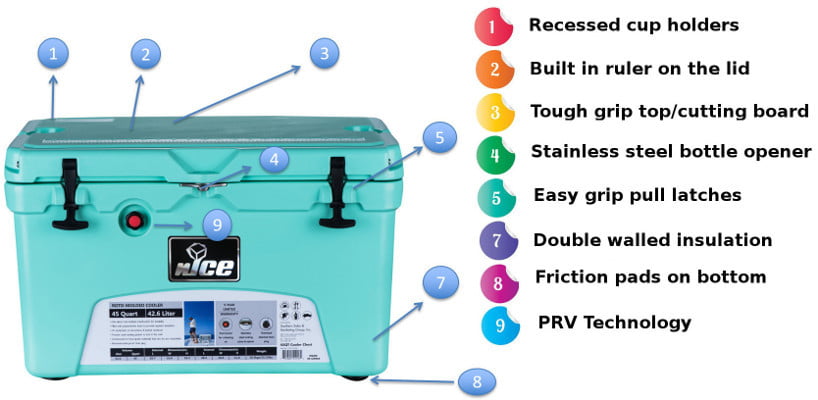 nICE Vs. Yeti: Which Is Better?
nICE is definitely on a fast lane right now as it managed to gain so much approval in the community in almost no time, compared to brands that have been around for 8 decades and more. Hence, you can definitely argue that nICE coolers are capable of challenging a Yeti.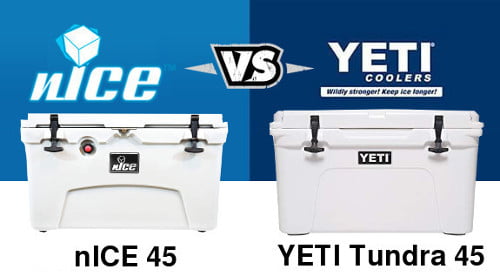 Indeed, we are impressed to say the least by what this brand has to offer for such a price tag. Believe it or not, some of the most expensive brands out there are not equal to nICE because of so many little features and properties.
In that respect, it is mandatory to appreciate the fact that an average priced cooler comes with something like a pressure-relief valve, which is part of a much bigger mechanism to retain ice longer.
Also, the fact that these coolers come with premium quality rubber feet to prevent it from sliding around uncontrollably is indispensable.
Further, what you won't find in most nICE cooler reviews is the fact that nICE coolers have a much better lid because of the dermatoglyph layer that transforms this cooler into a cutting board or even a casting platform.
Nevertheless, while built quality, resilience & features are an obvious advantage for nICE, Yeti is still a tough milestone to overcome in terms of ice retention.
Indeed, while this brand promises a 5 to 10 days ice retention life, depending on temperature & access rate, a Yeti can easily pull up to 6 days on average which is one day longer. Thus, while one day might not seem like a big deal to some of you, a lot of nICE cooler reviews stress this point because others really need that extra day.
nICE Coolers – Bottom Line
So, as much as we hate saying this, you are the last piece of the puzzle and only you will determine whether you need those extra features or an extra day of ice. However, do not put so much pressure on yourself because you are most likely to enjoy both coolers equally as there isn't much of a difference between the two after all.
In conclusion, nICE has definitely accomplished a lot by being a reliable brand that produces consistent quality coolers in a decent variety of sizes. Thus, these coolers might not be the best out there but they are definitely making waves in the ice chest realm for many reasons. So, is this your wave?