You can't really say that you've spent a good summer without having a good ice chest by your side; because the only thing that would make summer epically awesome is a cooler that'll keep your drinks and snacks fresh on the go.
This Rovr Coolers review is about a brand that wants nothing more than building what they need to make every trip and journey feel better and easier.
Rovr's founders shared the same daunting experience we might all had with carrying and loading then unloading full and heavy ice chests on a camping trip which wasn't fun at all given all the effort wasted on transporting and moving those coolers.
We are excited to say that the Rovr is probably the first cooler brand that's dedicated to making roto-molded roller coolers because simply; they believe that a good performance is not only related to ice retention and insulation ability but also practicality.
So, let's not drag this any longer; these are the Rovr Coolers:
Available Sizes & Dimensions
The Rovr Coolers come in 3 sizes only:
1. Rollr 45 Qt Cooler
And it's the smallest one with enough capacity to handle 60 cans and 10lbs. of ice.
This cooler is 19.3" x 22.5" x 21" (H x L x W) and that's quite a lot to handle for a 45 qt cooler.
In other words, other coolers that can offer the same storage capacity are a lot smaller and lighter than this which we will discuss in details in the following sections of the review.
2. Rollr 60 Qt Cooler
This one is 19.8" x 26.5" x 20.8" (H x L x W) and it can handle up to 60 cans and 20lbs. of ice. Expectedly, this cooler is heavier than its little brother as it weighs 45 lbs empty.
The Rovr coolers though are meant to be easily dragged around they're a bit of a struggle when it comes to their size and weight.
3. Rollr 80 Qt Cooler
We'll do the same thing here as well and say that this cooler is 21.8" x 26.5" x 24.1" (H x L x W); these dimensions include the wheels because it's them that resulted in the Rovr Coolers being as big.
The Rollr 80 can handle up to 120 cans and 20lbs. of ice which is great for large events and gatherings or simply extended camping trips.
Design & Build Quality
Let's start with the fact that the Rovr coolers are all roto-molded and Certified Grizzly Bear resistant which makes them as rigid and durable as many other premium brands out there.
These exact two qualities right here don't only add to the cooler's durability by making its wall denser but they also improve its insulation performance as a whole.
The most significant aspect of the Rovr Coolers' design got to be the high performance 9-inch wheels; they are meant to conquer different terrains since they're given some heavy duty rubber tires with interchangeable tube and aluminum hubs with 2 sealed bearings that "can be removed, replaced or repaired at home to increase the longevity of your RollR under the most extreme conditions."
That being mentioned, one can now understand why the Rovr Coolers are thought to be a little expensive; there is no cheap plastic in sight; it's all heavy duty rubber, aluminum and bear resistant material.
These coolers come in 3 or 4 different colors and they all look incredibly rugged and strong, and honestly, owning one of Rovr's coolers is like getting yourself a monster that you'll be dragging around to keep your goods fresh and cool.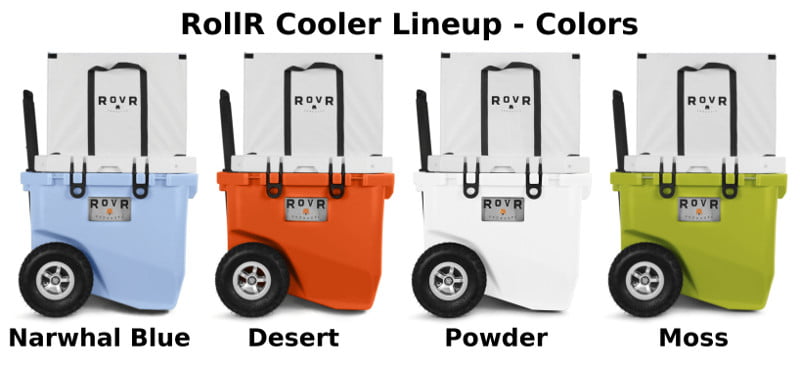 Rovr Cooler (Moss Green)
Rovr Cooler (White Powder)
Rovr Cooler (Desert Orange)

Ice Retention & Insulation Ability
Ice retention and insulation ability are always the greatest concern for anyone who's up to getting a cooler and that's only fair because a good design or looks are nothing when the cooler doesn't do what it's made for.
The Rovr promises their clients an ice retention that'd last up to 10 days but that's not quite realistic. Getting through with that; the Rovr featured their Rollr coolers with high density foam insulation which was good enough to keep the ice going for a solid long 4 days.
4 days might not sound so long but these coolers are below the 100 qt barrier; when the cooler is bigger it usually means that it has more insulation foam injected into it and that directly results in a prolonged ice retention performance.
The Rovr Rollr coolers might not be the best in market in terms of ice retention, but compared to coolers that are the same size by Yeti and Orca one can come to a result that the Rollrs are good boys with good looks and decent performance.
Features
This part of the Rovr Coolers review is somewhat a sequel to the previous section tackling design because it's features and details that make a difference when it comes to almost everything.
The Rollr coolers are quite a view and the people behind them seem to be super thoughtful for getting all of these details and features on board.
So, without further ado, the Rovr Rollr coolers are featured with:
Heavy duty rubber tires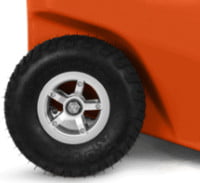 Heavy duty rubber tires that are not seen anywhere else; not even on Yeti's wheeled cooler.
They're unbreakable and the axle is made of 12.5 mm stainless steel which will help the cooler better handle weight.
Aluminum pull handle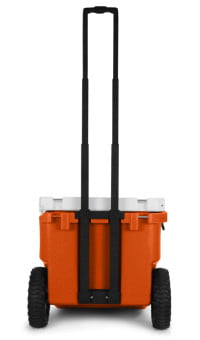 To make the best of these coolers and to enjoy the highest mobility level, they're featured with Aluminum pull handle with dual motocross style grips to boost comfort and control.
Rubber Latches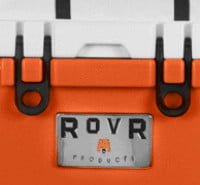 Next, there are durable rubber latches on each Rovr cooler; they're extremely durable and rigid to guarantee the lid never comes undone.
Removable Dry Bin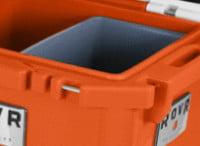 Now listen to this, you'll find a Deep Freeze removable Dry Bin with 2 compartments to help you organize your goods.
It's true that using this bin will take some of the cooler's storage ability away but it's great o keep things separated.
Wagon Bins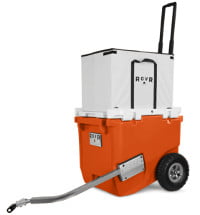 Also, the Rovr Rollr coolers are featured with Wagon Bins that serve as removable storage bins which I have honestly never seen before.
These bins come folded and attached to the coolers' lid and once you unfold them and put them into work you'll be able to drag not just the cooler and its content but a lot more as well.
One more thing; the Rollr 60 allows you to choose a design for your wagon bin and the choices are pretty interesting.
Lid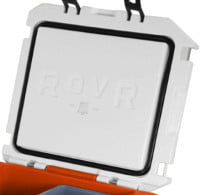 Speaking of the lid; this latter is featured with a nice thick airtight gasket to make sure that the cooler is perfectly sealed.
Moreover, the lid is given anchor pins for attaching prep station and accessories that you can order along with the cooler if you're interested.
Rubber Feet
And finally, once you find a good spot where to stall your cooler, the bottom rubber feet will make sure it stays there.
Who is it for?
Rovr is proud to introduce their Rollr coolers as designed for people who are always on the go, people who enjoy the outdoors more than anything and who are in need of a cooler by their side all the time.
Mobility is Rovr's greatest concern because carrying a loaded cooler for longer than 2 minutes is definitely not a good way to spend your outdoors time.
The 3 available sizes are neither small nor big; you could choose the Rollr 40 if you're looking for a practical personal cooler to keep in the back of your truck, or the Rollr 80 if you're up to some fun with friends on a campsite, tailgating or party on the out.
There's one thing though that I'd like to draw your attention to; the Rovr coolers are some heavy guys. Even when empty, moving a Rollr up or down the stairs is not something you can do alone and once fully loaded; it's only going to get harder.
But here's the good thing; the Rollr Coolers are such a pleasure to haul along; the tires are super rigid while the handle is just perfect and comfortable which makes moving around very easy and smooth no matter how heavy the cooler is.
Rovr Cooler Vs. Yeti: Which Is Better?
The Rovr Coolers are amongst the high-end production coolers elite because they're roto-molded, bear resistant and virtually indestructible. But this comparison must include pricing and ice retention.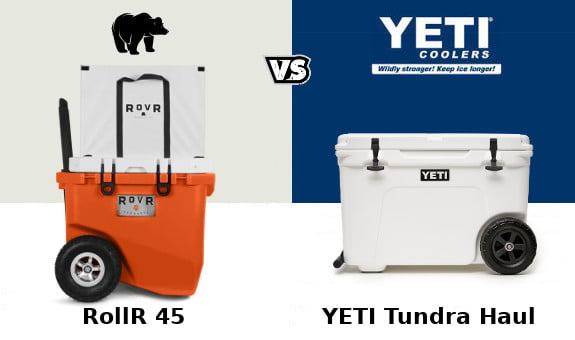 The Tundra Haul 45 qt; Yeti's wheeled cooler, is basically 400 dollars which is only tens of dollars more expensive than the Rover Rollr 45 and that can change according to where and how you're getting any of these coolers. Thus, pricing here isn't that big of difference.
However, when it comes to ice retention, Yeti have proved that their coolers got the lead; while ice can last inside of Tundra 75 qt up to 6 days, the the Rollr 80 did only 4 days with water still cold on the 5th day.
YETI Tundra Haul Portable Wheeled Cooler, White
Rotomolded Construction makes it armored to the core and virtually indestructible
The Haul is the first-ever YETI cooler on wheels. Perfect for taking the Tundra's legendary toughness and unmatched insulation power the extra mile
Rovr Coolers – Bottom Line
Some people would ask you to add a little cash and get yourself a Yeti or an ORCA…because insulation and ice retention are what make the real difference, but again, owning an extremely durable and mobile cooler with decent insulation that can compete with pioneering brands without looking so bad is something worth considering.
The features and details are absolutely great and unique which make the Rovr Coolers line a very interesting one. All in all, owning a Rollr has more pros to it than cons.
Amazon Recommends:
Sale
Bestseller No. 1
RovR RollR, Portable Wheeled Camping Cooler (80 qt.) (Desert)
★HIGH PERFORMANCE, PUNCTURE-RESISTANT TIRES! Our coolers ride on 9-inch all-terrain tires mounted on five-spoke aluminum hubs. They're fast, agile, durable and awesome in sand.
★UP TO 10 DAYS OF ICE! That's what you get when you combine a rotomolded, elevated body with an airtight gasket and thick foam insulation.
Bestseller No. 2
Sale
Bestseller No. 3