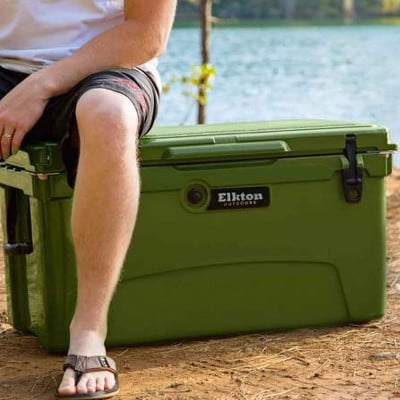 Welcome to our Elkton Outdoors Coolers review in which we'll talk about the sizes, quality and features this brand offers to the outdoors community. A little history about the brand should be a nice way to kick this review off.
Joe Morris is the brain behind Elkton Outdoors; a college graduate who wanted to devote more time to work on what he enjoys most.
Driven by their passion for the outdoors, Morris and some friends decided to make their own premium roto-molded ice chests, fishing and hunting accessories with prices that are much more affordable compared to some other pioneering brands.
That being said, the people behind Elkton are happy to say that they're doing what they love turning their very personal passion into a successful career that's doing great actually. Without further ado, these are the Elkton's Outdoor coolers.
Elkton Outdoors Coolers – Compared
Available Sizes & Dimensions
Like usual, we'll begin with the smallest cooler and up to the biggest, but first; one got to appreciate that Elkton Outdoors offers a nice range of coolers to meet the needs of different outdoor activities.
1. Elkton Outdoors 20 Qt

The Elkton Outdoors 20qt is 21″(L) x 13″(W) x 14.5″(H) on the outside while it's 14″(L) x 8″(W) x 10″(H) on the inside. This is a great personal cooler which you could transport anywhere you like very easily.
It weighs 14.5 lbs empty and it can serve multiples purposes including snack breaks during work or a road trip on the weekend with your favorite person.
2. Elkton Outdoors 45 Qt

Obviously, this cooler is bigger and it can cover outdoor trips that require more storage capacity in order to handle more goods for more people such as beach parties, weekend hunting trips and more.
The 45 qt is 26.5″(L) x 16.5″(W) x 16.5″(H) on the outside, 20″(L) x 10.5″(W) x 11.5″(H) on the inside and it weighs 23 lbs empty.
3. Elkton Outdoors Rolling Cooler 70 Qt

Now this is what you'd go for if your main concern is practicality and comfort; a rolling cooler that can handle 70 qt is technically made to make every outdoor activity ten times better and easier because you won't have to carry a loaded cooler around.
This cooler weighs 34.5 lbs and it's 33″(L) x 16.5″(W) x 18″(H) on the outside and 27″(L) x 12″(W) x 14″(H) on the inside.
4. Elkton Outdoors 75 Qt

It's only getting bigger; this cooler can handle extended trips that include more food and people and it weighs 32 lbs empty.
You'll find a space of 27″(L) x 12″(W) x 13″(H) on the inside which we can all agree to be roomy. On the outside, the 75 cooler is 33.5″(L) x 18.5″(W) x 18″(H) and that's not small at all. Once loaded; you'll definitely need some help to move this big guy around.
5. Elkton Outdoors 110 Qt

Behold the monster; this is Elkton's biggest cooler and it's definitely meant to serve and impress. Getting this coolers means that you're to some serious outdoors time where things are a lot more fun and tense.
With this size, you can handle hunting, fishing or backyard parties; you name it. The 110 qt weighs 45 lbs empty and it's 37.5″(L) x 19.25″(W) x 19.5″(H) on the outside and 31.5″(L) x 14.25″(W) x 15″(H) on the inside.
Design & Build Quality
All of Elkton Outdoors coolers are roto-molded which means that they don't only look good but also they're strong and durable. The design of these cooler might look familiar which is not bad at all since they look good and sharp. When I say familiar I actually meant Yeti except for some different details.
Such design is timeless and thus, your Elkton Outdoors cooler is guaranteed to look good anywhere and anyhow you decide to use.
The Thermoplastic used to build the Elkton Outdoors coolers is tough and UV-Resistant which makes them virtually indestructible. Also, and since we've already mentioned Yeti, Elkton Outdoors promises durability and performance that'd stand shoulder to shoulder with Yeti's which we can only agree with because these coolers got nothing wrong on them.
Ice Retention & Insulation Ability
Now in addition to good design and build quality, ice retention usually has the final word when it comes to choosing a cooler.
Elkton Outdoor thought that it's only best to go big on this one featuring their roto-molded coolers with solid 3 inches of Commercial Grade Insulation and that's frankly the best in the market.
This amount of insulation is enough to keep any cooler cold and fresh for long days making the Elkton Outdoor coolers one of the best choices for extended outdoors trips and adventures.
Now the bigger the cooler, the better insulation performance and that makes a lot of since because a bigger cooler means more commercial grade insulation injected into it.
The Elkton Outdoors 110 qt can hold ice up to 7 days especially in the right circumstances. But if you're interested in a smaller cooler, the 20 qt for example, ice is estimated to last for at least 5 days which is great as well.
What contributes to Elkton Outdoors coolers' insulation performance is the quality lid given to it, and that's going to be on the next section of this review.
Features
As it has just been mentioned, the Elkton Outdoors coolers are given some really badass ice retention ability and what makes it as good is of course the 3 inches commercial grade insulation and the fully insulated lid as well.
This feature is quite crucial if you ask me; this lid is meant to keep the cooler completely sealed to guarantee the promised retention performance.
ThermalLock Freezer Style Gasket & ColdSeal Latches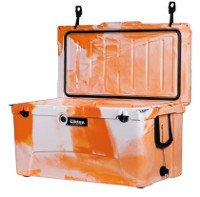 This lid is featured with a ThermalLock Freezer Style Gasket for a perfect seal. Also, you'll find 2 Heavy Duty ColdSeal Latches on each lid of these Elkton coolers. This way, the lid will never come loose while transporting the cooler.
Furthermore, the lid is featured with a molded ruler that can come really handy for some users.
Molded lock-holes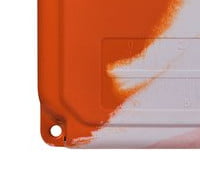 These Coolers are also featured with molded lock-holes if you ever feel the need to put more security on the content of your cooler.
Rear Wheels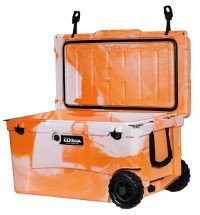 Let's stop at the Elkton Outdoors Cooler 70qt; it's featured with Rear Wheels for Easy Transportation which is one of the most prominent features about a cooler. Apart from that, all of the Elkton Outdoors coolers are pretty much the same.
Bottle Openers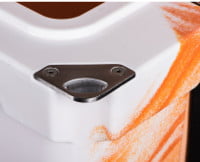 You'll find built in bottle openers on these coolers which is a practical and useful feature.
GorillaGrip Non-Slip Feet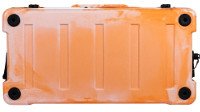 Also, and since it's necessary to make sure a heavy cooler is rigid and well put, Elkton Outdoors featured their coolers with GorillaGrip Non-Slip Feet to keep them in place.
The result is a cooler that'll keep all its goods intact until you reach your destination.
Nylon Rope Handles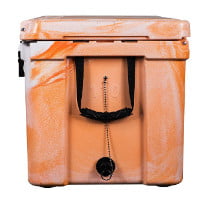 Moreover, to load/unload the cooler, you'll find tough and durable nylon rope handles with a rubbery grip to boost comfort; two people carrying a loaded cooler shouldn't be so much trouble.
Pressure Valve Release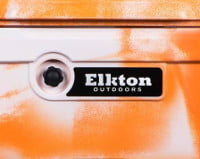 Next, there is a pressure valve release which is a great add because sometimes you need to reopen the lid right after you closed it because you just remembered that you needed something else; the lid will be dead sealed given the change in temperature level and this is where this valve steps in; you're going to appreciate it.
Colors
Finally, all of the Elkton Outdoors coolers come in 3 nice colors; Orange, Green and Camo and they're all neat and good looking.


Elkton Outdoors Cooler 110-Quart Green


Elkton Outdoors Cooler 110-Quart Orange


Elkton Outdoors Cooler 45-Quart Camo




Check on Amazon
Who is it for?
Given the Elkton Outdoors coolers' variety of sizes, one can simply say that this line of coolers is meant for everyone and for every outdoors activity.
If you're looking for a personal cooler that'll stay by your side all the time in your car or truck, you may get the 20 qt cooler.
In case you're a person who enjoys spending time with a group of people, the 45 qt is a great option as well.
As for anyone who's on the quest live long lasting outdoors adventures such as fishing, camping and hunting, then the 70 qt, 75 qt and the 110 qt Elkton coolers are made especially for you.
What's common about these coolers is that they're all super tough and strong which will save you the worrying you'd have to go through with a less durable cooler.
Elkton Outdoors Vs. Yeti: Which Is Better?
Well this is a tough battle. Both Yeti and Elkton Outdoor coolers are roto-molded and they're super neat and sharp. However, if we're to compare the two, let's start with what's obvious to the eye.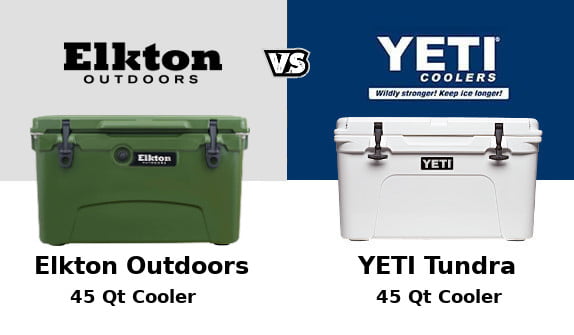 Yeti's outer body is the smoothest thing you'd ever find on a cooler while Elkton Outdoors coolers might look a little less smooth. Maybe it's the plastic quality used to build the coolers or simply just the way they were build which gave Yeti a high end production profile.
Also, Yeti is bear-resistant whereas Elkton Outdoors mentioned nothing of the sort. Nevertheless, this latter's coolers are as tough as ever to be honest.

Another aspect by which we can compare these two brands is definitely pricing. Both Yeti and Elkton Outdoors make premium quality coolers but Yeti remains more expensive; the Yeti Tundra 110 qt for example is around 500 dollars while the same size by Elkton Outdoors is 100 dollars less or more.


Compare To: YETI Tundra 45 Cooler, White


YETI Tundra 45 Cooler, White

The YETI Tundra 45 combines versatility with durability with a capacity of up to 26 cans with a recommended 2:1 ice-to-contents ratio
Ice stays ice thanks to up to 3 inches of PermaFrost Insulation and an extra thick FatWall design is certified Bear-Resistant




Elkton Outdoors Cooler – Final Thoughts
Getting yourself an Elkton Outdoors cooler is as good as getting a Yeti; that's at least what we came to realize after this review.
The bottom line is quite a clear one; you can't go wrong with an Elkton Outdoors cooler; you'll only go far and wild.


Amazon Recommends:
Sale
Bestseller No. 1
Bestseller No. 2
Sale
Bestseller No. 3
Elkton Outdoors Rolling Tackle Box with Wheels - Waterproof Rolling Fishing Backpack, 5 Removable Tackle Trays, 4 Rod Holders, Fishing Gifts for Men, Fish Tackle Bag, Roller Tackle Box
OVERVIEW: Durable, waterproof, light, compact, and convenient makes it easy to get your fishing gear to your favorite spot. Dimensions: L 15.7" x W 9.6" x H 18.7".
LOTS OF STORAGE: Padded and adjustable top storage compartment, five 3600 size, 18 compartment tackle trays to fulfill of your organization and storage needs for all your gear!