One of our testers once said that a soft cooler is as good as its liner and that is one of the realest statements we've ever heard. Truly, soft-sided coolers might not be as popular as their hard-sided counterpart. However, they are definitely gaining more and more popularity recently due to brands like Polar Bear.

Polar Bear is one hell of a proud manufacturer and we labelled it as such because they chose to limit themselves to the creation and improvement of soft-sided coolers. A lot of the Pioneers in the industry tend to view soft-sided coolers an extracurricular interest.
So, how good of a soft-cooler would a fully dedicated brand make? That is the question we will answer in detail on this Polar Bear Coolers review.
Polar Bear Coolers Compared
Available Sizes & Dimensions
Since variety is a key component to any successful brand, Polar Bear had to make a statement through satisfying as many tastes / requirements as possible. Accordingly, for a dedicated soft-cooler brand, it was expected to see a rich lineup but we must admit that we were rather surprised by the abundant variety of the 5 models on display.
So, here is the up to date selection of Polar Bear Soft-Sided coolers:
Nylon Soft Cooler Series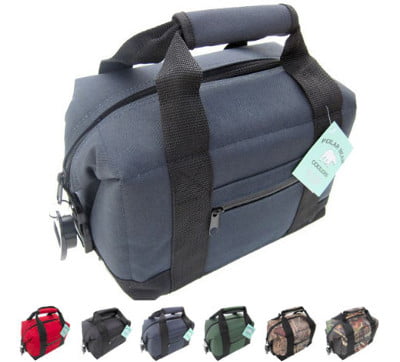 The Nylon Polar Bear could be labelled the brand's entry point because it is definitely the way to start. If you're a regular Joe who enjoys a good day on the beach or a nice afternoon picnic then you're going to appreciate the service that this model will provide.
Truly, with an ice retention period of 24 hours minimum, you are guaranteed fresh drinks and snacks all day long. The cooler in question comes in a variety of 4 different sizes, 12, 24, 48 & a backpack, to cater for as many people as you see fit.
In terms of quality, the Nylon series is a relatively low cost cooler which means that it's not going to be as strong as the high end models. However, this option still features a leakproof body, an FDA approved liner, a YKK 10 zipper and a life time warranty.

Solar Bear Soft Cooler Series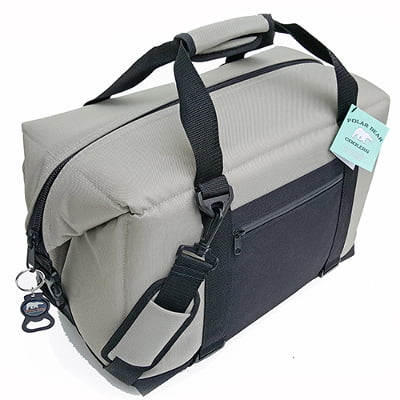 The Solar Bear is definitely a step ahead of our previous contender but they are very similar for the most part. In fact, the only difference between the Nylon & Solar Bear soft cooler is the coat but that's not just an aesthetic upgrade.
Accordingly, unlike the Nylon lineup the Solar Bear is in fact UV resistant and that should account for a slight upgrade in ice retention. Given that this model features the same exact open-cell foam insulation, it is guaranteed to last slightly beyond a day and that's all the time you need sometimes.
On other fronts, the solar keeps its guard high enough to battle the Nylon Polar bear by basically mimicking everything it does. Hence, the model at hand is also leakproof, it features an FDA approved liner, a YKK 10 zipper and a life time warranty.
Nonetheless, in terms of variety, the Solar Bear chooses to remain humble, sticking to two standard options: a 12 cans bag and a much larger backpack choice.

Eclipse Soft Cooler Series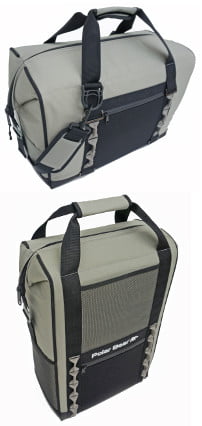 Eclipse is where Polar bear shifts gear into its professional profile. In fact, up till now, we have only reviewed Polar Bear coolers that can attain up to a day and a half as a maximum reach.
So, it's definitely an upgrade considering that Eclipse soft cooler series can attain up to 3 days easy.
Accordingly, there are quite a few advantages in the build process that push this series to the top but the principle, aka the pillar, of ice retention has always been the insulation. Therefore, the only significant upgrade here is the shift from open to closed cell foam.
Also, it is important to note that the series in question comes in 2 sizes only: 24 Pack and a backpack model. While this might sound like a disadvantage it most certainly isn't because the Eclipse selection is dedicated to a specific audience that is more likely to go out in small groups, namely family picnics / trips.
Moreover, since the coolers in the Eclipse series is significantly more expensive than the previous selections, there was some explanation due beyond the insulation.
So, in brief, Polar Bear simply added a splash proof option to the YKK 10 zipper and switched from rigid plastic to all metal buckles and rings. Also, the brand decided to add a skid-proof bottom and a carabiner attachment point to the impeccable leakproof guarantee, the lifetime warranty and the FDA approved liner.

H2O Soft Cooler Series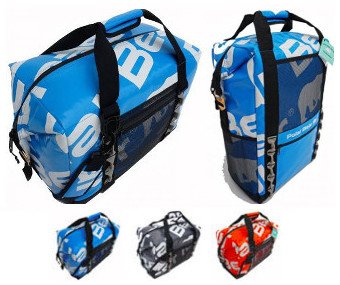 While it is definitely hard to beat the Eclipse, Polar Bear has always been up for a challenge which is why we have the H2O series. Accordingly, the series at hand is exceptional to say the least.
Obviously, you can go much further from the checkpoint that the Eclipse achieved but mysteriously the H2O does!
In that respect, the H2O soft cooler series has benefited greatly from its siblings and learned everything necessary to compete for the title of best soft-sided cooler on the market. Indeed, this cooler right here is capable of pulling up to 3 days of ice-life and 4.5 days of very low temperatures even after the ice is all gone.
Now, we have reviewed and tested hundreds of coolers before and yet we were sceptical to the numbers provided by the brand. However, once we tested it ourselves, it was apparent that there was voodoo there except for an extremely reliable liner & an impenetrable closed cell coat.
Also, it does help to learn that this series is the only 100% waterproof collection created by Polar bear and that is exceptional.
Effectively, the lineup at hand benefits equally from all the great features mentioned earlier with the exception of UV resistance. However, that doesn't seem to have much of an effect on the performance of the cooler, although it would be smarter to keep it in the shade for the most part.
Also, it definitely helps to pre-chill these coolers the night before with a frozen water bottle.

Tracker Soft Cooler Series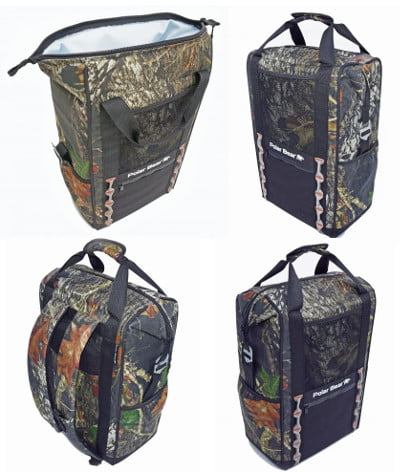 The Tracker soft-sided series is definitely an interesting pick as well even after glorifying the H2O series. While the coolers in question do not benefit from an anti-skid bottom or the 100% leakproof coat, they somehow still hold up consistently with the previous two series.
Now, there is absolutely no mystery there no matter how hard we want to believe that some cooler just happens to keep ice for more than 3 days on average. In fact, the Tracker Soft-sided series latches on to the core principles of premium Polar Bear coolers, namely the leakproof option, the lifetime warranty, the FDA approved liner and the closed cell foam insulation.
Similar to the Eclipse, the Tracker comes in a 24 pack and a backpack design to cater for a specific audience. Unlike the H20, this lineup is actually targeting a smaller range of users which lands between campers and outdoors lovers.
In addition to that, the lineup at hand is relatively similar to its more premium siblings, adding all metal buckles and d-rings and a coated YKK
10 zipper with splashguards to its resume.
Design & Build Quality
Design is absolutely important, especially when talking about a product that you're supposed to carry around regularly outdoors. However, it isn't all about the aesthetic aspect. In fact, the design of Polar Bear coolers is a great example of how looks can affect the performance of a cooler.
Accordingly, Polar bear coolers of all variations come in a very familiar gym bag design with a bunch of minute details that can and will improve performance significantly.
For example, all Polar bear coolers have lips that extend to the sides once locked and that is not random. Indeed, the fallen sides are meant to help you squeeze-lock the bag and push as much air as possible outside to maintain only ice-cold air within.
Also, one of the best things about these coolers is the fact that they look so casual & do not stand out as ice coolers specifically, which is going to keep a low profile and blend in nicely anywhere.
While design is significant, we can't keep up a discussion without including the quality of these products. Truly, Polar bear has established a firm reputation in terms of resilience and reliability and a lot of that is credited to its dedication to premium-everything.
Now, admittedly, Polar Bear soft coolers cost significantly more than most coolers on the market. However, once you take into consideration the type of substances, textures and stitching, contributing to the final product, you'd certainly understand that you are getting your money's worth.
Accordingly, the brand at hand seems to be keen on maintaining a robust Nylon exterior with a UV 840 TPE coated outer shell and a TPU coated nylon interior liner. Consequently, most of the brand's coolers are splash proof & leakproof with a high resistance for the environment surrounding them.
Ice Retention & Insulation Ability
In terms of ice retention, Polar bear coolers must be segregated since they are meant to serve different purposes. Consequently, it is important to note that the Nylon and Solar Bear lineups are great for those looking for a quick journey cooler.
So, if you're planning plenty of picnics, roadtrips or simply enjoy spending time outside regularly then you're going to appreciate these two lineups and their impressive ability to maintain ice for up to a day.
On the other hand, the brand decided to push the envelope a little further and reach for more premium brands & that's where the remaining 3 lines come into play.
Indeed, all of the Eclipse, the H2O and the Tracker are great coolers for the more serious bunch. In fact, these coolers will make great companions for avid campers, hikers and even anglers who have a passion for indulging into the woods to find new fishing spots.
The selections in question are capable of pulling up to 3 days of ice retention which is great to say the least. However, it wasn't easy for Polar Bear to attain these record numbers on soft-sided coolers.
In that respect, Polar bear coolers are pretty much consistent for the most part except when it comes to the ice retention / insulation faculties.
That said, while the entry-level series come with an open-cell foam insulation and a heavy duty YKK 10 weatherized zipper, the more advanced series sport a much more reliable closed-cell foam insulation, UV resistant nylon interior liner, UV 840 TPU outer coat and some sort of nylon UV resistant design in critical areas.
Features
Features are definitely a significant element in any cooler but it is especially the case for soft-sided coolers because they are simply incomplete without the right set of features.
Knowing that, Polar Bear made sure to equip its coolers with the necessary tools to help you but also to help the coolers function better.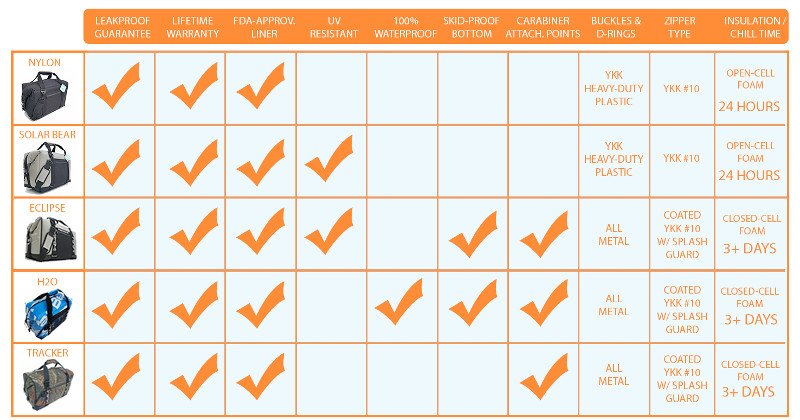 PBC Buckle Down Design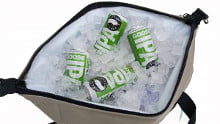 One of the best features on all Polar Bear coolers is the large opening that is enabled due to the fold down technique of the cooler's mouth. Hence, you can easily reach in to fill or clean up the cooler and once done, you can as simply buckle the lips down to secure them.
Bulletproof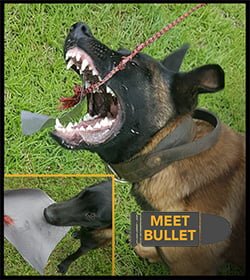 Polar Bear coolers are known for their significant strength and some people went as far as describing them to be bulletproof.
While it is obviously an overstatement, these coolers don't actually fall that far off because of their extremely robust TPU double coated Nylon.
In fact, these coolers are tested under Malinois dog attacks and they surprisingly survive with minor damages.
FDA Approved Liner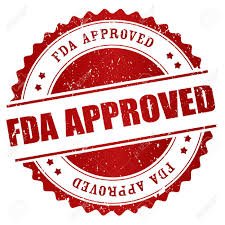 The fact that these coolers come with an FDA approved liner is often taken for granted. However, it isn't always the case that you find an impressively robust cooler with a liner that doesn't pollute your food to a certain degree.
Thus, it is definitely a huge plus that Polar Bear coolers are completely safe for you and whoever you're planning on sharing it with.
YKK #10 Zippers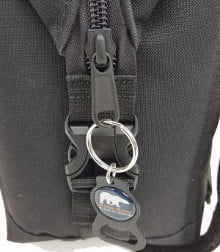 YKK 10 zippers are one of the brands most popular features because of their fluidity and high resilience. These aren't any regular zippers, we are talking about industrial grade zippers here with proper splash protection and leakproof support that will keep your belongings contained in a perfectly insulated mold.
Bottle Openers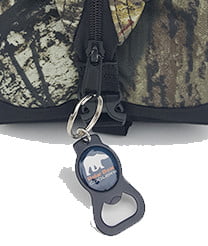 Most Polar Bear coolers come with bottle openers, which is undeniably a practical little addition.
Consequently, having one of these coolers won't only keep your drinks fresh but it'll also serve continuously to replenish your need of cracking those bottles open easily.
Shoulder Strap and Backpack Option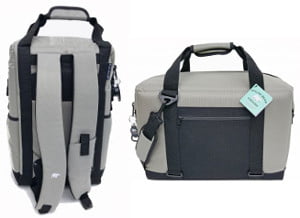 There aren't plenty of brands out there that offer a variety of choices including the backpack one, which is why Polar Bear leaped on the opportunity as quickly as it could.
That said, you will notice that most of the brand's series offer a backpack option because it is great for people who are into walking around, discovering new places and hiking magical routs.
Accordingly, the shoulder straps on these coolers aren't just any standard straps, instead they are well padded, breathable and extremely keen on comfort.
Other features
Bow Tie Daisy Chains
Tie Downs
H2O Waterproof
Customizability
Who is it for?
Evidently, Polar Bear coolers come in such a wide variety that should be capable of catering for every taste out there. Nonetheless, we must bow down to the fact that there are situations where soft-sided coolers wouldn't do you justice.
That being said, Polar Bear coolers are still extremely versatile and compatible with many more profiles. In fact, these coolers can make a reliable freezer for people who enjoy regular picnics all the way to those of you who are into distance hiking, camping and even kayaking adventures.
Thus, while hard sided coolers provide an extended period of ice retention, soft coolers are cheaper, more versatile and a much better investment for people who aren't committed to an outdoors lifestyle.
Polar Bear Coolers Vs. Yeti : Which Is Better?
In order to legitimize this Polar Bear coolers review, we saw the need to compare it to something else, a prominent figure in the market of soft coolers. So, we thought long and hard before landing on Yeti's soft-sided selection because it seems to be the benchmark of the industry and the go to choice for many people.
Thus, this segment will try to answer the question: is Polar Bear as good or better than Yeti coolers?

First things first, we must note that, unlike Yeti, Polar Bear is fully dedicated to soft-sided coolers which is why they offer a much larger variety of options.
Also, that leads us to the fact that Polar Bear invests much more into the development and improvement of soft-sided coolers which cannot be said about our contender.
Another advantage for Polar Bear is the customization option that the brand offers which seems to be pretty much unique in the industry. Indeed, Polar Bear allows you to customize your cooler and add any sort of text or monogram to your bag whereas Yeti coolers don't really bother.
As for quality, it would be oblivious to argue that all Polar Bear coolers are superior to Yeti's because the former provides a variety of coolers that are meant for different scenarios & people.
Thus, where Polar offers affordable nylon bags with a 1 day ice retention life, Yeti commits to Premium coolers with 2 to 3 days of ice life.
Nonetheless, once Polar Bear puts its troopers to play, it becomes evident that a cooler like the H2O is superior to any soft-sided Yeti on the market in terms of quality and performance.
Polar Bear Coolers Review – Bottom Line
In the end of our Polar Bear Coolers review, we'd like to draw attention to the fact that you and only you will determine which soft-sided cooler is best for you. Therefore, we hope that our analysis helped inform you one way or another and contributed to your final decision on Polar Bear Coolers.