Like most industries out there, the competition between ice cooler brands is vicious and that results in a select platoon of premium brands competing for the first spot.
Hence, if you've been anywhere near professional hunters, anglers or campers then you should be familiar with names such as Yeti, Coleman, Orca and Pelican coolers. However, as much as these elite brands narrow your search for the best ice cooler, it is still tough to choose one of them.
Indeed, brands like Pelican and Yeti have exceeded expectations when it comes to durability and ice retention, gaining a lot of trust and causing a lot of satisfaction. However, 'what is it that gives these brands their status' and 'how do you decide which one to go for' are still questions with no answer.
Accordingly, in attempt to help make things easier for you, we will dedicate this article today to show you why you should go for a Pelican cooler and how it could be just the cooler you need.
Best Pelican Ice Coolers Review
Before we begin, it should be predictable that this list of coolers will be very repetitive, knowing we will be reviewing a bunch of Pelican coolers. However, we will try our best to briefly mention the general specs and dedicate most our focus to the differences, which set every Pelican apart, and what makes them special. So, let's check out the Pelican coolers for sale today:
1- Pelican Elite 70 Quart Cooler Review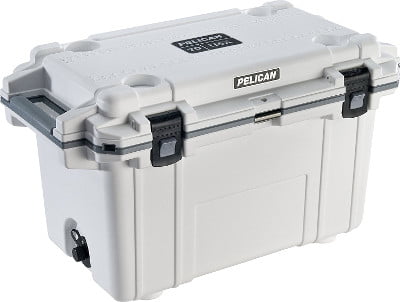 The 70 Quart is on top of this list for a very good reason and that is compatibility. Indeed, this is one of the most practical coolers designed by Pelican to fit different purposes and profiles.
Accordingly, the Pelican 70, as it will be referred to henceforth, is what you would call everybody's favorite cooler because it simply delivers no matter the task. Indeed, the Pelican 70 is a formidable size for small catch hunting, fishing and even beach days. To put you in the bigger picture, the cooler at hand can harbor up to 17 gallons of liquid and before you calculate how many beer cans that translate to, know that the answer will always be "more than you'll need".
Beyond being a decent sized beast, the Pelican 70 lives by the 10 days ice retention motto, which is the brand's selling point in a highly competitive market. Unsurprisingly, the Pelican 70 features reliable isolation, consisting of pressure injected foam and a hard polyethylene shell that keeps all external elements outside.
Also, the cooler relies greatly on the equally significant head gasket which perfectly seals the hood, preventing hot air from leaking inside. Therefore, with proper preparation and enough ice, you should easily attain the 9 to 10 days mark in regular conditions.
In terms of practicality, the Pelican cooler review at hand is just about to get better because this is where the 70 quart excels. Indeed, the cooler at hand has everything you seek and it all begins with a much needed leakproof drain plug to facilitate discharging melting ice.
Further, the cooler also features premium quality latches that allow you to lock down the cooler easily and firmly only with one hand. Above self draining cup holders and measuring boards, the Pelican 70 features rubber feet which will make the chest steady enough to be used as a casting platform.

2- Pelican Elite 50 Quart Cooler Review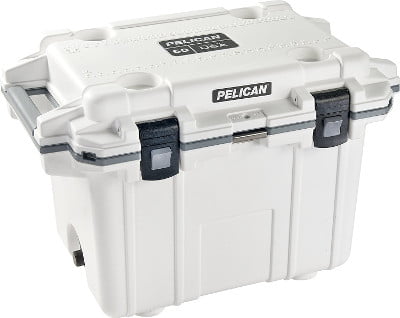 The 50 Quart Pelican is such a unique little ice chest which deserves its proper Pelican cooler review. In fact, this little cooler has earned quite the reputation amongst different kinds of people with different needs.
The Pelican 50 is thus a very versatile cooler because of its smaller size, robust quality and highly efficient isolation but who is it for exactly? The answer to that is a bit of a surprise because the Pelican at hand is for everyone. Indeed, at 50 quart, this cooler is capable of handling up to 12 gallons total which is a decent size for anglers, campers and beach lovers.
Further, beyond their impeccable life time warranty, Pelican blesses this cooler with their legendary isolation walls and head gasket which pushes the boundaries of ice retention to reach up to 10 days in regular conditions. Yes! The Pelican 50 will keep your beers frozen for more than a week and that earns it the title of portable freezer.
Moreover, in order to achieve maximum efficiency, the cooler relies greatly on its clever set of features which will make your interaction with the ice chest much more appealing. Accordingly, being one of the best pelican coolers for sale requires premium quality latches which will perfectly seal the lid, leaving room for hot air to get inside.
Also, the cooler at hand features a robust polyethylene shell that'll protect it indefinitely from the conditions and even animal attacks. Further, like any other pelican, the 50 quart also comes with a set of self draining cup holders, a measuring board and molded handles for easier transportation.

3- Pelican Elite 30 Quart Cooler Review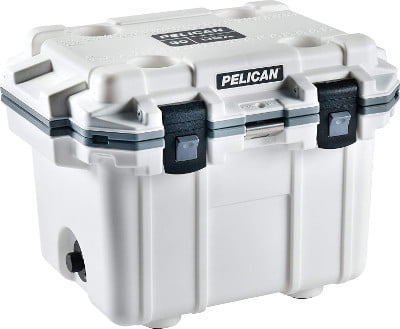 The Pelican 30 is one of the few pelican coolers for sale that gains its reputation from the wild internet. In fact, this little thing is so popular online that it became the go to cooler for general users who don't have a specific purpose for the cooler other than keeping their drinks and snacks fresh.
Nonetheless, the 30 quart is still a Pelican and that inherently makes it a gladiator of a cooler with the same characteristics and personality.
So, what is so different about this Pelican that makes it so appealing to everyone? Well, the short answer is "size". The Pelican 30 is not the smallest in its line but it's nowhere near the top and that makes it a very practical, compatible and versatile cooler which is much needed in this day and age.
So, for daily commuters, beach lovers, campers and even anglers this is still a fine catch because it is still capable of withholding ice for up to 8 days realistically. Unsurprisingly, with the same isolation technology, same polyethylene walls and same brand title, the Pelican 30 is set for heroism and that makes it the best Pelican cooler for sale right now.
Further, to be everyone's favorite coolers is a responsibility that comes with a lot of practical little features. Hence, because it is made in the USA, the Pelican comes with everything you'll need no matter your passion.
First things first, the Pelican at hand features a draining exit which is cleverly designed to automatically drain out every last drop from the chest without having to tilt it over.
Also, the ice chest at hand comes with the simplest yet most robust latches you can find on a cooler whose purpose is to keep the gasket sealed tightly and expel all external elements.
Furthermore, the measuring board on the lid, the self draining cup holders and anti skid rubber feet are a few secondary but equally impressive features that you'll find yourself using regularly.
Overall, the Pelican 30 is a great example of what Pelican is capable of as a brand and that goes beyond performance and quality to identity and brand.
Pelican is one of the few brands that puts a life time warranty on their products and that can only show how much they trust their own stuff and that is the best selling point for anything.

4- Pelican Elite 20 Quart Cooler Review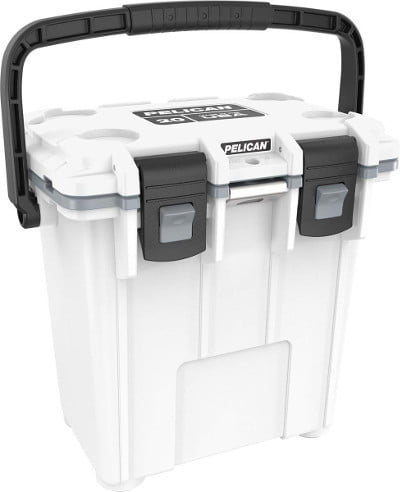 The Pelican 20 is also a very familiar cooler which got the market to fall in love with from the first look. Indeed, this is an unusual cooler with a Pelican brand tag and a very portable profile. So, what is it exactly and who is it for?
Well, the thing about the pelican ice chest for sale at hand is that it doesn't have to be for a specific genre exactly as it can fit pretty much anywhere and quite literally too. Indeed, this thing is visibly small and with a 5 gallons capacity, you would imagine that it wouldn't cater for much but you would be surprised once you actually put it in the field.
Accordingly, the Pelican 20 deserves its own pelican cooler review because it is a multipurpose ice chest with the ability of handling enough beers for a large group of individuals and keeping them fresh for up to 3 days. As you would expect, a smaller size indicates a shorter ice retention period. However, the Pelican at hand is considered a pioneer in its category as it stands by its promise and delivers at the 3rd day mark.
Hence, with a 2 inch polyethylene insulation and a premium quality gasket, you can't go wrong with this Pelican but that isn't the entire story. Indeed, the pelican at hand exhibits a very compelling set of features that would seem impossible to put on such small ice chest.
For starters, the Pelican 20 features a practical handle that will enable you to carry the cooler individually and comfortably. Also, the Pelican ice chest for sale at hand comes with non-skid rubber feet that will keep it steady and protected in a moving environment such as a boat or vehicle.
Moreover, this Pelican is made in the USA, so it must have self draining cup holders, a measuring board on lid in centimetres and inches and premium quality latches to keep your lid perfectly sealed.

5- Pelican ProGear Elite Wheeled Cooler Review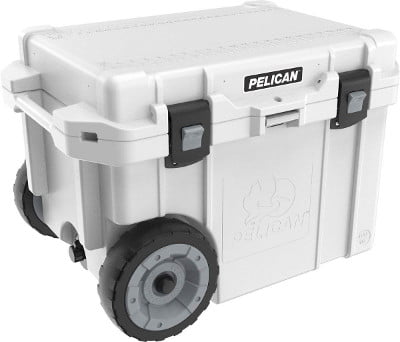 The Progear line by Pelican is a promising investment as it takes a step in a much recommended direction towards practicality and comfort. Indeed, if you ask any professional angler, hunter or regular user, you would find that their biggest complaint about owning a cooler is weight and lack of transportability. Well, if you share the same concern then prepare to be satisfied.
Indeed, the Elite Wheeled cooler by Pelican is a marvelous creation which embodies the profile of a regular Pelican which means that it lives by the 10 days ice retention life, the military grade insulation and extra thick protective shell. Nonetheless, the Pelican at hand is still rather different because it comes with WHEELS.
Yes, you can now get a Pelican cooler on wheels which is splendid news for anywhere familiar with the brand and the quality of its products. Hence, the Pelican ProGear Elite is a perfect little capsule with a perfectly sealed head gasket and wheels that are robust enough to go through paved and pebbled platforms with equal ease.
Beyond being much easier to move around and adjust individually, the pelican cooler at hand still harbors a set of impressive features that can make you forget about the wheels. Indeed, this cooler comes with a telescopic handle that will make moving thi giant box an easy process that requires no effort.
Also, the Pelican ProGear features molded in handles for traditional lifting in the presence of obstacles. In terms of protection, the cooler offers a lock hole right on the nose of the cooler to enable you to safely secure your catch. Eventually, this cooler has an extra feature which every angler / hunter needs and that is a lid measuring board in both centimeters and inches.
All in all, the Pelican ProGear Elite cooler with wheels is definitely a step forwards for the brand because even if not everyone agrees with the design, it still offers a variety of choice for those who will love it and that is exactly what makes Pelican a reliable brand.

6- Pelican Elite Soft Cooler Review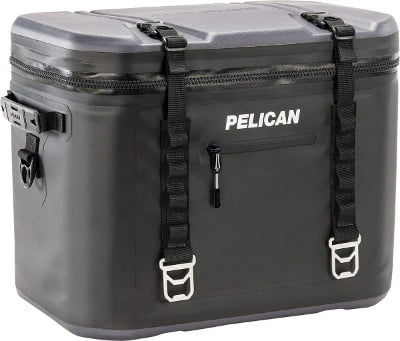 If you're wondering what is lacking in the Pelican cooler collection then you would surely land on soft sided coolers and you would be wrong because Pelican already has those. In fact, Pelican has pioneered the movement of soft coolers alongside the rest of the bigger brands and actually excelled at that far more.
Hence comes the Pelican Elite soft cooler, a cooler with the genes of a leader but the physical appearance of a medical back pack. Beyond looks however, this is still a pelican cooler and that means that it is 100 percent leakproof and perfectly insulated. Speaking of which, the Pelican cooler at hand is actually rather impressive as it promises an ice retention period of up to 48 hours with proper packing. This tiny cooler is capable of achieving that goal through a high density closed cell foam insulation that sets Pelican apart from the rest.
Beyond being an ice hold down, the Elite soft cooler at hand is very versatile which means that it will be much easier to carry around and store for daily users. Indeed, this is a great cooler for commuters and truckers who are often on the road with nothing fresh to eat / drink. Further, this little cooler can also be used in different scenarios and for different purposes depending on how creative you are.
In terms of features, you would be surprised to know that this Pelican actually comes with a durable double coated fabric and stainless steel tie-down / bottle openers. Moreover, the cooler easy use carry handles on the sides, a small pocket on the front for smaller bites and an FDA food approved material liner.
Eventually, if you're wondering how a cooler like this got its own pelican cooler review ten you're still in the wrong mentality because in truth, this was one of our favorite coolers to review because of its compatible size and large audience.

Why Choose a Pelican Cooler?
Wide variety of choices and sizes
Pelican offers a wide range of coolers of different types and sizes. You'll be able to find a small Pelican coolers at 20 quarts, all the way up to a large capacity of 250 quarts. Regardless of the size you decided to opt for, you can always count on one thing – quality. Pelican makes top-notch coolers that are meant to last.
Ice retention
Ice retention is a quintessential measurement unit, which separates dependable coolers from boxes filled with water and that, is the one area which Pelican truly takes pride in.
Without hesitation, the ice retention on Pelican coolers is impeccable but that doesn't come easily. In order to achieve retention periods that are sufficient for each size and consequently each purpose, the brand had to invest most of its focus into insulation and the results are splendid.
On paper, Pelican coolers promise a spectacular ice retention period of up to 10 days which can go up or down depending on the size of cooler because the bigger the size, the longer the ice life.
Unsurprisingly however, our real life tests have only missed the mark by a day or two regularly as we put the 150QT model in standard use conditions and repulsively hot African weather and that is exceptionally good. Accordingly, the magic behind or rather inside the walls of Pelican coolers is a thick pressure injected insulation foam that keeps the inside isolated from external elements at all times.
Undoubtedly, Pelican coolers exhibit splendid insulation and reliable sealing but ice life still depends on how often and how long you pop that lid up. Opening up your cooler regularly will significantly affect your ice life as hot air makes its way inside with every chance it gets. Hence, in order to fight back, make sure to completely ice fill your chest, keep the lid down at all times and never forget to put the latches back on.
Build quality and durability
When ice retention is on point, the focus naturally shifts from performance to durability and that is one area that a lot of brands tend to neglect.
Indeed, durability is an essential feature of ice coolers and especially for hunter who require a strong safe to keep their catch fresh and protected from natural predators. In fact, even anglers can appreciate a good rigid cooler which can assist as a casting platform / seat.
In fact, anyone would appreciate a cooler that doesn't crack, leak and break apart easily which is why Pelican decided to take the drastic move of going for extra thick polyethylene walls. These walls might add a margin to the weight of the cooler but they also make it military grade.
Further, the brand also exploits stainless steel to create the hardware shell for its coolers that will make the inside as resistant as the crust and keep the structure of the cooler intact even when attacked by wild bears. Indeed, the design of Pelican coolers is rather standard which grants it the initial strength to host these support ribs, making it the toughest brand on the market.
To seal the deal, Pelican literally focused on sealing the cooler to utmost certainty via oversized press and pull latches. Unlike alligator latches, the Pelican ones are even easier to lock / release with one hand while providing excellent isolation. Hence, as little as this feature seems, it is actually essential to prolonging ice life and that is why it gets extra attention.
Hinges are probably the last thing that would come to your mind when buying an ice cooler because they seem to be so irrelevant except they are not. Indeed, without the robust hinges that Pelican puts on all of its coolers, it would be impossible to attain the 10 days ice life promised because with time, faulty hinges loosen up and that will inevitably render your cooler useless.
Price
Price is undeniably a key factor in our purchases because it often reflects quality or the lack of which and equally defines our satisfaction with a certain product. Let's not sugar coat it then, we all want a product that works well with the lowest cost and that is a sweet spot that Pelican knew exactly how to milk.
Indeed, Pelican coolers might not be so inexpensive generally but when you rank it up and compare it with its competition then it becomes strikingly obvious that you have an easy winner. Hence, Pelican made it its purpose to provide competitive quality coolers that can go head to head with the Yetis and Colemans of the market while keeping in mind that we're not all filthy rich and that is something to truly appreciate about the brand.