Industrial innovation has come a long way since it all started centuries ago, and today, manufactures and companies are focused on making versatile products that can be useful but more importantly practical to use by everyone.
A product that became highly demanded all around the globe is definitely portable coolers and that's for a reason; they're great companions that have a lot to offer to anyone who's all about going out, adventuring and discovering.
Today's review is dedicated to Tourit Soft Coolers which are honestly something to consider if you're a regular outdoors' person.
And even if you're not, the Tourit Soft Coolers are a great way to store some goods fresh and ready for a lunch-break with friends and colleagues or some occasional picnic with your family and loved ones.
However, one thing should be noted is that we don't know much about the people behind Tourit Coolers except for the fact that they make a variety of quality soft coolers that are guaranteed to meet the needs of many of you out there.
This Tourit Soft Cooler review is an attempt to help you find what you need to know about a good soft cooler and we hope you like what you'll find.
Available Sizes & Dimensions
Tourit offers a nice range of sizes for their soft coolers and that's always a plus since people have different orientations. The Tourit soft coolers we tend to talk about today are:
The Tourit Voyager 20 is 15″ x 10″ x 13.2″ on the outside and 12.8″ x 7.9″ x 9.9″ on the inside allowing it to carry up to 20 cans or 15L which is pretty awesome for such a compact cooler.
The Tourit Voyager 30 can hold up to 30 cans just like its name suggests and it's 17 1/2″ x 11 1/2″ x 13 1/5″ on the outside and 15 2/5″ x 9 1/3″ x 9 9/10″ on the inside translating to 21L of storage capacity.

This is the backpack version of the Voyager soft cooler which could be the most practical and convenient option for someone who's always on the go.
This backpack is 17.7″ x 13.8″ x 10″ in size and it can hold up to 30 cans or 21L.
It functions pretty much as the previous modal except for the fact that you'll have you hands free to deal with other things while your goods are safely and comfortably on your back.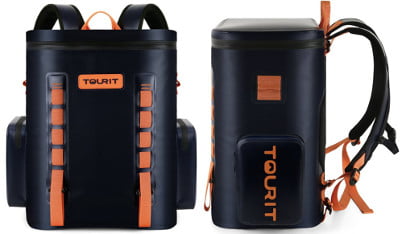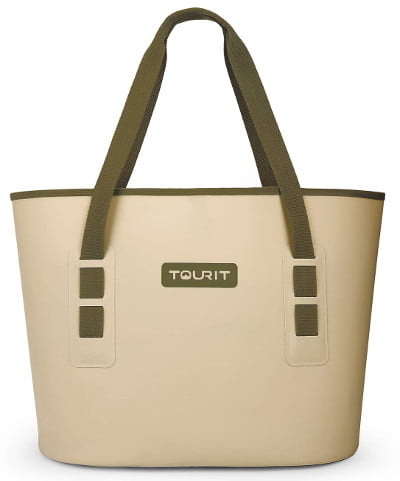 Now a tote bag is already super fashionable, but if you make it into a soft cooler you're guaranteed to have every woman carrying her own tote soft cooler.
This latter is 16" 1/2 x 8" 1/4 x 14" 3/4 on the inside allowing you to store up to 15 cans plus ice.
This Tourit Tote bag soft cooler looks so good you could take it anywhere with you; it's flexible with the just about the perfect size for a tote bag to be easily handled and carried around.
Design & Build Quality
All decent brands are well aware that offering their clients a product that's versatile and practical to use should also be made with care and good quality to ensure both; a product that'll serve its purpose as expected and a happy client.
Tourit used nothing but high quality materials to construct each and every soft cooler of theirs and that's all you need to know during your search for a durable soft cooler.
The Tourit Voyager soft coolers line is made of non-toxic and BPA free material inside and outside. The outside layer is a tough shell that's100% waterproof that guarantees the prevention of any sweat possibility.
Not only that; this layer is super rigid to make sure the cooler doesn't feel too soft which makes it impact resistant.

The same thing goes for the Tourit Tote Bag soft cooler; it's a 100% leak-proof cooler with an interior antimicrobial liner that resists mold and mildew.
That being said, there is one more thing left to mention which all of these soft coolers have in common and that's the fact that they're FDA approved (The U.S. Food and Drug Administration) which means that all of Tourit's soft coolers are the safest thing to be used to store your food.
Now let's take a minute to appreciate Tourit Soft Coolers' design; they're sharp, neat and most importantly they're super fashionable and classy. Honestly; carrying one of Tourit's soft coolers around would make some heads turn thinking that you're carrying some awesome bag only to find out that it's a super cool soft cooler.
The details here are very minute and the features also are of high utility for maximum benefit which will talk about in the upcoming sections.
Ice Retention & Insulation Ability
This is where things get serious; ice retention is what matters most when it comes to any cooler be it a hard or a soft one. Tourit is not here to fool around with their chance after making such neat and durable soft coolers; the ice retention on their soft coolers is quite the deal anyone would want to get involved in.
The Tourit Voyager Soft Coolers (20/30 cans and the backpack) are given an Advanced Cooling Performance featuring high quality insulation with 3 unique layers that work together to keep your food and drinks cool for up to 3 days which is honestly the as far as any soft cooler could go.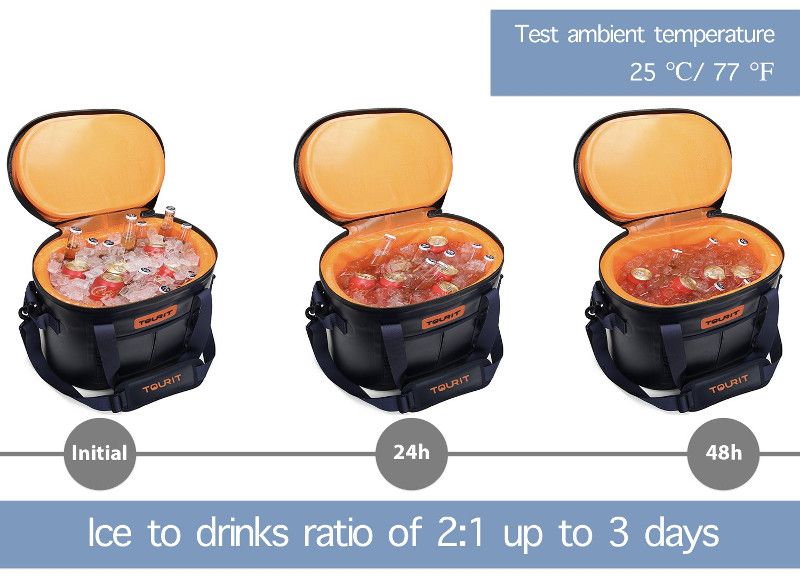 The first layer is the interior leak proof texture that's also antimicrobial to resists mold and mildew as previously mentioned.
The second or middle layer is where the real insulation happen; it consists of dense insulation foam that's specifically designed to maintain the cooler's low temperature while preventing sweat at the same time.
Last but not least, the third layer is the cooler's interior part that makes sure the cooler keeps its good shape while also protecting your goods.
Now the Tourit Tote Bag insulation technique is a little different. This soft cooler consists of two parts; the large tote bag which we can consider it to be the outer layer and then there's a second bag on the inside which works as an interior layer.
You can use both bags separately because they're both leak-proof with good insulation ability, but together they offer longer ice retention and better performance.
Features
We're going to divide this part of our Tourit Soft Cooler review into 3 parts so that we can properly cover the features of each soft cooler that we're reviewing.
The Tourit Voyager 20 & 30 cans
To start with, these two come in 2 colors: Cool Gray and Navy Blue.
Another imperative feature is the leak-proof airtight zipper which works hand in hand with the insulation foam to keep the cooler's lid 100% sealed.
Next, the Voyagers are featured with a removable shoulder strap that comes with a durable pad so as not to bother your shoulder.
There is a top handle and 2 reinforced side handles that'll allow you carry the loaded cooler anyway you find most convenient.
You'll also find a bottle opener on the side and that will save you the trouble of looking for or losing one.
And finally, there is a mesh pocket on the cooler's back where you can put some belongings that need to be kept away from the ice.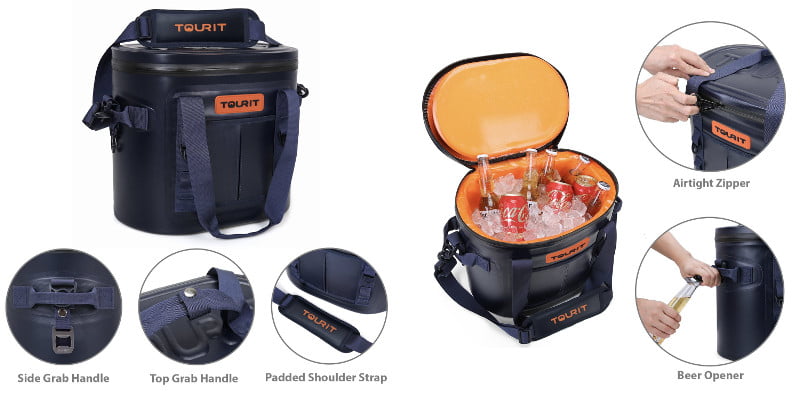 The Tourit Voyager Backpack
A backpack is what it is only if it has shoulder straps and the Voyager got 2 good ones; they're fairly padded so that carrying the fully loaded cooler is an easy task.
This version of the Voyager is featured with an airtight zipper as well; nothing will get in or out of the cooler unless you wanted it to.

Also, this cooler is featured with 2 upright side pockets offering additional storage space.
You'll find adjustable webbing that'll allow you attach all kinds of different items to the cooler.
Last but not least, the Voyager Backpack is featured with a bottle opener and a top handle.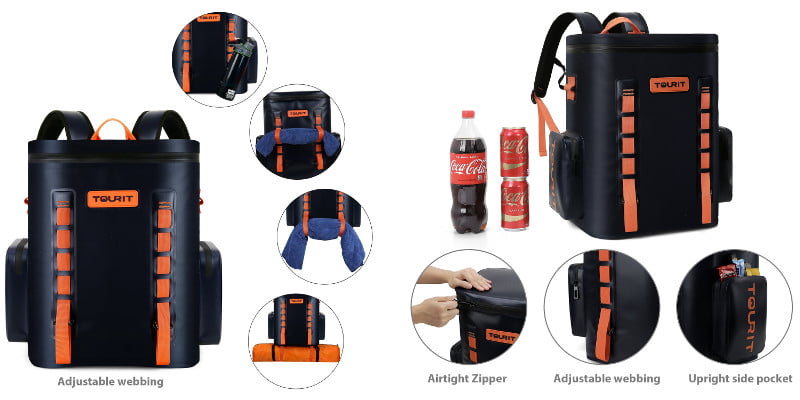 The Tourit Tote Bag
This one comes pretty simple with minimal features and details and that's what makes it sharp and classy.
The Tote Bag is featured with an inner bag that you use separately. This bag comes with a single carry handle and it's featured with an airtight zipper that's super efficient keeping the bag perfectly sealed.
The bigger bag has 2 pockets; one on the inside and the other on the outside. They come really handy for when you need to keep anything personal dry and safe.
To carry this tote bag, there are 2 rigid nylon straps that could also be used as webbing or grids to which you can attach certain items and accessories.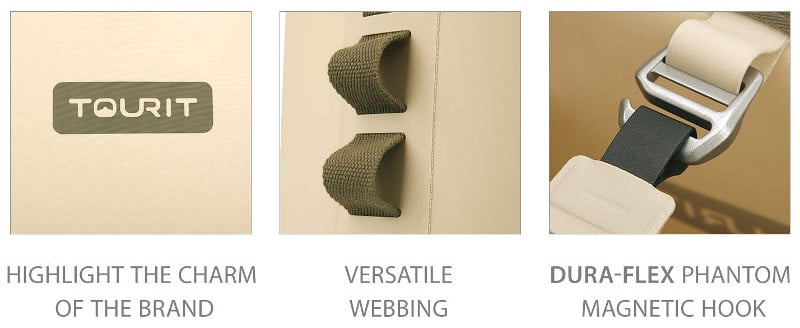 Who is it for?
This is a very broad question and we can only say that Tourit Soft Cooler are 100% capable of covering for everyone during any type of outdoors activity.
The Voyager both the cross-body and backpack versions are a great choice for hiking, short camping trips, road trips and even fishing.
You can fit any of these soft coolers literally anywhere because they're neither too big nor hard to handle.
The backpack version will allow you total freedom and mobility while the shoulder version leans towards offering better and faster accessibility especially during scenarios where you're on the go but in need for a drink or a quick snack.
The Tote Bag on the other hand is an amazing option for beach days and picnics… Some of you might even use it as a lunch bag for long work days; no one would even notice that it's a cooler.
One has to admit that choosing a soft cooler is a personal matter, however; any of Tourit's coolers will deliver exactly what you have in mind for it.
Tourit Soft Cooler Vs. Yeti Soft Hopper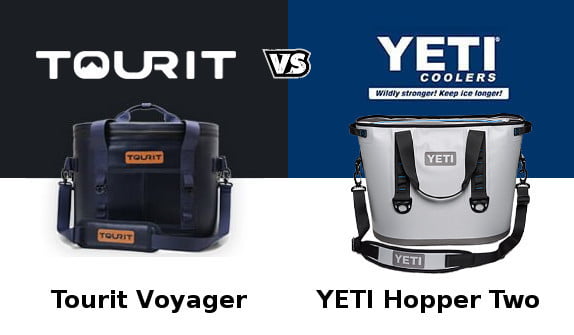 Yeti's soft cooler the Hopper is the nearest thing to Tourit's Tote Bag soft cooler in terms of shape; however, Hopper is a lot more expensive and that's not something that we didn't see coming.
The same thing goes for the Tourit Voyager which we can compare to Yeti's Hopper Flip; the design idea is basically the same except for the fact that the Hopper Flip tend to look sharper.
Also, let's not forget that both brands offer backpack coolers which both look good but again, Yeti is definitely taking the lead with their jagged designs and high end production.
What really makes the difference here though is the ice retention ability and we must admit that Yeti's soft coolers were able to keep a better amount of ice inside compared to Tourit's. Still, Tourit soft coolers got nothing wrong on them; their performance is considered to be really outstanding given their short history and good prices.
Tourit Soft Sided Cooler – Bottom Line
The bottom line is that since you're here reading all about the Tourit Soft Coolers means that you are more likely into getting one instead of a Yeti and taking that though into consideration you're guaranteed not to go wrong if that's what you've set your mind to.
A soft cooler is meant to help you store your drinks, snacks and goods for a little while until it's time to consume all of it and the Tourit Soft Coolers are perfectly capable of that for a reasonable price.