Well, if it isn't the clash of the affordable choice titans! Igloo and Coleman have been the biggest runners for the budget market and that competition pushed the two to create some of the most iconic coolers on the market.
Igloo excelled once it launched its MaxCold lineup. However, the brand had to sacrifice on its profit margins to create high value products that cost significantly less than average.
On the other hand, Coleman only had to harvest the fruits of its reputation, as it has always been one of the most recommended brands out there.
Hence, left between two gigantic icebergs, choosing a side isn't exactly the easiest thing since both brands are highly praised, highly affordable and very interesting. However, the decision should be easier once you get to know the finer details that set Igloo apart from Coleman and vice versa.
So, without further ado, let's get right into it.

Available Sizes/Models
Variety of sizes, shapes and designs often grants a brand much more legitimacy since it is guaranteed to cater for a wider range of buyers. Hence, it was expected to see a rich arsenal on both teams.
Igloo MAXCOLD Cooler Series
Igloo understands the value of multiple choices and their MaxCold line-up is a great example of that. in that regard, we are certain that you can find your match with MaxCold and that includes avid hunters / anglers, hikers, campers, kayakers, BBQ & beach lovers, commuters and job sites.
In fact, let's do a quick run-down of the available options. MaxCold features 6 hard sided coolers, ranging from 40 all the way up to 165Qt. Most of these are traditional coolers but the 40 and 70Qt have wheels, which is never a bad thing. Thus, within such a variety, we are certain you can find the best match for your requirements.

On the soft end, MaxCold doesn't exactly retreat but it definitely takes a step back to contemplate whatever added value its soft coolers can contribute. Hence, the brand goes with a list of 5 options that contains a backpack, a 28Qt roller, a 16 Can bag, a 22 Can cooler bag and a nifty tote.
Therefore, it would be safe to argue that you will not find yourself struggling to find a satisfying choice on this display.
Coleman Xtreme Cooler Series
Coleman has a reputation that transcends the need to even talk about the brand but for the sake of clarity, we are going to quickly go over the variety settings when talking about the Xtreme series.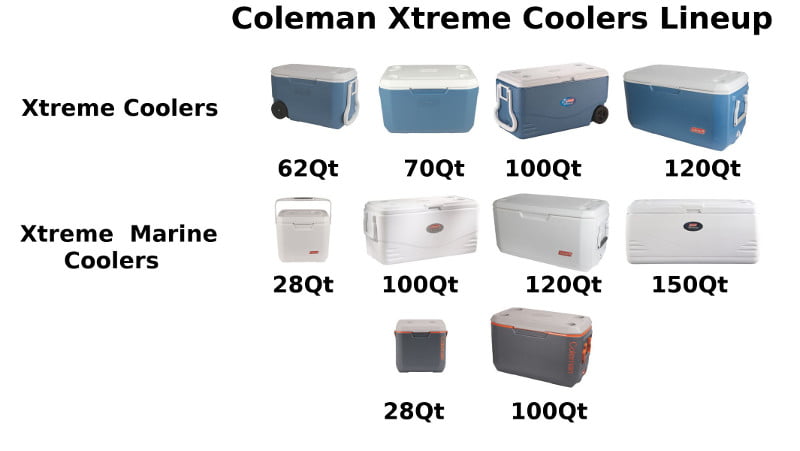 Accordingly, Coleman Xtreme might seem at a bit of a disadvantage here since they decided to ditch the soft-sided option and focus on hard coolers only. Thus, if you're looking for a soft Coleman Xtreme, you'll sadly return empty handed.
Nevertheless, what Xtreme lacks in soft coolers has been made up for in folds on the other end of the spectrum. Speaking of which, Coleman seems to have one of the richest hard-sided cooler selections on the market period and most importantly, it extends far beyond Igloo's reach.
In that regard, Coleman Xtreme features coolers ranging between $50 & $200 on a size spectrum that extends from 28 to 120Qt. Now, MaxCold may have a 165Qt cooler, which is definitely an advantage, but Xtreme exhibits a variety of 15 coolers, including wheeled options, large hunting / angling coolers, small commuter coolers and plenty of skins to choose from.
Build Quality & Ice Retention
Quality is definitely important but when you step into the budget universe, you should be willing to make some sacrifices. That being said, both Igloo and Coleman are popular for being highly dependable brands with decent coolers but which is better?
Igloo MaxCold Coolers
In order to reach a satisfying conclusion, it is required that we dissect each brand individually. Hence, Igloo's MaxCold line-up is peaking at the moment because people seem to be loving the rough plastic coat and simple yet robust features.
Evidently, MaxCold coolers aren't roto-molded which means they aren't going to endure a roof drop or getting dragged behind your car but they can definitely get you through years and years of moderate use.
That being said, it wouldn't be fair to just skim through this review without highlighting the fact that MaxCold coolers are extremely light, cleverly designed and kept within a bound of simplicity that ensures the longevity of every piece on these coolers.
MaxCold has proven to be a phenomenal budget option with its potential to maintain ice for as much as 5 days in peak summer heat. We know that it is hard to believe but we tested it in a variety of environments and the performance was rather consistent. So, how can these coolers achieve similar results to a Yeti?
Since they aren't roto-molded, Igloo's MaxCold coolers are going to get you through an entire week but 5 days is still impeccable for any cooler at this price range. Accordingly, all MaxCold coolers benefit from the protection of reflective exterior walls that reduce the impact of UV rays on the internal temperature.
Also, these coolers come with a decent amount of foam filling to absorb the heat and lock it into the small air bubbles within, reducing its intensity. Then, you've got a lid design that is precise enough to hit the perfect fit with the cooler's lip to prevent air from getting into the ice chest.
Coleman Xtreme Coolers
While Coleman is a different brand, there is almost no significant difference between the build and material quality used on both Xtreme and MaxCold coolers. Truly, Xtreme coolers are also no roto-molded, they feature a tough plastic coat, firm insulation and a simple yet robust build.
In that respect, Xtreme coolers are no match for a Yeti or a Pelican but they are definitely capable of handling occasional fishing / hunting trips where movement is necessary and a lifetime of consistent rigidity if used indoors in a sheltered environment.
Nonetheless, Coleman's Xtreme coolers are slightly less durable than Igloo's MaxCold selection because the first thing you'll notice once you get your hands on both coolers is how much tougher a MaxCold is & that makes it significantly more suitable for outdoor activities.
In terms of performance, Coleman has been rather consistent and that is especially the case for their Xtreme collection. Truly, Xtreme coolers have been one of the bestselling budget coolers in the market for the sake of the 4 to 5 days ice retention life they provide.
Accordingly, depending on the temperature, Xtreme coolers will definitely match the performance of a MaxCold with a slight advantage for the latter. Nonetheless, both brands seem to have almost the same type of insulation since they both roam in the same price range.
In that respect, Coleman's Xtreme coolers feature a slightly weaker exterior wall that doesn't really do much but their Ultratherm technology gets them to the 5 days mark. This technology relies on a thick insulation foam that harbors millions of tiny air bubbles, which will disperse the heat and choke it down to minimize its effect on the internal temperature.
Also, similar to Igloo, the Xtreme line-up doesn't feature a dedicated lid gasket but retains the tight fit which does a decent job insulating the lid. Ps: both series aren't leakproof.
Coleman Xtreme Vs Igloo Maxcold – Which One Should You Buy?
As much as we'd love to just point at one of these two, the race was evidently pretty close. Thus, it would be unfair to favor one over the other as it might influence your opinion.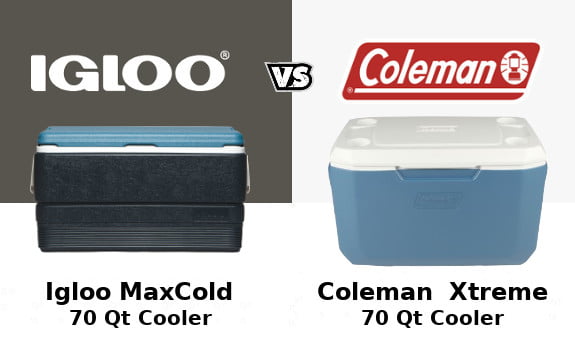 Hence, in order to help you make the right call based on your personal conclusion, we'll do a quick run down of the important check-points on both series.
Accordingly, Igloo's MaxCold series established a firm grip over the variety aspect with plenty of options in both the soft and hard-sided markets. On the other hand, Coleman was satisfied with providing around 15 different options in the hard-sided spectrum and no soft-sided coolers.
Thus, if there is an advantage here, it truly depends on whether you're looking for a hard or a soft sided cooler. Also, let us not forget that despite the wider variety of hard-sided coolers provided by Coleman, Igloo features a 165Qt cooler while Coleman sticks to the 120Qt as their biggest option.
In terms of quality, both brands seem to be in the same boat. However, there is a slight advantage for Igloo when it comes to the external shell and that is hard to ignore. Nevertheless, Coleman quickly makes up for that with their relatively thicker insulation foam and equates MaxCold's famous 5 days ice retention on average.
Now, although Coleman caught up with MaxCold in terms of performance, the latter is still tougher, making MaxCold coolers more resilient and suitable for outdoors use.
In conclusion, we hope that our detailed comparison of these two very similar brands helped you make up your mind on which to seriously consider.
Finally, it is important to keep in mind that no matter which brand you end up with, you are definitely not going to regret the outcome because they both offer great results for a highly affordable price.
Amazon Recommends: