Igloo is a name that's been around for over half a century. Their first cooler saw the light back in 1947 and there was nothing but progress, innovation and more creation ever sense.
Igloo today offers one of the largest platforms for everyone and anyone to find the perfect cooler for their needs and vision.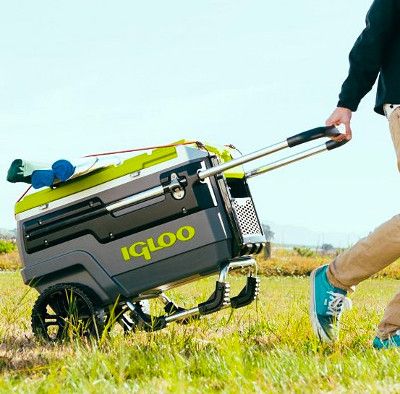 The Trailmate all-terrain cooler has been around since 2016 and in so many ways it has broken plenty of records being one of the coolest and most practical coolers. Today, we're glad to be issuing our Igloo Trailmate All-Terrain Wheeled Cooler review because simply we've waited enough to do so.
This is a cooler that's specifically designed to beat all the odds that might make owning a cooler a little demanding; the Trailmate is made to conquer all grounds and surfaces the coolest and easiest way possible so that it can accompany you anywhere you go.
Not only that, the set of features given to this cooler is something we guarantee that you won't find anywhere else.
So, without further ado, let's get to it in hopes that you'd find it to be what you're looking for.
Size and Dimensions
The Igloo Trailmate all-terrain cooler offers a solid 70 qt for interior capacity which in cooler numbers means that you're getting a big cooler that can handle large gatherings. The 70 qt can be translated to 112 12-Oz cans that can serve a whole party which is the main reason behind building our guy the Trailmate.

It's necessary to present you with the exterior dimensions of this latter so that you'd have an idea about what you'll be putting in the back of your vehicle.
That said, the Trailmate is 34.59″ x 19.7″ x 23.61″ (LxWxH) and that's not small at all. Actually, you'll usually end up needing a second hand to help you put the cooler in your car's or van's trunk when it's fully loaded. One you get that covered, you'll only have to drag it around since it's wheeled.
Speaking weight, the Trailmate is around 35 lbs when empty which is great for a fully equipped and operational cooler and this right here shall lead us to talk about the material and build quality of this outstanding wheeled cooler.
Design & Build Quality
Let's start with the one thing that you may have already heard and read about many times before considering a portable cooler in the first place; roto-molded construction.
Well, the Trailmate is not a roto-molded cooler and we'll explain why briefly. However, that didn't stop it from being as cool and exceptional as it is, on the contrary; it allowed it to have so much more details and features than any roto-molded cooler could possibly have.

The Trailmate's body is built using super tough plastic that's not easy to damage; it's thick and durable to resist both natural circumstances and rigorous use as it adds greatly to the cooler's insulation ability which we'll talk about in details later on.
And to make this cooler even tougher, Igloo added marine grade aluminum construction and stainless steel to its overall built for maximum durability and functionality.
These two materials won't rust, break or fail apart; they're meant to hold the coolers' parts together regardless of the surrounding environment for a cooler with a longer life span than expected.
Now all of this together wouldn't have been possible if the cooler was roto-molded because rotational molding can't afford this amount of details and features.
Also, one of the Trailmate versions (Marine) comes with UV inhibitors to prevent any possible exterior damage due to intensive exposure to sun; if anything at all, Igloo has done a great job making this revolutionary cooler that's guaranteed to change how you look at coolers and how to use them.
Ice Retention & Insulation Ability
This is the part where we usually pay more attention to what a cooler has to offer and that makes sense because this is every cooler's primary purpose. Igloo promises a solid 4 days of ice retention for The Trailmate cooler which is pretty decent for its size and the fact that it's not roto-molded.
Remember the tough plastic we already talked about? Well, The Trailmate is designed with Ultratherm insulation to keep the cooler's low interior temperature using thick layers of insulation within those stiff plastic walls which explains the cooler's weight.
Not only that, the Cool Riser Technology is stronger here than in any other cooler; the Igloo Trailmate all-terrain cooler is at least 10 inches high from the ground which contributes to its cooling performance not letting the cooler's bottom make contact with the surface especially when it's sunny and hot outside.
That being said, all you'd have to do is fill the Trailmate Cooler with ice, drinks and food and you're ready to enjoy 4 days of outdoor fun if not more depending on the weather and other factors.
Features
Personally speaking; I got a little overwhelmed with this section of the Igloo Trailmate Cooler review because I honestly didn't know what feature to start with given their number and how cool they are. However, I decided to kick it off with why most of you are here:

The Trailmate is featured with a pair of wheels that'll never go flat because they're made of rugged plastic. The thing about these wheels is that they'll allow you to haul the cooler on any surface without any resistance and without getting stuck given the 10 inches clearance they offer. One more thing; if you go for the Trailmate Marine you'll be getting non-marking wheels which might be something you're interested in.
When you stop moving for a break or a picture, the Trailmate will be in its safest and most stable parking mode thanks to the aluminum stands. The parts that would make contact with the ground are wrapped with rubber for an anti-skid effect in case the surface was wet or too smooth. Everything is very well thought so far.
The Trailmate is all about mobility which is so obvious we needn't keep repeating it; actually, features like the wheels and this telescopic handle say it all. This latter can be adjusted to suit your preference when it comes to dragging the cooler behind you and this exact feature is what's going to make the cooler feel a lot more lighter.
Next, this cooler comes with a butler tray that can be easily put on the previously mentioned handle and voila; you got yourself extra floating space where you can put couple sandwiches together and secure couple drinks using the molded cup holders on the tray.
Speaking of cup holders; the Trailmate's lid is featured with 4 extra molded cut holders so that everyone's drink is secured and easily accessible.
Moreover, there is an exterior storage pocket on each Trailmate Cooler where you can store your personal belongings or any additional tools that'd come handy on the journey.
Another thoughtful feature is the mobile device stand on the lid; once you stop for a break or a snack you can put you phone or tablet right in front of you and play music or something to watch with maximum convenience.
Now listen to this; the Trailmate Liddup is featured with led lights for party mode. You heard right; Igloo went beyond what's regular to coolers' industry with this guy and now you won't need a flashlight to find your beer when it's night time because you got  a 360° lighted interior.
In addition to all that's been mentioned, the Trailmate all-terrain cooler is featured with a water-resistant, lockable box with an anti-leak gasket where you can secure you valuable belongings.
Moreover, you'll find a food basket inside of the cooler where you can put goods that need to remain cold yet dry.
Last but not least, all of the 3 Trailmate versions come featured with bottle openers, tie-down loops and removable accessory holders to transport and add additional support for beach umbrellas or fishing rods.
I'm aware that this part had gone for longer than you might have anticipated but can you really blame us? The Trailmate is a total monster when it comes to features and we needed to do it justice because this is not something you see everyday.
Who is it for?
This is a frequently asked question which makes a lot of sense for anyone who's getting a cooler no matter its size, quality or features.
The Trailmate, in its 3 versions; the Journey, the Marine and the Liddup, is one hell of a versatile cooler that can perform as good in all different outdoor environment and situations. The built quality, though it's not Bear Proof like Yeti Tundra Haul Wheeled Cooler…, is quite robust which suggests that it's capable of taking some beating.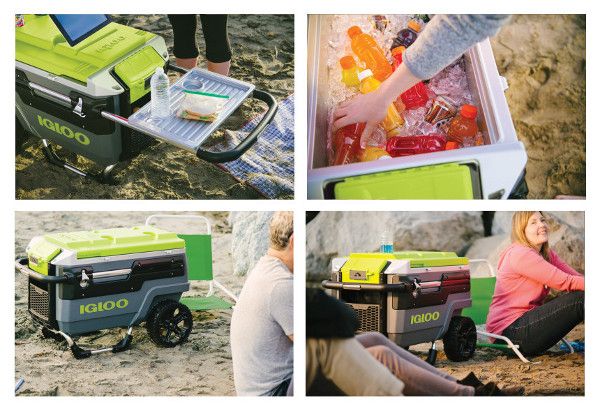 Now in terms of capacity, the Trailmate is definitely meant for large gathering that are specifically organized for everyone to have fun. It could be a pool or backyard party or it could be a day on the beach sun bathing with friends.
Not only that, fishing is also a very valid option that you'd like to experience with the Trailmate given the featured accessories that'll make that possible.
Camping is an obvious reason why anyone would get the Trailmate; the extreme mobility of this cooler will allow you to haul it anywhere you go as long as there's a path that can support those wheels.
All in all, it remains a purely personal choice how you're willing to use the Trailmate and where.
Igloo Trailmate Vs. Yeti TUNDRA Haul : Which Is Better?
Yeti became the bar setter in coolers industry after coming up with their first roto-molded cooler and even though Igloo is one of the oldest names in the field there are still some main differences between the two brands.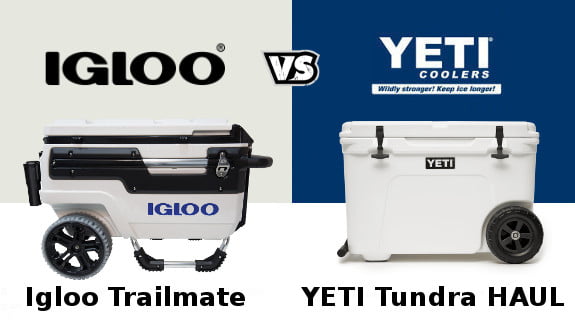 First things first, The Yeti's Haul is of course wheeled but it comes with a 55 qt capacity only unlike the Trailmate that's 70 qt. Also, this latter comes with huge wheels that offer 10 inches of clearance off the ground while the Yeti Haul is not as high and bulky.
In terms of build quality, all of Yeti's hard coolers are roto-molded and bear proof including the wheeled ones. The Trailmate all-terrain cooler on the other is neither roto-molded nor bear proof which could be compensated if we take into consideration all the awesome features we already mentioned.
On that note, the Yeti Tundra Haul definitely doesn't have that number of features but it does offer an ice retention performance that could last longer than the Trailmate's.
The last thing we'd like to tackle is the price matter; you could save something around a hundred dollars getting the Trailmate though might that differ according to your seller and where are you buying it from.
Thus, and again, it all comes down to what you're looking for in a cooler, and we hope that this Igloo Trailmate cooler review was of any help to you making up your mind.
Igloo Trailmate Cooler Competitors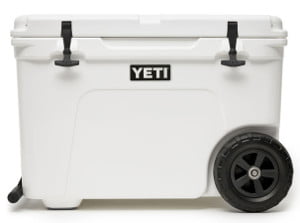 Yeti's wheeled cooler the Tundra Haul is many people's favorite cooler with wheels given what it has to offer; it's roto-molded, bear proof, durable and it is 100% functional.
The whole Tundra line is universally praised by all different users for its high end production quality, variety of sizes and colors and ice retention ability.
The Tundra Haul can hold up to 55 qt and it's equipped with all basic fundamental features that a cool cooler needs and that's:
The fairly large NeverFlat wheels.
The durable welded aluminum arm with comfortable grips.
Yeti's iconic led latches.
Molded handles for when you need to carry the cooler instead of dragging it.
And the gasket that works hand in hand with the thick insulation walls to keep everything chill and fresh inside.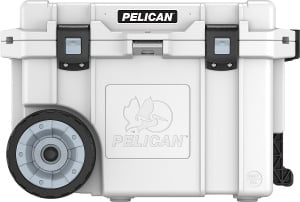 Pelican is a name that weighs a lot in the coolers industry; it's a name that's directly linked to pride and strength. All of Pelican's coolers are proven to be extremely durable with some of the best rates ever recorded of ice retention.
The Pelican ProGear Elite Wheeled cooler is the cooler we found worth mention in this review; it comes in 2 colors; white and tan and it can hold up to 45 qt with an ice retention ability that can last for over a week.
The larger versions of this cooler are 55 qt and 80 qt and that's not only more storage space but also more money.
This cooler is featured with :
Durable heavy-duty wheels
"press & pull" latches.
Molded carry handles and lock hasps.
And of course a handle from which you'll haul the cooler in addition to other features that are mostly known to all quality coolers.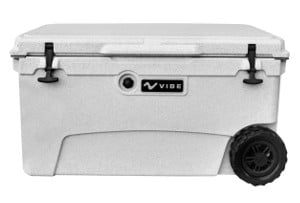 Another brand that offers quality coolers with standards that are as high as we'd like them to be is the Vibe. Their wheeled cooler is pretty basic without a lot details to it which personally speaking reminded us of Yeti's cooler. However, Vibe's wheeled cooler is quite something with its roto-molded design, color variety and the fact that it can hold up to 70 qt.
The Vibe Element is featured with:
2 bottle openers
2 T-rex latches
A locking system and heavy duty nylon carry handle with a comfortable rubber grip.
Not only that, the Vibe's body is UV resistant and with those heavy duty wheels you can take it anywhere with you without any worries about how far you or the cooler can get because when you can haul your cooler behind you instead of carrying everything becomes 50% easier.
Igloo Trailmate Cooler – Bottom Line
Throughout this Igloo Trailmate Cooler review there has been one thing confirmed; no cooler is found to be similar in any way to the Trailmate.
Now, and to not drag this any longer, if you're looking for a cooler which rates are high on mobility and functionality, the Trailmate is your guy and here's why:
A wheeled cooler is 50% lighter when it's hauled instead of carried.
It's much more practical and time/effort saving to move with a wheeled cooler.
Anyone can drag a wheeled cooler without harming their hands or feet.
And of course, a wheeled cooler is way cooler than a regular one.
Other than that, and if you already own a cooler but just looking for an upgrade by getting a wheeled one to facilitate the way you move and transport your cooler there is always the wheel kit option that'll allow you to transform your regular cooler into a wheeled one.