Yeti is a well-known brand, primarily for manufacturing high-quality drinkware, coolers, cargos, tumblers, and whatnot. Another item in their list of outdoor stuff is an Ice pack.
YETI's ice pack is a reusable brick of ice that lasts at least four years or sometimes even more than that. It is known for its ice retention, which can be as long as 12 to 24 hours.
If you are going on a trip or a picnic and want to refill your coolers with ice, then the YETI Ice pack can be a perfect solution. In the practical world, Yeti ice brick can be an ideal solution for those who want long-lasting service at an extremely affordable price point.
Apart from this, don't worry about freezing the ice pack. It took minimum time to freeze and lasts for as long as a day. Apart from this, there is no need to worry about leakage and sweating, its leak, and sweat-proof.
If you are a little picky and want an Ice pack with size and weight options, then the YETI Ice pack is the perfect choice for you.
I have personally tried to use the 2-pound ice pack by YETI and find out that although ice retention depends on temperature and climatic factors, you can still find superior support at times, and that too without spending much.
PROS
Ice retention for as long as 12 to 24 hours.
Freezes in a bare minimum amount of time.
Durable and designed to last long.
Available in three size options and sizes.
Sweat and leak-proof.
CONS
A little expensive comparatively, but not much to dig a hole in your pocket.
---
The Principle Behind the Working of Yeti Ice Pack
To use the Yeti Ice pack, you first need to freeze it up. After putting it into the cooler, it starts freezing before the water ice in the cooler does. And whether you believe or not, with this principle, ice tends to last longer.
While the ice in the ice pack melts, it needs some energy to break ice molecules apart. It acquires the energy in the form of the heat from its surrounding. As they pull the energy from the surrounding, the ice water in the cooler makes them colder, thus making them freeze for a longer time.
Although, if you expect the YETI ice pack to last longer than that of regular ice in the cooler, you would be a little disappointed, as it works in conjunction with the ice in the cooler thus, it can make the ice cooler by melting itself.
But, if you want an Ice pack for your lunch box or cooler daily, then this Ice pack is going to suit you well.
Things to Consider Before Buying the Best Ice Pack
If you need an enhanced period of ice retention, then Ice packs are the best options available. I always prefer to bring the ice pack with me when I am going on a trip or a vacation to extend ice retention.
If you want to practically use it and are looking for one of the best Ice packs, then there are a few factors that you can consider before actually buying one:
The Weight and Size of The Ice Pack
Ice packs are available in various weights and sizes, varying from 1 lb, 2 lbs to 4 lbs. The size itself depends on the dimensions of your cooler.
If you choose a heavy, bulky ice pack, you won't carry all your food and beverages in the cooler. If you select a smaller ice pack, then it will not retain ice for a longer time. Thus, choosing the right dimensions and weight of the ice pack is crucial.
What if you get an ice pack and bursts or gets damaged before even completing a few days? It will be a waste of money in such a case. Thus, it is better if you rely on an ice pack that is durable enough to last for a few years if you use it daily in your lunch box or coolers.
The most prominent feature associated with any product is safety measures. Try to avoid petroleum-based ice packs, as they are harmful to human health.
Nowadays, the ice pack manufacturing companies are shifting towards PCM (abbreviated as phase change material), which is not just safer for humans but is biodegradable.
Price is the primary factor that determines the quality of the product you are using. Using a cheaper product will affect its quality. And getting an expensive product will guarantee long service.
Although I am not advising you to buy a costly ice pack, but prefer to consider the price, feature, and quality of the product altogether before deciding anything based on the price itself.
Features and Benefits: Yeti Ice Pack
There is no single reason for calling the Yeti ice pack one of the best ice packs, but the list is long. If you haven't used the Yeti ice pack yet, then this detailed review is going to build your interest in this fantastic ice brick.
The most impressive feature, which proves Yeti as one of the best ice packs, is the variable weight and size options it provides. You can find it available in three different sizes, which include 1 pound, 2 lbs, and 4-lbs ice pack.
I ordered the 1-pound ice pack a year back and found it perfect for small coolers and lunchboxes. Even though one pound is the smallest size option among Yeti ice packs, still, it is capable of cooling half a dozen beverages.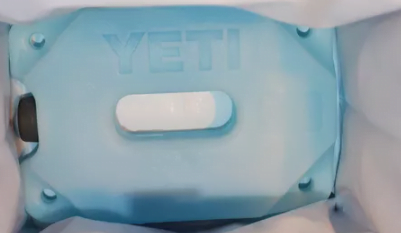 When you are using an ice brick, ice retention is what you are expecting from the brick. Yeti ice packs will perform better than what you might have expected from them in terms of ice retention.
If you use the appropriate size and number of bricks depending on the cooler's size, it will provide you ice retention as long as 12 to 24 hours.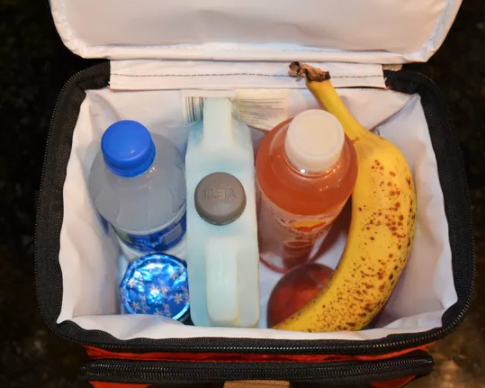 Don't worry about buying ice or freezing before you are going out if you have Yeti ice brick in your freezer. Just grab an ice brick, and you are good to go.
Being reusable, you can freeze it for some time in the freezer, and you can reuse the similar pack again the next day.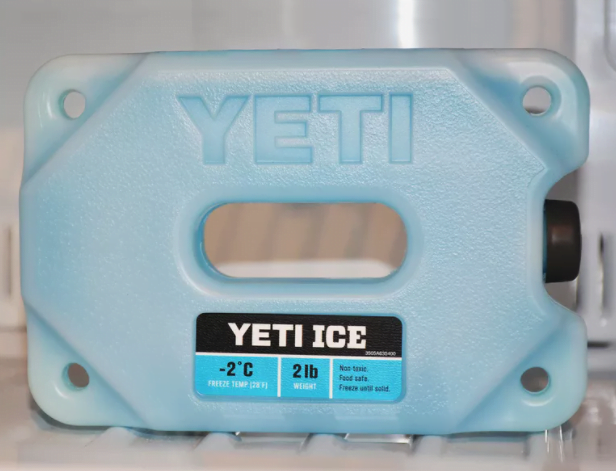 As Yeti ice packs have a unique design and build, it guarantees a long-lasting service. Made up of plastic, you can throw it, drop it, or even squash it.
Being rash and damage-proof, nothing will affect the overall performance and build of the ice brick. Also, it is highly durable, so no need to worry about the spilling of its gel because of shocks or dents.
Apart from this, the thing about these ice packs, which attracts me the most, is that it took little time to freeze because of the custom shape it had. On the one hand, every other ice brick needs to be frozen for at least 24 to 48 hours. It requires less than six hours to freeze Yeti ice brick completely.
Thus, even if you are in a hurry to go somewhere, you won't need to worry about the ice brick for a day or two before going anywhere. If you have time, you can leave the ice pack in the freezer for more than nine hours, and then it will gain its full effectiveness.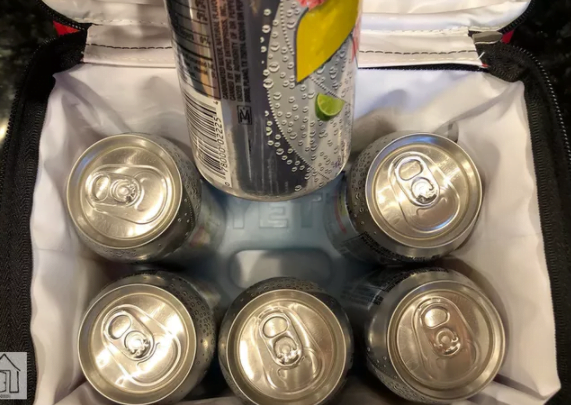 When compared with bare ice, ice bricks have the upper hand when it comes to sweating. If you use ice for cooling, you will end up with a lake of water inside your cooler as soon as it starts melting.
But if you are using an ice pack, you will not face a similar situation. Because of condensation, you might notice a few drops of water left in your cooler while using the ice brick. But the amount of water you notice will appear to be negligible when compared with the bare ice.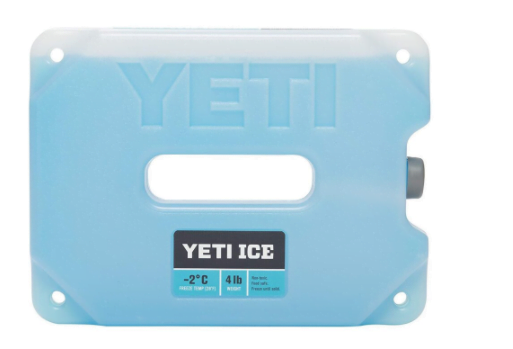 Although Yeti ice bricks are known as slightly expensive in the market, if you want durability and high-class performance, then spending a few more bucks is not going to dig a hole in your pocket.
Depending on the Yeti ice brick's weight and size, it will cost you around $15 to $30. But spending this much money on long-term investment is pretty worth.
The last feature that Yeti incorporated in its ice packs is their unique design. With a hole at the mid of the pack, it becomes handier to hold the ice brick single-handedly. Apart from this, the hole helps in the better performance of the ice brick as well.
---
Are Yeti Ice Packs Better?
If durability is what you want in your ice pack, then no doubt, Yeti Ice pack is known as one of the most durable ice packs. Whether you drop it, or bump it somewhere, or even squash it, it will regain its shape without spilling the gel stored inside it out.
For me, specifically, peace of mind and durability is what matters the most. The five-year warranty that Yeti provides on its ice pack is proof that it will last way longer than that.
Although if you are expecting it to work as good as regular ice does, it will not fulfill your expectation because of its low melting point. It is designed to keep the ice or water frozen and not to hold longer itself. It works in conjunction with the regular ice.
Thus individually, they will simply work as a frozen bottle or old ice, but if you are looking for a reusable resource that can keep your food cold without sweating itself, then a Yeti ice pack is an ideal solution. Apart from this, because of its perfect size, it fits in almost all the Yeti coolers, making it suitable for you to use it.
All-in-all, we can't commit that the Yeti ice pack is the best overall, yet it still outperforms other cheaper options.
---
Alternatives to Yeti Ice Packs
If you don't find the features you are looking for in Yeti ice packs, then the market is flooded with other alternatives that will suit you better in terms of its price or performance.
Engel Coolers 20F Degree Hard Shell Freezer Pack, 2 Lb, White, Medium
If you are looking for an ice brick that is way better in terms of performance than Yeti Ice brick, the Engel ice 20 is the one.
It has a unique design designed to melt at 20 degrees Fahrenheit, while YETI ice packs have a melting point of 28.4 degrees Fahrenheit. Thus, they don't differ much when it comes to the melting point.
But in terms of performance, Engel is slightly better than Yeti.
Conclusion
If you are a party beast and an adventure enthusiast at the same time, then an ice pack can be a necessary item in your bag to keep your drinks cool for longer. With the impressive performance of Yeti ice brick, it is worth purchasing it even if you are on a tight budget.
Another impressive feature of Yeti's products is that they always expect your expectations in one way or another, whether it is a cooler or a tumbler and even the ice pack.
Not just Yeti ice pack a great deal but lasts way longer than you might be expecting. Thus, I hope you will be able to get enough detail about this fantastic and useful ice brick with the help of this detailed review. To know more about the product, click here.
Amazon Recommends:
Bestseller No. 1
YETI Thin ICE Refreezable Reusable Cooler Ice Pack, Large
YETI ICE is legendary for making your regular ice last for hours, and YETI THIN ICE is no different
It's a groundbreaking innovation designed to be nearly 50% slimmer than its predecessor and engineered to completely replace the need for regular ice inside your Hopper Soft Coolers and Daytrip Lunch Bag and Box
Bestseller No. 2
Bestseller No. 3