Undeniably, little Homitt is far from establishing a firm grasp over the market of coolers and from first glance, it looks just like any other struggling manufacturer out there. Therefore, once we received an urgent email from one of our testers glorifying this brand, we had so many questions.
One of the most interesting sentences in that email was: "Homitt is a shy blossom of a brand with so much potential ahead." So, we figured that there is only one way to test out the authenticity of these claims – you guessed it. We are putting Homitt under the scope!
Homitt Coolers Compared
Coolers
Capacity
(Cans)

Dimensions
(L.W.H)
Weight
(Lbs)



Homitt 10

10
13.75" x 8" x 10"
3.15



Homitt 20

20
• External
16.5" x 7.6" x 12.6"
• Internal
14" x 5.5" x 9.8"
4.25



Homitt 20

30
• External
18.1" x 10.2" x 13.5"
• Internal
16.1" x 8.6" x 9.8"
5.15
Available Sizes & Dimensions
Upon visiting the brand's website, we were surprised to learn that this brand is actually yet to introduce hard-sided coolers to their production line. However, that was slightly mitigated by the strong presence of their rich soft-sided collection.
Accordingly, since it is 100% dedicated to soft-sided coolers, Homitt managed to produce a powerful trio that leaves nothing to be desired.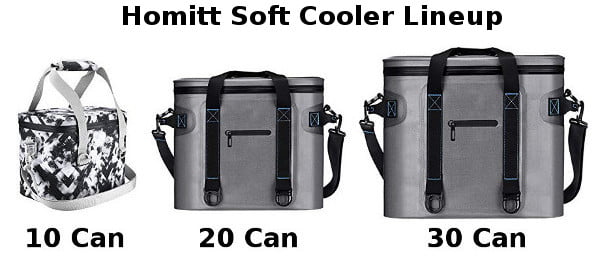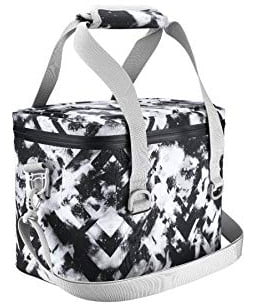 On the smaller end, Homitt proposes its tiniest 10 can coolers bag, which is a compact ice-pocket with advanced insulation and an impeccable look.
Accordingly, the cooler at hand measures 14.9 x 10.8 x 9.4 inches yet it is capable of handling up to 10 cans of your favorite beverage. However, it would be safer to sacrifice a couple cans for their equivalent in ice to prolong the freezing state.
That being said, this tiny cooler is a great match for daily commuters, jobsite workers and the occasional romantic picnic.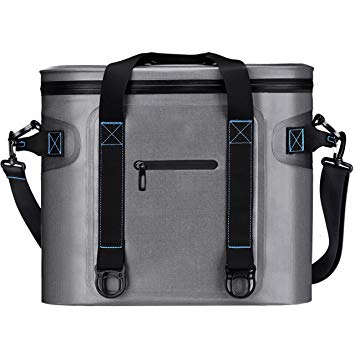 If you're looking for a higher capacity cooler then you might find a better match in the 20 Can Homitt. In fact, this cooler isn't only double the size of the previous one but it's also significantly sharper.
Accordingly, the 20 Can Homitt is definitely not cheap but it's leakproof, has multiple pockets and can cater for up to 3 people on a long road trip.
That said, you can really count on this cooler for some serious cargo, a beach day with friends / family or a wholesome picnic.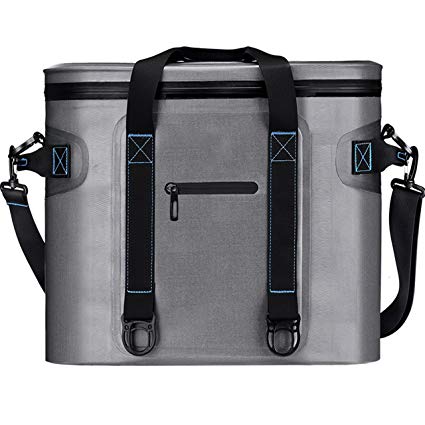 Maybe you're not much of a picnic person, maybe you're the kind of people who bring the life back to the party.
If that's the case, then the 30 Can Homitt will make an impeccable sidekick for your endeavors as it is capable of storing a significant amount of drinks, sandwiches and snacks.
This heavy duty cooler will prove highly reliable in small parties, gatherings, BBQs and even sport events.
Design & Build Quality
As much as we'd like to praise Homitt's design, we really can't. Now, Homitt has done a formidable job in terms of organization and feature distribution. However, there's something about the final look that just seems a little dull.
When you look at Yeti's soft-sided coolers, there's a certain wave of legitimacy that radiates from the product because it looks and feels resilient to the touch. However, despite looking sharp, Homitt coolers don't look exactly as much as they cost.
Nevertheless, it is once you step into the realm of quality that you begin to understand why the brand sought to sacrifice looks for a far more substantial alternative. Accordingly, Homitt coolers have an impressively resilient outer shell that is carefully crafted from 840D TPU, which is one of the toughest most weather/heat resistant materials on the market.
As for the interior pocket, the brand decided to commit to 420D TPU, which is very common amongst premium brands for its indispensable qualities. Indeed, this material is tough enough to endure years of regular use without getting damaged. However, it is obviously advised to avoid packing sharp objects inside the cooler. Other than that, the substance in question will prove long-lasting, waterproof and highly insulating.
As far as the functional parts are concerned, it would be safe to argue that Homitt coolers are probably going to outlive any soft cooler you'll ever own. Indeed, the smallest features and moving parts on these soft coolers are designed with such careful precision and reinforced via premium base material in order to maintain the integrity of the cooler and prevent any "avoidable" mishaps.
Ice Retention & Insulation Ability
Insulation is the key to success – that is the one thing which can make or break a brand and evidently, it is the one thing that makes Homitt Coolers a feisty competitor.
Indeed, it was rather remarkable to see soft-sided coolers pushing through 3 full days before all ice melts and what makes that even more interesting is the fact that even 'premium brand's couldn't break that record.
Undeniably, we cannot say that we are familiar with soft-sided coolers that perform on this level. Hence, once we tested these coolers ourselves and confirmed our tester's claims, we are impressed.
So, what is the secret recipe?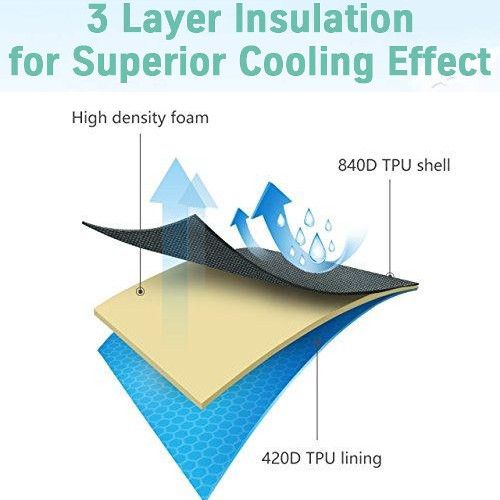 Well, apparently, the biggest influence on these coolers' performance is the fact that they are fully waterproof. Truly, that perfect seal is what allows these coolers to attain such remarkable results. However, there's more to it.
Homitt coolers adopt a technology called closed-cell insulation, which basically creates an advanced cooling effect. What that means is that the coolers in question benefit from 3 layers of insulation: the leakproof insulated 840D TPU exterior, the 420D TPU interior coat and a high density foam injection in-between the two.
Speaking of which, the foam plays a rather critical role in the insulation process as it defuses the heat waves into small air bubbles, reducing their intensity before they reach the inner wall.
Features
Being soft-sided coolers, there is naturally far less to say about features. However, Homitt soft-sided coolers are definitely packing some highlight-worthy tech. So, here's what you can expect from Homitt coolers.
Waterproof zipper

Being the biggest flaw of soft-sided coolers, Homitt decided to upgrade its zippers in order to avoid a whole lot of leaking and poor insulation. Hence, all zippers on Homitt coolers are waterproof for a better performance and a less annoying experience.
Shoulder straps

While it is pretty common to see shoulder straps on soft-sided coolers, padded shoulder straps aren't the norm. Hence, in order to make it easier and less painful for you to transport these coolers on long walks, trips or adventures, the brand equips all their coolers with a high quality, soft shoulder pad.
If shoulder straps aren't your thing then you can always stick with the standard top handles on all Homitt coolers. These handles are shorter but they're high quality padded handles and that is unique to this brand.
Oval shape

One of the few things that sets Homitt coolers apart from the majority of their competition is the fact that they are oval instead of standard square.
Now this feature might look unique but it also costs you significant space that could've been retrieved with standard square corners. On the bright side, an Oval cooler will be far easier to pack & store in tight spaces.
Who is it for?
As discussed earlier in this Homitt cooler review, the brand's soft-sided collection is limited and limiting. However, the 3 available models are still impressively flexible since they can match multiple profiles.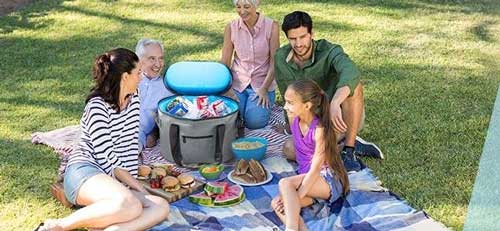 Indeed, these 3 sizes will make a lot of sense in various contexts, ranging from individual jobsite workers all the way up to beach parties and BBQ events.
Homitt Cooler Vs. Yeti Hopper
While both Yeti and Homitt offer a variety of 3 coolers in the soft-sided department, we feel obliged to give this one to the underdog since all Homitt coolers are slightly if not significantly larger than Yetis.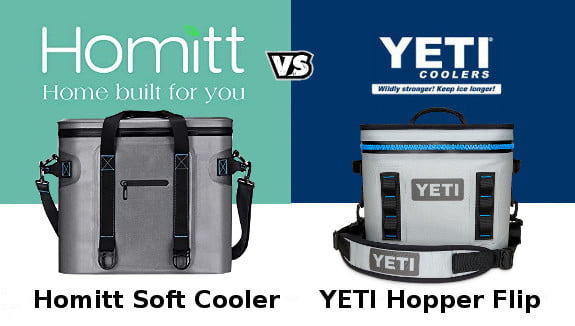 In terms of build quality and build materials, Yeti is definitely a beast with its nylon multi layers, Hydrolok waterproof zippers and overall smooth and precise finish.
Nonetheless, Homitt isn't exactly behind on any of the aforementioned areas. Thus, this one is a little tough to judge because both brands rely on great build materials and technologies.
As far as performance is concerned, both coolers can push as far as 3 whole days of ice retention. Hence, this one can only be determined by a price comparison which clearly places Homitt ahead since their coolers cost significantly less.
Homitt Coolers – Bottom Line
To wrap up our Homitt cooler review, we must admit that we were impressed by a brand that is relatively new to the industry in its ability to truly challenge one of the pioneers.
Indeed, Homitt coolers might not be as good as Yeti soft-sided coolers but once you drop price into that equation, it becomes pretty obvious that Homitt has a lot more to offer for those who need a high performance soft cooler for a reasonable price.