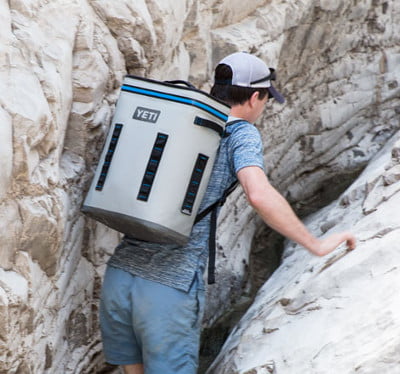 It's 2019 which means that Yeti has been around for over a decade. This is a brand that has gone through so much in a relatively short period of time achieving great things one step at a time starting in 2006.
If you're a coolers' person then we don't think that we need to tell you much about Yeti; the name speaks for itself. However, here it goes for those who are new here.
Yeti is considered to be the most prestigious brand of all time; they make both hard and soft coolers and these are basically the bar setters for almost everyone and every brand. In other words; if you wanted to get a cooler from another brand, you might find yourself comparing it to Yeti's to see how good or bad it is according to "Yeti's standards".
Today's review is dedicated to Yeti's coolest backpack cooler; the Hopper Backflip 24 Soft Cooler which is the reason you're here and buddy let me tell you; you've got a great taste.
Size & Dimensions
We're not intending to drag you longer than we should for this one review. All you need to know about the Hopper Backflip 24 is that it's 13 3/4" × 19 1/8" × 8 1/2" on the outside and 12 5/8" × 6 1/2" × 15" on the inside. Also, this awesome soft cooler weighs 5.3 lbs empty which is really easy to handle.
Having this cooler, you'll be able to pack 20 cans or 25 lbs of ice and that's quite an amount for a backpack cooler. It might look a little big and bulky on your back but it's definitely easy to carry and handle. You can comfortably put next to you in the car while driving in case you needed anything, or even better keep in the backseat for the shade.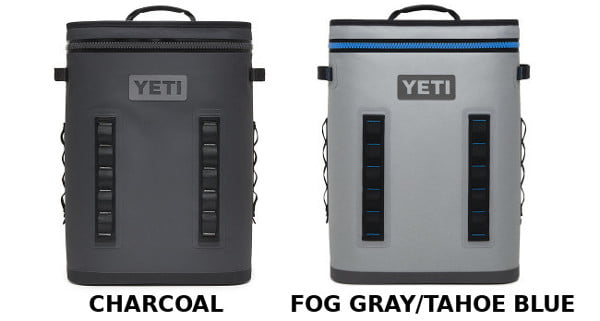 Design & Build Quality
This is Yeti's greatest strength point; everybody knows that Yeti offers the best end production in the market with the sharpest and neatest designs.
The Hopper Backflip 24 is a rugged and robust backpack cooler with a simple timeless design that's known to Yeti though many other brands might try to make their coolers look similar to theirs. Yeti chose the DRYHIDE™ SHELL technology using a "high-density fabric that's waterproof and resistant to mildew, punctures, and UV rays".
Also, this cooler is given a HYDROLOK™ ZIPPER which is considered to be the toughest, highest-performing waterproof and leak-proof cooler zipper in the world"; how cool is that?
Moreover, the liner is made from an FDA-approved food-grade material which is both durable and safe. Other than that, there's a set of features that are part of the design but we'll talk about them in the coming sections.

Ice Retention & Insulation Ability
The whole point behind portable soft coolers is to provide easy access to your goods while not having to worry where/how to store or transport the cooler especially when it's a short trip, a small picnic, or simply a lunch break in a work place.
That being said, we should all agree that it's not expected from a soft cooler to keep the ice action going for over a couple days, and if it did that would be an outstanding soft cooler.
The Hopper Backflip 24 uses COLDCELL™ INSULATION technology and that's closed-cell rubber foam that offers far superior cold-holding to ordinary soft coolers.
We filled this cooler with ice and tested it and we can say that we were pretty pleased with what it offered. The ice was still inside of the cooler after 2 days in sun and on the third day, though the ice was all gone, the water was fridge cold which means that you can put frozen food in the Hopper Backflip 24 and it would remain frozen for a solid 2 days.
Features
The Hopper Backflip 24 is a really nice backpack cooler that's guaranteed to make everyone look at you if not ask you where and how they can get a similar cooler. The looks of the Backflip are mainly sharp and rugged; even the featured and details are so.
The first thing you'll notice about this cooler is the HITCHPOINT™ GRID which will allow you to easily attach pretty much anything, including the MOLLE Zinger & MOLLE Bottle Opener if you find it necessary to order them along with the board.
Next, there is a carry handle on top of the lid and another two on the sides; this way, you can carry the cooler either on your own when it's not fully loaded or use a hand if necessary.
The back of the cooler is super patted to make sure whatever is in inside of the cooler doesn't bother you when moving with the cooler on your back. The same thing goes for the shoulder straps; they're soft, well padded and super rigid which is the least you should expect from a brand like Yeti.
To keep the backpack cooler firmly in place while walking, there are additional strips that go on the chest and waist to keep it as close as possible to your body instead of it pulling you back.
And finally, there are no external pockets on this cooler which is not too bad but it would've definitely been a nice add to boost its purpose and functionality.
Who is it for?
Well this is a simple question. Yeti makes coolers with everyone taken into consideration, hence, the Hopper Backflip 24. This cooler is designed to make every outdoor activity 10 times more practical especially if the activity includes walking and changing locations.
Also, what really matters here is this cooler is not meant for camping and that makes it better suited for outdoor activities that won't take more than 2 days in the outdoors. However, anyone could use the Hopper Backflip 24; it's great for picnics, road trips, fishing on the weekend and a good day on the beach.
YETI Hopper Backflip – Final Thoughts
Anyone of you might very much think that it's too much to pay for a soft cooler just for the sake of the brand's name, but only until you lay your hand on this Hopper Backflip 24 cooler that you'll understand what's the whole fuss about.
This Yeti Hopper Backflip review is meant to help you see the most of the this backpack cooler so that you can decide whether or not that it's what you really want. Apart from personal opinion and choice, you won't be going wrong opting for this versatile and multi-functional cooler.