What is it that makes a great brand great you might wonder? Well, Pelican surely knows the answer to that question.
In our humble experience, we have reviewed a wide variety of coolers but one must admit that Pelican coolers of all kinds stood out continuously and that is very rare. Indeed, Pelican is a brand that mastered a variety of domains but it especially conquered the industry of coolers for a number of reasons.
First things first, Pelican is a name that is often synonymous with quality and that can be easily confirmed by browsing through most customer reviews. However, we often disregard the fact that people love the variety that this brand offers. Hence, today we are going to shed more light on a softer side of Pelican and actually discover a new face to Pelican coolers.
Indeed, Pelican has been making soft coolers for quite some time now. However, only recently have they picked up more attention because of a specific reason. Just like any pelican cooler, the soft ones are reliable, robust but most importantly, they are significantly more practical. So, let us find out whether Pelican soft coolers are a good buy or not.
Pelican Elite Soft Coolers Lineup
Coolers
Capacity
Weight
Dimensions

Pelican Soft SC12
• 13 Quart
• 12 Cans
3.00 lbs
(1.4 kg)
• Inside:
12.00" x 5.50" x 7.25"

• Outside:
14.00" x 7.50" x 12.00"

Pelican Soft SC24
• 25 Quart
• 24 Cans
5.00 lbs
(2.3 kg)
• Inside:
15.00" x 8.00" x 8.75"

• Outside:
17.00" x 10.00" x 13.50"

Pelican Soft SC48
• 50 Quart
8.00 lbs
(3.6 kg)
• Inside:
18.00" x 11.00" x 11.25"

• Outside:
20.00" x 13.00" x 16.00"
Pelican Soft Cooler Review – Let's Talk Features
Build and Construction

Be it a soft or a hard shell cooler, Pelican has been considered a quality brand for years but what does that translate to when we talk about a soft thereby more vulnerable cooler?
Well, perhaps Pelican's soft coolers are not rock hard but they still feature a double-coated 840D TPU outer layer, which is one of the strongest flexible materials out there.
In fact, the type of thermoplastic used in the making of these coolers is consistently tough while still maintaining the same characteristics of rubber, giving this cooler remarkable strength and flexibility simultaneously.
Further, in order to reinforce practicality, Pelican adopted a structured base for better support and that has proven to be very efficient.
Indeed, having a blueprint skeleton at the base gives these coolers the necessary posture to make loading and unloading less annoying. In fact, these cooler can sit upright independently even when empty.
Moreover, if you're still looking for a reason to make the switch then this one should be compelling enough. Actually, one of the biggest disadvantages of hard shell coolers is their excessive weight and the soft cooler completely abolishes that obstacle.
Undeniably, soft coolers are considerably smaller but for regular use, the soft coolers make a much less burdensome companion. Specifically, a soft cooler can be 55% lighter than a hard one at the same size and that is something your lower back would truly appreciate.
Pelican Soft Coolers Common Features
High density closed-cell foam insulation for extreme ice retention
100% leak-proof zipper with quick access dual-lock buckle system
Press and pull buckle system
Rigid 840-denier double-coated TPU
FDA-approved food grade interior coating, odor and mildew suppressor.
Tightly molded lid and double stitching supported handles.
Stainless steel bottle opener
Internal Design
As you would expect from a brand as big as Pelican, interior design is a priority and here is why. The keyword that sets soft coolers apart from the rest is "high density closed cell foam insulation" and in brief it means that nothing can go in or outside through its walls. Yes, the insulation of these Pelican soft coolers is surprisingly impeccable and can even compete with some premium coolers when it comes to ice retention.
Insulation and Ice Retention
Pelican has always downplayed their coolers' ability to retain ice for long period and it has proven to be a smart move. Indeed, Pelican's politics is to under-promise and over-deliver, which explains the ecstatic feedback it regularly receives.
Accordingly, the brand promises an all-round 24 hours of ice retention on the SC24, which is an excellent fit for daily commuters, 9 to 5 workers and those of you who just really love picnics. On a different spectrum, you can definitely get it up to 3 days of ice life by reducing your access rate and controlling the surrounding temperature, making the SC24 great for short camping trips as well.
In conclusion, there might be better coolers out there, coolers with bigger promises and better ice retention. Nevertheless, in truth, only a few coolers out there can compete within the same niche because these soft Pelican coolers are designed specifically for daily use, which entails epic practicality features, reliable insulation and a lifelong companionship.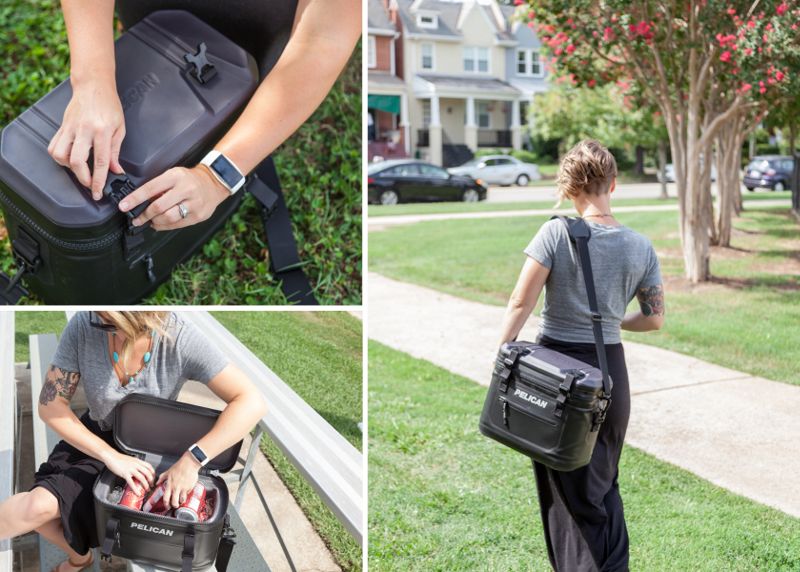 Features
Pelican coolers are widely reputable for their practicality and a huge part of that is credited to their unique features. Indeed, features can have a huge impact on your experience with any cooler, let alone one which is meant for regular use.
So, in order to improve the quality of its product and facilitate the user's experience, Pelican equips its soft coolers with the following features:
Starting small then moving up the ladder, Pelican is one of the few brands that actually designs a product with the client in mind. Indeed, seldom would you find a cooler with an actual stainless steel bottle opener, which might seem trivial but will prove extremely efficient in the long run.
Perhaps a bottle opener is not the most necessary feature on an ice cooler but what about tie downs? If you have ever owned a cooler before then you'd be familiar with the struggle of securing it in a moving vehicle. Hence, in order to enable you to anchor your cooler safely, Pelican introduced stainless steel tie downs.
When we speak of practicality, the first thing that comes to mind is transportability. Undeniably, carrying a 10 pounds cooler around is not the easiest task but it can become rather tolerable with Pelican's padded shoulder strap. Also, for more practicality purposes, these coolers collectively feature a front zippered pocket for your personal accessories, sauces…
Speaking of zippers, it would be oblivious not to stop at the impressive 100% leak proof zipper technology on every soft Pelican cooler. Surprisingly enough, Pelican is one of the few brands out there that puts so much focus on the access mechanism of the soft cooler and that truly pays off. Indeed, with such impenetrable lock, you are assured a full 24 hours of frosty snacks.
Before we wrap this list up, we must at least mention the impressive lid design. In fact, the lid on these soft coolers is surprisingly robust which will make a great protective shell for any soft cargo.
Sizes
We spoke enough about Pelican soft coolers but we did not take the time to discover the different sizes it offers. So, here is a list of the 3 Pelican soft coolers on the market right now:
The Pelican Soft SC12 comes at 13-quart and can handle up to 12 cans
The Pelican Soft SC24 comes at 25-quart and can handle up to 24 cans
The Pelican Soft SC48 comes at 50-quart and can handle up to 48 cans.

Color
Unfortunately, Pelican does not offer much of a variety of choice here as all of its soft coolers are shipped in either black or grey only.
Warranty
For their soft coolers, Pelican offers a satisfying warranty life of 3 years.
Pelican Soft Cooler Vs. Yeti Hopper
Yeti and Pelican are pretty much the titans of the portable cooler industry and that serves as a reliable preface for the following segment.
Truly, there is so much to say about both brands but once they're facing each other, it becomes rather difficult to compare these two.
Nevertheless, we will try our best to give you a concise yet meaningful comparison of the two brands but most importantly of their soft coolers.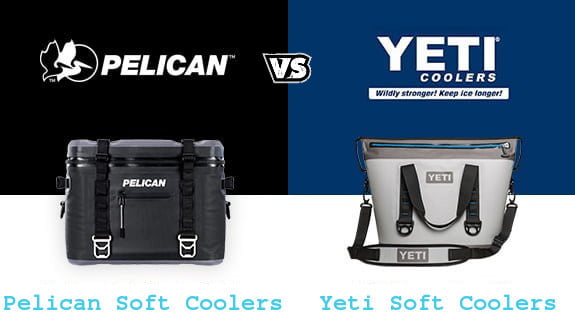 Build Quality
Whenever quality is mentioned, we tend to think of certain brands automatically. However, at this instance there is almost no clear winner.
Accordingly, Pelican soft cooler are incredible robust as they feature a double coat of 840 denier TPU which is one of the few soft thermoplastics that is almost impossible to puncture. On the other hand, Yeti soft coolers are made of high-density fabric with pretty much the same qualities of the latter.
Since quality also includes insulation, it might be fruitful to compare the two brands on that level. Hold that thought; Actually, both brands adopt a rather similar approach to insulation by investing in high density closed-cell material that impedes the loss of ice significantly.
Features
Being two very competitive brands with no copyright limitations, you can expect a really high competitive profile from both brands. Hence, you could say that both coolers are made with the exact same features and that makes your job to choose tougher.
Variety
It might seem like Yeti has the upper hand when it comes to variety of choice because they offer more sizes and options. However, that is by no means a determining point because the 3 sizes Pelican markets are pretty much all you'll ever need in a portable soft cooler.
Price
Price tags are one of the only things that both brands seem to agree on since they are both significantly more expensive than the standard cooler.
Cheaper Alternatives to Pelican Soft Sided Coolers
RTIC SoftPak Coolers
If you're not familiar with RTIC coolers at this point then you should probably read more about it because this is one of the fastest growing brands on the market. Indeed, RTIC promises great value, impressive quality and the same practicality of a Pelican soft cooler.
Unsurprisingly, RTIC soft coolers are keen on insulation with anti-leak zippers and high-density insulation which can give you as long as 20 hours of complete ice retention. In fact, RTIC soft coolers can keep your snacks fresh for up to a couple of days if shielded from hot temperatures.
In conclusion, RTIC offers so much value for significantly less than bigger brands and with 4 different sizes to choose from, you won't have a chance to think it over.

Engel HD30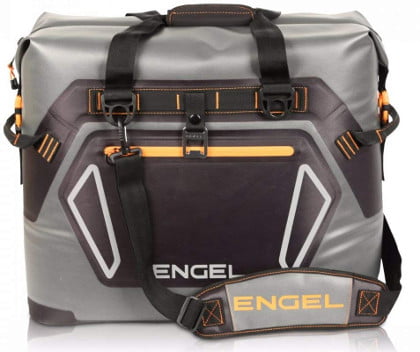 Engel is also a significantly popular brand in the budget soft cooler category because it offers so much value for so much less. Impressively enough, Engel soft coolers are actually melded whereas bigger brands are sewn and that grants it so much more rigidity and unity.
Insulation is also pretty impressive for a cooler at this price range which is credited to their highly efficient seals and thick closed cell insulation.
Accordingly, you can expect anywhere from 1 day to 3 before the ice is completely melted and that's more than enough for a daily use cooler.

Pelican Soft Sided Cooler – Bottom Line
Pelican was and still is an impeccable brand that makes premium quality coolers and equally impressive soft coolers. Therefore, if there is anything more to add about these coolers, it is the fact that they will make your best commute / work companion and one which you'll definitely notice if it ever goes missing.