One of the toughest choices you have to make are those that have multiple variables to them. Accordingly, picking a cooler that best suits you has become an incredibly difficult task because even when you limit your choices to 'premium brands', there is still a wide variety to go through.
So, before you take the risk, take a moment to consider your exact needs & match them with how much you're willing to spend.
In that respect, your budget will often end up narrowing your scope much further but you don't want to go cheap & sacrifice quality.
Frosty coolers might just be the answer to your dilemma since they compete on a premium level while maintaining an acceptable price range.
That said, it is important to note that the brand's main focus is versatility which means that all their coolers are designed to cater for various activities, such as: camping, hunting, angling, BBQing & pretty much anything else where a cooler could come in handy.So, let's take a closer look at Frosty coolers:
Frosty Coolers Compared
Coolers
Capacity
Dimensions



Frosty 25
• 20 Cans
• 25 Quart
• Exterior
20" x 13" x 15"
• Interior
14" x 8.5" x 11"



Frosty 35
• 30 Cans
• 30 Quart
• Exterior
22" x 12" x 14"
• Interior
18" x 9" x 10"



Frosty 45
• 38 Cans
• 40 Quart
• Exterior
24" x 13" x 15"
• Interior
20" x 10" x 11"



Frosty 55
• 50 Cans
• 53 Quart
• Exterior
26" x 17" x 18"
• Interior
22" x 12" x 13"



Frosty 65
• 60 Cans
• 65 Quart
• Exterior
28" x 16" x 17"
• Interior
24" x 12" x 13"



Frosty 75
• 70 Cans
• 75 Quart
• Exterior
28" x 19" x 19"
• Interior
24" x 14.5" x 14.5"



Frosty 85
• 80 Cans
• 85 Quart
• Exterior
30" x 19" x 20"
• Interior
25" x 14" x 15"



Frosty 120
• 120 Cans
• 126 Quart
• Exterior
35" x 22" x 21"
• Interior
30" x 17" x 16"
Available Sizes & Dimensions
The first thing we will highlight on this Frosty cooler review is variety because it determines whether a brand is capable of catering for the different needs and requirements of its target audience or not.
Surprisingly enough, despite being an upcoming brand, Frosty delivers a wide variety of coolers of multiple sizes that can handle anything from a picnic to a full-fledged angling trip.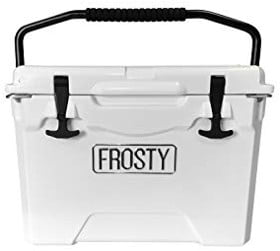 Accordingly, the brand at hand opens the market with the versatile Frosty 25 which is the target of most casual users who are looking for something that can handle a bunch of drinks from a beach day up to a weekend camping.
The cooler at hand measures 20 x 13 x 15 inches & weighs a total of 25 pounds while empty which means you might need some help once it's loaded.
On the other end of the spectrum, Frosty extends an arm towards the more adventurous bunch who seek a cooler to keep their catch / beverages cool for days.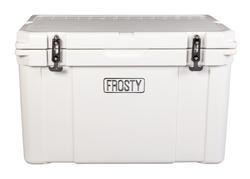 Accordingly, the Frosty 120 stands at the finish line with enough capacity to handle up 120 cans or a week's conquest in the wilderness. It measures an impressive 35 x 22 x 21 inches, which sums up around 125 pounds of net weight.
For those of you who are looking for an average size cooler, Frosty dedicates 6 more sizes in-between the smallest and biggest to cater for your specific needs.
Design & Build Quality
Design is definitely interesting but it isn't a priority for most brands because it often only signifies extra expenditure. Thus, in order to keep the cost as low as possible and dedicate more towards the functionality aspect, Frosty decided to go with a minimalistic design that blends in easily with any environment. Indeed, nothing aggressive or cool about how Frosty coolers look but that will make sense in the coming segment.
Indeed, quality is often the direct consequence of design. However, Frosty seems to have made the right choice by adopting the roto-molding technology as a building method.
While blow-molded coolers work, it is undeniable that rotational molding is far superior as it relies on a dual axle motion that creates a unified mold for the cooler. Consequently, a mold that has no parts, no cracks or gaps is a far better option because it can retain ice longer.
Nonetheless, quality is a bit more than building method. Indeed, build materials are often paramount to the durability and performance of a cooler and with a resilient polyethylene coat, Frosty couldn't go wrong.
In fact, you can tell that the brand invested much effort into fortifying features as well in order to guarantee a longevity.
Ice Retention & Insulation Ability
Before we jump into features, we believe that ice retention is a priority because it is the selling point for all coolers out there. Indeed, sometimes, we do not care much to hear about how tough a cooler is before we make sure that it can keep our stuff frosty for as long as we need.
Accordingly, this Frosty cooler in-depth review wouldn't have come to life if we didn't make sure that these coolers were of some value.
Truly, Frosty seems to have overcome some of our predictions by pulling an impressive week of ice retention. Obviously, this period can extend in cooler weather and would probably reach up to 10 days before all ice turns to water. So, how does Frosty achieve such numbers?
Well, simply, insulation is key in the process of ice retention and here we must go back to rotational molding.
As mentioned earlier in this Frosty cooler review, roto-molding entails some essential qualities that aid ice retention but that isn't the only contributor here. In fact, if it weren't for the double wall vacuum & pressure injected foam, the retention process would be far less impressive because it is that which disperses most of the heat.
Also, some credit must go back to the freezer style gasket that goes under the lid and squeezes against the body of the cooler tightly to stop air from going in or outside the cooler.
Features
Features contribute immensely to our perception of a product, giving them a significant influence on our final decision. Indeed, features have a great impact on how we conceive products, which explains why premium brands always tend to highlight features the most. So, what does Frosty coolers have to offer?
Construction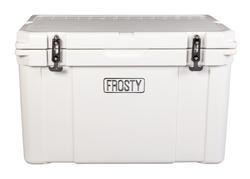 If there is one feature that Frosty is most proud of, it is the fact that all their coolers are roto-molded. Rightfully, Frosty tends to mention the fact that their coolers are developed via rotational molding often because it is one of those things that makes all the difference.
Accordingly, because of this technology, Frosty coolers are capable of holding up with premium brands & reaching up to a couple weeks of ice retention in convenient temperatures.
Non-slip Feet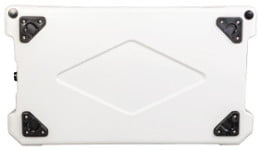 One of the most practical features to get on any cooler is those little rubber feet that keep it in place no matter what.
In fact, rubber feet were a priority feature for Frosty coolers since they know that their target audience is mostly anglers & hunters who will park their coolers inside a vehicle of some sort.
Rubber Latches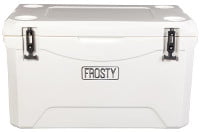 A lot of people tend to directly criticize Frosty's choice of latches since they are often adopted by cheaper brands. However, just because Yeti, Pelican and others went with a specific design, does not mean it's the best.
In fact, Frosty features T latches on its 25Q coolers and pin latches on bigger options, which are two of the best designs out there. Indeed, these latches won't only hold the lid down but they'll also squeeze that gasket tightly to enhance insulation even further.
Carry handles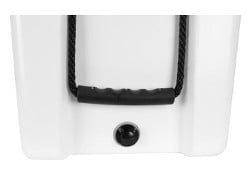 While rope handles will make your cooler swing violently at some points, they are highly recommended for uneven terrain.
Accordingly, Frosty adopted heavy-duty rope handles for the smallest size option and extra thick strap handles for bigger sizes.
Both handles connect at a molded handle that fits nicely in your palm and prevents the rope from squeezing your fragile little fingers.
If you're looking at a future with a lot of "cooler carrying" then you can always change the handles with plastic or metal ones later on.
Supported hinges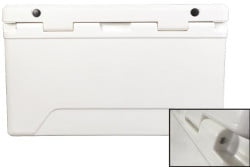 If there is one thing Frosty is extra careful about, it is hinges. Truly, hinges are the achilee's heel of coolers because it often ends up collapsing first, leaving you with a highly flexible top.
Thus, in order to completely avoid that scenario, Frosty developed a set of 4 hinges that divide the stress and handle pressure a lot easier than the standard duo.
Multi-purpose lid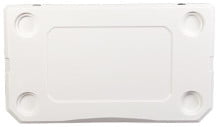 One thing, which is really going to appeal to adventure seekers, is the fact that the lid on Frosty coolers can be used in other ways.
While it is most common to use the lid of a cooler as a casting platform, Frosty coolers' lids also come with a measuring platform to keep track of your record.
Who is it for?
While it is perfect for anglers, Frosty can adapt to any other scenario just like that & that requires some engineering qualities. Indeed, Frosty is not trying to limit itself to a certain category of customers and that can be seen in its diverse features and versatile profile.
Accordingly, while the measuring board, casting platform, tie-down molds, rubber feet might imply that it's only for anglers, these coolers can actually cater for hunters, casual users, sport teams and group event equally because what really matters is the fact that it can withhold ice for long periods of time.
Frosty Coolers Vs. Yeti: Which Is Better?
What is a Frosty cooler review without a quick comparison with the leading benchmark of the cooler universe.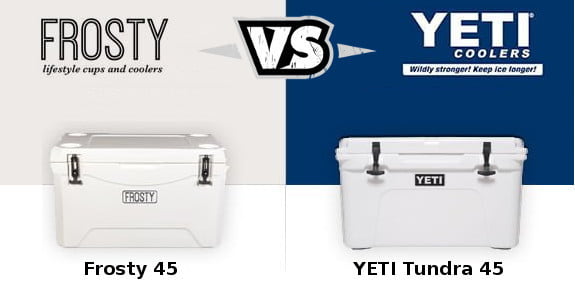 In that respect, Yeti has been the example to set for so long now that it has become the tradition to ask: yes yes, but is it as good as a Yeti? Well, in this segment, we will answer just that.
Frosty is an aspiring brand with enough courage to go head to head with the giant that is Yeti. However, the price gap should be written in big letters before we proceed to make this comparison.
Frosty is definitely a decent brand that offers a series of reliable coolers with a rich variety of sizes. On the other hand, you got yourself a conglomerate that showcases a conglomerate of coolers for specific niches. Nonetheless, Frosty still covers the majority of demand out there and that is enough for a brand that is significantly younger than Yeti.
As far as quality is concerned, one can argue that the two brands aren't that far off with Yeti taking the lead. Unsurprisingly, while it tasks your wallet a lot more, Yeti does invest in higher end build materials and engineering. Thus, it's only reasonable that it has a slight advantage over Frosty in this region.
Lastly, performance is where the champ is crowned and this has been really tough for us. As much as we like the under-dog, Yeti is yet taking the lead with a slight advantage. Indeed, while Frosty coolers exhibit immense potential with 5 to 7 days ice retention, Yeti can easily pull of 6.5 days in highly challenging environments.
Frosty Coolers – Bottom Line
In conclusion, Frosty is not necessarily a budget brand but it competes on a level that truly pushes the brand towards excellence. Indeed, while you can find an abundance of cheap coolers that promise exaggerated results, Frosty actually stands by its claims and we find that impressive.
Not only does this brand push against some of the giants in the industry but it also offers a negotiable price range that is far less aggressive towards your wallet & that's the perfect combo.