Industries that target products that are often used and required outdoors face massive challenges to keep the good work going; it's just a matter of how business comes and goes due to changing seasons.
Cabela's, however; which is a name that revealed its existence in 1961 via a small ad on a newspaper, was able to maintain a strong presence that lasted for almost six decades. And now, after more than five decades; Cabela's is labeled as the "international source of affordable, high-quality outdoor equipment with many different catalogs being shipped to all 50 states of America and other 125 countries."
Now since you are here, we'll be taking you through our Cabela's cooler review which we hope it'll guide you and bring you closer to Cabela's highly praised hard and soft coolers.
Cabela's Ice Chests At a Glance
Coolers
Capacity
(Quarts)
Dimensions
(L X W X H)
Weight
(Lbs)




Cabela's 25 QT
25

• Interior
15"L x 10"W x 11"H
• Exterior
26"L x 17"W x 17.5"H
18




Cabela's 40 QT
40
• Interior
19"L x 11.5"W x 11.5"H
• Exterior
32"L x 18"W x 18.5"H
24




Cabela's 60 QT

60
• Interior
24"L x 11.5"W x 13"H
• Exterior
37"L x 19.5"W x 19"H
30




Cabela's 80 QT
80
• Interior
24.25"L x 14"W x 14"H
• Exterior
40"L x 20.5"W x 20.5"H
40




Cabela's 100 QT

100
• Interior
29.5"L x 14"W x 15"H
• Exterior
43.25"L x 22.25"W x 21.5"H
46
Available Sizes & Dimensions
It's always a good thing to see a brand offering both hard and soft portable coolers, however, let me just get rid of one thing here; Cabela's coolers are definitely bulky and they take a lot of space to be stored compared to many other slimmer brands and it's all because of their thick walls and built-in handles … However, that shouldn't and doesn't affect the main purpose of these coolers. Thus, let's see what Cabela's cooler got in this review.
Hard-sided Coolers: Cabela's Polar Cap® Equalizer Cooler
This cooler is a great go-to when you got a weekend out planned with friends or family. It might seem too large but it's actually only 15″L x 10″W x 11″H on the inside. This by no means is meant to sound bad; on the contrary, do you have any idea how thick this cooler is? You'll figure that out very soon.
This one here is 19″L x 11.5″W x 11.5″H on the inside which is only few inches larger than the previous one. However, to be honest, we found that all of Cabela's cooler's sizes can do very well for camping, road trips or fishing so far.
Now this guy here has something a little different to say; this is a cooler that can nail camping trips or hunting and fishing because it's clearly larger with better capacity (24″L x 11.5″W x 13″H) to handle your catch or maybe just more drinks and food; depends on how you see yourself using it.
Again, this one is only few inches larger with the following inside dimensions; 24.25″L x 14″W x 14″H. You can take this cooler anywhere with you in the back/trunk of your car and with only little help you'll be able to transport it safely and easily into and out of the car.
This is the last cooler on this category and it's quite a delight. With 29.5″L x 14″W x 15″H on the inside; this cooler promises more storage capacity and better ice retention which could be the ultimate combo for the best camping trip, coolest party, or greatest hunting/fishing season.
Soft-Sided Coolers : Cabela's Canvas Coolers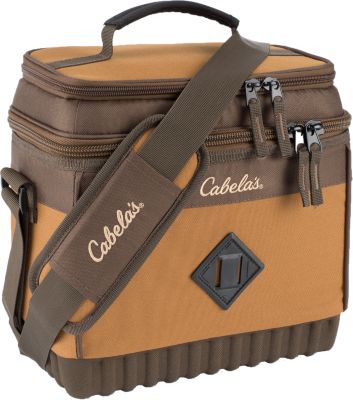 As for this part, Cabela's presented us with three sizes only which I personally found impressively practical; the 12 Can, the 18 Can Backpack and the 30 Can Coolers. They all are what you'd call personal coolers; they're smart and neat with a nice finish.
You can't go wrong with any of them since you'll always have your meals and drinks right on your shoulder. The 12 can cooler is a perfect lunch bag for one person or two while the 18 can backpack cooler is for who's always on the go and who needs to carry more goodies for wherever he/she is heading.
Also, the 30 can cooler would work very nicely for a group of friends at work, on a road trip, or simply a nice meal out where you get to take all that's necessary with you in one case.
Design & Build Quality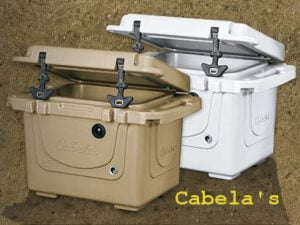 First things first, the hard Polar Cap Equalizer comes in only two colors; white and tan which are always two safe options when making a hard cooler; they can never go out of style, and they're pretty neutral which makes them suitable for everyone.
Next, this cooler is virtually indestructible with an outer body that's not only very tough but also bear-resistant.
In other words; this is not your usual or regular portable cooler that'd you'd get rid of in couple of years. Cabela's made the Polar Cap Equalizer using heavy duty and roto-molded plastic to last a life time under any rough circumstances.
Also, though many people find the Polar Cap Equalizer to be on the bulky side, the details on this cooler are as good as on any other leading brand that you can think of; every part of the cooler is sharply made to complete its overall simple and professional look.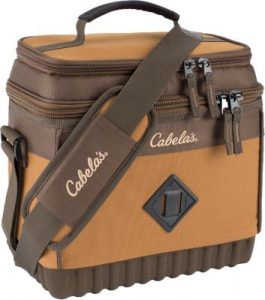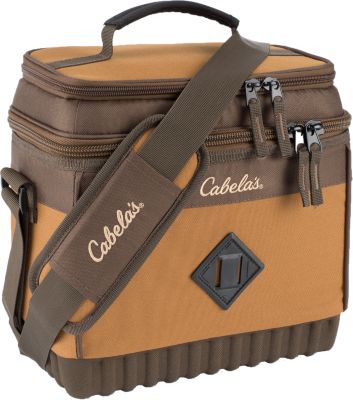 As for the Canvas; our soft cooler buddy, we can say that it's a light duty cooler made using 600-denier polyester that's coated with PVC material for maximum toughness and rigidity on the outside. It's not so soft to say the truth; the three versions of the Canvas can deliver a really nice performance for years of continuous use without it tearing or fading especially if you are a friendly user.
On the inside, the Canvas is made of the non-toxic PEVA lining that's globally admitted to safely preserve your edible items. Moreover, to keep whatever inside safe and warm/cool, Cabela's made this cooler water and UV resistant for ultimate protection.
Ice Retention & Insulation Ability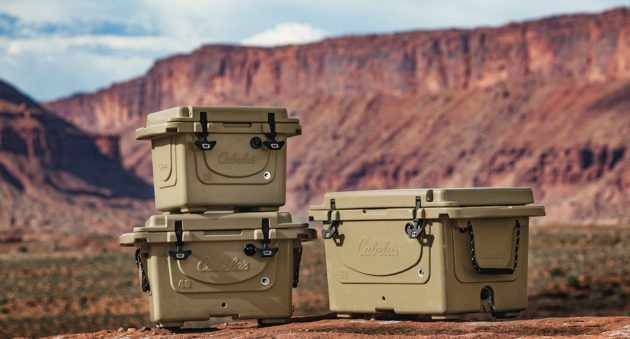 This is where Cabela's made some jaws drop. The Polar Cap Equalizer proved highly worthy of every penny anyone would invest in it.
Remember the thick walls I talked about earlier? They're filled with nearly 3 inches of thick insulation foam that creates a solid and sturdy structure resulting in one of the best ice retention abilities known to this industry.
The 25 qt Equalizer for example can hold ice inside up to 5 days according to Cabela's official website. Running some tests in comparison to brands like Yeti and Coleman we were all surprised that Cabela's actually did really great if not better than these last two.
The larger versions are definitely promised to perform a lot stronger which only makes sense given the amount of insulation foam put into them.
The same thing can be said about the Cabela's soft cooler; the Canvas. This little comfortable and practical buddy is capable of an ice retention that'll serve you well for at least a day.
However, it's not the norm that soft coolers can offer days of ice retention; these coolers are light duty and are usually meant for transporting your meals/drinks somewhere not so far to be enjoyed before the end of the day.
Features
We'll be dividing this part of the Cabela's cooler review into two sections; one of which will bring the hard sided cooler's features up close for a better idea about the details and performance expectations, while the other will cover the soft sided coolers.
With no further due, the Polar Cap Equalizer is a tough roto-molded cooler that's featured with built in handles that I'm pretty sure I've already mentioned. These handles are nearly impossible to damage with one downside to them that seemed to annoy many users; they're a bit out-standing which sometimes make storing and transporting the cooler a bit of a task in tight areas. There are 2 flexible rope handles on this cooler as well for more flexibility and functionality.
The Pola Cap Equalizer is also featured with an innovative freezer-grade gasket that creates an airtight seal for ultimate cooling performance. However, in case you needed to reopen the lid after it's sealed you can use the pressure-release valve so you don't have to struggle with it. The very same lid is 100% foam insulated which makes it rigid and tough enough to be used as a chair.
Another feature that's probably universal to most coolers is the lid latches; on the Polar Cap Equalizer here, the T-latches are rubberized for a firmer and more comfortable grip. These latches come with built in bottle openers to make them even more useful and functional.
Also, you'll find a molded padlock to optimize the security on this cooler and that brings us back to the fact that the Polar Cap Equalizer is bear-resistant. This way, you can sleep assured that your goods won't be in anyway harmed or spoiled.
Next, the bottom feet on this cooler are removable and made of rubber for a still and solid posture which will guarantee that the cooler won't be sliding left and right with the slightest movement of your car, boat or paddle board.
And finally, the Equalizer comes with a leak-proof spigot that's once unplugged; all liquids will find their way out easily and quickly.

Moving to the Canvas now, Cabela's soft sided cooler offers an extremely functional cooler that can serve anyone, any day of the week and anywhere.
Both the 12 and 30 cans sizes are featured with strong and padded shoulder straps that make transporting them the nearest thing to carrying a personal or travel bag. Not only that, the 30 cans version can be transformed into a backpack using Cabela's removable straps for maximum comfort and practicality.
The 12 cans Canvas is featured with 3 additional carry handles; one on top and two on the sides, while the 30 cans cooler is featured with only two handles on the sides.
In addition to the main pocket, both Canvas 12 and 30 cans coolers come with an extra top pocket where you can fit more of your items and tools beside your meals or drinks.
The Zipper quality is as good as you can imagine it to be; it seals perfectly allowing the cooler to maintain its cool for as long as possible.
Now the Canvas Backpack cooler is what I personally found interesting; the shoulder straps are neatly and generously padded which is always a plus.
Also, there are two additional pockets on this guy here which means more storage capacity.
Last but not least, the main pocket is made in a way to make it extremely accessible for fast and easy grab even for when you're on the go.
To wrap it up, Cabela's did an impressive job with their portable coolers' line, and frankly, this Cabela's cooler review might not be anywhere near fair to how cool and durable they are.
Cabela's Vs. Yeti: Which Is Better?
If anything at all, one got to be honest and real when it comes to reviewing products like this. A portable cooler is all about the amount of insulation put into it, ice retention ability, durability and practicality.
Cabela's made sure their coolers, both the soft and hard ones, had all it takes for them to surface head to head with other global brands like YETI that we all know is the bar to which everyone is looking up. However, Cabela's doesn't have to really look up any higher because the ice retention on their hard coolers is quite amazing we might even consider it to be better than YETI's.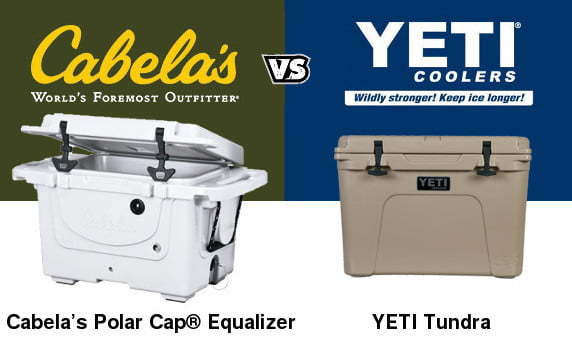 Running couple basic tests; the Polar Cap Equalizer 25 qt cooler was able to hold ice inside for 5 days with a lot less water than YETi's Tundra. This lead us to think about the price each brand offers and there wasn't a large of a gap between the two, however, Cabela's is still a lot cheaper than Yeti which could be a great investment.
Getting here, we can't say the same thing about Canvas Cabela's soft cooler. This line is 200 dollars or more cheaper than any of Yeti's soft coolers. It's insane honestly. Still, Yeti's soft coolers are known for their great built structure and material that are super sharp, solid and incredibly durable.
The Canvas, however; looks like any regular cooler on the market though it was impressively able to deliver a decent performance keeping whatever you put in it cool or warm for hours enough to be served fresh and tasty.
Now another area where we can all agree that YETI excels is the large platform and variety of sizes and shapes in which they present their coolers. Cabela's coolers' line on the other hand is unfortunately quite limited.
Cabela's Coolers — Bottom Line
Cabela's coolers line could be a great investment for anyone who's serious about getting themselves a quality cooler. There's nothing to be worried about with these coolers; they're solid, durable and perfectly functional.
Comparing Cabela's coolers to other leading brands in this review only led to proving how good and powerful they are. Thus, we honestly think that no one can go wrong with either their hard or soft sided coolers.