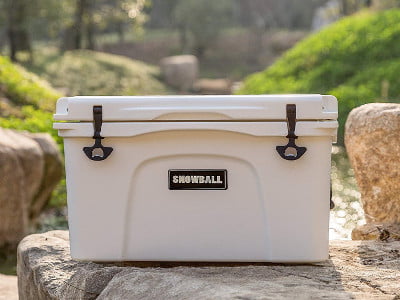 Snowball isn't exactly the most popular brand in the industry of coolers but it definitely has a lot of potential.
Our testers would often bring new brands to our attention but only a few manage to stick and it would be safe to assume that Snowball had quite an impact.
Accordingly, Snowball coolers give away a stunning first impression. However, in order to be able to provide proper recommendations, it is necessary that we assess and test the brand in all areas.
Thus, the following article aims at providing you with essential insights to make an informed buying decision.
That said, we will start at variety then move to design, quality, performance and go over some practical features before we compare Snowball coolers to a prominent brand in the industry.
That being said, let's get to it!
SnowBall Coolers Compared
Available Sizes & Dimensions
Variety is the spice of life and that is especially true for ice chests. Indeed, the success of a brand will almost always be directly attached to its ability to provide a wide enough variety to suit the needs of a growing market.
Accordingly, Snowball had quite a challenge ahead of it before it even comes to existence. However, we would objectively argue that this brand is definitely capable of catering for the majority of people out there, in spite of their preferences.

1. Snowball 26 Qt Cooler
The smallest hard-sided cooler made by Snowball is the nifty 26Qt, which also happens to strike a direct comparison to the Yeti Roadie 20.
This tiny cooler measures a stunning 21 x 15.5 x 15 inches and it's capable of handling up to 25 liters. However, the most interesting fact about this Snowball is its high versatility and ability to fit multiple roles.
Having said that, this cooler would make a great camping partner, a solid small game angling ice chest or even a beach-day party-starter.
2. Snowball 37 Qt Cooler
The 37Qt is a significantly bigger cooler, which sets it on a completely different pedestal. Accordingly, the cooler at hand weighs a solid 21 pounds and measures 23.5 x 16.5 x 16 inches.
So, you can already guess that this cooler is completely capable of handling a formal angling journey for small to medium catch or even a solid hunting session for small game.
Further, the cooler at hand would also fit a group camping trip / kayak-camping.
3. Snowball 53 Qt Cooler
Once you reach the 50Qt region, you can sense that the brand is starting to get a little more serious.
The Snowball 53Qt is a solid medium sized cooler that can be literally used for any type of activity that requires around 50L of storage space.
However, the 53Qt is still a mid-range which doesn't qualify it for heavy duty angling or hunting. Other than that, this cooler is definitely up for a challenge.
4. Snowball 69 Qt Cooler
The 69Qt isn't exactly the largest size on the market but it's a place to start for Snowball.
Delivering a bigger cooler would have been amazing, considering the build quality of these coolers, but the 69Qt is still capable of handling up to 65 liters and that's impressive. Hence, the cooler at hand will definitely get you through a week's journey of mid-sized game for anglers and hunters or even a long group camping adventure.
Further, you have to keep in mind that this cooler weighs 35 pounds while empty and measures 30 x 20 x 17 inches, which should give you an idea about the kind of logistics required to handle it.
Design & Build Quality
Design doesn't get the attention it deserves in the industry because, on first sight, it seems that all roto-molded cooler look alike but there is a reason for that.
Undeniably, Roto-molded coolers, including Snowball, opt for the familiar rectangular shape with a slightly lifter bottom and a thicker lid. However, these coolers are designed in that exact way because those small modifications will significantly improve performance and durability.

Accordingly, the design of the Snowball should give you a clear idea about what kind of life-span to expect from these coolers. In that respect, all Snowball coolers have extremely rigid and slightly thicker pillars, an incredibly thick lid and lip & an overall condensed / packed body.
As far as quality is concerned, the brand is easily comparable to pioneers like Yeti and Pelican because it uses the exact same build materials and pretty much the same building process.
In that concern, Snowball coolers are blessed with a thick polyethylene plastic coat that is both shock and UV resistant. Accordingly, you can rest assured that sitting in direct sun-light for the most part won't have much of an effect on these coolers nor will dropping them from a high building.
In terms of building process, Snowball doesn't make a secret that they too adopt the roto-molding approach which ensures the creation of a unified mold. The gapless mold is made with extreme precision, using a dual axle rotation machine to eradicate the possibility of weakness or leaking.
Once the mold is put together, Snowball carries on the building process by fusing the coolers with a metal embedded hinge and a few other features that build the profile of these coolers.
In fact, that is exactly what we're going to talk about right after tackling the performance of these coolers.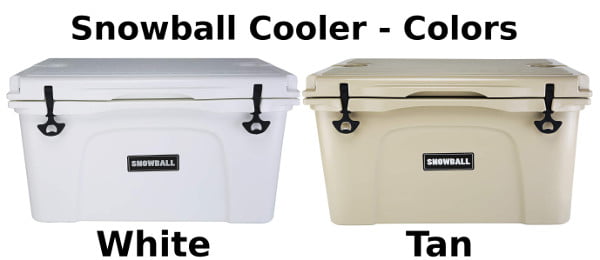 Snowball Cooler White
Snowball Cooler Tan
Ice Retention & Insulation Ability
Snowball has got to be one of the most affordable roto-molded series on the market and that is the selling point of the brand. When talking about ice retention, the first question that comes to mind is how long before all the ice melts away.
So, instead of dragging you along, we'll just tell you right away that Snowball coolers are definitely capable of getting you through an entire week of frosty beverages, fish or any other type of cargo.
So, how does it work?
Well, there is no magic formula here except for the fact that all Snowball coolers are Rotomolded. Hence, these coolers benefit from the perfect enclosure since the mold itself is a unit.
In other words, both the inside and outside walls on Snowball coolers are gapless, they are not welded or glued together but built in one piece to reduce the impact of external elements to bare minimum.
Beyond their flawless molds, the coolers at hand feature an impressively thick insulation layer, residing in-between the walls. Once the mold is ready, Snowball coolers are pressure injected with high density foam to fortify the walls but most importantly to capture most of the heat and dissolve it before it reaches the internal wall.
To wrap things up, all Snowball coolers feature a freezer grade gasket that seals the the cooler once the lid is down. Hence, as soon as you lock the latches, the cooler becomes an insulation tank on total lock down.Most importantly, tilting and transporting the cooler will not cause any leaks.
Features
Knowing that a cooler is capable of maintaining ice up to a week is a great gesture but that isn't everything you should account for.
Practicality is one of the most vital characteristics of a hard-sided cooler and features are our direct access point. Hence, we were expecting to see premium features on Snowball coolers, considering that's what the brand aims for and we weren't disappointed.
Here's a list of the brand's most prominent features:
Handles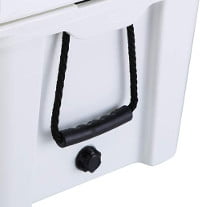 Handles are a critical feature for coolers with the potential of getting significantly heavy once loaded.
Hence, we were rather pleased to see flexible rope handles on Snowball coolers because they are impossible to break and more agile than solid plastic.
Latches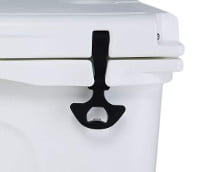 Rubber T-latches have become quite popular with Yeti as they have proven to be practical, easy to use and very durable. However, Snowball didn't just replicate that design because it saw an opportunity to make it even better.
Accordingly, the rubber latches that come with Snowball coolers are fused with bottle openers.
Multi-Purpose lid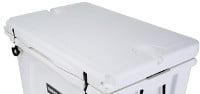 Beyond harboring a freezer grade gasket, the lid on Snowball coolers is rich in a variety of specs that will come in handy one way or another.
In that respect, all Snowball coolers come with a built-in ruler on lid for anglers / hunters, a couple cup holders with an escape route for liquids, a rough surface that can be used as a cutting board or a casting platform and two lock-holes.
Non-skid feet
A lot of people want to put/mount their coolers on a vehicle – be it a boat or a truck – but the problem is that a cooler can become a hazard on the move.
So, in order to help you out with that, Snowball decided to enhance their coolers with anti-skid rubber feet.
Other features:
Draining plug
Freezer-grade gasket
Easy grab lid lip
Embedded metal hinge

Who is it for?
Hard-sided coolers aren't for everyone and that goes to say that Snowball coolers did not really account for daily commuters, 9 to 5 workers and romantic picnics. However, the brand seems to have covered most of those who are in need of a premium yet slightly affordable cooler.
Indeed, Snowball presents a wide enough variety to cater for campers, hunters, anglers, kayakers and outdoors lovers in general. However, we can't really ignore the fact that at the time of writing this article, the biggest cooler that Snowball has to offer is a 69Qt.
Hence, Snowball might not be the best match for avid woodsmen and anglers who are dedicated to their passion and can go for long time periods, pulling heavy weight catch along the way.
Snowball Cooler Vs. Yeti: Which Is Better?
Before we end our Snowball cooler review, we have to put through one final test. It's been a traditional on our website to compare our new contenders to a standing champion and at the moment that happens to be Yeti. However, since Yeti is a gigantic brand with multiple Series and an endless arsenal of coolers, we thought it'd be more reasonable to compare snowball's series to the Tundra series.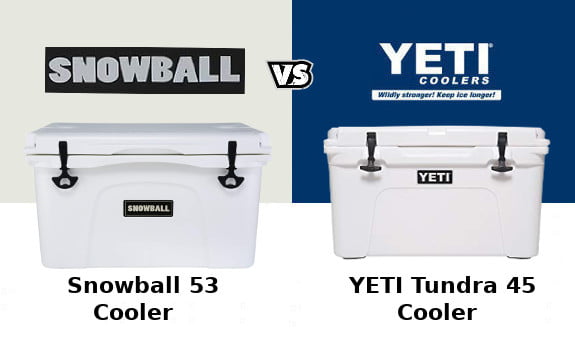 Since variety was the first element on this article, it would only be fair to compare these two on that basis. Thus, Yeti Tundra is easily one of the most diverse line-ups in the industry and that's because it harbors around 7 hard-sided options and an array of soft-sided coolers.
Compared to Yeti, Snowball seems considerably behind in the race with its limited 4 hard-sided selection.
In terms of build quality, it would seem that both brands are actually very comparable. Truly, we were surprised to see that there isn't much of a difference in terms of building materials and the process itself, especially since Snowball coolers cost less than Yeti coolers.
Further, performance is often the judge of these comparisons and it would seem that the call is pretty close once again.
As we expected, a similar build would most likely result In the same performance and that's pretty much the case here. While Snowball coolers might come a day or two shorter on average, they are still very comparable to Yeti Tundra coolers that can pull 7 days in standard summer heat.
YETI Tundra 45 Cooler, White
The YETI Tundra 45 combines versatility with durability with a capacity of up to 26 cans with a recommended 2:1 ice-to-contents ratio
Ice stays ice thanks to up to 3 inches of PermaFrost Insulation and an extra thick FatWall design is certified Bear-Resistant
Snowball Cooler – Bottom Line
Finally, Snowball coolers are definitely one of the most interesting roto-molded coolers we've ever reviewed, considering they offer high value for a highly reasonable price tag.
Thus, once you compare these coolers to a Yeti or a Pelican, it becomes hard to justify why should you spend more money on coolers that are pretty much the same as a Snowball.
Therefore, given that you find the perfect size match for your needs, you should know that you just couldn't regret this purchase.
Amazon Recommends:
Sale
Bestseller No. 1
Snowball Coolers, Rotomolded Insulation Ice Chest for Camping, Fishing, Hunting, BBQs & Outdoor Activities, Tan, 37QT(35L)
【Keep Ice】-Adjust the volume of ice cubes and food to control the time for ice cubes to melt. The silicone seal ring encloses the entire space and avoids heat convection. 2-inch PU Foam greatly reduce heat conduction
【All Details】 - Aluminum plate logo, Bottle holder, Heavy-duty rubber T-Latches with beer opener, Fishing ruler, Drain plug, Lockhole, Non-skip pig nose feet, No-crush and hand-rest Curve handle, Soft ropes allow you to drag at any angle
Bestseller No. 2
Snowball Hard Camping Coolers, Insulation Ice Chest Keep Ice Up to 6 Days, Tan, 37QT(35L), No Bottle Holder
【Keep Ice 6 Days】 - Coolers keep ice up to 6 days with a recommended 2:1 ice-to-contents ratio. The silicone seal ring encloses the entire space and avoids heat convection. 2-inch PU Foam can greatly reduce heat conduction.
【All Details】 - Aluminum plate logo, No Bottle holder, Heavy-duty rubber T-Latches with beer opener, Fishing ruler, Drain plug, Lockhole, Non-skip pig nose feet, No-crush and hand-rest Curve handle, Soft ropes allow to drag at any angle you want.
Bestseller No. 3