Nothing can beat RTIC Outdoors when it comes to providing world-class products, whether it's a cooler or a jug.
The RTIC One Gallon jug is one of the many great products by RTIC. The RTIC one-gallon jug is known for its sturdiness and long-lasting product. A new yet revolutionary water jug made up of the latest technology available at a budget-friendly price is the uniqueness of this product. Apart from this, the most prominent feature of this one gallon bottle is that it is double wall vacuum insulated, which keeps the beverage inside it at a constant temperature. Thus, no need to worry about your hot tea becoming cold, or your iced tea becoming warm. I am personally using this one-gallon jug and I've ought to find a better deal for a jug at such a decent price, and advanced technology! It can keep beverages hot for as long as 6 hours and cold for 24 hours. Another reason for considering this one-gallon bottle is its wide mouth. Most of us, including myself, find it hard to fill up a jug that has a small opening. To avoid such issues, RTIC has built their jugs with a wide opening!
PROS
Double wall vacuum insulation keeps beverages hot for 10-12 hours and cold for 24 hours
Air tight lid prevents beverages from leaking and locks in the cold
BPA-free
Strong stainless steel construction
Extra-wide opening lid makes it easier to fill the jug
Budget-friendly
Contains a handle which makes it easy to carry while on the go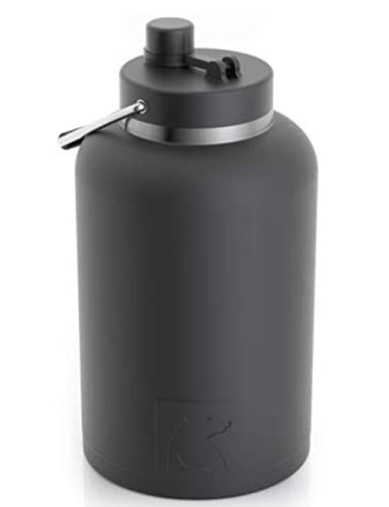 ---
Things to consider before buying a one-gallon jug
If you are going on a hike or traveling for a long period, you may want to consider the amount of water you will need to stay hydrated.
Plus if it's a scorching hot summer day where you'll need to consistently stay hydrated with cold water, or a winter day where you'd love some hot tea to sip throughout; it is crucial to look for a jug or bottle that is both insulated and easy to carry.
There are other factors that one can consider before buying a water jug, which includes:
Substance: Plastic is a slow poison. Thus, it is very crucial to avoid plastic in your water bottle or jug. Look for a product which is BPA and phthalate-free to avoid any kind of adverse health conditions.
Insulation: to keep your beverages at a constant temperature (cold or hot), it is crucial to look for a jug that contains an insulation coat. A tight lid is, moreover, crucial to keep the liquid intact.
Wide mouth: With wide mouth openings, it becomes easy to refill the bottle. You can also store ice easily in an insulated water jug with a wide opening.
Design: Consider a water jug that has a unique design, and is easy to carry. Look for a water jug that has a compact design but can store a significant capacity of water and is easy to carry while traveling or exercising.
Features and benefits of RTIC Gallon jug
There are many reasons why you should consider purchasing an RTIC one-gallon water jug:
The material and construction: No doubt, when you search for an item to store content or drinks from, the material and construction of the item are necessary. The most prominent feature of this one-gallon jug is that it is made up of durable and long-lasting material. Unlike other plastic bottles that contain BPA and polycarbonates, which are toxic, this water jug is made up of BPA free stainless steel. The stainless steel construction makes this one gallon water jug sturdy and strong. In terms of size, you can also consider a half-gallon bottle if you want a smaller and easier to handle bottle.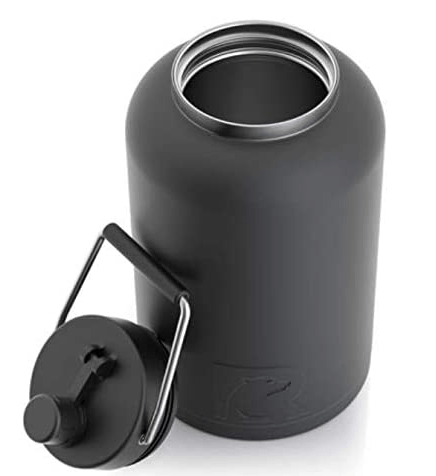 Insulation: What would be better than the availability of chilled water during summers or hot tea during winters while out and about? This quality is achieved with the wall vacuum insulation that RTIC jugs provides. Which is why these jugs beat all other products when it comes to insulation. RTIC One Gallon Jug can keep a beverage hot for as long as 10 to 12 hours, and cold for up to 24 hours because of the wall vacuum insulation and tight lid. If you want to store ice in your jug, you can do that too! Plus, Its tight lid never allows beverages to spill or leak. If you want to store beverages in your bedroom, and avoid walking to the kitchen again and again during scorching summers or chilly winters, then too, this water jug is perfect for you.
Ease of handling: Another great feature of RTIC one-gallon jug is the size. Whether you want to store a drink while traveling or want to take it to the office, you will be able to store plenty of liquid in it. Because of its unique design and sturdy body, it is easy to carry this water jug, even single handedly. The handle provides a perfect grip giving you extra support and comfortability. Additionally, it comes with a strap to support you while commuting. It is pretty easy to clean this water jug by hand, especially due to its wide mouth.
Wide mouth
Did you face a problem in refilling your old water bottles because of its smaller mouth opening? RTIC jugs come with a lager, wider opening with a flip-top cap. The wide mouth also makes it easier to hold ice cubes in.
Approved by FDA
Food and drug association is an organization that reviews and approves whether the food items, beverage, and other content are safe for normal people to eat or drink or not. These vacuums insulated one-gallon water jugs are reviewed by the FDA. These insulated water jugs with tight lids are perfect to store boiling waters to ice-cold water.
Perfect for all occasions
The reason I think it is one of the best one-gallon jugs is its extensive usage. Whether it is a family picnic or you are looking for the best gift for your loved one, whether you want to take your drink to work, just need an affordable water bottle, and want to always stay hydrated this is the jug for you. You can find it in three color options, making it perfect for everyone. Its unique color options, incredible insulation, it's easy to carry handle, and the wide cap, is no doubt, the reason it is the best one-gallon water jug, even better than YETI heavy-duty jugs.
---
Social Proof
Quality is one thing that people expect from the brand of any product that they are choosing. While doing some research to find any questions or complaints about the products, I was overwhelmed with the generous rating of 4.8 out of 5 and helpful reviews. Almost all the people who used this amazing one-gallon jug found it perfect for storing ice cold hydration drinks in it. People gave positive reviews regarding the durability and strength that this brand provides to its jugs.
---
Alternatives
No doubt, it is one of the best products when it comes to jugs, but still, because of its great features, sometimes you will find it out of stock. If that occurs, we have come up with a few alternatives you can consider:
Sale
YETI never compromises on the quality of its products. With a full inch lid, YETI one-gallon jug is made up of stainless steel, which avoids odor from the liquid stored in it. It also provides a decent warranty and is available for $129.98
Conclusion
Beverages and water play a crucial role in keeping yourself and others hydrated and happy. The idea behind this unique jug is to provide world-class qualities to its users without harming them in any way, which many parts of this bottle achieve. I hope you will learn all the details about this product after reading this complete review.
For further details, clickhere to check this product out and its details in the review article.
Amazon Recommends:
Bestseller No. 1
Bestseller No. 2
Bestseller No. 3