Klein Tools isn't the most prominent brand in the industry of coolers. However, it presents a solid claim for a formidable series of frosty lunchboxes. Indeed, this is by no means a competitor but rather a brand with a specific mission and that is something we rarely see in this domain.
Klein Tools coolers are thus the ambassador of job sites, picnics & daily commuters. After you decided whether you belong to one or multiple of those categories, you're naturally inclined to learn more about the brand and specifically what it has to offer.
Consequently, in the following Klein Tools Cooler Review, we will discuss the results of our performance tests on these coolers, their quality, design and eventually compare it to a first class contender.
That being said, let's get right to it!
Klein Tools Coolers Compared
Available Sizes & Dimensions
In order to claim any reign over this section of the market, Klein Tools had to invest some of its effort into creating a variety of choices to fulfill the multitude of preferences out there. Thus, for a niche such as this one, Klein Tools decided to stick with 3 base products and that is a dangerous bet.
So, here is the humble lineup that made this brand what it is today: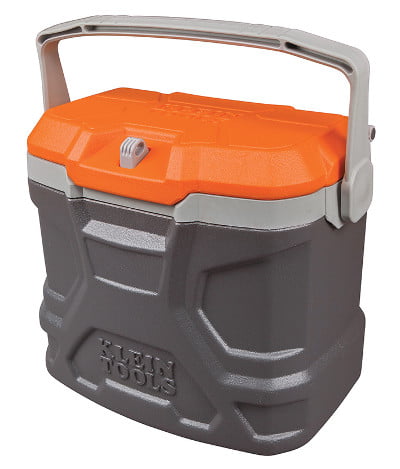 There are two options in Klein Tools' hard shell department. However, the most prominent of which is the individualistic Tradesman Pro™ Tough Box 9-Quart Cooler.
Indeed, this cooler gained significant traction once people realized how practical and affordable it is. Thus, with a load capacity of 11 cans & a lid that opens to 180°, this cooler accumulated enough positive reviews to push the entire brand forward.
Accordingly, the 9Qt lunchbox at hand measures 13 x 12 x 10 inches which is compact enough to go wherever you go without any inconvenience.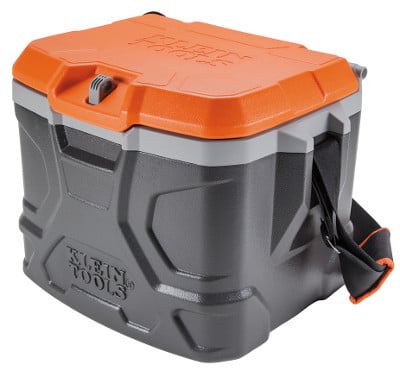 On the other hand, the Tradesman Pro™ Tough Box 17-Quart Cooler might be less popular than its younger sibling. However, it makes a much better alternative for job sites.
Indeed, while the smaller model works great for regular commuters on day to day basis, the 17Qt Klein Tools cooler will keep your food & drinks fresh for a couple of days.
That being said, this cooler measures 12 x 12 x 16 inches, which is slightly bigger than the previous model. However, it doesn't grow annoying unless if your job requires constant movement from one site to another.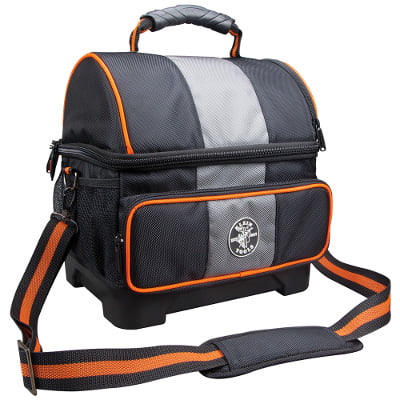 On the soft side, Klein tools reserves its efforts for the one and only 12Qt model. While soft-sided coolers have proven to be more flexible, they are undeniably less reliable than the hard-sided ones. Nonetheless, the soft-sided 12Qt Klein Tools cooler is trying its best to break that stereotype.
Hence, the cooler at hand can be transported as easily as you'd imagine, it'll keep your stock frosty for around 12 hours but its capacity cannot exceed 10 cans.
Design & Build Quality
The design of Klein coolers is undeniably rare but it's not something we've never seen before. Nonetheless, Klein Tools coolers are still developed in a way that guarantees they can handle a job site's environment.
In fact, these might just be the only coolers out there in this size range that are capable of handling up to 300 pounds of weight. Yup, once you've taken your lunch out, Klein Tools hard-sided coolers are meant to be used as a seat. However, do not attempt to stand on it because while it can handle the weight, you might not be able to handle the fall.
Moreover, unlike some 'affordable' brands, Klein Tools coolers vary in design depending on size. Hence, while the smaller model comes with a central plastic handle, the larger lunchbox offers a more practical seat-belt style shoulder strap.
Also, the two coolers differ in terms of body shape in order to create a distinct profile for each but more importantly to make each model as practical as possible.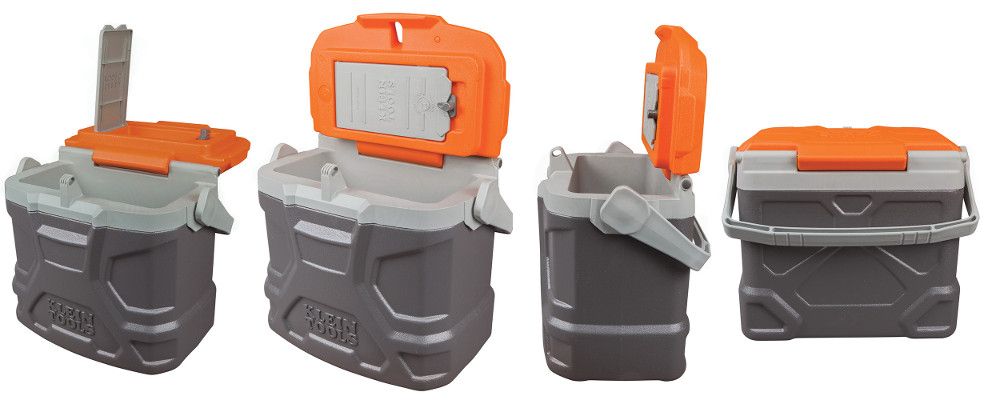 In terms of quality, we were actually surprised to see this much foam insulation inside Klein Tools coolers' walls. Nonetheless, we cannot sugar coat the fact that these are still extremely affordable coolers and that entails a few clumsy details.
Now, from first sight, these coolers look perfectly sharp but once you take a closer look, you can see some tiny detail flaws that set them apart from premium coolers such as Orion or Yeti.
Other than that, Klein Tools Coolers are perfectly uniform with the strict measures and expectancy of the US market. Indeed, these coolers are more robust than some 'premium' options and that's because they adopt a thick polyethylene crust with enough spray foam injection to fend off a wild bear attack.
Also, it was rather impressive to see such clean construction on a highly affordable option such as this one. While there are some sloppy aesthetic flaws here and there, it seems that Klein tools coolers were built under precise measurement that ensures performance isn't compromised.
Ice Retention & Insulation Ability
Now, the fact that Klein tools build their entire claim over being the best lunchbox alternative should give you an idea about what kind of performance to expect from these coolers. Hence, it wouldn't be surprising to learn that Klein Tools hard-sided coolers can generally get you a solid 30 hours before all ice melts. On the other hand, the soft-sided model is limited to a 12 hours range.
Nonetheless, the fact that these highly affordable coolers pulling up to two days of ice retention is still formidable. Based on our experience with coolers, we can't really think of another cooler that performs this well and costs as much as a humble dinner date.
Accordingly, in order to attain this duration, Klein had to invest a little more into their hard-sided coolers. Hence, we would like to go back and highlight the fact that these two coolers are in fact foam injected.
Surprisingly enough, these rather cheap coolers are able to attain such results because of the thick foam walls. Now, there's absolutely no way to compare this kind of insulation to that of Arctic or Pelican but it's definitely enhancing insulation.
Also, the density of the walls isn't only limited to foam but it also extends to the exterior shell. Thus, the shell reinforces the structure of the coolers but it also repels some of the UV rays, allowing these coolers to perform just as well under direct sun light.
To be noted, Klein Tools hard-sided coolers do not come with a gasket which could have honestly improved performance significantly without adding to the construction cost all that much.

Features
Since Klein Tools is aiming for workers and commuters specifically, they clearly dedicated a large amount of their dedication to make their products as practical as possible.
Hence, Klein Tools coolers come with pretty much every feature you'll need in a cooler / lunchbox. However, it is up to you to determine whether you like them or not.
Handles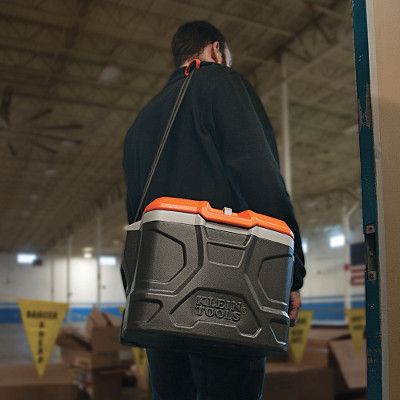 A decent part of our research includes digging out Klein tools cooler reviews to compare and contrast our results but only one thing was common amongst most reviews out there. It seems as if everyone agrees that the brand has done an incredible job with transportation design.
Indeed, Klein Tools knew that their smaller hard-sided cooler would be often carried which is why they equipped with a seatbelt style strap.
On the other hand, the larger model benefits from an extra built-in handles to allow you to carry the cooler with both hands because it will get heavy.
Multi-purpose lid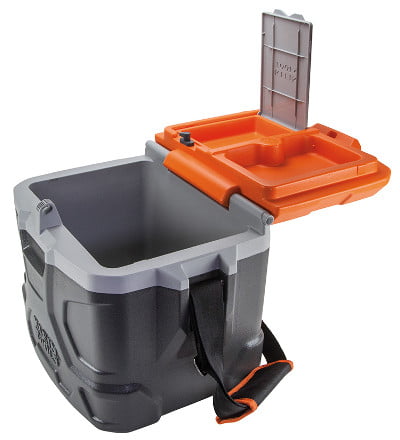 For a small cooler like this, you do not expect much from the lid and as a matter of fact, there isn't much about it. However, one thing is for sure, this tiny cooler is one of the few out there that can function as a seat for anyone under 300 pounds.
Further, since they are designed for job sites, Klein Tools gives you the choice to lock your cooler via the central lock port that emerges through the lid. Moreover, on the internal façad, the lid harbors a little space to allow for long bottles to stand as well as a tiny storage compartment.
Robust hinges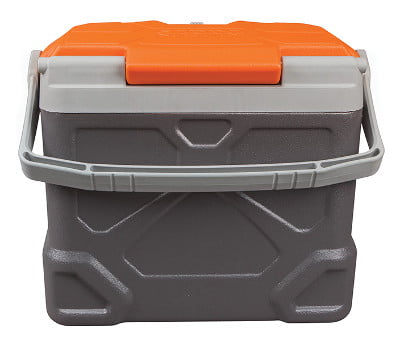 One of the most surprising features we discovered while cutting a Klein tools cooler in half is the fact that it harbors a steel hinge which allows for 180° opening.
We aren't really accustomed to seeing something like this in cheap coolers because steel hinges are familiar amongst heavy-duty coolers for their resilience and longevity.
Extreme resilience
Clearly devoted to labor, Klein Tools made sure that their coolers aren't easily damaged which should be an essential feature for anyone in your context. Hence, these coolers might be cheap but they will certainly outlive most coolers on the market, even those that cost 5 times more.
Who is it for?
If it wasn't stressed enough already throughout our Klein tools cooler review, the 3 coolers in question are specifically designed to cater for commuters and workers in general who spend long hours away from home with nowhere to have a decent meal.
Therefore, these coolers are by no means beneficial to anglers or hunters of any caliber and should be reserved to those who only require their cargo to remain frosty for a day or two max.
Klein Tools Cooler Vs. Yeti
Since we started our website, we developed this little ritual to compare every contender to Yeti since it is a prominent torch-bearer in the industry. Hence, we thought that it would make an interesting segment to compare the smallest Yeti coolers to Klein Tools' lunchboxes.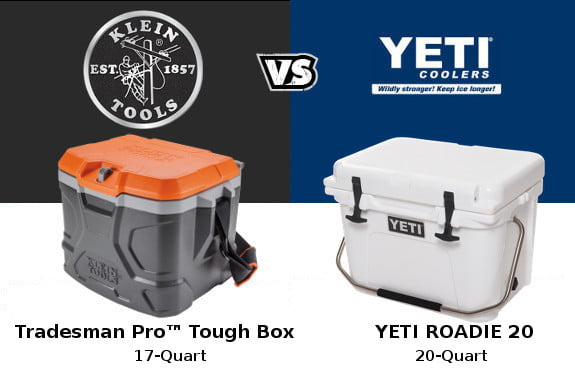 Starting at quality, it is undeniably that Yeti is victorious when it comes to build quality and design since nothing beats minimalistic resilience. However, that isn't enough of a claim to completely discard Klein coolers as unworthy.
In fact, despite the fact that Yeti coolers are made of more expensive premium materials, both brands will end up lasting for as long as you live. Nonetheless, Yeti will definitely age better.
As far as performance goes, it would be unfair to even try to compare a Klein tools cooler to a Yeti since even the smallest Yeti20 is capable of maintaining ice for up to 4 days (if not more). On the other hand, Klein Tools doesn't try to push its claim and is satisfied with 30 hours ice retention top.
In terms of variety, there is no question that Yeti beats humble Klein coolers even if we were to compare a single line such Yeti Tundra to the entire legacy of Klein Tools. Hence, you are definitely much more likely to find your desired size in a wider selection. Nevertheless, we are talking about lunchboxes here and we think that Klein Tools got you covered.
In terms of features, the win once again goes to Yeti because while it highlights a minimalistic design, it still comes with plenty of features that are found to be absent in Klein Tools coolers. Hence, whether it's the gasket, the rubber feet or the reliable latches, Yeti easily takes the win in this area.
Klein Tools Coolers – Bottom Line
To wrap this Klein tools cooler review, we ought to bring about the advantages of these coolers because there are plenty.
Indeed, Klein coolers aren't only cheap but they are one of the few dedicated lunchboxes on the market. Hence, even if you find a good cooler out there, it is so rare to find one that was developed to serve as a lunch box and that gives Klein Tools a handsome advantage.
Thus, if you are certain that you're in need of a lunchbox and an occasional picnic ice chest then you will be very satisfied with any of the 3 Klein coolers on display. However, if you have bigger dreams then you should save up some more and invest in a Yeti or another proper ice cooler.