Igloo is one of the oldest brands in this industry as it started back in the 50's of the previous century with their first beverage cooler and they're still going strong in our present day. However, we can actually say that brands like Yeti, that are not as old as Igloo, have come a long way leaving this latter a little behind offering quality coolers with amazing and high end production.
The thing is that Igloo keeps on making affordable coolers that'll get the job done which is what a lot of us are looking for.
We're going to know more about Igloo Latitude Cooler in this review; it's a cooler that comes in two different versions to meet different needs with a quite tempting price.
Igloo Latitude Coolers – Compared
Available Sizes & Dimensions
So as previously mentioned, the Igloo Latitude comes in two different sizes and we'll put them as follow:
1. Igloo Latitude 60qt Roller Cooler
First things first, this is a cooler that targets mobility and transportability, hence; the rolling wheels.
With a cooler like this, you'll be able to reach anywhere without much trouble carrying the loaded cooler or even looking for help to do so sometimes.
The Latitude Roller is 21.72″ L x 18.27″ W x 19.75″ H on the outside and 18″ L x 13.34″ W x 16.25″ H on the inside.
It weighs 13.2 lbs or 5.99 Kgs empty and it can handle a solid 60 qt which is a lot more space than you'll even get with another brand for the same price Igloo offers.
2. Igloo Latitude 50 Qt Cooler
This one is obviously a little smaller but instead of handling a solid 50 qt, the actual number here is 46.5 qt. This shouldn't be a real problem anyway because again; Igloo's prices are really low compared to any brand that you can think of.
The Latitude 50 qt weighs 10.7 lbs (4.86 kgs) and measures 24.87″ W x 14.68″ H x 14.96″ H.
This cooler is a not a bad choice if you're up to some nice weekend on the road or a whole day on beach with everything you need packed near you.
Design & Build Quality
This is where things get a little bumpy to be honest, and unfortunately; we have to state it all, but first, let's get things straight.
An Igloo cooler is your regular and standard cooler that'll keep your goods stored and chilled for a little while but without going too big on durability and rigidity.
That being said; you should only be expecting a build quality that's compatible with what you're paying. However, to be fair, Igloo does offer some quality coolers that are somehow pricier with a better performance and build quality.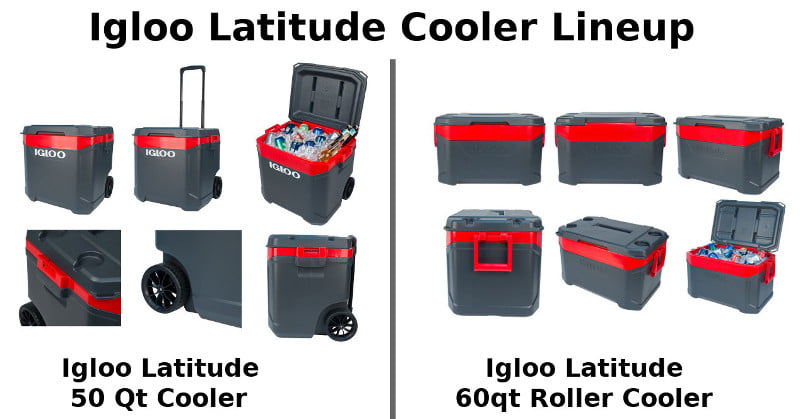 Now, both Igloo Latitude 50 qt and the Roller 60 qt are made of plastic and they're not roto-molded, which means they're not bear-resistant either.
The design is pretty basic and sharp with some nice details and features. Also, both coolers come in 2 colors; fiesta blue/obsidian gray and jet carbon/red heat which both look good actually.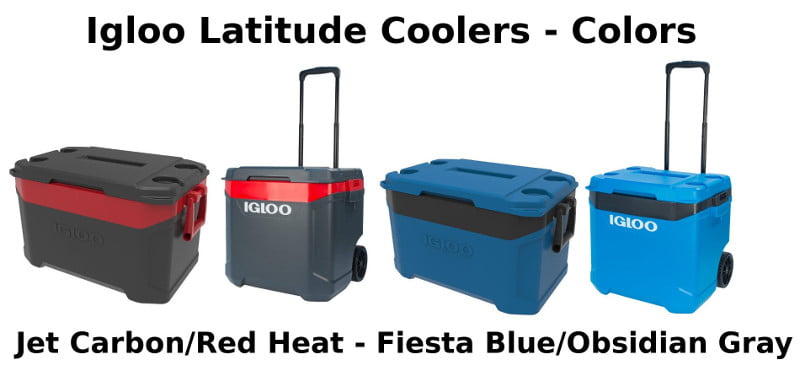 If you're looking for a super affordable cooler that can get the job done decently but without you feeling bad about the fact that's it's not as jagged and glorious as Yeti or ORCA, then both the Latitudes should do really good.
Jet Carbon/Red Heat
Fiesta Blue/Obsidian Gray
Ice Retention & Insulation Ability
Igloo Latitude coolers are featured with the famous Ultratherm insulation technology which is widely used in cavity wall, steel frame, timber frame and coolers as well. It might not be as effective as commercial grade foam when it comes to ice retention but along with the Cool Riser Technology® that makes sure the cooler is elevated from the surface, the cooler's overall performance should be improved.
Let's not forget that Igloo mostly makes affordable coolers that are no way to be compared with some monster brands out there. Also, let's be honest for a moment and admit that we only get what we pay for, and being here, reading this review, means that you know what you're looking for.
Now that we've put all of our cards on the table, we can comfortably say that these Igloo Latitude coolers can deliver an ice retention that'd last 2-3 days under regular circumstances which makes a lot of sense if you ask me.
Features
The Igloo Latitude brothers have pretty much the same features except for the fact that The Igloo Latitude 60 qt Roller cooler is featured with oversized wheels for easy transport and a locking telescoping handle that'll allow you to comfortably pull or push the cooler plus the molded-in side handles for easy loading / unloading.
The Igloo Latitude 50 qt on the other hand is featured with convenient swing-up handles for easy loading in / out of vehicle instead. Other than that, both coolers are featured with:
A mobile device stand on the lid with tall "backstop" that'll allow you to park phones and tablets off the ground for easy access and viewing.
Also, the lid is also featured with 4 self-draining drink holders.
Moreover, you can use the handle brackets with a bungee cord from side-to-side to attach more cargo to your cooler.
And to make the transporting process safer, both the Latitudes come with tie down points on the lid and handle area.
Who is it for?
This question would make you think that there are specific coolers for specific people but honestly it's doesn't work like that. It's true that coolers are better suited for certain activities but that doesn't limit their purpose.
The Igloo Latitude 50qt is a regular cooler that could be used to pack some drinks and snacks for a party, a day on the beach or even a weekend in the outdoors. While the Igloo Latitude Roller 60 qt is great for outings that require walking so that you can drag the cooler behind you easily and comfortably.
Whether it's camping, a road trip or a backyard party; the Latitude brothers will do very nicely given their features and abilities.
Igloo Latitude Vs. Yeti Tundra
Well, this can't be a fair duel. The Igloo Latitude 50qt and Roller 60 qt are not as powerful as Yeti when it comes to performance and ice retention ability because simply; look at their prices! If you want a fair comparison between a Yeti and Igloo maybe you should check out the Igloo IMX line or the the Igloo Super Tough STX.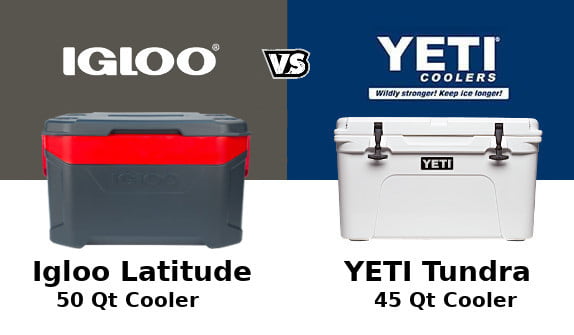 However, let's do what we have to do. The Yeti Tundra comes in variety of sizes and plenty of colors to choose from. Also, Tundra is a roto-molded and bear-proof cooler, whereas the Igloo Latitude brothers are not.
On the other hand, Igloo Latitude is ridiculously affordable and you'll have nothing to lose getting a cooler that'll serve its purpose for a really good amount of time especially if you're a friendly user.
Compare To: YETI Tundra 45 Cooler

YETI Tundra 45 Cooler, White
The YETI Tundra 45 combines versatility with durability with a capacity of up to 26 cans with a recommended 2:1 ice-to-contents ratio
Ice stays ice thanks to up to 3 inches of PermaFrost Insulation and an extra thick FatWall design is certified Bear-Resistant
Pros
The Igloo Latitude 60 qt Roller is a good choice for a comfortable experience.
Both these coolers are insanely affordable.
The lid comes with a mobile device holder and 4 molded cup-holders.
Cons
The Igloo Latitude coolers are not featured with any latches to keep the lid sealed.
They're not rotomolded.
Amazon Recommends:
Bestseller No. 1
Igloo ECOCOOL Latitude 30 Qt Cooler
ECOCOOL: Outside body, lid & liner made with post-consumer recycled resin (PCR)
Features THERMECOOL foam, a cleaner, eco-friendly insulation
Sale
Bestseller No. 2
Sale
Bestseller No. 3