When going for a picnic, a camp, or just a day out, having a cooler makes a huge difference. For example, you go for a fishing trip for a day or two or maybe more and come home only to realize that all the catch you had is ruined. There's when you need a cooler to freeze your catch and store safely for a very long time. Also, in between a volley or a football game, when you take that little break for having a drink and find it out to be warm, how disappointing that would be.
Well, coolers are not just something that keeps the ice in the ice form. People with different purposes need different kinds of coolers. Like a fisherman cannot go for a cooler with a ruler on the lid, and on the other hand, for camping purposes, coolers are required to be hardy enough so that no wild animal can damage it.
Here we will compare the two high rated cooler brands, Everbilt cooler, and the Ozark Trail cooler.
Everbilt Cooler
The brand has always been known for its high performance, and it could still keep up its name. It is tested to have kept the ice cool for a more extended period than any other cooler.
It was found to last for six days, almost before the internal temperature became 40-degree Fahrenheit. And the best part about this cooler is that it is way cheaper than many other coolers of this level.
The list does not end here. Everbilt comes with many features that pull all kinds of a crowd—for example, a fish ruler, bottle opener, and even cup holders.
After all the performance and durability tests, the Everbilt cooler performed well in the draining test. It was super easy to drain. The drain cap is attached to a chain so that it does not get lost.
Pros:
An excellent seal for rather good insulation.
It comes with a good load of features for all kinds of people.
It is also UV resistant.
Cons:
It might be a little awkward to lift.
The T handles can be hard to open.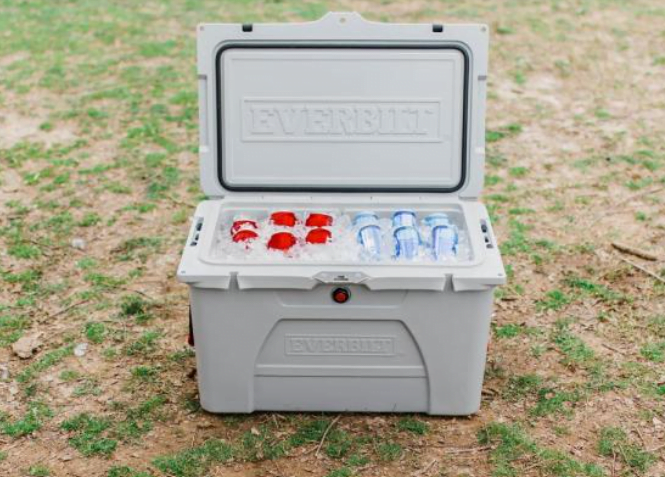 Ozark Trail Cooler
The Ozark trail cooler has paved its way to be the best value pick. It has a load of features like a built-in fish ruler for the people interested in fishing, four cup holders, a bottle opener, T handles, and a threaded plug. The removable wire basket it features is just another beneficial add on.
While testing, the Ozark cooler stayed cool for around four days approximately until it reached the 40° Fahrenheit temperature. The FDA claims that at this point, the meat is supposed to get spoiled.
Based on all the tests and research on this cooler, we concluded that the cooler is best for a leisure trip with all those cup holders and bottle openers. It does not have a built-in method to be mounted on a truck or a boat, so it is better to keep this cooler till the leisure part only.
Pros:
The Ozark Trail cooler is quite affordable.
It has a lot of attractive features.
This cooler includes a handy removable wire basket.
Cons:
The cooler has no mounting system to be loaded on a truck or a boat.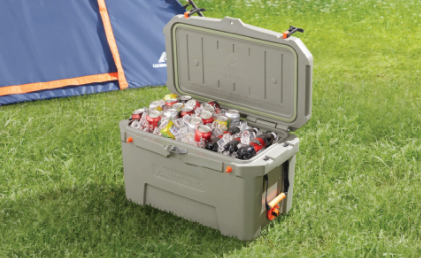 Features Face to Face: Everbilt Cooler vs. Ozark Trail Cooler
Ice Retention
Without a doubt, both the coolers are great at their primary job to keep ice frozen. They both feature a thick insulated wall that keeps the drinks and other frozen food constantly for a very long period.
All coolers can store ice and other stuff that needs to be kept cool easily. The Everbilt Cooler and the Ozark Trail Cooler also do this job great, but they are two different brands and have some differences in the cooling feature.
In the Everbilt Cooler case, it is tested to have kept the ice cool for the most prolonged period than many of its competitors. Its highly insulated wall keeps the ice frozen for almost six days. It is that good.
The Everbilt Cooler is just the cooler you need when planning for a long outdoor trip and does not want to compromise on having cold drinks and beverages. It can efficiently deal with the scorching outdoor heat.
On the other hand, stands the Ozark Trail Cooler. It also offers excellent insulation and a prolonged period for the ice to stay frozen but not as much as the Everbilt Cooler.
Compared to the Everbilt Cooler, the Ozark Trail Cooler can keep the inside cool only for four days, and after which, according to the FDA, the meat if kept inside the cooler will get spoiled.
Both the coolers are good, but the Everbilt Cooler takes the crown here because of its higher ice retention and an excellent seal for adequate insulation.
Manufacture and Warranty
Manufacturing or in a more straightforward way, making the product is also a significant factor to keep an eye on.
Everbilt Cooler is manufactured by Everbilt and comes with a manufacturer warranty of five years. It is warranted to be free of defects in the making and material for five years, starting from purchase.
The warranty does not count the primary or normal wear and tear, which is very common for a cooler to have as it is mainly used outdoors, like camping or fishing purposes.
The Ozark Trail Cooler is, in fact, a product of the Ozark Trail. This product offers a five-year warranty starting from the date of purchase.
The Ozark Trail manufacturer claims that the cooler they made is certified to be bear-resistant. Thus, if you are a person who goes camping or trekking in the wild, the Ozark Trail Cooler is the one for you.
But if that is not the case, you will surely be more than just satisfied with the Everbilt Cooler.
Stand-Out Features
Both the coolers from Everbilt and Ozark Trail are an excellent choice and have their good and bad. For example, in the case of Ozark Trail Cooler, it promises bear resistance, and that might be a favorite feature for some buyers.
The Everbilt does not fall back either. It offers a great deal of ice retention, to the extent of six days even. Isn't that great?
Since both have some good and some bad, we would list out the crucial things about both the coolers.
Feature That Makes Everbilt Coolers Steal the Limelight:
UV resistant exterior.
Anti-slide feet that are also padded.
Lockable lid that does not allow animals to have access to your food.
T handles provide a watertight seal.
Features a pressure release button so that some air can escape, and the cooler is more comfortable to open.
Feature That Makes Ozark Trail Cooler Steal the Limelight:
Four cups or drink holders on the lid of the cooler.
Features an entirely removable wire basket.
One-sided drain that is garden hose compatible.
Certified by the Interagency Grizzly Bear Committee to be bear-resistant.
Conclusion
We hope that it will be easier now to decide between the Everbilt Cooler and the Ozark Trail Cooler to decide which one to go for. Both are the best coolers in the market. They have some remarkable stand-out features; both give a head-to-head competition to each other and have some setbacks to look into.
We will provide you with a quick overview of the full article so that you are left with zero confusion.
Buy an Everbilt Cooler If:
You are looking for something that can help you keep your drinks and beverages cold for a longer time. Everbilt is known for its excellent ice retention of up to six days.
You are looking for a cooler with watertight sealing.
You are looking for a cooler whose lid can be locked.
You want a mounting system so that it can be easily mounted on a truck or a boat.
Buy an Ozark Trail Cooler If:
You are opting to camp in the wild as it is certified to be bear-resistant.
You want a pocket friendly and yet filled with features.
It would be better for you to have a removable wire basket inside the cooler.
You want a cooler whose drain is garden hose compatible.
You want four cups or drink holders attached to the lid of the cooler.
As we end up with the two coolers' detailed information, we might hope that the article was of at least some help to your confusion on which cooler to go for, the Everbilt Cooler, or the Ozark Trail Cooler, while you are planning on buying one.
Amazon Recommends:
Bestseller No. 1
Bestseller No. 2
Bestseller No. 3