The idea of a zipperless soft-sided cooler is rather strange but it's also interesting. It is undeniable that zippers can be frustrating at some points, since they can get stuck, malfunction or simply break. However, the soft-sided cooler market is yet to ditch the zipper design, making it a pioneer-moment for Arctic Zone Coolers.
Arctic Zone is a new face to the industry of ice chests and just like their competition, they want to stand out. However, we can't help but wonder if this is just a publicity stunt. In order to answer that question, we had our testers develop a full-length report on these unique coolers.
In the following Arctic Zone cooler review, we will highlight the build quality, performance, features and most importantly, how efficient is this new zipperless design compared to the traditional one.
Available Sizes & Dimensions
Variety is a key element in the success or collapse of a brand because it determines the range of its audience and the tighter it is, the less popular it will be. Hence, it would be reasonable to argue that Arctic Zone is fully aware of this dilemma since they display an impressive variety of 4 sizes.

Since we're on the topic of soft-sided coolers, it is important to keep in mind that this selection is not going to fulfill the needs of avid anglers and hunters, which is rather usual. However, what is slightly unusual is that the brand claims to have a cooler for everyone but those two categories.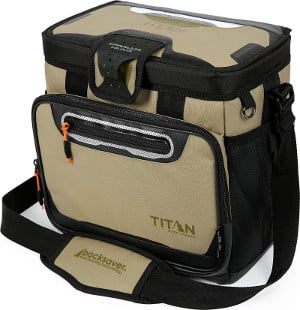 Accordingly, Arctic zone's youngest descendent is the 9 cans zipperless cooler which is a unique little titan to say the least. One look at this tiny cooler will overwhelm you since it is loaded with practical little features.
Also, the cooler is strikingly boxy, which will protect your drinks / snacks on your daily commutes, job sites or long road trips.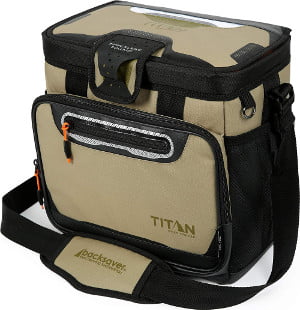 Second on the line is the 16 can model which is significantly larger and more accommodating. Accordingly, the cooler at hand has a small footprint since it measures 12.25" in length, 8" in depth & 12.25" in height.
That being said, the cooler at hand is definitely capable of catering for more than one individual or one person who really likes to drink.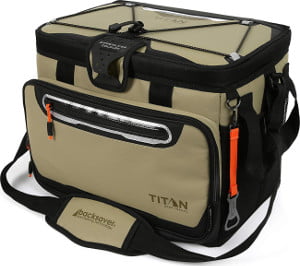 Moreover, if you're not satisfied with the capacity of both previous coolers then perhaps you'll enjoy the 30 can model.
The cooler in question is almost double the size of the previous one and that should give you an idea about how much it can handle. Thus, this cooler is far within camping, family picnic and most group activities' range.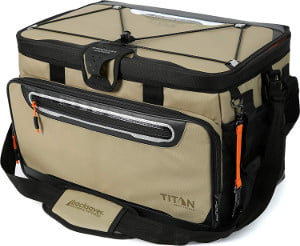 Finally, most soft sided manufacturers draw a line below 30 cans because there aren't many people who need such large picnic coolers. However, the 48 can option has proven to be an interesting choice for many.
In fact, this cooler is large enough to cater for a wholesome beach event, a BBQ afternoon or even a pool party. That in scope, you should have a clear idea about which cooler you really need.
Design & Build Quality
We often rush through design in order to reach the quality aspect of coolers through our reviews. However, this time, we feel like design deserves equal attention. Truly, Arctic Zone zipperless coolers are unique and that calls for some serious design modifications. So, how does this lineup differ from the rest?
Primarily, the fact that there is no zipper on these coolers calls for a more rigid structure in order to fit that lid tightly on top. Hence, Arctic Zone decided to go with a hardbody instead of the soft / flexible standard. The hardbody is thus going to give the cooler the integrity it needs to keep that lid tight in place but it will also shield your cargo quite efficiently.

Further, as mentioned earlier, these coolers are rich in features which often disturbs the overall look of a cooler. However, Arctic Zone somehow managed to make it look less messy. In fact, looking at these coolers will make sense because our first impression was rather positive.
As far as quality is concerned, we would often argue that the cheaper the cooler, the weaker it is but we really cannot argue the same on this product.
Not only are Arctic Zone zipperless coolers firm, they are supported via Rhino Tech, making these coolers water and stain resistant. In fact, it is rather easy to simply wipe the exterior clean since it's made of abrasion and puncture resistant materials.
Beyond the exterior layer, the coolers at hand harbor a formidable skeleton which reflects rather than absorbs heat and that includes the front pocket. Thus, the coolers in question will stand firm on their own no matter whether they are loaded or not and that's going to preserve their flexible coat and inner liner from bending damage.
Speaking of which, Arctic Zone Zipperless coolers feature an ultra-safe lining, which is 100% leak proof as always. In addition, the lining adopts Microban, which is a technology that protects your snacks / drinks against bacteria and smells.
Further, once your trip is over, you can easily rinse the inside of these coolers and clean it vigorously before you let it dry.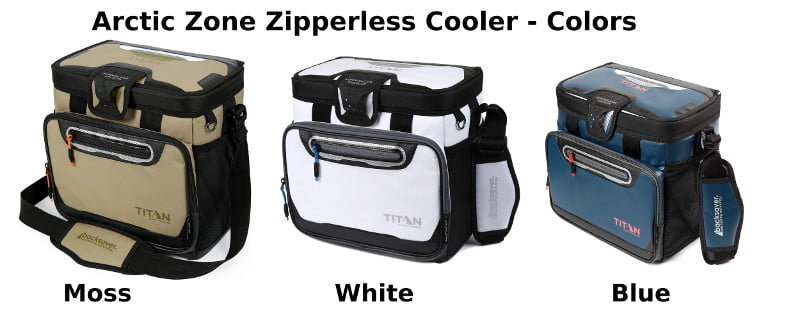 Ice Retention & Insulation Ability
No matter how good a cooler sounds like, we will remain indecisive until we learn about its ice retention abilities. Hence, Arctic Zone coolers rely on what they call a deep-freezing-high insulation, consisting of a formidable heat barrier embedded within the coat, an exterior high-density abrasion coat and a triple layer cold block-base.
Further, zippers seem to be doing a fine job in the soft-sided cooler department, which makes us wonder how does this new design benefit performance?

Well, it might not be evident but the fact that the lid is zipperless will make access a lot easier and consequently quicker. Hence, instead of spending some time opening and closing the zipper, the flip-open design will enable you to quickly open and shut without delay, thus preserving ice for longer.
In conclusion, the coolers at hand might not retain ice for a week but the larger models are fully capable of pushing through 3 days while the smaller ones reasonably stand at the 2 days barrier.
Features
While hard-sided coolers depend somewhat on features to appeal to potential buyers, soft-sided coolers can only survive if they harbor the right features. Hence, in the following segment, we will list Arctic Zone coolers' most prominent features:
Hardbody liner
Smartshelf to separate drinks from snacks
Insulated front pocket
Leakproof
Easy-open zipperless lids
FDA approved liner
Triple layer cold block base
Comfortable padded Backsaver shoulder strap
Stain and water resistant skin
Cargo net on top
Extra D-rings for keys and personal accessories
Smaller pocket on front pocket
Arctic Zone Zipperless Cooler – Bottom Line
In conclusion, Arctic Zone Zipperless coolers are definitely an attention grab with the perfect follow up.
Now, these are by no means the highest quality coolers on the market but for the value they offer, the ice retention capabilities and the large amount of practical features, Arctic Zone Zipperless coolers are definitely one of your best options on the market today.
So, if you think that one of their coolers matches your profile, do not miss the opportunity because you will not regret it.