Igloo has been the brand of many traits and now it has a new title to celebrate. Recently, the brand launched its heavy-duty line labelled BMX, which is obviously targeting a niche category of people, or is that so?
Well, the Igloo BMX line was developed around the central concepts of versatility and resilience, resulting in what could be the most affordable / most hardcore cooler on the market. However, how much of that translates into ice retention is not determined yet.
So, let us take a closer look at the Igloo BMX lineup to help you determine whether it is your perfect match and if not then we will guide you towards some equally interesting alternatives.
Igloo BMX Cooler Lineup
Available Sizes & Dimensions
The Igloo BMX line is undeniably interesting since it is an almost unique experience for Igloo to put out 2 coolers under such a huge label. Hence, while there are only two Igloo BMX coolers, the variety isn't at stake since they are designed in order to cater for as many needs and requirements as possible.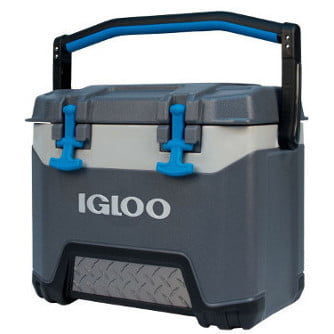 Accordingly, the first in line has got to be the Igloo BMX 25 qt which is the smaller and more attractive sibling. Indeed, this cooler was designed to intrigue the beholder but most importantly it was developed to cater for occasional users.
Hence, the cooler at hand measures around 19.59″ x 13.25″ x 15.7″ and weighs under 12 pounds, making it perfect for picnics, one day excursions and most importantly for really small groups of people.
In other words, this cooler will struggle to cater for a small party since it can only handle around 25 quarts / 23 liters.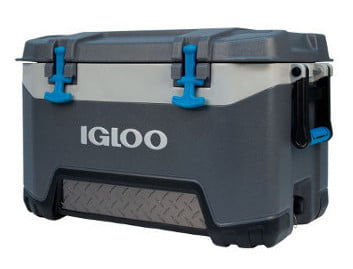 On the other hand, the band features a more splendid BMX which is the 52qt model.
Accordingly, while the company's prime focus is on versatility, the BMX 52 qt makes it obvious that Igloo BMX is planning on entering the race of large coolers. Hence, the cooler at hand measures around 26.2″ x 16.42″ x 16.06″ inches, totalling in approximately 16 pounds in net weight.
Based on that conclusion, you can already see that the brand is trying to create a versatile / light weight cooler by priority which begs for some answers.
Before we dive into performance, let us take a moment to admire the fact that this beast is capable of handling up to 52 quarts / 49 liters and that is plenty for a cool party, a few days off the grid or even a prolonged fishing trip.
Ice Retention
Ice retention is definitely a priority for both the customer and the brand and that is something that quickly stands out when reviewing the Igloo BMX line. Where most premium coolers adopt the roto-molded approach, Igloo decided to invest into a different technology in order to stress the heavy-duty aspect even further.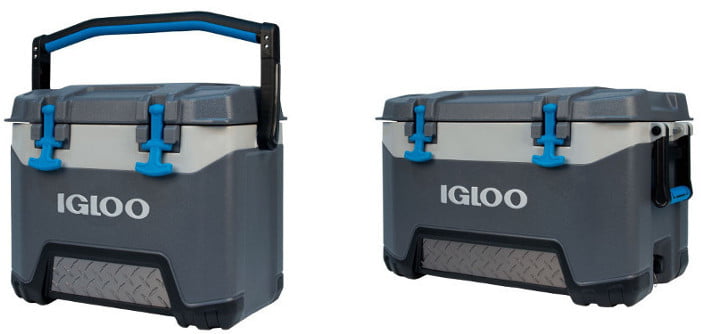 Accordingly, both coolers on this line feature blow-molded technology, which is a slightly different approach that aims at repelling exterior influences, rather than focusing on what's happening inside the cooler.
To illustrate that concept, both BMX coolers are designed in a specific way that distances them from their environment. Accordingly, on the bottom, both BMX coolers feature cooler rise technology, which elevates them enough to diminish the influence of hot concrete, pavement or any platform for that matter.
Also, being larger than traditional coolers, the BMX line benefits from an extra 20% thicker insulation. Hence, the lid, bottom and walls of these coolers are so thick that it is almost impossible to infiltrate them, making the 5 days ice life promise highly plausible.
Features
There are plenty of things to look at upon inspecting these two coolers and it must be said that the Igloo BMX line is built to last. However, what are the features that make these coolers unique?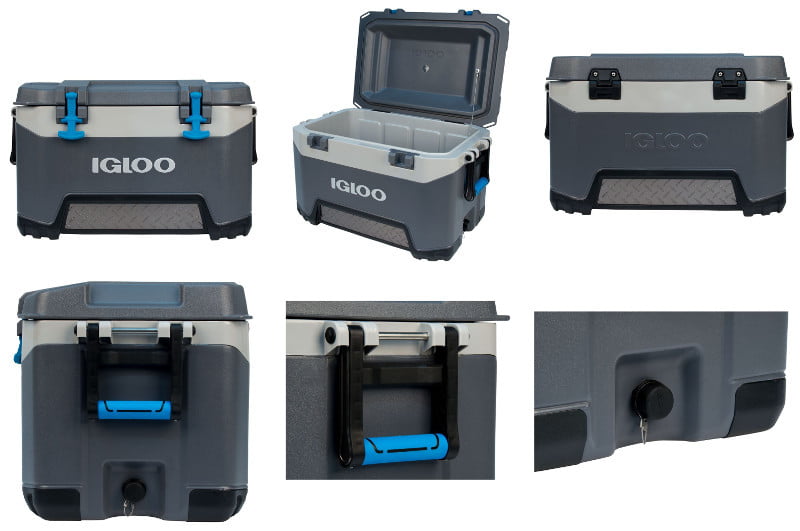 First things first, the handles on these coolers are simply exemplary. In fact, you will not be able to find such reliable handles on most coolers at this price range and that is a significant advantage for the BMX line. Accordingly, these coolers feature rubber coated plastic handles, connected to a stainless steel tube at the base to make the rotation action ever so smooth. Hence, you do not have to worry about keeping this cooler in balance because it will be so easy to transport.
While most premium coolers come with standard snappy locks, the Igloo BMX line features the legendary T-latches. Indeed, these locks are the best you can get on any ice cooler since they are rubberized which means they will stick firmly in place and pull the lid down to seal the cooler tight and keep the cold in.
Also, Igloo has always been interested in draining plugs because they can be such a headache for most people. Accordingly, even at such low price, these coolers still benefit from a screw in draining plug that is connected to the cooler via a stainless steel cable/chain so that you never lose it.
The hinges on these coolers might not be pride-worthy but they are still good enough for what you are paying. In fact, these plastic hinges do not have to take any pressure since the lid is connected to the body of the cooler via a stainless steel cable to prevent it from leaning all the way back.
Finally, the tie-down loops on these coolers might not be the smartest because they are located on the lid & that means you will not be able to access the cooler when it's tied down. However, you can avoid that all together by simply using the handles to tie it down.
Who is it for?
Well, since you asked, let us take a moment to discuss just how good the BMX line is…for some people. Undeniably, we all seek an affordable cooler that is able to give us a decent 5 days of ice life and the both Igloo BMX coolers are fully capable of that.
However, the nature of these coolers isn't exactly "pro" oriented but rather mainstream. One look at both the 25qt and the 52qt will make it pretty obvious that they are designed to last but that's it.
While these coolers can push your ice life up to 5 days on a steady environment, they will certainly suffer in hotter weather, especially since they don't have any gasket.
So, who is it for? Well, to put it simply, the BMX is an entry level line with enough potential to impress anyone who has never owned a Yeti Tundra. Therefore, these coolers will make a valuable asset for party lovers, beach crashers and picnics.
So, if you're a serious angler / hunter / camper then you're probably better off with something more refined like an Igloo Sportsman or a Yeti Tundra.
But at the end of the day, only you could decide because there are definitely ways to help your improve the insulation on these highly affordable coolers.
Igloo BMX Vs. Yeti Tundra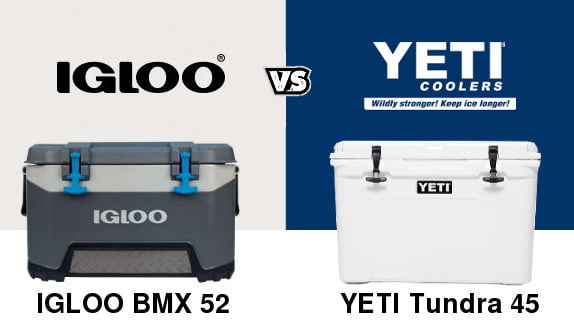 As mentioned earlier, it is quite difficult to place these two lines on the same scale since they are very different. Indeed, the Yeti Tundra is a refined line of coolers that is often adopted by avid anglers, hunters and campers and one which is capable of performing well under any pretext.
In fact, the Yeti Tundra line has shown impressive ice life cycles even on their smaller models, reaching up to 7 days on average. However, it is important info to learn that even the smallest Tundra costs more than double the price of a 25Q BMX.
On the other hand, the Igloo BMX line is targeting beginners who desire an affordable product that looks cool and that is capable of exhibiting decent results. Thus, Igloo BMX's focus on blow-molded technology makes them less vulnerable to the environment but with an average insulation, they can only last up to 5 days before their ice reservoir turns to water.
In conclusion, the only one who has the key to this equation is you, the buyer, since you know your exact needs and requirements. So, by all means, if you're nowhere near the fishing / hunting niche then you're probably better off not spending all that on a cooler that you'll mostly never use.
Coolers similar to Igloo BMX Cooler
A lot of people tend to compare the Igloo BMX line to many coolers and we thought it's important to bring the most comparable products to light. So, here are the three most similar coolers to the Igloo BMX line :
In the first place, we have the Coleman Xtreme Series, which is a decent line of coolers, which is more or less within the same price category but in our humble opinion very different. Indeed, while the BMX line features a unique list of technologies that are meant to help the ice last longer, the Xtreme Series look exactly like any other budget cooler.
The brand however promises that despite their basic build and average finish, Xtreme Series' cooler are capable of pushing ice life up to 5 days.
Another competitor that is often brought to our attention is the Giantex cooler, which in all honesty is a decent cooler, but nowhere does it rise to the caliber of the Igloo BMX line. While this cooler might linger in the same price category, the Giantex is still a very basic cooler and you can tell by simply examining its features.
Hence, once placed side by side with a BMX cooler, the gap seems rather huge in terms of build quality and finishing touches. Nonetheless, Giantex coolers come in a wide variety of sizes, so you can choose the right one for your needs and
requirements.
The Stanley Adventure cooler is probably the closest competitor since it features a neat finish with a decent build. However, whether it beats the BMX line or not is still in question.
While the BMX line doesn't feature any gaskets, the Stanley surprisingly does, making it more reliable in hotter atmospheres but that only pushes ice life up to the average of any Igloo BMX cooler.
So, a gasket will definitely make a great addition but apparently the BMX coolers are superior in terms of technology.
Final Thoughts and Tips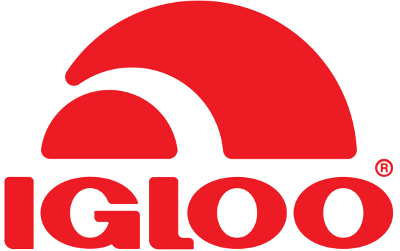 While Igloo BMX coolers aren't the top tear of the cooler market, they definitely put on quite a show for something that costs far less. Indeed, their biggest selling point has got to be the price tag accompanied by a decent and almost un-criticized performance.
In other words, with the Igloo BMX line, you will definitely get your moneys worth and perhaps a little more. Nonetheless, if you're still unsatisfied with these coolers' ice retention then you can apply the following tips to improve your ice life with any BMX.
As simple as it is, adding a weather proofing tape to the edges of the lid will function as a great gasket and definitely push your ice life up by at least a day.
You are better off with a white BMX since it will repel the sun much better instead of the dark grey, which will absorb more heat.
Drain your cooler regularly in order to keep your ice dry as long as possible.
You can glue little pieces of plastic under the T-latches lock to make the pulling down motion tighter and consequently improve your gasket's function.
Amazon Recommends:
Sale
Bestseller No. 1
Igloo Heavy-Duty 25 Qt BMX Ice Chest Cooler with Cool Riser Technology
STURDY LATCHES & ERGONOMIC HANDLE: The BMX cooler comes with a unique t-grip latch system. The rubberized latches secure the lid to lock in the cold.
HEAVY-DUTY CONSTRUCTION: This insulated cooler was blow-molded for added durability. Coupled with oversized hinges and stainless steel screws.
Sale
Bestseller No. 2
Sale
Bestseller No. 3