A portable cooler is a game changer for someone who likes to spend a lot of his/her time outdoors. It's summer, and everyone appreciates a cold drink and some fresh food on the go. A brand like the Pelican takes their craft very seriously to the point where a cooler is not only going to change the game for you, but also change how you'll perceive portable coolers from now on.
Pelican is a large brand that makes gun cases, travel bags and backpacks, iPad and iPhone cases …and even flashlights. However, each and every item is given the best lines and details to reach a professional product that's made to serve and impress.
The cooler we have here is the Pelican Elite Wheeled cooler which is got a bear resistant certification from the Interagency Grizzly Bear Committee.
>>Check Out on Amazon<<
Dimensions
The Pelican Elite Wheeled cooler comes in two different sizes:
The 45 qt: Interior: 19 inches in length, 12 inches in width, and 12 inches in depth. Exterior: 29.66 in length, 20 inches in width, and x 19.25 in depth. The cooler weighs 37.25 lbs empty.
The 80 qt: Interior: 29 inches in length, 13 inches in width, and 13 inches in depth. Exterior: 42.88 inches in length, 20.75 in width, and 20.25 inches in depth. This one weighs 49.50 lbs empty.
Both of these coolers are nowhere near small, but the fact that they're wheeled makes transporting them an easy joyful task which won't bother most of you.

Features/Design
I usually like to start this section talking about colors in which the product is available because it's the first and most appealing thing. Both Pelican wheeled coolers sizes come in two colors; white and tan.
Next, the Pelican Wheeled cooler is featured with two heavy duty wheels which move smoothly and rigidly even when the cooler is fully loaded.
To drag the cooler, there is a super rigid and durable trolley handle that is completely attached and secured to the cooler. The handle on the 80 qt cooler is bigger simply because the cooler is heavier.
There are other molded-in handles that are extremely durable. They come really handy when you need to carry the cooler up on the stairs or just put it in the car.
The whole body of this cooler is made in a way to make it look and feel rugged, strong and professional. It's made of Polyethylene which is number one choice for most quality cooler.
Another molded-in feature is the lock hasp which is meant to keep the cooler's content secured even when you away. You can use any lock you have as long as it fits in the hole.
Also, you'll find two double-action ABS latches that are bear proof and so easy to use. You only need to push in the red button then pull the latch which moves ever so smoothly, yet; once locked, it's firm and completely secured. A plus for these latches is that they're wide so that even if you wore gloves you still can open the lid.
Speaking of which; the lid on the 80 qt cooler comes with an integrated fish scale for every fisher. How cool is that? Also, there is a freeze grade gasket that makes sure nothing gets in or out of the cooler; thus, preserving the cool temperature of the cooler's interior.
Now, to make sure the cooler is stable and fixed in place, the Pelican featured its coolers with 4 non-skid and non-marking feet for maximum protection and friendly usage, thus; there would be no damages surfaces.
Moreover, there are two molded-in tie downs for reinforced security especially when on a board.
The hardware on all of Pelican's coolers is made of stainless steel with a guarantee of excellence on "injection molded products for a lifetime against breakage or defects in workmanship."
As to draining the cooler, you'll find a sloped drain and a tethered plug with the ability to attach a garden hose. This is perfectly practical and handy to help you minimize the effort needed to take care of the cooler.
Last but not least, both coolers are featured with a bottle opener for maximum functionality on all different occasions.
This is definitely what I'd call a monster cooler; it's virtually indestructible, perfectly functional, and extremely durable.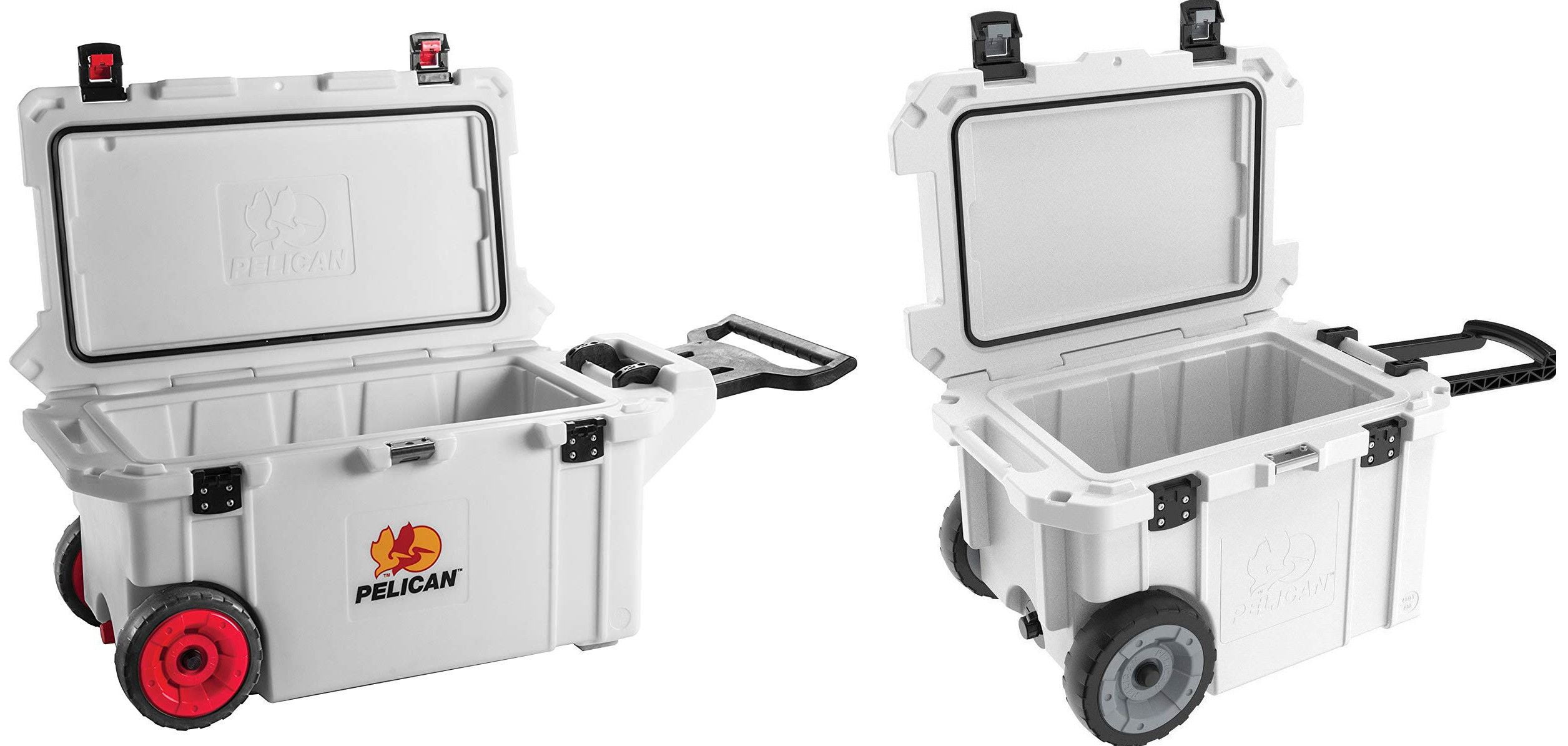 Ice Retention
The Pelican is known for their quality products; be it a vault, a flashlight, or professional case. The same thing goes for coolers; every detail put into the making of these coolers is well thought and planned. Thus, ice retention is the aspect that decides how good a cooler is.
Under the right circumstances; the Pelican Elite Wheeled cooler can keep ice retention up to 10 days with thanks to the 2 inches polyurethane insulation. This cooler performs better than so many brands out there which explains its price. However, that doesn't mean you can just put the cooler in sun, keep the lip opened, or never bother add more ice into the cooler. On the contrary; to reach the 10 days ice retention or more, one should keep checking on how the cooler is doing.
All in all, we can't really deny how strong of a cooler is the Pelican Elite, and we can confidently say that most if not all Pelican users are pretty satisfied with what they get.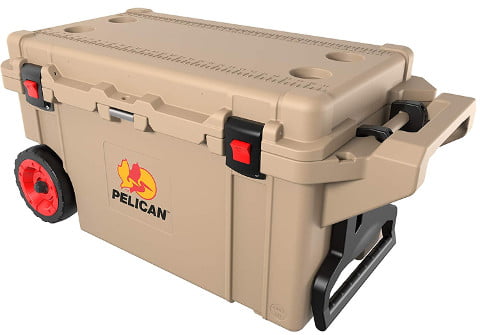 Who is it for?
Speaking of the 80 qt Pelican Elite Wheeled cooler, this one is made for fishermen who take fishing seriously enough to be spending days in the water. The fact that it's featured with a fish scale reflects the intention of the maker while building this item. However, anyone get to use this cooler or the smaller version (45 qt) according to their need.
These coolers can be used anywhere; they look sharp, bold and sharp which can work for a camping or kayak paddling trip, a family picnic, or even home storage in cases where there is no power.
Final Thoughts
The Pelican Elite Wheeled cooler is a fully equipped, durable, and highly functional cooler that can be easily dragged around anywhere you want even when fully loaded.
It's definitely not a toy; compared to many other brands out there, this one can break some records on many different levels. I called it a "monster cooler" previously and that's for a reason; it's bear proof, and it's guaranteed to last a life time.
So, for anyone who's welling to get this cooler, you mostly won't have anything to regret.