Ozark Trail is a significantly popular brand that managed to build a solid reputation on the basis of quality and affordability. While this brand might not compare to something as legendary as a Orion, Pelican, RTIC…, it is still impressive how it successfully took over the budget cooler realm.
Similar to major brands, Ozark Trail also features two separate lines of products that are clearly distinct in quality as well as price.
Indeed, if you're someone looking for a quick fix then you'd be better fitted with an Ozark Trail mainstream cooler. However, if you are looking for something more premium to rival leading brands such as Yeti then you'll find you match in the premium Ozark Trail selection.
So, instead of directly jumping into this gigantic review of the brand, let us take a moment to detail our main points here.
Available Sizes & Dimensions
Ozark Trail Hard-sided coolers
Its is obviously important for any upcoming brand to provide diversity in order to cater for the different choices and requirements of a rich target audience. However, we have to say that Ozark Trail is slightly disadvantaged since it only features a variety of 3.
First cooler is the 26 quart which is mainly targeted towards adventurous folks who enjoy a relaxing night at the woods, beach hang-outs and the occasional small catch angling. Accordingly, this is relatively a compact cooler, measuring 23 x 15.5 x 14 inches while in the package, totalling in an impressive 14 pounds. Hence, you can expect this cooler to get slightly heavier once fully loaded; therefore, it is definitely not meant for hikers.
For a significantly higher performance, you can always opt for the 52 quarts Ozark Trail which is aimed at hunting / angling enthusiasts & those who really like to party in the woods. Indeed, this is a large cooler, measuring around 35 x 18 x 18 inches & compiling a total weight of 36.8 straight out of the box.
Third place is literally filled by the gigantic Ozark Trail 73 quart which is a cooler for everything. Indeed, this cooler is designed for serious anglers, hunters and overall outdoor lovers with a large capacity that can handle your cargo for almost a week. Hence, this cooler approximately measures 33 x 20 x 19 inches, costing you a significant 40 pounds load while empty.
Ozark Trail soft-sided coolers
Unlike their hard-sided collection, the soft Ozark Trail line is surprisingly richer. Indeed, the brand seems to focus slightly more on their soft cooler collection since it is truly where it makes most sells.
Accordingly, the variety will help you find a better match since they offer 5 different coolers with different potentials.
First on the list is the 6 can cooler with an expandable top which is your basic soft-side cooler. The cooler at hand is definitely small, measuring 8.5 x 7 x 9 inches & weighing around 12 ounces straight out of the box.
Significantly larger is the 12 can soft cooler that features pretty much the same specs as the previous one but measures 12.5 x 10 x 7 inches which accumulates to 1.1 pound in total weight.
Since it started the double or nothing tradition, Ozark Trail goes directly for the 24 can category with a relatively different design cooler. Consequently, this cooler measures 12.8 x 11 x 8.7 inches, which rounds up around 1.8 pounds.
Ozark Trail apparently drops the double or nothing tradition to make room for the more exquisite 30 can zipper-less model. The model at hand is significantly different in terms of design and materials & measures 16.5 x 11 x 12.8 inches, concluding with approximately 2.5 pounds.
Last but definitely not least is the largest 30 can leak-tight Ozark cooler, which is supposed to be a party design. In fact, the cooler at hand would require some serious effort to carry around as it measures 21 x 16.5 x 8.5 & weighs 3.75 pounds while empty.
Ozark Trail Premium Coolers
If your budget is slightly expendable and would rather buy a cooler that you would not regret later on then you're better off with a premium Ozark Trail cooler.
Indeed, while most Ozark Trail coolers are reliable for day to day use, they are not exceptional as you would expect, given their price tag. Thus, it is definitely worth it to consider the higher end line as it offers significant value for much less than most premium "brands" out there.
Being a premium cooler, you'd expect the 12 can model to cost a lot more than $50 but it doesn't. Accordingly, this model measures around 17 x 10.9 x 8.5 inches which is a decent size for daily commuters and 9 to 5 workers who really need that lunch to be hot & drinks to be frosty in time.
Cover much more space is the 36 can premium model that is a much better option for picnics and small gatherings. Indeed, this cooler is definitely large, measuring 18 x 10 x 14 inches & weighing a total of 2.9 pounds straight out of the box.
Further, to complete the collection , Ozark Trail invested in a backpack design that is large enough to cater for a small beach party as well as a fun hiking/picnic experience. Accordingly, this cooler measures 19 x 8.5 x 13 inches, totalling in an impressive 2.4 pounds.
Ozark Trail Coolers – Design
While quality is paramount to the durability and performance of an ice cooler, design is still relatively important. Indeed, it would not make sense to design a Yeti the same way as some off-brand cheap copy because the look of a cooler says a lot about it.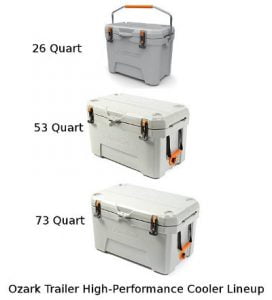 Hard-sided
Hence, design was a big deal for Ozark Trail because they want to give away a premium sense, aggressiveness and resilience while maintaining an impressively low cost.
In that respect, we think that Ozark Trail hard-coolers have successfully blended with high-end products as they exhibit a rich look with flattering colorful bits on the locks & handles.
Undeniably, these coolers look as if they are air brushed with a silky smooth final coat and edges wherever necessary.
Soft-sided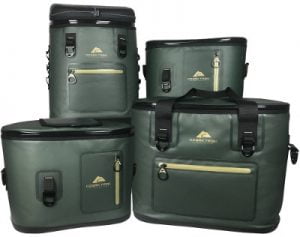 On the other end of the spectrum, soft-sided Ozark Trail coolers cannot be placed in one category all together since they are relatively different. Indeed, while mainstream Ozark Trail soft-side coolers look poorly designed in the best of cases, the premium models are impressive to say the least.
Indeed, this is perhaps the only budget brand out there that truly rivals some of the best designs out there. Thus, forget about Igloo, Magellan and Coleman because Ozark Trail soft-sided coolers are dope.
Indeed, not only do they establish a premium first impression but they carry the part nicely all along. Accordingly, the Ozark Trail 12, 36 can and backpack premium coolers share a distinct elegance, smooth finish inside & out and a record low-cost.
Ozark Trail Coolers – Build Quality 
One of the hardest conclusions to digest was the fact that a brand like Ozark Trail can argue its rivalry to someone like Yeti. Impressively, Ozark Trail has pulled the trick of the century in the realm of coolers when they managed to create highly dependable coolers for a budget cost.
Hard-sided
In the beginning, it was hard to believe that a Walmart brand can beat all expectations until we tested it ourselves. Our subject was the 52 quart, which is the best-seller in this line of coolers and one which pulled some impressive reviews online.
Indeed, hard shell Ozark Trail coolers are highly resourceful in the sense that they are equipped with everything you'll need on your little adventure.
Also, another practical aspect of these coolers is how easy it is to replace external pieces if damaged whereas other brands would give you no other option but to live with it.
Further, while the walls are significantly thick, true strength resides in the polyethylene crust that is both reflective and robust.
Soft-sided
While the hard-side spectrum focuses on resilience and replaceable features, soft-sided Ozark Trail coolers take the higher ground via their impressive final layout.
Indeed, while mainstream soft-sided Ozark Trail coolers tend to be robust but loose, high-end Ozarks focus more on posture, impermeability and final design.
Accordingly, the end product is as sublime as any other premium soft-side cooler which begs the question: how good it actually is beyond looks?
Actually, premium Ozark Trail soft-sided coolers are built within an EVA compression molded base, giving them that premium look and efficiency. Consequently, not only do these coolers look good but they are also highly resilient, reflective and heavily padded.
Ice Retention & Insulation Ability
As far as performance goes, it would be fair to describe Ozark Trail as competitive but not premium. Hold on! Before you go on dismissing this brand entirely, you should know what makes it so reputable.
Thus, in this segment, we will discuss ice retention and insulation in detailed in order to have a clear image of what to expect from an Ozark Trail cooler and how they compare to premium brands.
Hard-sided coolers
Being a Walmart brand, Ozark Trail is often dismissed as a cheap option that is not meant for serious situations. However, hard-sided Ozark Trail coolers have managed to make a dent in the system by competing on the level of big names such as Yeti, Engel and others of the same caliber.
Indeed, hard-sided Ozark Trail coolers are all roto-molded which means that they are fully built to perfection without any human contact. Indeed, these coolers are primarily constructed via dedicated machines that make sure everything is precisely where it belongs. Also, these coolers benefit from a thick insulation supported via pressure injected foam to help ice last between 2 days and a week, depending on the conditions of use, the overall temperature and whether or not you pre-chilled them.
Soft-sided coolers
It's almost impossible to digest the fact that you can get your hands on a premium-like soft-sided cooler for less than 30 bucks but it's very true. Indeed, the soft-sided collection of Ozark Trail starts that low and remains within budget even with the biggest model. However, how reliable are these coolers really?
Well, a quick hot & cold test comparing the 24 can to the Yeti hopper has proven that ice & heat retention time is pretty much the same for both brands, which is exceptional, considering the price gap. Also, a quick scan of any Ozark Trail cooler build material and quality will let you know why the premium soft-sided Ozark Trail coolers can maintain ice up to 3 days…or we can just tell you.
Basically, Ozark Trail's secret is really thick walls with plenty of pressure injected foam and an EVA compressed mold to keep it all contained.
Features
Ice cooler features are basically what Robin is to Batman: nothing essential but definitely makes things easier. Indeed, while reading some of the Ozark Trail cooler reviews online, we witnessed that a reoccurring mention was how practical the features were. Hence, we had to dive deeper and detail the benefits and drawbacks of all Ozark Trail features on both types.
Hard-Sided Coolers – Features
The hard-sided Ozark Trail is definitely proud of its thick UV-resistant layer that fends of most of the radiation under the son, pushing that ice retention period a little longer during the summer.
Moreover, the hard-sided line is equipped with an effective gasket that is meant to contain the environment inside the cooler and stop air from circulating into / outside the cooler.
Further, relative to the gasket, the brand invests in heavy-duty easy-to-use latches that pull the lid down tightly and keep the air from escaping to the main room. In that respect, the latches are installed primitively in order to make replacement easier in case of damage.
Another interesting feature of the hard-sided Ozark Trail line is the fact that it was approved by the Interagency Grizzly Bear Committee as bear proof. Indeed, you do not have to worry about animal attacks because nothing is getting through that final coat.
Furthermore, the fact that Ozark Trail coolers come with rubber legs is beyond most budget coolers. Truly, these little rubber legs will prevent the cooler from sliding around in your boat or any flat surface, giving you the resilience and stability you need to access it safely.
Ozark Trail hard-sided cooler receive a lot of praise for their over-sized drain. However, it is advised to reinforce it properly in order to avoid leakage as it often occurs. Nevertheless, the leaking we've experienced wasn't alarming as it merely made a tiny puddle under the draining plug after a few days of use.
To wrap it up, these coolers will come equipped with a robust stainless-steel lock plate, a bottle opener, drink holders, a measuring interface on the lid and a few more features that make Ozark Trail truly an exceptional budget brand.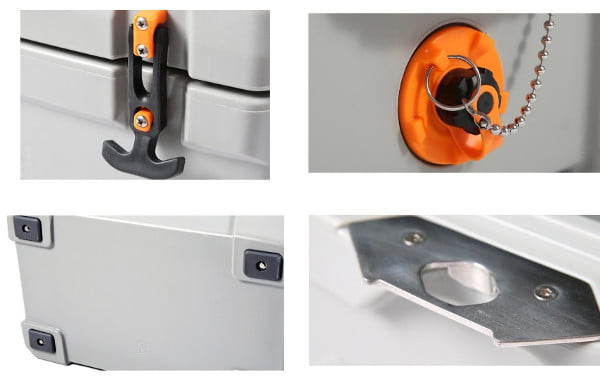 Soft-Sided Coolers – Features
On the other end of the spectrum, the mainstream soft-sided Ozark Trail line takes pride in its storage capacity which often translates into many pockets. That might not sound like a super-power but more space has proven highly effective in many personal experiences.
Another big focus for Ozark Trail soft-sided coolers is variety as they come in different shapes and sizes. In fact, being a budget brand, it is surprising that you can find a hand bag, a backpack and a shoulder-pack design in this line.
Nonetheless, a feature that these coolers need to overcome is the unjustified lack of carry handles on smaller models. While a Yeti Hopper has multiple carrying options, most soft-sided Ozark Trail coolers can only be lifted using shoulder straps, which is not always convenient.
Another interesting feature of the premium-end soft-sided Ozark Trail coolers is the fact that they are water-sealed inside and out.
Consequently, you do not have to worry about water spilling outside once the ice has melted nor water getting inside on a rainy day.
A couple other interesting features that can be found on most soft-sided Ozark Trail coolers are bottle openers, chain attachment points and compression straps.
Ozark Trail cooler Vs. Yeti – Which is better?
Ozark Trail High-Performance Vs Yeti Tundra Coolers
While it is almost too difficult to sit down and try to compare two different cooler lines with up to $300 gap on average, we will try our best to bring you the highlights of this contest.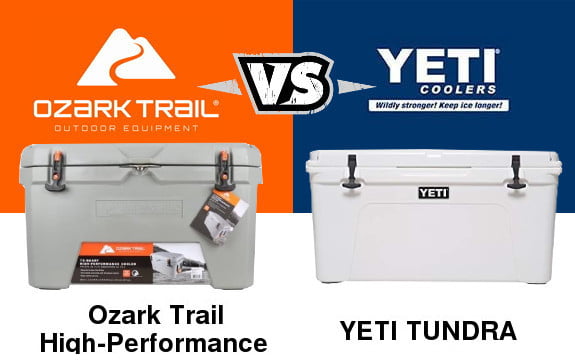 After running a few Ozark Trail Vs Yeti tests with multiple but equal variables, it has become evident that Yeti Tundra is highly overpriced. Do not jump to conclusions, neither Yeti is a bad brand nor Ozark Trail is an equal but they are impressive tight in terms of performance.
Consequently, unless you really need those extra couple hours of ice retention, you will be just as satisfied with an Ozark Trail as you would with a Yeti Tundra.
In terms of build materials however, the difference becomes evident as you begin to notice that everything about the Yeti is precise, detailed and clean. While on the other hand, you have yourself a decent build, with reliable features and an average finish. So, what do you make of this Ozark Trail cooler Vs Yeti Tundra comparison?
Ozark Trail Premium Vs. Yeti Hopper Coolers
On the soft-sided avenue, a prominent comparison is often initiated between the Yeti Hopper and Ozark Trail 24 can premium cooler. Although Yeti is a little smaller than the Ozark Trail, these two coolers are relatively in the same category, which begs the question: which is better?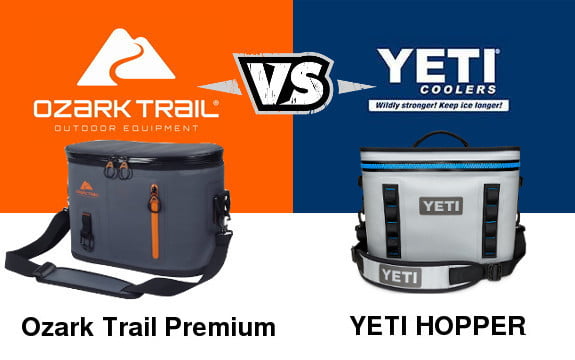 Well, evidently, the Ozark Trail Vs Yeti is an impossible solve, right? Not exactly, after a heat and cold test, it became obvious that there is absolutely no difference between the two in terms of retention as they both pull a full 3 days before ice turns to water completely. However, while ten times more expensive, the Yeti option is still superior when it comes to basic features like carry handles, finishing touches and overall premium-ness.
Ozark Trail Coolers — Bottom Line
While it does sound cool to tell your Angling / hunting buddies that you own an Engel, a Yeti or a Pelican, there comes a time where you realize that you don't have to pay all that much for a similar performance.
This is exactly how we felt when we discovered Ozark Trail coolers with all their average built features, decent built materials and conventional building techniques because that's what makes this brand so appealing.
Not only does Ozark Trail offer you dependable high-performance coolers but they do so for a fraction of the price you'd have to pay for a more familiar title.