It is incredibly difficult to navigate your path through the hundreds of brands out there when you only need one cooler.
Indeed, with so many reputable brands and so wide a variety, it has become an impossible task to pin down your favorite. However, fear not because we are here to make that choice slightly easier for you.
Thus, today, we bring the shy beast that goes by the name of Orion to light. Where most cooler brands focus on perfecting the performance aspect, Orion is one of the few out there that managed to fulfil visual appeal as well.
Hence, since there is so much to say about this brand and so many specs to highlight, let us get right to it.
In this in-depth Orion Coolers review, we'll cover about everything you need to know about these coolers including their sizes, features, performance and build quality.
Orion Cooler Compared
Available Sizes & Dimensions
There are many ways to help distinguish a decent brand from the crowd and variety is a leading element. Indeed, Orion is fully aware of the different needs and requirements of its target customers which is why they aim at satisfying them one size at a time.
Accordingly, here are the coolers made available by Orion, their sizes, capacity and and weight.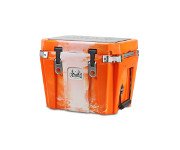 First, Orion created the 25 quarts cooler for people who are looking for a quick fix for their occasional adventures, picnics and beach days.
This cooler is relatively small, measuring 16.8″ in height x 20.5″ in width x 16.5″ in depth and that makes it easy to pack & transport.
Further, this cooler weighs 21.5 pounds straight out of the box which is very light but would only get heavier once packed with ice.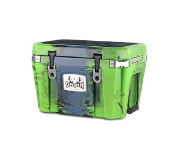 Second, for those who are slightly more intrigued by the adventure realm, you are in luck because the Orion 35 quarts is perfect for you.
The cooler at hand merges the best of both worlds by embodying the casual cooler profile as well as the slightly professional.
Accordingly, at 16.3″ in height x 23.8″ in width x 17.8″ in depth, totalling in a decent 26.8 pounds straight out of the box.
In conclusion, while this cooler is primarily designed for regular use, it can definitely pick up some heavy duty tasks when needed.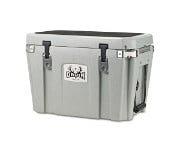 Further, things begin to get really serious once you approach the 45 quarts Orion because you can sense the wilderness spirit.
Indeed, this cooler measures 18.5″ in height x 27″ in width and 17.5″ in depth, making it perfect for occasional hunters / anglers and an overkill for a none hobbyist.
At a total weight of 31 pounds when empty you can foresee some heavy lifting in the future but that's a price most people are willing to pay since this cooler will cover days of use without a problem.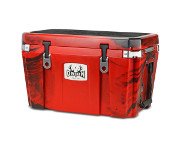 Once you step into the 55 quarts realm then you've already entered serious hunting grounds. Indeed, this Orion is a beast that has enough space for any angler / hunter out there to last for days.
Accordingly, this cooler measures 18.3″ in height x 29.3″ in width and 18″ in depth, leaving no room for doubt. While this cooler is large enough, it is also slightly heavier but nothing too intimidating.
Accordingly, the 55 quarts Orion weighs 33.5 pounds and that's highly tolerable given the fact that it can handle loads plus a stack of your favorite beverages.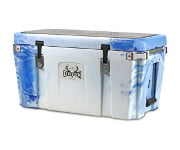 To fill the gap between the former and the following, the 65 quarts Orion fits right in with a footprint of 17.8″ in height x 33″ in width and 19.3″ in depth, amassing a total weight of 36 pounds.
The 65 Orion is thus a beast that can handle quite some load but if you really need a heavy lifter then you'd weight till you check out the next cooler on this list.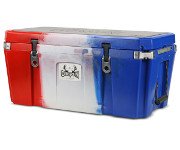 Beyond any limitations, the 85 quarts Orion stands tough with enough dedication to cater for multiple users. Indeed, this is a giant and at 17.5″ in height, 37″ in width and 19.3″ in depth, it totals up to 43 pounds.
Thus, there is no questioning its ability to store a lot of stuff but do question whether you really need something this large or not.
Design
Since we are talking about Orion, it is only fair to initiate this segment with a brief impressions on design. Based on popular demand, the brand cut out all extensions that often get in the way to result with a smooth unique shell.
Accordingly, all Orion coolers abide by a strict aggressive design that embodies the essence of nature and the outdoors, making them both robust and slick.
Before we wrap up design, it is equally important to make an honorable stop at the color schemes this brand offers. In fact, these color schemes are almost a trademark for the brand because Forest, Stone, Dorado, Blaze and others taints helped this brand stand out in an industry that lacks creative design.

Build Quality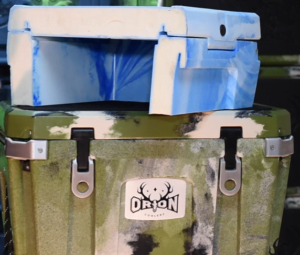 Naturally, doubt is inevitable when we're approaching a new product. However, we believe that this is one of the few brands out there that is privileged by its territory.
Indeed, all Orion coolers are hand-made to endure the toughest environments and hottest temperatures, which makes sense since they come directly from good ol' Tennessee.
Accordingly, Orion coolers are highly reputable for being extremely aggressive. Indeed, these robust coolers are one of the few out there that can truly endure the wilderness while simultaneously fending off the highest temperatures in the U.S.
Thus, it doesn't come as a surprise to learn that the brand adopts the toughest polyethylene combination to coat its 2 inches thick insulation.
Also, to keep you at ease, Orion made sure that the inside is as protected as the outside of the cooler in order to prevent damaging it in the long run. Also, it is important to note that while you can use dry-ice to super freeze these coolers, it is important to roll the ice in newspapers or towels to avoid thermal shock.
Orion also chooses to reinforce its coolers via aluminum braces and rubber pads for the lid to mention a couple. In fact, this is one of the few brands that takes quality down to the minute details in order to bring us a reliable product that can withstand harsh outdoor conditions and last for many years to come.
Ice Retention & Insulation Ability
As mentioned earlier, Orion relies greatly on its outer shell to fend off the heat and insulate the environment inside the coolers. However, it would literally be useless if not for the high pressure injected foam.
Consequently, the 2 inches foam walls seal the atmosphere to a near perfect degree, which is why it's important to always pre-cool your ice chest the night before. Indeed, a very common mistake that a lot of us still make is when we start pouring ice directly into our cooler on due day.
This process is not only hasty but also counter-productive since these coolers preserve heat the same way they preserve ice.
Another significant contributor to the frost lock down is the lid gasket. Indeed, if not for a gasket, most ice would melt a lot sooner since air can travel freely in & outside the cooler. Thus, with a flexible rubber barricade, Orion keeps the internal atmosphere on lock down, allowing ice to thrive as long as a week.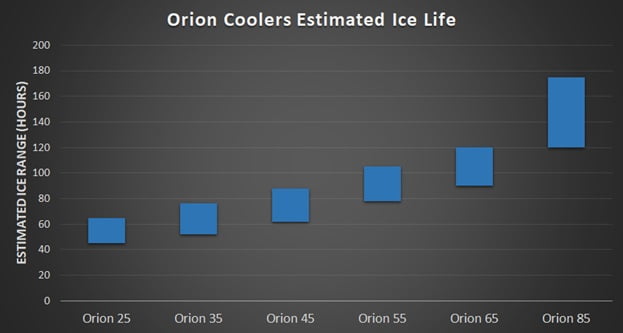 Features
Just like any other brand, Orion relies on its features to lure in as many people as possible. However, the brand at hand pushes the envelope a little further than most via a list of impeccable features, including:
The bottle opener corners on Orion coolers might seem unnecessary since everyone has a bottle opener but these are the only ones you'll never lose.
Rope handles might not seem to be very reliable but they are flexible, making them more adequate for the wild where you'll have to transport these coolers through uneven terrains.
One of the best features on all Orion coolers has got to be the rubber lid that transforms a simple cooler to a casting platform, a seat and much more.
While it might not be the best model, aluminum camming latches add a premium touch to the cooler and makes it feel sturdier.
A highly functional tray is also a nifty addition to an otherwise messy world. The tray would help you separate your load easier.
Since it is primarily designed for the wilderness, it doesn't come as a surprise to learn that Orion coolers are bear proof.
Orion did not forget anglers, which is why they feature enough tie down posts to allow you to secure your cooler easily.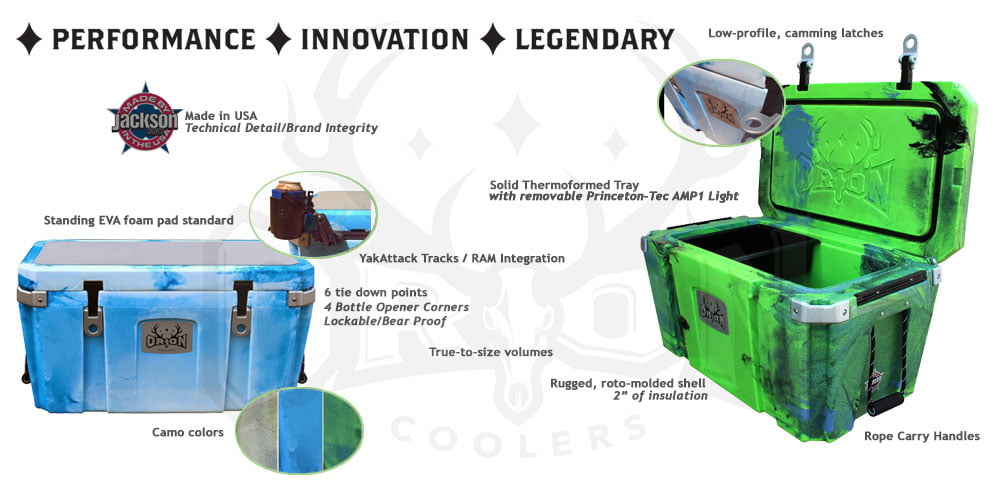 Orion Vs. Yeti: Which Is Better?
While it is tough to judge an entire brand, ranking individual coolers by the two brands seems easier.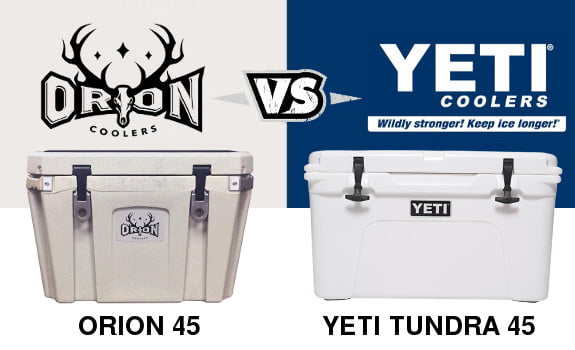 Yeti is a universal brand which means it takes into consideration all the various requirements and needs of the public to create highly effective / impressive coolers.
Nonetheless, it is because of that effort distribution that Orion takes the lead in the hunting category.
Accordingly, Yeti coolers are undeniably superior in general because they push the bar up to 10 days of ice retention, they are robust and reliable but they are also significantly more expensive.
Thus, if you're more of a dedicated hunter who is seeking a perfect profile match then you're probably better off with an Orion because while you sacrifice a couple days of ice retention, you are gaining an entire cooler that is specifically designed for you, your environment and needs.
Who is it for?
While Orion clearly specifies hunting as its priority, it does not restrict itself to that. Indeed, this brand isn't going to limit itself when its coolers are fully capable of catering for anglers of all levels as well.
Nonetheless, it is important to keep in mind that Orion is primarily a hunter's brand which becomes evident once you visit their website. The brand is obviously inspired by hunting, animals and the wild life which are essential elements of their coolers' profile.
Therefore, if you're an angler who appreciates what this brand has to offer then you can always go for a Home Edition or simply pick up a sea design to match your boat / angling style.
At the end of the day, Orion coolers will give you a good week of ice retention on land as well as on any other environment.
In the end, smaller Orion coolers are also quite the match for day to day use and would make a nice asset for anyone who craves short camping trips, picnics and beach parties.
Orion Coolers — Bottom Line
To wrap it up, we believe that Orion deserves all the respect it gets amongst professional hobbyists of all sorts. Indeed, this brand has successfully amassed a dedicated fan-base because it delivers on every promise.
So, if you're seeking a premium hunting, angling or day to day cooler that rivals Yeti but costs a bit less then you're off the market for good. Indeed, once you try an Orion, it is almost impossible to switch because these coolers do perform.